A survey of students graduating from full-time MBA programs ranks the University of Virginia's Darden School of Business No. 1 in a familiar category: teaching.
According to student satisfaction ratings from Bloomberg Businessweek released in June, Darden students rated the full-time MBA with a perfect 100 score in response to the prompt, "My Instructors Were Inspiring and Supportive."
The rating is based on surveys of more than 10,000 students in the Class of 2018 at 126 schools.
High intellectual and emotional engagement with faculty members is a hallmark of the Darden School, and the school's professors routinely rank as the best in graduate business education. The Princeton Review has named Darden No. 1 for Best Professors two years in a row and Darden also placed No. 1 for Student Rating of Faculty in The Economist's "Which MBA? 2018" ranking.
In the Bloomberg Businessweek survey, Darden also ranked in the Top 10 in the categories "My Education Inspired Me to Pursue an Ethical Career" (No. 7) and "Courses Were Taught By the Right Mixture of Academics and Business Professionals" (No. 9).
Students and alumni also often rate Darden among the top business schools in satisfaction surveys. In Forbes' latest rankings, Darden alumni ranked No. 1 for satisfaction with their MBA education.
In rankings released in late 2018, Bloomberg Businessweek ranked the Darden School No. 9 globally in its annual ranking of business schools. The ranking capped a year of strong placements, including The Economist naming Darden the No. 9 MBA program in the world and the No. 1 education experience for the eighth consecutive year.
Virginia Has Record 427 Student-Athletes Honored on ACC Honor Roll
UVA had a record 427 student-athletes recognized on the 63rd annual Atlantic Coast Conference Honor Roll for their academic achievements during the 2018-19 year, the conference announced Tuesday.
A total of 31 Cavaliers were recognized for the fourth time during their careers, with three –  Evan Butts (football), Cory Harris (lacrosse) and Carrera Lucas (field hockey) – being honored for the fifth time.
The Honor Roll comprises student-athletes who participated in a varsity-level sport and registered a grade-point average of 3.0 or better for the full academic year.
During the course of the year, UVA had 105 student-athletes named to ACC All-Academic teams and three earned ACC Postgraduate Scholarships.
For a complete list of UVA's honorees, click here.
American Academy of Nursing Elects Two Nursing Professors as Fellows
The American Academy of Nursing announced June 18 that UVA nursing professors Clareen Wiencek and Tim Cunningham are among 231 highly distinguished nurse leaders in its 2019 class of academy fellows. The inductees will be honored at a ceremony during the academy's annual policy conference, which will take place Oct. 24 to 26 in Washington.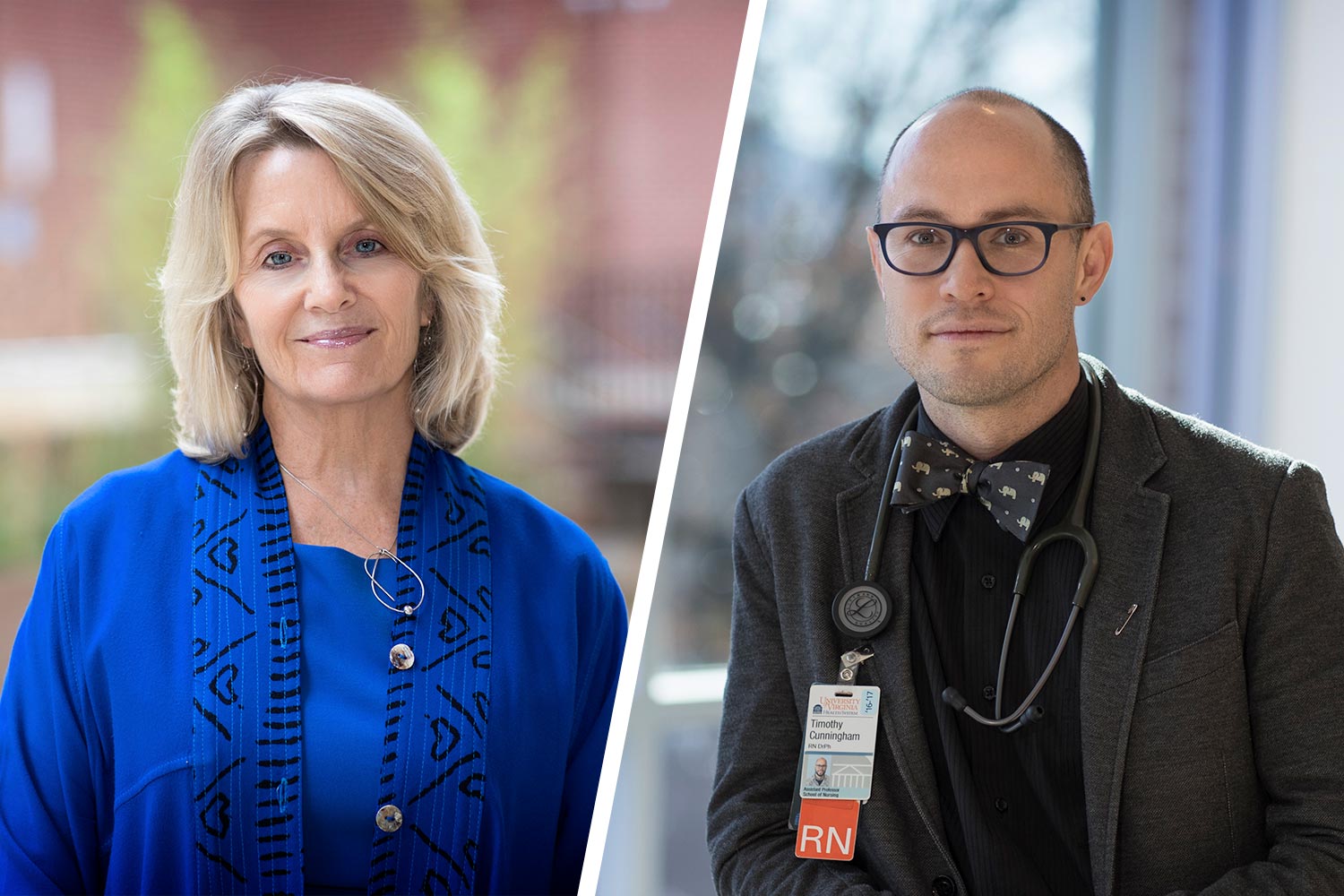 Clareen Wiencek, left, and Tim Cunningham were named to the American Academy of Nursing's 2019 class of academy fellows. (Photos by Dan Addison, University Communications)
Wiencek – an acute care nurse practitioner, advanced certified hospice and palliative care nurse and a longtime critical care nursing alumna of the School of Nursing – directs the school's master's and Doctor of Nursing Practice programs.
Cunningham directs the Compassionate Care Initiative; is a clown with Clowns Without Borders, which has taken him to 20 countries, war zones and places rife with disease and suffering from natural disasters; and recently published a children's book, "A Good Kite," set in West Africa during the world's largest Ebola outbreak from 2013 to 2016. He also is an assistant professor of drama.
The academy fellows currently include more than 2,600 nurse leaders in education, management, practice, policy and research. They have been recognized for their extraordinary commitment to the promotion of the public's health through evidence and innovation. 
Through a competitive and rigorous process, a committee of elected fellows reviews hundreds of applications. The new fellows are selected based on their impressive contributions to increase access, reduce cost and improve quality through nursing theory, practice and science. Induction into the academy is a significant milestone in a nurse leader's career where their accomplishments are honored by those within the nursing discipline.
'The Castle' Goes Green
The Castle, a student dining area at Bonnycastle House residence hall, is now a "Three-Star Certified Green Restaurant" under standards set by the Green Restaurant Association, a national nonprofit organization helping restaurants to become more environmentally sustainable.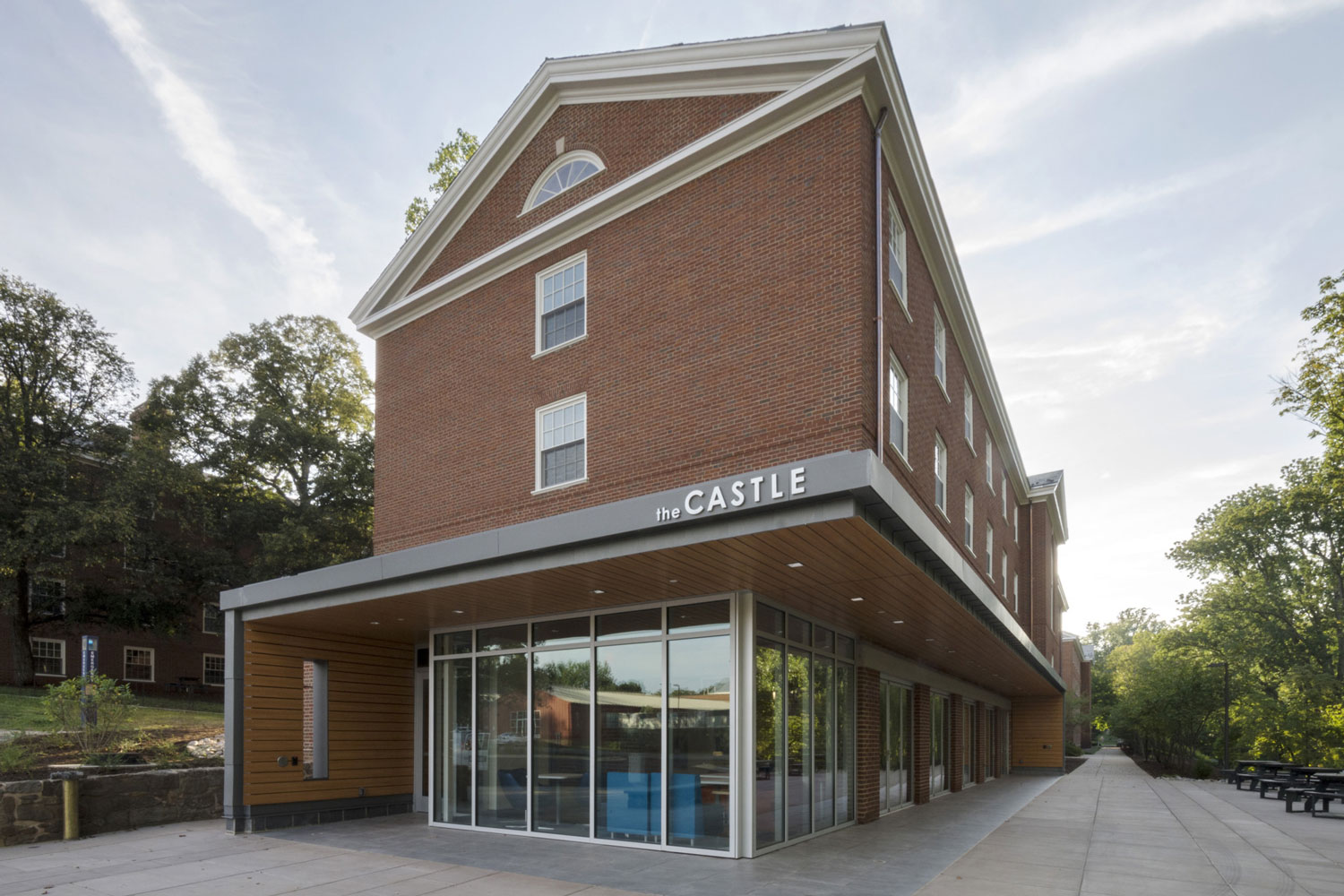 The Castle is located in the heart of UVA's first-year dorms, at Bonnycastle House. (Contributed image)
With students seeking more plant-based foods, UVA Dining with Aramark re-created The Castle, which features salads, grain bowls and paninis. The utensils and dishes are compostable and the space offers a plant wall, no television screens and a small library and reading area.
Among The Castle's green accomplishments is a 90% reduction in landfill-bound waste, with composting and recycling; no bottled water; high-efficiency LED lights; and high-efficiency handwashing aerators.
Law Professor's Scholarship Among Best Corporate Law Articles of the Year
School of Law professor George Geis' paper examining how blockchain technology could revolutionize financial markets and business law has been named one of the top 10 corporate and securities articles of 2018.
A poll of academics conducted for Corporate Practice Commentator selected Geis' paper, "Traceable Shares and Corporate Law," forthcoming in the Northwestern University Law Review, out of nearly 400 candidates.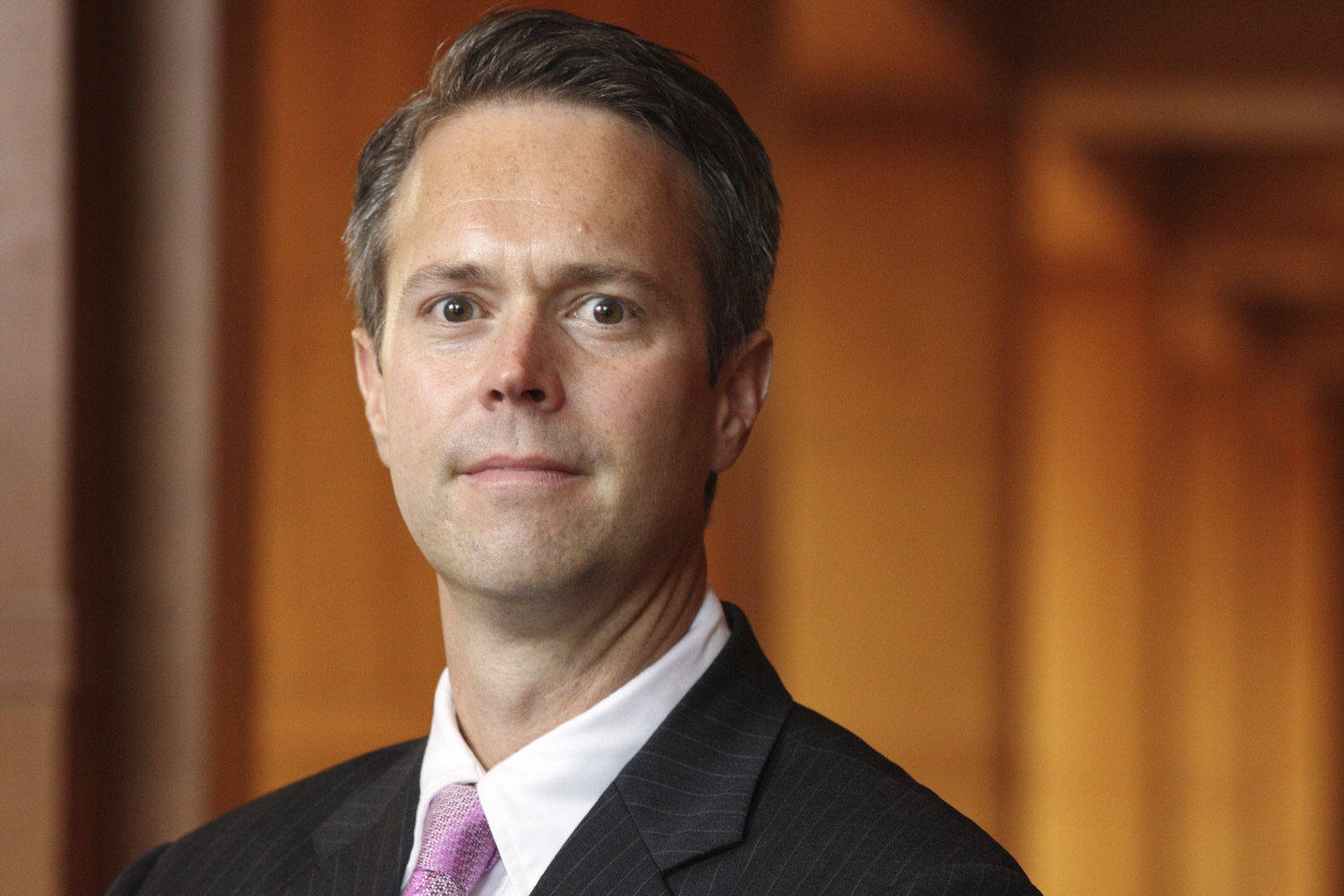 School of Law professor George Geis was honored for his paper on blockchain technology and the financial markets. (Photo: UVA School of Law)
During a talk at the Law School in 2018, Geis said the technology best known for cryptocurrency, if applied to traditional stock markets, could transform trading by providing investors with detailed information regarding a share's past owners.
Corporate Practice Commentator is a 30-plus-volume set of journals featuring articles written on all aspects of corporate law. The articles poll began in 1994.
Geis is the William S. Potter Professor of Law and Thomas F. Bergin Teaching Professor of Law. His research focuses on problems related to contract theory, business alliances, shareholder litigation and other issues involving the intersection of law and business. Geis also is faculty adviser for the Law School's J.D.-MBA dual-degree program. This year, he was named a recipient of an All-University Teaching Award.
Finance Administrator Tapped for National Fellowship Aimed at Future Leaders
James Gorman, senior director of finance strategic projects in UVA's Office of the Vice President for Finance, has been selected for the National Association of College and University Business Officers' 2019-20 NACUBO Fellows Program, a one-year professional development opportunity for a small cohort of promising higher education leaders in business and finance.
The NACUBO Fellows Program is an intensive leadership development program for aspiring chief business officers of colleges and universities. This year, 14 promising business and finance leaders from colleges and universities across the country were selected to participate.
"The NACUBO Fellows Program offers critical training and support for the next generation of college and university chief business officers," the association's president and CEO, Susan Whealler Johnston, said. "We are thrilled to welcome these 14 impressive fellows and help to set them and their institutions up for long-term success."
The National Association of College and University Business Officers, founded in 1962, is a nonprofit professional organization representing chief administrative and financial officers at more than 1,900 colleges and universities across the country.
Nau Center's Civil War History Book Prize Goes to Alumna
UVA's John L. Nau III Center for Civil War History announced April 30 that Amy Murrell Taylor's "Embattled Freedom: Journeys Through the Civil War's Slave Refugee Camps" (University of North Carolina, 2018) is the winner of the 2019 John Nau Book Prize in American Civil War History.
The prize carries with it a $25,000 award and will be conferred at a dinner at UVA in the fall.
"'Embattled Freedom' represents a true tour de force of historical investigation and writing that keeps to the forefront the humanity of the people undergoing one of the most significant transitions in U.S. history," according to the prize's official announcement.
Taylor, who earned master's and doctoral degrees from UVA and is an associate professor of history at the University of Kentucky, tells the story of emancipation through the experiences of refugees who fled slavery and remained within the Union Army's zones of control. In doing so, she shows the messiness of the freedom process and how it transpired idiosyncratically depending on geography and time, with the Union Army an essential part of the transition.
Like prior studies on contraband camps, Taylor recognizes their harshness and the often-arbitrary decision-making of Union authorities. But she also sees these experiences and camps as possible places of empowerment, with schools, churches, and other institutions aiding African Americans in the transition to freedom.
Lab Fellow's Abstract Captures Three Awards
The American Association for Clinical Chemistry will present three of its annual Best Student Abstract Awards to Koby Sarpong, a second-year Laboratory Medicine Fellow in the Department of Pathology. The award will be presented Aug. 6 at the association's annual meeting in Anaheim, California.
The abstract, "Urine Derived Living Renal Cells as Tools to Diagnose Salt Sensitivity of Blood Pressure," was selected independently by three of the association's divisions: the personalized medicine division, the nutrition division and the history division.
The abstract described Sarpong's research in the laboratory of Dr. Robin Felder that involves isolating living cells shed from the human kidney into the urine and demonstrating that they can be used to determine how an individual can personally balance their body's salt load for optimal cardiovascular health.
One in every five Americans may have serious health consequences resulting from consuming an excess of salt, while one in 10 individuals will need to increase their salt intake in order to remain healthy.
Sorority Honors Alumna Author, Health System CEO
The Charlottesville-area chapter of the Alpha Kappa Alpha Sorority Inc. awarded two of its four biennial EPOCH Awards for 2019 to community leaders with UVA ties on June 22.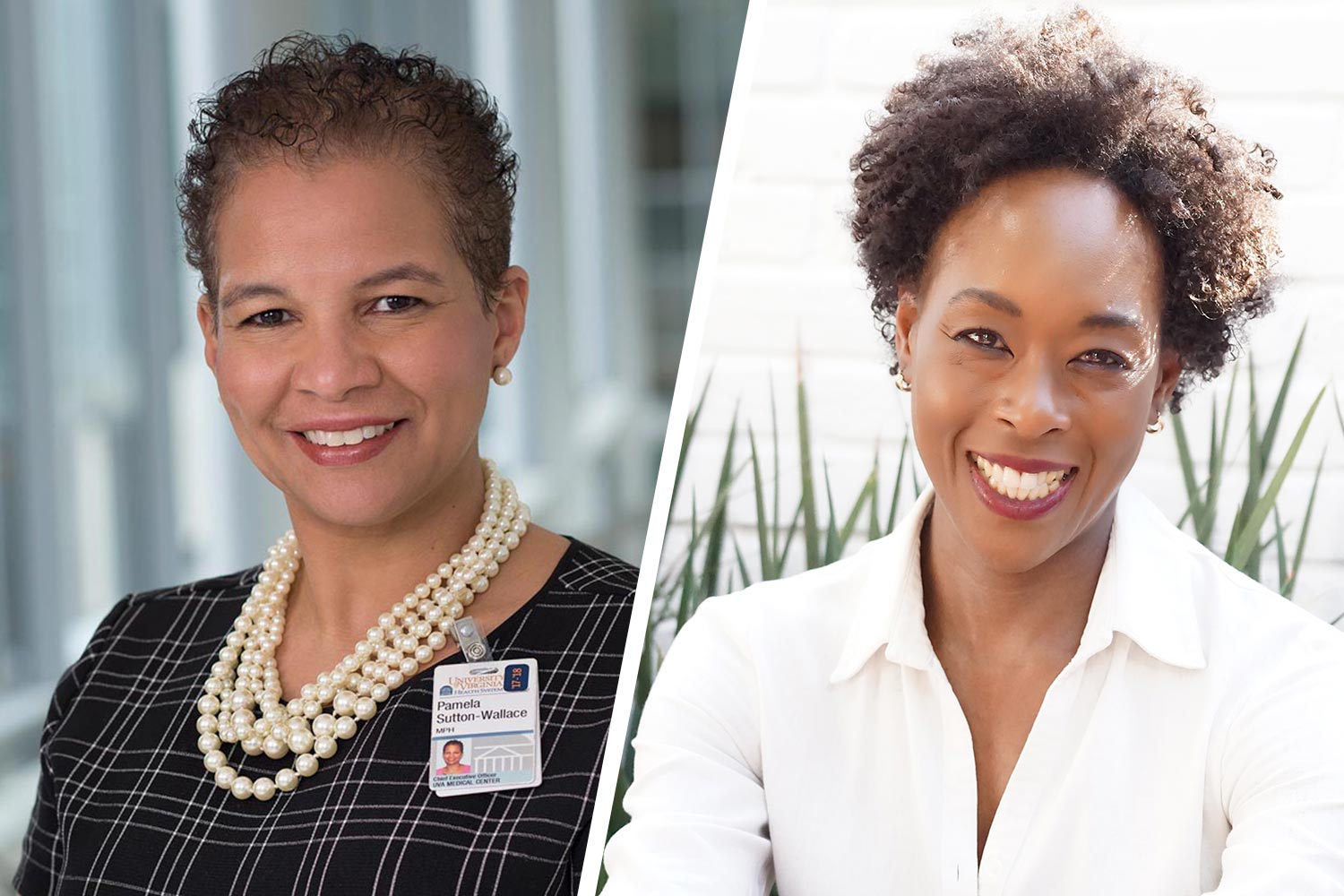 Pamela Sutton-Wallace, left, and Margot Shetterly received Alpha Kappa Alpha sorority's EPOCH Awards for health and global impact and the arts, respectively. (Photos by Jackson Smith and Aran Shetterly)
Pamela Sutton-Wallace, CEO of the UVA Health System, earned the EPOCH Award for Health and Global Impact. Modern Healthcare previously named Sutton-Wallace to its "Top 25 Minority Executives in Healthcare" list after she took the lead in planning the health system's responses to the August 2017 white supremacist rallies and directed care for the injured.
Margot Lee Shetterly, a 1991 UVA graduate and author of "Hidden Figures: The American Dream and the Untold Story of the Black Women Mathematicians Who Helped the Space Race," was named the winner of the EPOCH Award for the Arts. The book, which became an award-winning film, highlights three African American women – NASA "human computers" Katherine Johnson, Dorothy Vaughan and Mary Jackson – who played critical, but underappreciated roles in John Glenn's successful 1962 space launch. Shetterly was a visiting scholar at UVA's McIntire School of Commerce and School of Engineering in the spring.
The EPOCH Award recognize community leaders "for having made significant contributions to the Charlottesville area in four target areas: the arts, business and economics, health and global impact, and youth and education," according to the award announcement.
University of Wisconsin Honors UVA Developmental Biologist
The University of Wisconsin's Department of Integrative Biology has named a chaired professorship after Raymond E. Keller, UVA's Alumni Council Thomas Jefferson Professor of Biology. The chair's first holder will be Jeff Hardin, one of Keller's first graduate students from his days at the University of California, Berkeley, who is also the department's chair.
Keller, who joined the UVA faculty in 1995, is a "world-renowned" developmental biologist, said UVA colleague Douglas R. Taylor, Commonwealth Professor of Biology and chair of the department's Peer Review Committee.
Keller has no formal ties to the University of Wisconsin, he said, apart from sharing some research interests with biologists there. The chair's endowment was funded by sources anonymous to Keller.
"My first reaction? 'I'm NOT dead…. yet!' – thinking that this is something colleagues and friends do after someone 'kicks the bucket,'" Keller wrote in an email. "I was surprised." 
It appears that Hardin chose to name the professorship for Keller, his mentor. According to the University of Wisconsin website, "The [Wisconsin Alumni Research Foundation] Named Professorship awards are made possible by the significant research efforts of UW-Madison faculty and staff. Technology arising from UW-Madison research is licensed by WARF to industry. Income from successful licenses is returned to the Office of the Vice Chancellor for Research and Graduate Education to fund a variety of research activities throughout the divisions on campus, including these awards.
"Award recipients chose the names associated with their professorships."
Article Information
July 9, 2019
/content/accolades-students-rate-uva-darden-no-1-inspiring-supportive-professors