WhoWhatWhy, a New York-based online news nonprofit, has ranked the University of Virginia fourth in formal civic engagement among 76 major colleges and universities nationwide. 
Schools are ranked by several criteria, including percentage of student turnout in the 2016 presidential election, percentage of early student turnout in the 2016 election, number of on-campus polling places, voter registration drives, voter registration rate, whether student identification cards are accepted as voter IDs, and ID requirements (photo vs. no photo).
UVA received an A-minus, highlighted by its 63.9% turnout for the 2016 election and having 12 polling places located within five miles. It trailed only the universities of Washington, Minnesota and Florida in the rankings. Virginia Tech came in at No. 16, and the College of William & Mary ranked No. 57.
University Rates Highly in Princeton Review's Annual Student Surveys
The Princeton Review's annual survey of 143,000 college students is out, and the University of Virginia fared well on several of its 62 lists.
Unsurprisingly, UVA was included in both "The Best 386 Colleges" and the "Best Southeastern Colleges" lists, which were not ordering by ranking. The University was also included among the review's similarly unranked "Green College" list.
Among the ranked lists, UVA was named No. 12 among the "Best Value Colleges," which focuses on return on investment and includes institutional data along with student surveys; No. 7 in "Best Value Colleges Without Aid," which measures the return on investment for students who do not receive financial aid; No. 6 for "Best Alumni Network"; No. 20 for "Most Engaged in Community Service"; and No. 17 for "Best College Newspaper."
Commerce School Nets a Pair of Top-10 National Rankings
University HQ, which bills itself as an "all-in-one source for information on colleges, entrance requirements, and career paths," has named the McIntire School of Commerce as No. 4 in its list of the "Best 55 Business Schools and Colleges in the U.S." Meanwhile, U.S. News & World Report named UVA's undergraduate business school as tied for No. 7 in the nation.
In the University HQ rankings, McIntire trailed only the business schools at Stanford University, Harvard University and the University of Pennsylvania.
Penn led the U.S. News rankings, followed by Massachusetts Institute of Technology; the University of California, Berkeley; the University of Michigan, Ann Arbor; New York University; and the University of Texas, Austin. McIntire tied for seventh with Carnegie-Mellon University, Cornell University and the University of North Carolina, Chapel Hill.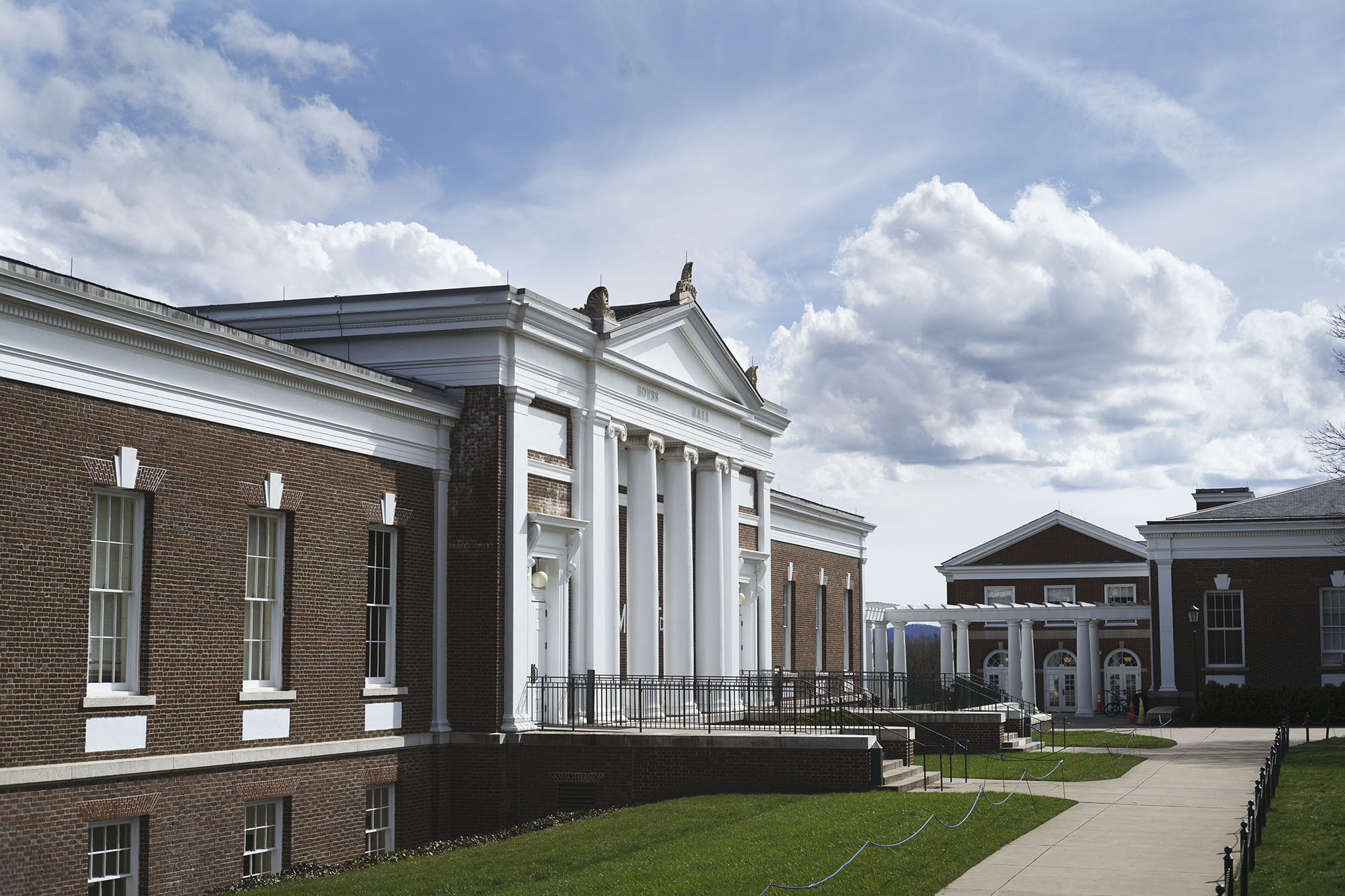 The McIntire School of Commerce earned a pair of top-seven national rankings, from University HQ and U.S. News & World Report. (Photo by Sanjay Suchak, University Communications)
At McIntire, "students will combine both complex business theory and real-world projects for CEOs," UniversityHQ wrote. "Students have opportunities to study overseas markets and collaborate with other students. They can also pursue specific concentrations and multidisciplinary courses including accounting, IT, marketing, entrepreneurship, digital media, and global commerce. The highly regarded business school even offers a business track for individuals who wish to follow a career in real estate."
UniversityHQ's ranking are based on several factors, including admission, retention and graduation rates; cost of tuition; graduating salaries; number of programs offered; online programs offered; loan default rates; diplomas awarded; and percentage of students receiving financial aid.
The U.S. News rankings "are based solely on the judgments of deans and senior faculty members at peer institutions," the magazine said.
School of Medicine Earns National Diversity Award
For the ninth consecutive year, the School of Medicine has earned a national award for its "outstanding commitment to diversity and inclusion."
The school is among 46 recipients of the 2020 Health Professions Higher Education Excellence in Diversity, or HEED, Award from INSIGHT Into Diversity magazine, which covers diversity issues in higher education. 
"We take a detailed approach to reviewing each application in deciding who will be named a HEED Award recipient," said Lenore Pearlstein, publisher of INSIGHT Into Diversity. "Our standards are high, and we look for institutions where diversity and inclusion are woven into the work being done every day across their campus."
Dr. David S. Wilkes, dean of the School of Medicine, said the award is the product of dedication from across the school.
"Earning this award for the ninth consecutive year reflects how so many of our colleagues from across the School of Medicine work tirelessly to build a school that embraces diversity," he said. "Our faculty, staff and students will continue to build on this work in the months and years ahead to ensure our school is welcoming to everyone."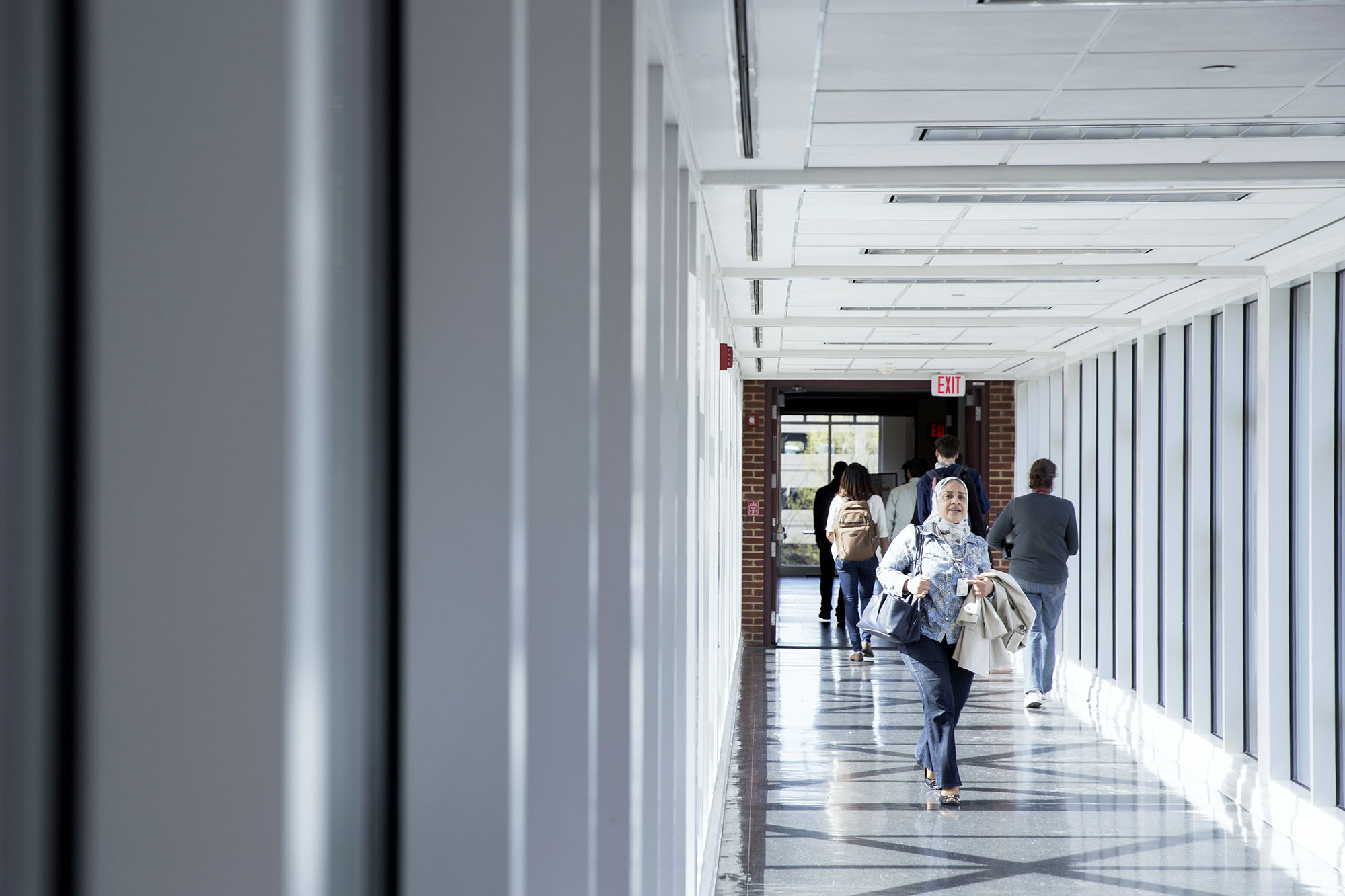 This year, 23% of incoming School of Medicine students are from groups that are underrepresented in medicine, and 56% are women. (School of Medicine photo)
The school has made significant efforts over the past several years to increase the diversity of its student body. In 2020, 23% of incoming School of Medicine students are from groups that are underrepresented in medicine, and 56% are women. 
The school and its faculty also continue to work on creating a more inclusive environment for students, faculty and patients. For example, surgeon Dr. Michael D. Williams formed an unofficial collective called the Hernandez Revels Saund Group to help build a sense of community among faculty members of color in the schools of Medicine and Nursing.
Initiatives that have sprung from the group's listserv discussions include plans led by pediatrician Dr. Irene Mathieu and the UVA chapter of the Student National Medical Association to create a mentorship program for medical students of color at UVA.
A long-term goal for the group, Williams said, is to elevate the mission of health equity – eliminating disparities in health care based on factors such as race or income levels – to "the same level as the school's other three missions of patient care, research and education."
Facilities Department Receives Industry Effective and Innovative Practices Award
APPA selected UVA's Division of Facilities Management for its 2020 APPA Effective & Innovative Practices Award for its submission, "Recognizing UVA's Silent 'Ambassadors.'"
In early 2019, UVA's Education & General Custodial Services department developed the first program to certify individual custodial professionals based on recognized national standards. Driven by the understanding that the work of the University's "silent ambassadors" creates environments that attract thousands of students to UVA, the certification program extends the reward of academic achievement to those in the custodial industry who adhere every day to important sustainability best practices. Recognizing custodial team members with their first certification was important for many reasons, including increased self-worth, higher levels of motivation and engagement, and connection to a higher purpose.
"The Effective & Innovative Practices Award recognizes new programs or significant restructuring to existing programs that have demonstrated improvement at the educational institution and could be readily adapted to other campuses," said Anthony Guerrero, vice president of Member and Community Engagement for APPA, formerly known as the Association of Physical Plant Administrators. 
Submissions were assessed on criteria measuring institutional benefit; innovativeness, creativity and originality; portability and sustainability; management commitment and employee involvement; and documentation, analysis, customer input and benchmarking. Projects displaying a high level of innovation and adaptability for implementation at other schools have the best chance of being favorably ranked.
UVA Health Nets Honors for Maternity Care, Encouraging Breastfeeding
The UVA Medical Center, UVA Women's Services and UVA Children's won a pair of awards, from Newsweek magazine and a breastfeeding advocacy program, for its care for mothers and newborns.
For meeting a set of rigorous best practices for maternity care, UVA Health was named to Newsweek's "Best Maternity Hospitals 2020" list.
"The facilities cited by Newsweek as Best Maternity Hospitals 2020 are an elite group demonstrating excellence in maternity care," the publication wrote in an introduction to the list.
"This honor reflects the dedication of the physicians, certified nurse midwives, nurse practitioners, physicians assistants, nurses and numerous staff in Women's and Children's Services to providing excellent, evidence-based and compassionate care for moms and babies," said James E. "Jef" Ferguson, who chairs UVA's Department of Obstetrics and Gynecology.
Hospitals named to the list had to meet standards developed by an expert panel together with The Leapfrog Group, an independent nonprofit that monitors the quality and safety of hospitals. 
Those standards included low rates of:
Early elective deliveries, defined as babies delivered before the 39th week for any reason except to protect the health of the mother or baby. Early elective deliveries carry health risks for both new mothers and babies.
Cesarean deliveries for first-time mothers delivering a single baby at full term in the head-down position. Cesarean sections increase the risk of complications for both mothers and babies.
Episiotomies, or incisions made in the birth canal during a delivery. Episiotomies have been linked to complications for mothers, including pelvic floor disorders, infections and loss or bowel or bladder control.
Hospitals must also meet standards for protecting the health of mothers and babies, including:
Testing babies for high levels of bilirubin, a substance found in bile that can signal a baby is at risk for disabilities.
Using techniques to prevent blood clots in new mothers who deliver babies via Cesarean section. Mothers are sometimes at risk for blood clots in their lungs following a Cesarean delivery.
Meanwhile, the same group – UVA Children's, UVA Medical Center and UVA Women's Services – earned an international designation as a "Baby-Friendly" hospital for their support of breastfeeding.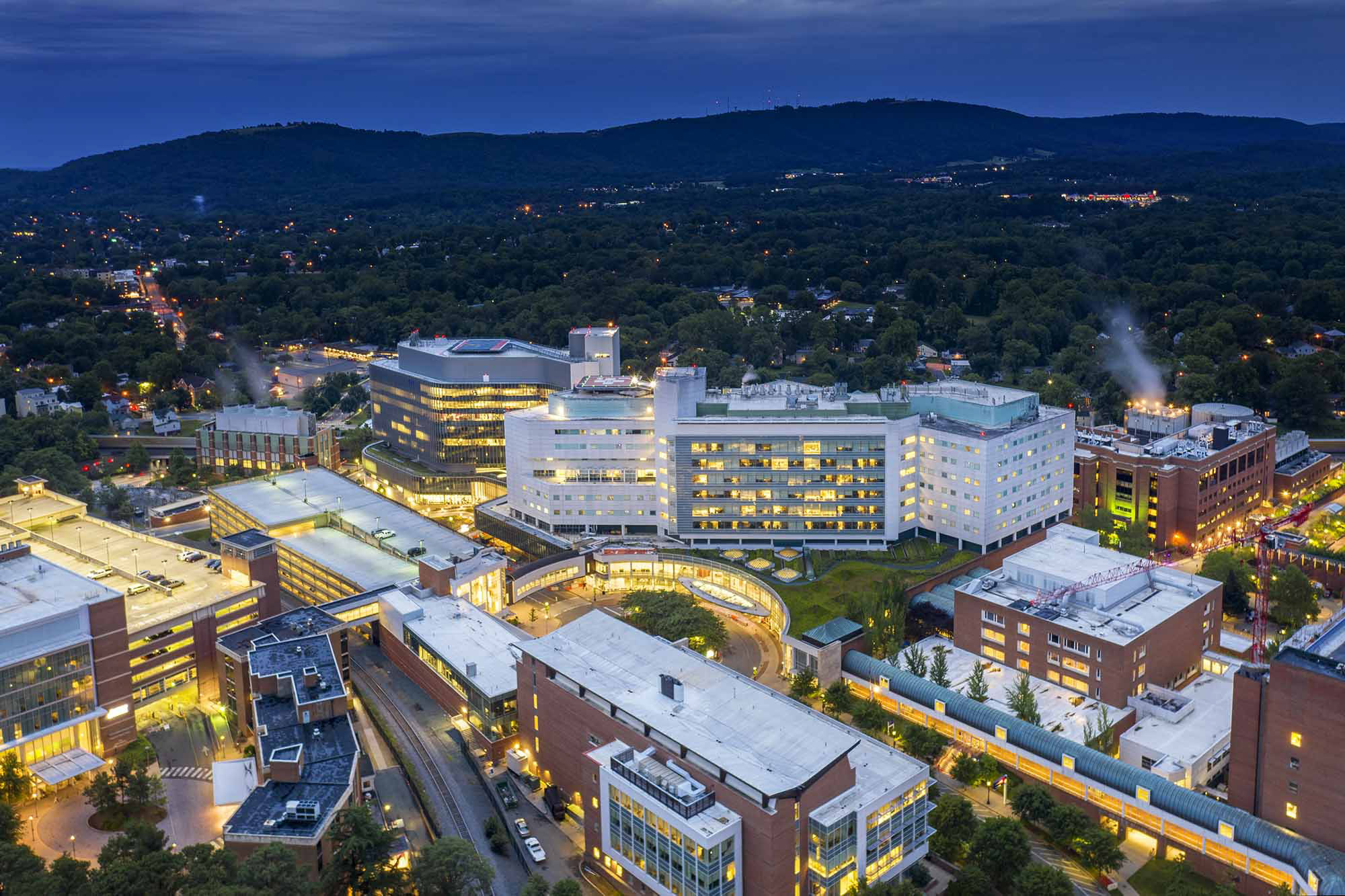 Two different organizations have singled out UVA Health for its care for mothers and newborns. (Photo by Sanjay Suchak, University Communications)
UVA is one of about 600 hospitals nationally to receive the award from Baby-Friendly USA, and one of just eight Virginia hospitals. Hospitals earn the designation by meeting standards of care designed to support breastfeeding mothers and their babies. 
The standards are based on evidence-based practices shown to support breastfeeding, which include:
Having a written breastfeeding policy and training all staff on how to carry it out.
Discussing the benefits of breastfeeding when possible, as well as instructing and supporting new mothers in breastfeeding. This includes helping mothers breastfeed within an hour of giving birth and encouraging breastfeeding on demand.
Allowing mothers and babies to remain together 24 hours a day.
Encouraging the creation of breastfeeding support groups and referring new mothers to them after they are discharged from the hospital.
In addition, mothers who choose not to breastfeed should be instructed on how to safely feed formula to their babies.
UVA's Breastfeeding Medicine Program supports new mothers and babies in several ways. Lactation consultants visit with new mothers after delivery, and consultations are available for mothers having breastfeeding challenges. Outpatient follow-up visits are also available through UVA's Breastfeeding Medicine Clinic to assist mothers with any ongoing breastfeeding issues after they leave the hospital.
"It is an honor to work with UVA's health care team to best support mothers with their feeding choices," said Katie Heck, administrative coordinator and lactation consultant with the UVA Breastfeeding Medicine Program. "We are proud to help families throughout their journey from pregnancy, labor and delivery, postpartum and after they have gone home."
Brandon Avenue Project Honored for Safety and Careful Planning
A complicated landscaping project along Brandon Avenue has won the "Best Landscape/Urban Development and Safety Award of Merit" from Engineering News-Record of the Mid-Atlantic, an engineering publication.
The 7.5-acre Brandon Avenue site is among several infill redevelopment areas around the University designed to manage growth while preserving the distinct character of the University's historic Grounds. Its design includes academic, student housing and student services buildings arrayed around a central, four-cell bioretention basin. The new pedestrian-oriented street will include plazas, promenades and open spaces, connecting Brandon Avenue with the University's Central Grounds and medical precinct.
The award recognized the $20 million landscaping and utility phase of the project, which included relocating utilities and constructing new infrastructure, a task made more difficult by the need to maintain utility service to nearby buildings and preserve safe routes for pedestrian and vehicular traffic. The logistics required careful, thorough, day-by-day planning among all of the project teams, who combined daily logistics meetings with "a stretch and flex routine with lunges, neck rolls, shoulder circles and a rotating list of other activities designed to enhance alertness and minimize the risk of soft-tissue injuries," according to the publication.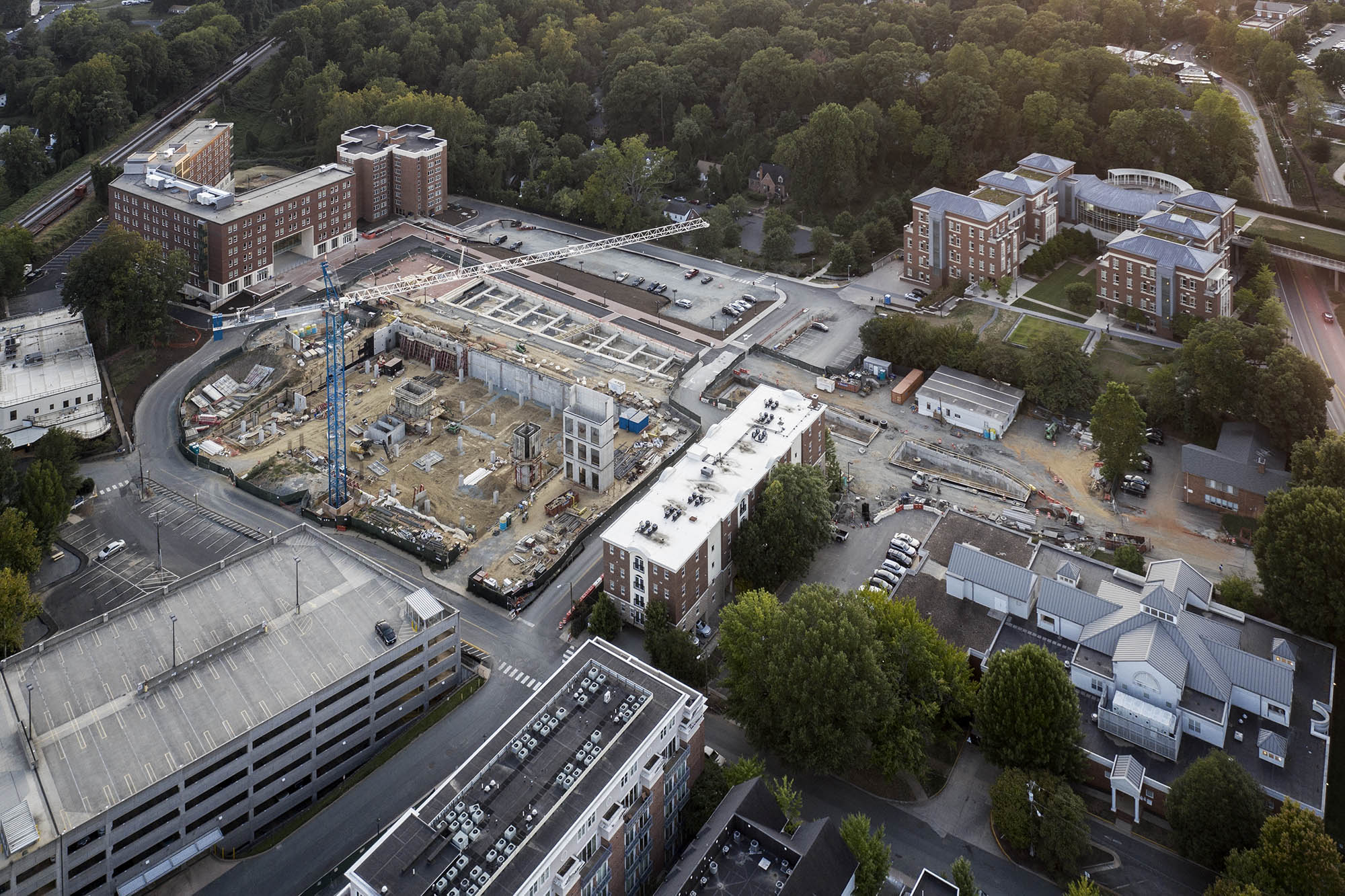 When complete, the Brandon Avenue project will provide a link between Central Grounds, the South Lawn and the medical precinct. (Photo by Sanjay Suchak, University Communications)
The project teams routinely consulted with the Virginia Office of Safety and Health to ensure that risks were not overlooked and safe practices were being observed.
As a result of the careful planning, the utility switchover work was completed before students returned to the nearby University housing areas, and the project was completed on time and on budget, with no recordable incidents or lost-time injuries in nearly 130,000 work hours logged over 30 months.
Barton Malow Holding LLC managed the project. The lead design firms were Perkins + Will and Landscape Architecture Studio. Dewberry led the civil engineering, while HopeFurrer Associates was the structural engineer. VHB was the transportation planner and Faulconer Construction was the sitework and utilities contractor.
Beyond Business Fundamentals, Darden Curriculum Lauded
The Public Affairs Council has released a new report that provides an analysis of top MBA programs integrating public affairs into their curricula. The Darden School of Business is featured in the study.
"Leading MBA Programs With Coursework in Public Affairs" is an assessment of U.S. News and World Report's Top 100 Business Schools. The study identifies which programs offer coursework in subjects such as business-government relations, public policy development, shared-value creation, corporate responsibility and stakeholder engagement. 
"The report comes at a time when corporate leaders are facing new challenges, and the public affairs profession's roles in managing political risk and creating market opportunities make its presence in MBA programs even more important," the council said in its announcement.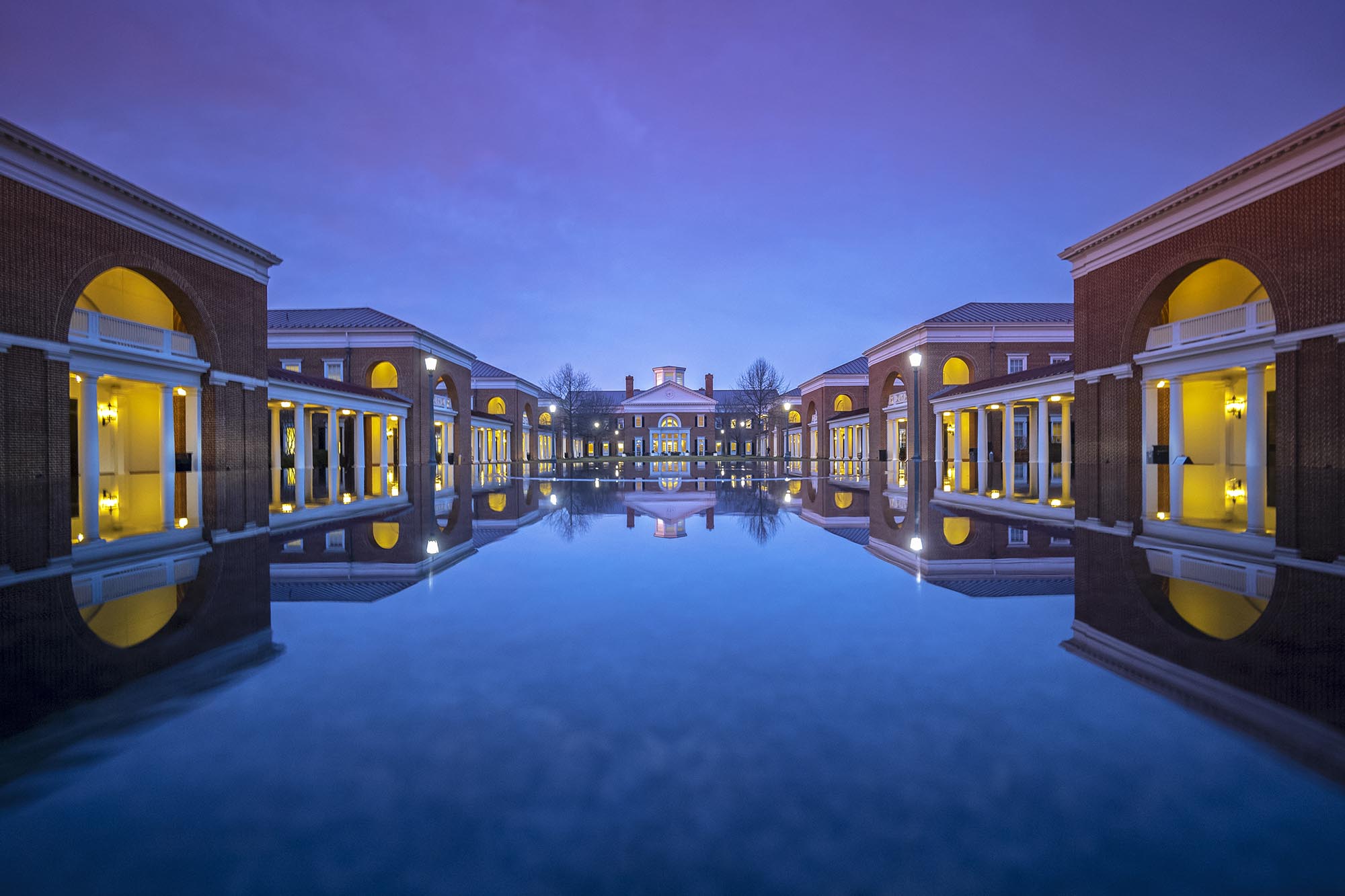 The Darden School of Business earned plaudits for its programs integrating public affairs into the business curriculum. (Photo by Sanjay Suchak, University Communications)
"Public affairs professionals need a thorough understanding of business practices to do their jobs well, but not every MBA program recognizes the value of their function," Public Affairs Council President Doug Pinkham said. "At the same time, the corporate world is full of financial wizards who don't understand political strategy. We want to encourage top business schools to help both types of people become more knowledgeable and effective leaders."
The report cited three elective courses at Darden that met its criteria: "Management of Economic Growth and Society," "Business-Government Relations" and "Social Responsibility and Entrepreneurship."
It also designated three faculty members as "key" to the school's public affairs offerings: Peter Debaere, professor of business administration; Kinda Hachem, associate professor of business administration; and Peter D. Prowitt, professor of global economies and markets.
Article Information
October 27, 2020
/content/accolades-university-ranks-no-4-nation-voting-activities