Globally, 780 million people live without access to clean drinking water, and illnesses caused by dirty water kill more people annually than all forms of violence combined, including war.
Kate Clopeck, a 2006 alumna of the University of Virginia, is determined to change that.
"When I learned more about the global water crisis, I realized that the solution already exists," she said. "It was shocking to me that so many effective water technologies had been invented specifically for use in the developing world, but people were still dying every day from waterborne disease. It hit me that the problem wasn't technology, it was implementation. The final step to solving this crisis is learning how to get solutions to the people who needed them in a sustainable way."
In 2009, Clopeck co-founded Saha Global to help address that final step. The company, for which she serves as executive director, began by bringing long-term water solutions to rural communities in Ghana. Instead of simply providing the water purification materials, Saha Global trains local villagers to operate their own sustainable clean water businesses.
"It hit me that the problem wasn't technology, it was implementation. The final step to solving this crisis is learning how to get solutions to the people who needed them in a sustainable way." - Kate Clopeck
Clopeck's commitment to sustainable water solutions started as an unexpected passion while she was an undergraduate at UVA's School of Engineering and Applied Science.
"I first started getting involved in international development through the Nicaraguan orphan fund at UVA," she said. She visited Nicaragua in 2004, during the spring break of her second year. "That was my first time leaving the country and it was really a life-changing experience for me. But as an engineer, I felt like I could do more."
Clopeck returned to Nicaragua the following summer, this time putting her skills to use with UVA's Engineering Students Without Borders organization. Her team worked to help build an expansion on a local bakery and build a wastewater management system.
Encouraged by the impact of that project, she decided to devote her UVA engineering capstone project and later her graduate studies at the Massachusetts Institute of Technology to the implementation of water purification systems and their long-term effectiveness.
Clopeck first traveled to northern Ghana with MIT to do a sustained-use study on water filtration systems in the area. There she met fellow researcher Vanessa Green, and both agreed there had to be a better way to solve the water problem in that region.
"We were both getting frustrated with the lack of progress we were seeing in the field and that eventually led us to start Saha," Clopeck said.
The problem, they agreed, was an over-emphasis on spreading new technology and not enough emphasis on successful implementation. "There's a lot of funding for innovation and proof-of-concept work, but not a lot for long-term monitoring," Clopeck said.
Saha Global has a dual approach to achieving sustainability. First, they work with local entrepreneurs to set up a water purification system that conforms to local customs and habits, rather than trying to shape communities to fit an entirely new model. The second aspect is their commitment to long-term monitoring
In Ghana, this approach has become an important tool for empowering local women.
"We chose women as our first entrepreneurs because in northern Ghana, women are the ones in charge of water in the home. They collect it and manage it and they're the experts," Clopeck said. "Since then, our whole team has really gotten passionate about women's empowerment. We've seen how the business opportunities with Saha can really help a group that is often marginalized."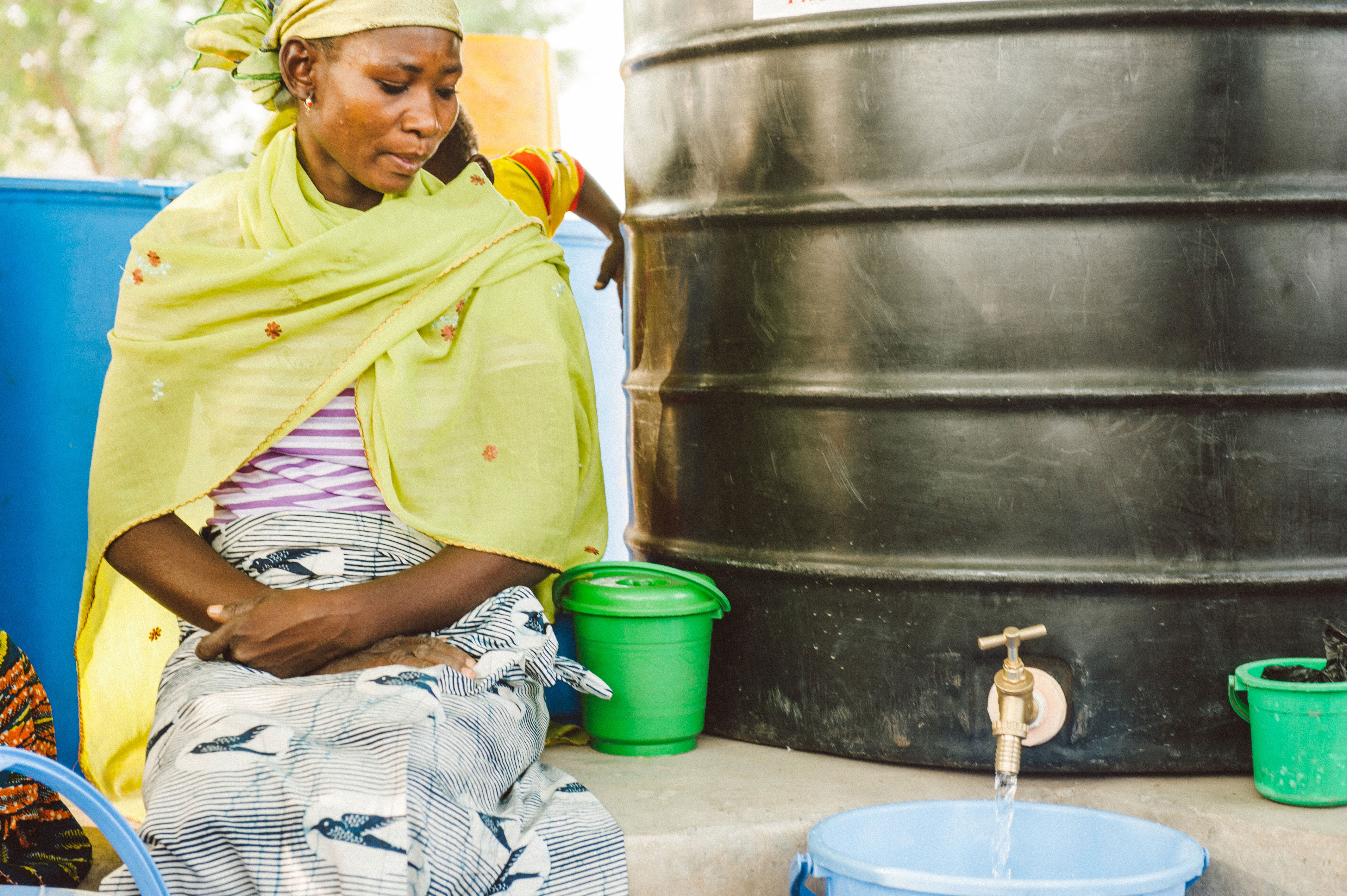 Families bring the safe storage containers provided by Saha Global to fill them with the water that has been purified by local Ghanaian entrepreneurs. (Photo credit: Lucy Randall of Smitten and Hooked Photography)
Each summer, Saha trains field representatives to help local entrepreneurs get their businesses up and running. Before traveling to Ghana, the reps raise funds that allow all start-up materials for the new water purification system to be donated to the entrepreneur and every local family to receive a free, safe water storage container for their home. This allows the Ghanaians who own each facility to keep the cost of their clean water affordable for their neighbors.
Every day, water is collected by hand and added to three 200-liter drums, where it is treated with alum, a coagulant that causes suspended particles to clump together in the water and sink. The settled water in the drums is then transferred to a large storage tank, where it is disinfected with chlorine and stored.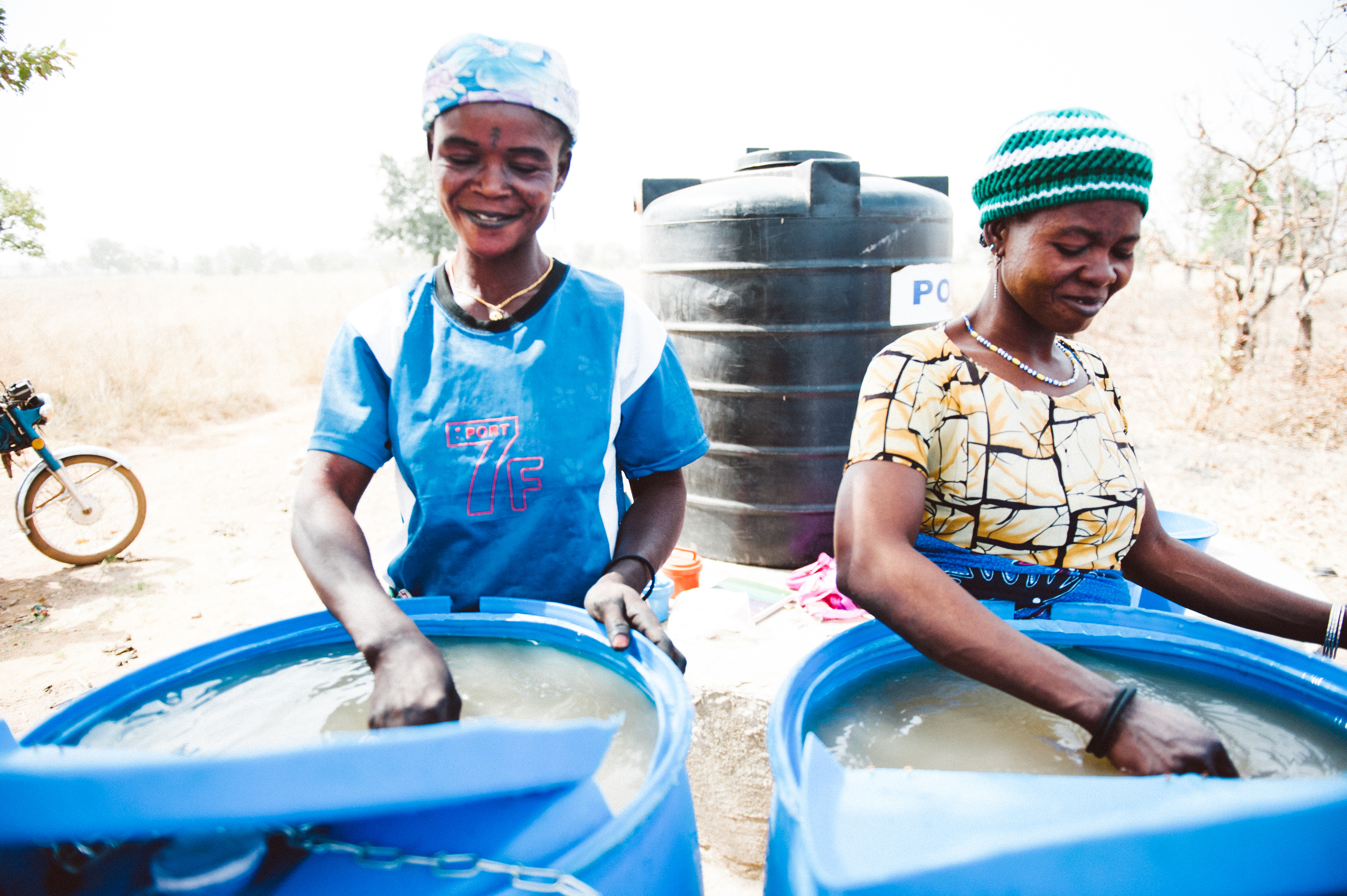 Clean water entrepreneurs add the coagulate alum and wait for floating particles to clump together, making them easy to remove from the water before chlorine is added. (Photo credit: Lucy Randall of Smitten and Hooked Photography)
After it has been purified, the entrepreneurs sell the water to their neighbors at a price that the community has agreed is fair – usually about 3 cents per every 20 liters.
Once a new business is launched, the Saha team returns to check on its progress on a regular basis for the next five years. Clopeck admits it's not a perfect system, but she and Green both realized that regular monitoring was the key to spotting problems early.
"In the communities were we work, almost everyone is a sustenance farmer and they are really busy. It's not always the case that if people have access to clean water, they will never drink dirty water," Clopeck said.
Sometimes the location of the water station has been a barrier. They've also had issues with older people who have been drinking contaminated water their whole lives and don't see the benefits of buying clean water.
Whatever the issue, Saha Global works directly with the community to address it, and the approach seems to be effective. They have launched 78 local water businesses over the last six years, and each remains in constant successful operation.
In fact, the company has seen such success with their entrepreneurial model that they decided to branch out beyond just water and help bring solar electricity to the region as well.
Like the water businesses, local owners manage each solar company and receive all their initial materials from Saha for free. Field representatives help them construct a shed with solar panels on top and charging stations within, and each local family receives a free battery-powered lantern.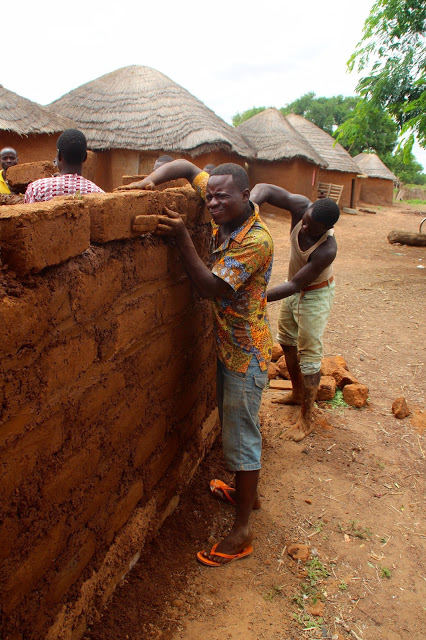 Villagers help construct a shed to house a new local solar power business that will rent out batteries and offer a place to charge cell phones.
Families can come to the shed to rent newly charged batteries for their lanterns and to charge cell phones – something that they used to have to travel long distances to larger cities to do.
Regular access to electric light means a huge boost in health and safety in Ghana. Residents no longer have to rely on smoky kerosene lamps, and in a region where scorpions and poisonous snakes are common nighttime visitors, electric light allows residents to see the ground around them and avoid stepping into danger.
In every community where Saha Global helps launch a business, they see a ripple effect.
"With the water, there's of course just hearing from people that they're no longer getting sick from drinking," Clopeck said. "There's also the time that it saves you when you're not sick. You don't have to go to the hospital. You can work instead."
For younger residents, access to electric light also offers a chance to read more and complete schoolwork at night, in some cases making education a possibility for children who could not access it before. Many of the female entrepreneurs use the profits from their water and solar business to pay their children's school fees, Clopeck noted.
Thrilled with their success in Ghana, Clopeck and her team are ready to expand outside that country. They plan to take their entrepreneurial model to Nicaragua in 2016.
Article Information
December 4, 2015
/content/alumnas-entrepreneurial-clean-water-solar-solutions-elevate-rural-ghana