Last week, Amazon unveiled its architectural plans for its highly anticipated second headquarters in Arlington, just a few hours north of the University of Virginia.
The centerpiece of the planned complex, which also includes three traditional office buildings, is "The Helix," a 350-foot tall steel and glass tower lined with greenery – including fully grown trees – that spirals upward in exposed pathways along the building's exterior. Architectural firm NBBJ, which designed the building for Amazon, likened it to the double helix shape of DNA strands. Others on social media saw an ice cream cone, the Tower of Babel, and a few less kind comparisons.
Faculty members in UVA's School of Architecture had their own opinions to share. Like many at UVA, they saw the design as another indicator of the influence and opportunity Amazon could bring to the Northern Virginia region. UVA President Jim Ryan and other leaders expressed enthusiasm about the new headquarters when it was announced in 2018, citing a projected 25,000 high-paying jobs and other positive economic impacts.
However, many at UVA and beyond have also raised concerns about the impact the tech giant could have in surrounding neighborhoods, with rising rents threatening lower-income families, and about the environmental effects of some of the company's decisions.
We asked several architecture and urban and environmental planning professors to weigh in. Here are some of their thoughts.
Tech Companies and 'Monumentality'
Ali Fard, an assistant professor of architecture and urban and environmental planning, recently taught a research studio examining urbanization in Northern Virginia, specifically focused on the influx of tech companies. Fard has also studied tech companies' architecture and design strategies, from aesthetic choices to the space considerations and other socio-environmental demands associated with big data and cloud storage.
He sees Amazon's newest design as a return to "monumentality."
"Architecture has always been a representation of power, and often this results in extravagant architectural gestures," Fard said. "However, in the early 2000s, many tech campuses and headquarters began to downplay this a bit, instead focusing on different ways of experiencing a space, or the 'hackability' of a space."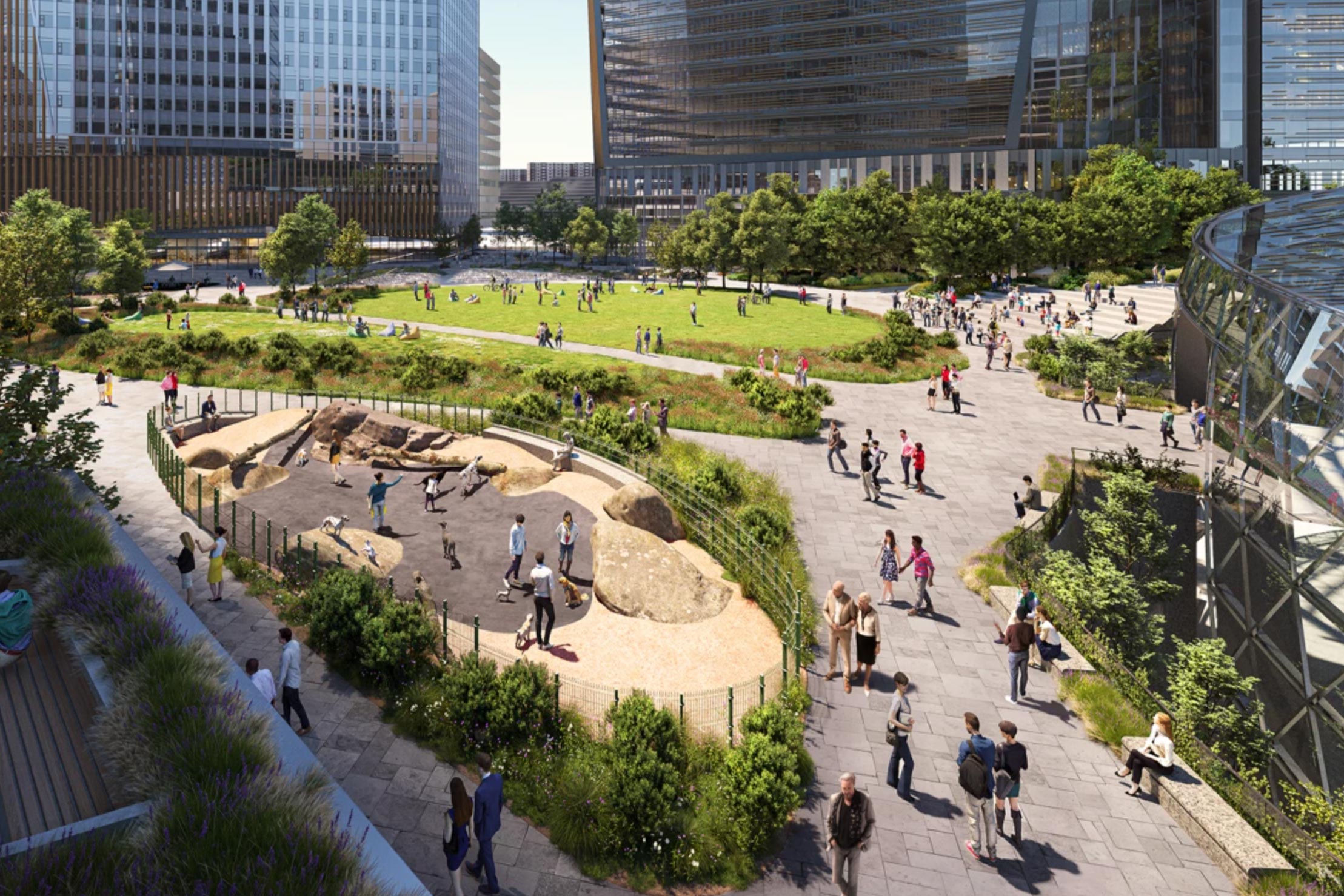 That resulted in more low-key adaptable designs, like Google's first headquarters and Facebook's original offices. Amazon's South Lake Union campus in Seattle is another more urban or integrated approach to campus design, which Fard said "is so much a part of the urban fabric that it's hard to distinguish where Amazon stops and the rest of the city begins."
More recently, though, tech companies seem to be reverting back to monumental design. In 2018, Amazon opened the Amazon Spheres in Seattle, an addition to its headquarters involving three large, futuristic and eye-catching glass domes. Like the Helix, the Spheres are open to the public on a limited basis, a sort of tourist attraction.
Apple also took a monumental approach to its new headquarters – a large, sleek circle that is hard to miss if you are flying over Cupertino, California. Fard also cited the Hudson Yards development in New York City, a 28-acre complex that includes several soaring towers and a 16-story honeycomb-like sculpture, called Vessel, that visitors can climb.
"I see The Helix as the next step into that reemergence of monumentality in tech architecture," Fard said. "But we need to be very careful of 'exciting architecture.' For me it's how architecture performs in its context – urbanistically, socially, environmentally – that elevates it beyond empty gestures of monumentality."
Sustainability and Biophilic Design
Arlington is part of the Biophilic Cities Network, founded and directed by Tim Beatley, the Teresa Heinz Professor of Sustainable Communities and Urban Planning at UVA. The network represents a global group of partner cities working to incorporate nature into urban design – often referred to as biophilic design. Beatley said that both staff from the Biophilic Cities Network and an associated citizens' group met with Amazon representatives several times.
The Helix design, Beatley said, "does fit into a larger emerging vision that Arlington has for itself as a natureful city."
According to a press release from Amazon, the new buildings are designed for LEED Platinum certification, the highest certification issued by the U.S. Green Building Council, and will use a heating and cooling system powered by solar energy. The tower itself is dotted with gardens and trees from top to bottom, with two walkable paths ascending upward. More than 2.5 acres of open space, including an amphitheater, central green space and a shaded grove, are also included in the plans.
"This building appears to be part of an emerging trend in architecture to integrate the natural environment into the building fabric," said Bill Sherman, Lawrence Lewis Jr. Eminent Scholar Professor of Architecture.
"It's driven in part by the human benefits that organizations such as the Biophilic Cities Network have advanced, as well as the reduction of the environmental impact as the trees and planting shade the building, cool the air through evapotranspiration, absorb carbon dioxide and produce oxygen."
However, Sherman said, the scale of those carbon offset is often dwarfed by the overall carbon footprint of the construction process – a tradeoff his colleague Phoebe Crisman, professor of architecture and director of the Global Environments and Sustainability major, also discussed.
Questionable Tradeoffs
There is a global trend of covering buildings in vegetation, Crisman said, that feels very of-the-moment but also dates back at least 50 years to Malaysian architect Ken Yeang, a pioneer in ecology-based architecture.
Most times, Crisman said, the designs call for vines or other small plants. Trees – like those illustrated in Amazon's designs – are a more complicated undertaking.
"Supporting heavy trees and soil on buildings requires additional steel or concrete in the structure and increases emitted carbon and embodied energy, which is not the most sustainable tradeoff," Crisman said.
"In some ways, I worry this could be another example of greenwashing," she said, "a highly visible expression of sustainability and a sort of 'Disney version' of nature."
Crisman is also skeptical of the tradeoffs inherent in the design's green spaces, which will be open to the public, but nonetheless owned and controlled by Amazon.
"For me, the biggest question from the community standpoint is how and when that public landscape can be used," she said. "Though I don't know the exact legal arrangements, it seems likely that the land will be made accessible to the public at certain times, and will be controlled by Amazon, unlike a true public park. There are benefits to added green space, of course, but it does raise questions about who can occupy the space and who might be excluded. Would a homeless person, for example, be able to spend time in that space?"
Gentrification is another issue. Amazon has worked to address concerns about rising housing costs in the area around its new headquarters, creating a $2 billion Housing Equity Fund that has committed to preserving or creating more than 1,300 affordable homes in the Crystal City neighborhood.
"I appreciate Amazon's investment in the region," Fard said, However, if the mere fact of Amazon's presence in the region drives up real estate prices and costs of living, and drives out low- to middle-income families, it becomes harder for those investments to reach people actually in need.
"It really begs the question of who these investments are for," Fard said.
Style and Substance
Ultimately, faculty members agreed, how Amazon will balance style and substance is an open question.
"One trend in architecture involves taking some form of nature – a cellular structure, or double Helix – and enlarging that in a building," Crisman said.
"It's interesting, but to me it's a question of translation. How do you go beyond just raising a symbol?"
Media Contact
Article Information
February 8, 2021
/content/architecture-faculty-weigh-amazons-arlington-hq