Find the latest information on the University's response to the coronavirus here.
Remote learning is new to many members of the University of Virginia community. For many faculty members, learning how to teach via electronic platforms such as Zoom videoconferencing has been a hallmark of this pandemic-altered semester.
For Steven Warner of the Department of Drama, electronic learning has always been a major asset in his toolkit as he teaches the technical side of theater. For the past three semesters, Warner, who teaches a popular puppeteering course called "Art of the Creature," has been connecting with guest artists online to virtually coach UVA students as they design and build their own puppets.
The effort is part of a partnership with the Stan Winston School of Character Arts, an online training program founded by UVA alumnus and acclaimed Hollywood creature artist Stan Winston. (You can check out the larger parent project it developed from here.)
"UVA can use guest artists in a really impactful way," Warner said. "The industry being connected to education is always important, and I think we leave that out a lot. We don't often get exposure to the industry in a meaningful way like this."
Online coaching services, like the Stan Winston School, allow guest artists on the other side of the country with active careers in the entertainment industry to interact with students in real time.  
"All of the artists we're connecting the students with are working professionals," Matt Winston, co-founder of the Stan Winston School, said. "This virtual aspect has allowed us to involve professionals who never would be able to commit to a longer period of instruction time."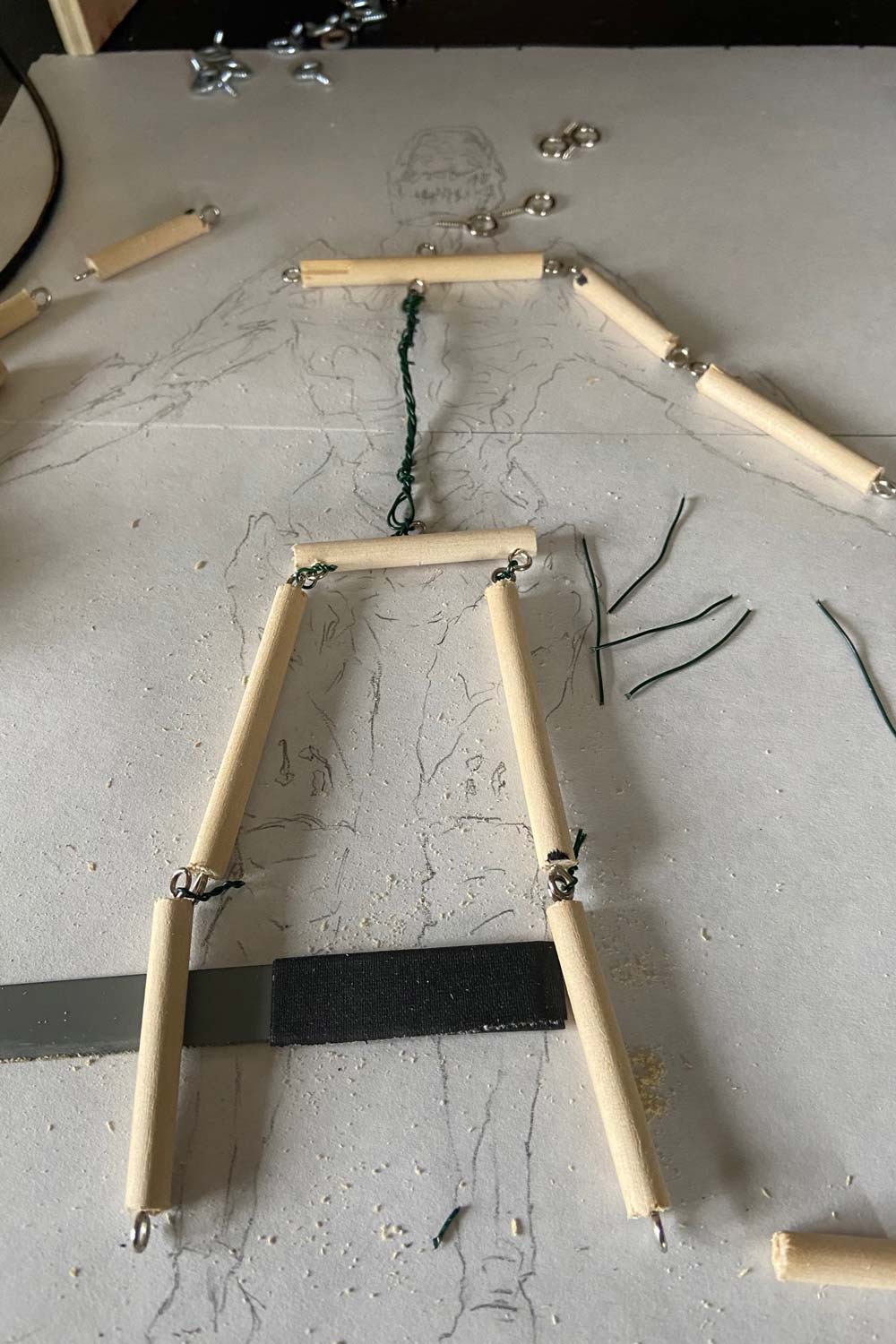 During the course, students learn to design and build their own rod puppets, shown here in the beginning stages.
While the course already included aspects of online training, a majority of the pre-pandemic coursework and puppet construction took place in the scene shop of the Department of Drama. When the University transitioned to online instruction in March, Warner didn't hesitate to begin his own transition to teaching a hands-on course entirely online.
"Initially, the plan had been to send the students home after spring break with a build kit –a kit full of everything they might need to be creative in constructing a small rod puppet creature," Warner said. "Now with our stay-at-home situation, the kits are needed more than ever."
So, Warner – with some help from his wife and son – decided to box the kits up and mail them to his students.
The kits, which were made possible through an Arts & Sciences Faculty Research Thrive Grant, include tools, hardware and other materials necessary for students to create their creatures from home. Warner and his family packaged them and quickly shipped to students all over the country.
"It was like an assembly line at a factory!" Warner said.
"Steve was able to send us all the equipment that would be needed for our final project, and he helps us in any way he can from the confines of his home," third-year student Chris Glaser said. "Overall, I think this experience of building our final project at home instead of at school has been extremely fun – but still difficult – because of the all-time great, Steve Warner."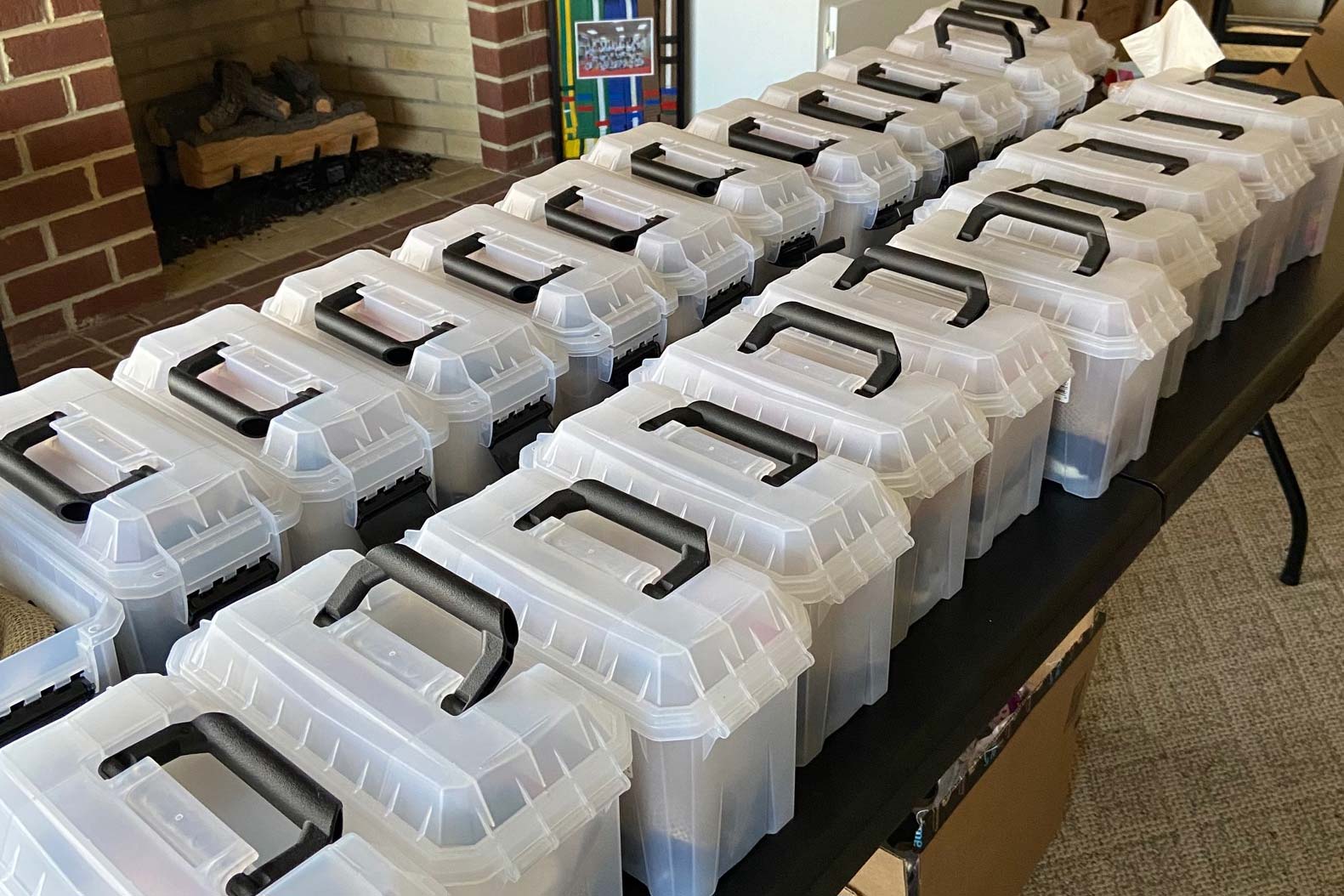 After the transition online, Warner and his family packaged and mailed these build kits to students across the country, so they could continue their creative work from their homes.
Puppetry is one of the oldest forms of live theater, dating back to Ancient Greece. The art form still plays a major part in theater and film, and many of the same principles used to build puppets in stage productions (such as UVA Drama's production of "She Kills Monsters" last fall) are the same principles that industry effects artists use to create popular movies like "Jurassic Park."
Ironically, the guest artist who had already been scheduled to electronically coach students this semester was a Hollywood creature effects artist with an affinity for creating creatures from home. Shannon Shea, who is known for his work on films such as "Jurassic Park," "Predator" and "Batman Returns," got his start by building puppets from his home.  
"I started in my garage," guest artist Shea said. "And I have to tell you, I still make things in my garage!"
To Shea, founder of a popular course entitled "Garage Monsters," it doesn't matter where you are creating, as long as you have imagination.
"I feel empathy for the students and what they must be going through in isolation," Warner said. "My hope is that by continuing coursework, they will have some sense of normalcy and a challenge to occupy thought and pass the time in a way that is productive."
Perhaps this new iteration of "Art of the Creature," now meeting via Zoom, will inspire a new generation of garage artists.
Media Contact
Article Information
April 9, 2020
/content/art-garage-creature-puppetry-online