For Matthew Burtner, a day in the office has often included suiting up to spend the morning on an Arctic glacier.
Burtner, the new chair of the University of Virginia's McIntire Department of Music, records the age-old sounds of the glaciers and uses his 20-plus years of experience as a composer and scholar of computer music to create beautiful compositions aimed to raise awareness of climate change and glacial melt, issues that hit close to home for the Alaskan-born composer.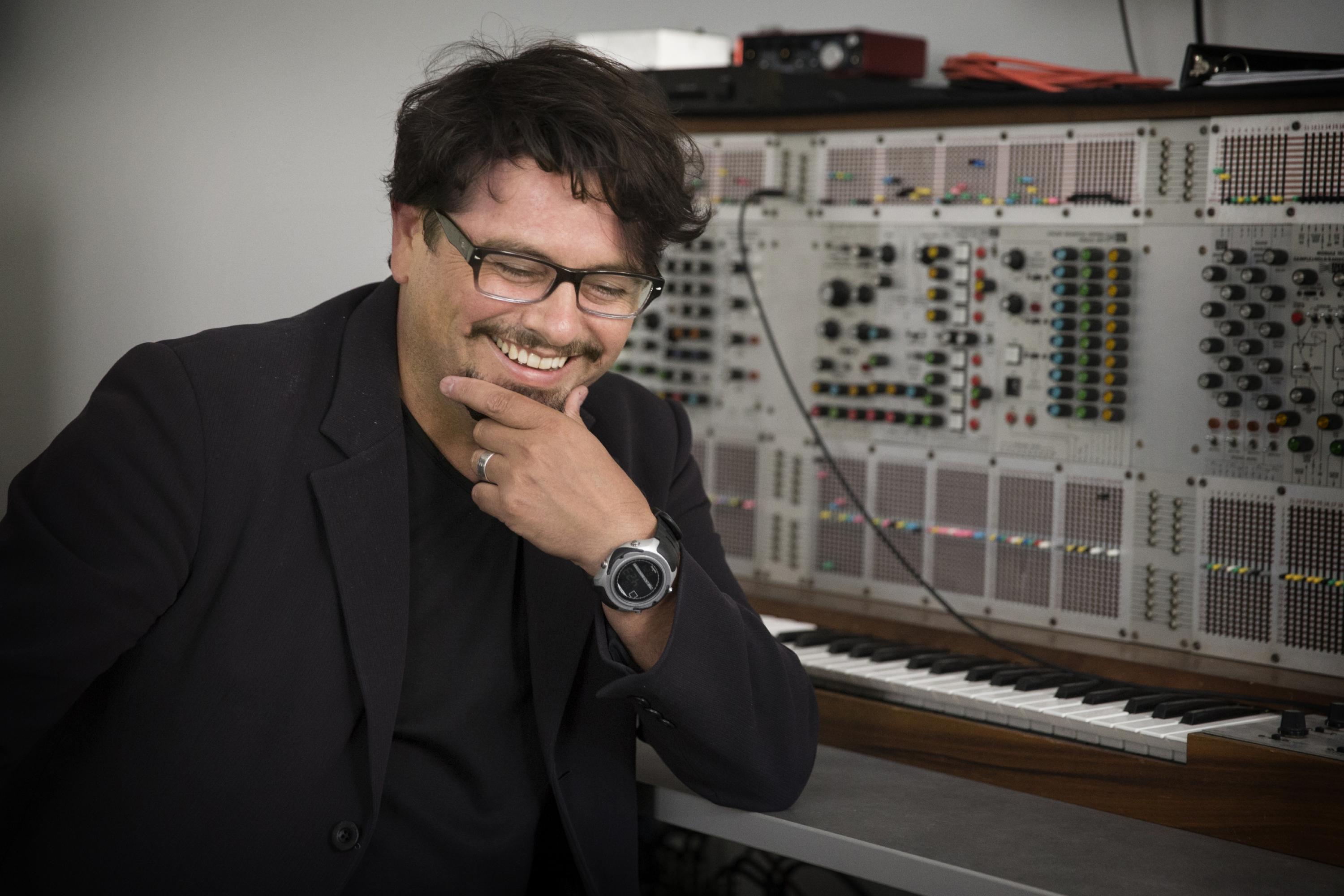 "I grew up close to glaciers and they are really amazing," he said. "Now, when I visit, they are mostly gone or have retreated so far up the mountains that you cannot see them from the old viewing stations.
"They were such an important presence and now they're gone. I felt there had to be some way to express the music of that loss."
Burtner assumed the department chair in August at the conclusion of associate professor Richard Will's five-year tenure. A professor in the Composition and Computer Technologies program, Burtner specializes in "ecoacoustics" – sound studies of the relationship between humans and their environment. Throughout his career, he has used his expertise to give voice to the transformation gripping his native state.
His electronic compositions layer recorded and edited sounds of the Arctic with other instruments. The haunting melodies have proven a powerful soundtrack for events raising awareness of climate change, including a recent performance at the Smithsonian Museum of Natural History's Arctic Spring Festival in Washington, D.C.
The piece he performed there, called "Ice Cycle," was produced in collaboration with New York's Time Lapse Dance Company. Both Burtner and the dancers spent time working on the polar ice; he recorded the sounds and data that would anchor his compositions, while the dancers developed their choreography directly on the ice. Later, it all came together onstage as the dancers performed while Burtner, also onstage, mixed a combination of live and recorded sound to complement their performance. You can listen to the results below.

A number of Burtner's other compositions employ similarly unusual techniques. One, "Fragments from Cold," uses snow as an instrument, blending recorded snow sounds with acoustic cello performances. Another, "Sonic Physiography of a Time-Stretched Glacier," attempts to slow down the sounds of a glacier and uses percussion to bring out the tiny rhythms created by individual droplets of melting ice. 
"Glaciers are already moving slow, but they melt too fast for me," Burtner said. "I wanted to slow it down, almost as if you could stop time in order to stop global warming."
Burtner's "Fragments from Cold" piece includes cello performances and electroacoustics that feature recorded snow sounds. Burtner created the crunchy or scratchy sounds that you hear by using snow as an instrument. In later pieces, he has even used snow live on stage.
Burtner will partner with the Arctic Studies Center at the Smithsonian for future performances, including an upcoming performance in Alaska. He is also working on a project emphasizing an equal-but-opposite effect of climate change: sea-level rise in Venice, Italy. There, he is collaborating with architecture professor Anselmo Canfora to explore how buildings relate to the natural and social environment in the famed City of Water.
"Venice is one of the cities at highest risk from rising sea levels and there is a corollary between my work in Alaska and places like Venice," Burtner said.  
Collaboration – with colleagues in other schools and departments and with fellow music faculty – has been a hallmark of Burtner's time at U.Va, something that he hopes will only grow during his time as department chair.
"Working in a university, you meet experts in many different areas and everyone is so curious. If you reach out and talk with them, you are likely to find a new project," he said. "In our department, there are unprecedented interdisciplinary collaborations at the moment, which I find very exciting."
The music department's facilities are expanding to meet the increased needs of technology-based faculty and student research. With a telematic stage that syncs U.Va. performers with others in remote locations and a new recording studio, music interactions and instrument maker space for creating electronic and computer music in Wilson Hall, the department is realizing a 21st-century vision of how music relates to culture and the environment through technology. The department has also hired a number of new faculty members focused on computer music, such as Peter Bussigel, who will teach classes on computer music composition and software like the Mobile Interactive Computing Ensemble, developed at U.Va.
 "Our offerings in multimedia, technology and popular music have grown, all while maintaining our excellence in jazz, marching band and classical music," Burtner said.
The department has also expanded the ethnic and cultural diversity of its curriculum and is known for its strength in the music of the African diaspora and African-American music.
"As chair, I will think about looking for synergies between all of these subjects and celebrating and looking for diversity," Burtner said. "I want to articulate that breadth, let the world know what we are doing and weave all of the different aspects together."
Media Contact
Article Information
August 26, 2015
/content/artist-arctic-meet-new-music-department-chair-matthew-burtner