In April, as the pandemic spread and states went into lockdown, Kimalee Dickerson was thinking about teachers.
Dickerson, a postdoctoral research associate with the University of Virginia's Equity Center and Youth-Nex, the Center to Promote Effective Youth Development at UVA's Curry School of Education and Human Development, was in frequent conversation with educators as part of both centers' commitment to local partnership.
No one knew what the summer, much less the fall, would look like – but they knew it would be challenging. Someone suggested a professional development opportunity focused on mental health and equity. "Not just focused on the academic content, but more the social and emotional context and supporting students through a challenging time that we were all adjusting to," Dickerson said.
She saw an opportunity where UVA could help.
"In a space where it feels like there are so many big challenges, this was a smaller thing we could do to support the community – and to give them something they were asking for," she said.
The result was "Returning to School With Equity in Mind," a four-part series of free professional development webinars hosted throughout July. The series brought together UVA experts and local educators to discuss tough questions from a local perspective – and, in the process, build a much-needed support network around educators.
Focus on Equity
As the idea began to take shape, Dickerson and colleagues reached out to contacts in both Charlottesville and Albemarle County to gather ideas. Ultimately, organizers chose four topics that appeared on both localities' lists: Trauma-responsive teaching, mental health, equitable learning spaces, and lessons in virtual learning. Equity was the connecting thread.
Denise Johnson, supervisor of equity and inclusion for Charlottesville City Schools, worked with Dickerson from the beginning. "My main goal is to make sure that we always have equity at the forefront of all of our conversations as a division," she said. "That includes looking at policies and practices, and how we are engaging our students and families on a day-to-day basis."
But the pandemic raised new issues while throwing ongoing concerns into stark relief, as educators scrambled to re-envision what equity looks like in virtual learning.
Rachel Savoy Caldwell, a third-grade teacher at Venable Elementary who has been teaching in the area for 10 years, immediately registered for all four sessions.
"I signed up because I thought the topic seemed really relevant for me, as a teacher who's thinking about going back to school in the midst of a global pandemic and after a summer of increased attention to police violence towards Black Americans," she said. "However students come back to school, they will be coming with a lot on their minds. And I'm always trying to find ways to be as prepared as possible to be the teacher that my students need for this very moment – for any moment we're living in, being ready to address that in the classroom."
Kimalee Dickerson, a postdoctoral research associate with UVA's Equity Center and Youth-Nex, was one of the organizers of "Returning to School With Equity in Mind," a webinar series. (Contributed photo)
During each session, a panel of experts and practitioners shared advice and strategies, grounded in research, for how to navigate a challenging time while keeping equity at the center. Caldwell appreciated the opportunity to address topics that had been weighing on her mind.
"Equity seems like a buzzword right now, and I think that can tend to water down its meaning," Caldwell said. "But at the end of the day, these webinars were helping me ask critical questions, like, 'Do our students feel like they have power in the classroom?' 'Do they feel like their voices and their lives matter?' 'Will they leave school with the skills and the tools that help them enact change in their lives and their community?'"
Building Community Partnerships
A focus on community partnerships was woven throughout the series. Roughly half of the presenters came from UVA, and the other half were recruited from organizations in the local community.
By leveraging community partnerships, organizers sought to strike a critical balance of academic expertise and first-hand experience.
"UVA, and the Equity Center in particular, is a hub of expertise and relationships and experience, so having them as a resource is always valuable," Johnson said. "Now is the perfect time to be innovative and creative in our thoughts, and that's going to take a community effort."
Once the series opened for registration, Dickerson made sure to contact everyone who had contributed ideas or feedback. More than 100 educators signed up for each session, with about 60 to 70 participating live and others streaming on YouTube. All sessions were also recorded and posted online, with links to related resources, so that teachers who couldn't attend could still benefit. Dickerson said teachers from neighboring counties joined in, and one UVA researcher is already sharing the videos with colleagues in Kentucky.
But while the resource is available and relevant for teachers across the country, participants knew it was rooted in local concerns and designed specifically with Charlottesville and Albemarle teachers in mind. That distinction matters.
"I appreciated that these sessions were going to tap into the knowledge base of local experts," Caldwell said. "I think it helps build community partnerships, because now I know who I can contact in our local community if I have questions or if I want to pursue a larger conversation. It makes it feel really accessible to teachers to attend webinars that are locally sponsored like this."
Big Ideas, Small Steps
From the beginning, a central goal of the series was to offer simple, easily reproducible strategies. Among deep discussions of complex issues, panelists and participants shared tips on establishing classroom Zoom etiquette, how to engage families through virtual movie nights, and ideas for simple classroom routines that help provide a sense of normalcy.
"They broke down these big important elements of education into these small pieces that teachers could implement and take away – and could do it in a virtual environment," Dickerson said.
With concrete, practical examples, participants could visualize what certain strategies would look like in their own classrooms as they planned for the upcoming year. The personal touch also cultivated a sense of support, as participants and presenters alike shared messages of encouragement and laughed at one another's candid stories of Zoom mishaps.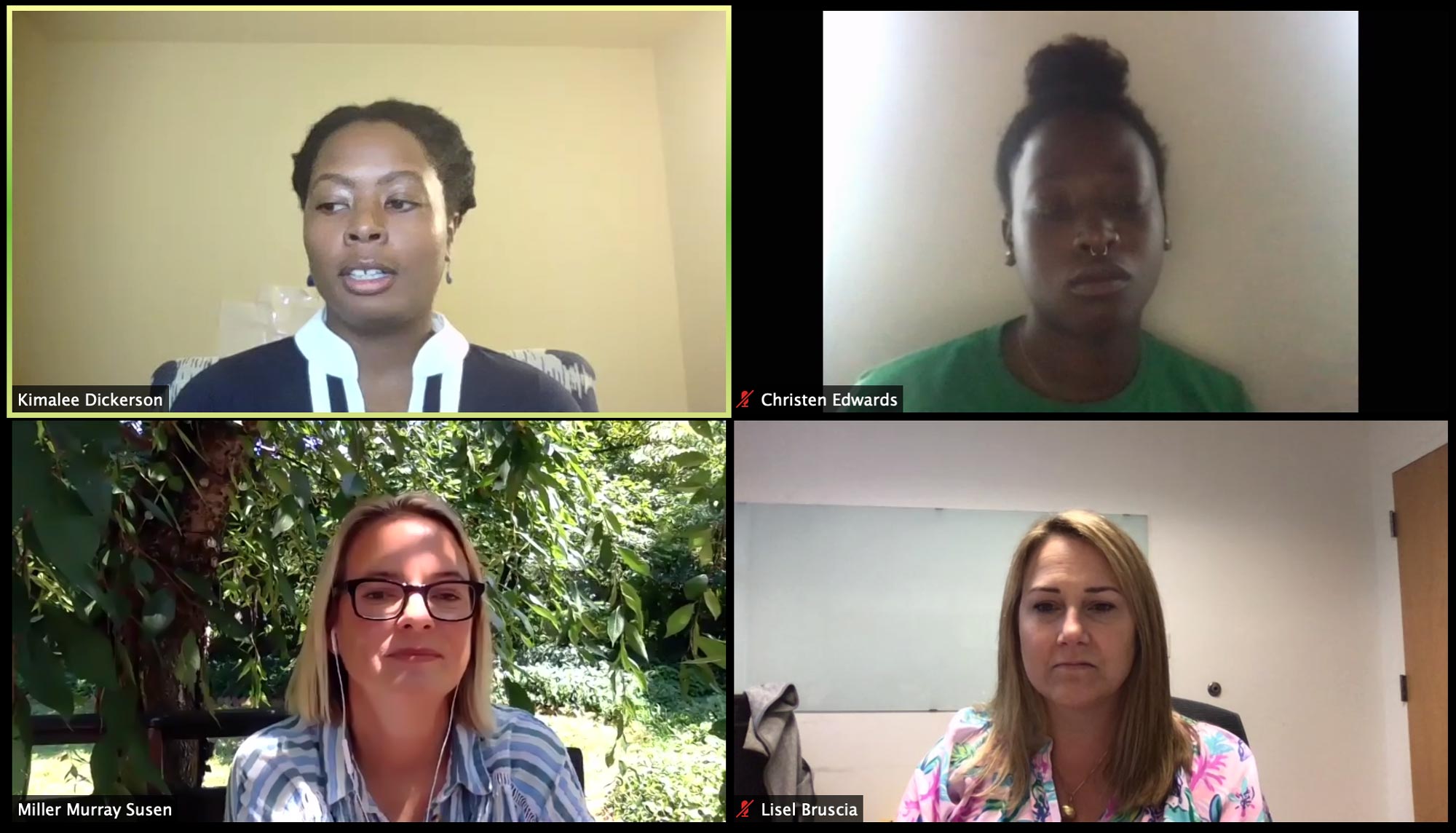 The webinars brought together UVA experts and local educators to build a much-needed support network this summer. (Contributed photo)
"The presenters offered real examples from their own lives and their own professional experiences, which was illuminating because it helped me really grasp on to what this could look like in my classroom," Caldwell said.
With so much still uncertain about the upcoming school year, and so much work left to do to reach true equity in schools, the conversation is far from over.
While she has always felt supported by the local community, Caldwell admits that the pressures of teaching in 2020 can be overwhelming. "Every teacher I know works incredibly hard," she said, but "sometimes it feels like an insurmountable amount of expectations are placed on educators."
Among all the tips and strategies, the most important takeaway may be the reminder that they're not doing it alone.
"When the community really rallies around us, that's truly the best feeling in the world."
Video recordings and resources from the professional development series are available online here.
Article Information
August 18, 2020
/content/back-school-equity-mind