The first month of 2021 is nearly over, but that doesn't mean your chance to make the new year a great one has ended.
The University of Virginia is known for its outstanding faculty. UVA Today reached out to several of them, and a vice president, to ask for their advice for a happier, healthier 2021.
Here, you will find a wide range of recommendations, from what those in public policy can do to make improvements in the new year to the importance of keeping joy, laughter and gratefulness in your life.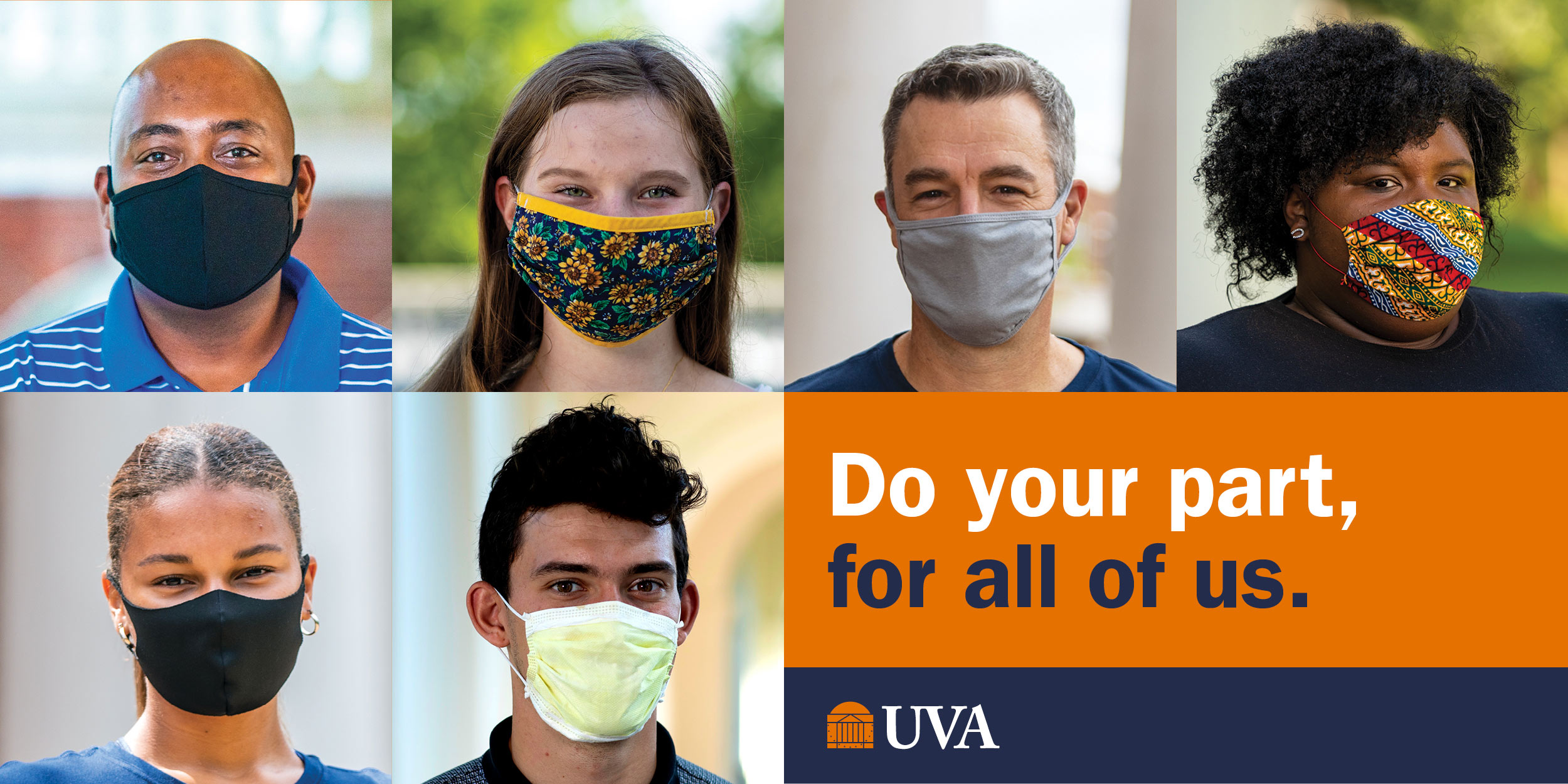 Read on for those and other tips for the new year.
• Shigehiro Oishi, Professor of Psychology, expert in social psychology, College of Arts & Sciences
We are in transition; the transition of political power, the transition, hopefully, to a post-COVID-19 world. There is still so much uncertainty. Here are a few things I know as a psychologist studying happiness, meaning and psychological richness.
1. Make and keep routines. I get up at 6:05 a.m., work until the sunrise (now around 7:30 a.m.), jog, shower and then have a breakfast every day. I feel a sense of accomplishment early in the day. I feel like the day is never completely wasted, even when I don't get anything done after breakfast (unfortunately, quite a few days are like that). Research shows that people who report having a higher sense of meaning in life tend to have routines in their everyday lives. That same research even showed that experimentally inducing a routine increased participants' sense of meaning, presumably because routines give one a sense of coherence and structure. In an uncertain time, it is good to have something certain, especially good routines. 
2. Be grateful. When my wife and I want to complain about our lives, we try to remind ourselves that we should be grateful, that we are lucky to have jobs, each other, our children and more. COVID-19 has brought so many losses and tragedies, to the point that the number of new cases and deaths became a bit of a blur, which is horrible. Other research shows that being grateful is associated with less physical symptoms, for example headaches, and more happiness. A UVA study by Sherrell J. Aston Professor of Psychology Tim Wilson and his students found that counter-factual gratitude is particularly powerful. Namely, when participants thought about how they might have never met their romantic partner, their happiness increased a lot. So, from time to time, we should all think about how we might have never gotten a chance to come to UVA or meet our loved one and be grateful for what we have during the pandemic. 
3. Add some novelty in life. Finally, although routines anchor your day and life in general, having routines alone can be quite boring. Life during the pandemic can be extremely boring. No restaurants, no parties, no basketball games to attend. Zoom meetings are often exhausting. My research team (the paper is in press) found that people tend to feel happier and find their day to be more interesting when they did something new, met someone new, or ate something new. So, I try to go hike different trails, go to different places and even eat different types of chocolate. Even the little things we can change can reap great benefits. 
• Joseph Allen, Hugh Kelly Professor of Psychology and expert on teen development, College of Arts & Sciences
Give your teens a chance to contribute.
Our teens are suffering horribly, perhaps more so than almost any other group, from the isolation brought on by COVID-19. This is because of how crucial developing peer relationships are at this stage in life. That's a tough problem for parents to solve, but they can help.  
Teens, from time immemorial, are hard-wired to want to have an impact on the world. Indeed, many acts of vandalism can be traced to a misguided effort to actually "see something happen." So let's give them a way to have an impact. They can paint their room, organize the garage or old photos from their parents' collection. They can learn how to make a weekly meal for the family. The possibilities are limitless, given the endless time available.  
And parents, don't be swayed by the time investment needed for these activities. Yes, some of this will take your time, but it's not time spent, its time invested in a more competent teen going forward. And yes, teens may object at first … but if they get some input into what they do and how they do it, you'll most likely find them quite pleased with themselves at the end of it all. And finding anything that can provide a sense of satisfaction is quite an accomplishment in these crazy times. 
• Gerald Warburg, Professor of Practice of Public Policy, Frank Batten School of Leadership and Public Policy
How can effective and responsible leaders help us move forward? Crisis offers opportunity. Loss reminds us of those values we cherish. As at a funeral, when we grieve the attacks on our Capitol and the deaths of public servants, we also celebrate the core values that unite us.
The nation is at a pivot point. The fever of fascism has been broken. This pivot offers our national community a crucial moment for reflection and renewal. For those of us who are called to teach the next generation of public policy leaders at the Batten School, this work has a clear North Star: Our mission is to renew our national institutions, to call on the wisdom of our founders, and to continue working toward a more perfect union.
Young women and men who sign up for public service – and whose lives were at risk Jan. 6 during the U.S. Capitol riots – are central to this task. Like first responders in a disaster, they are the ones equipped with skills and courage needed as they run toward the fire, toward the danger, not away from it.
In our public policy classrooms, this means rededicating ourselves to first principles. Examining our key government institutions with unflinching eyes. If they require reform, first build a stable bridge – one that can get from here to there in a bipartisan, sustainable fashion. Reject ideologues and demagogues who are good at tearing things down, but clueless about how to build a new foundation. Look hard at policy history – especially the recent past.
At the Batten School, we teach leadership skills. We try to sharpen students' tool kits, to equip them how to analyze social challenges, to determine which level of government – or the private sector – can best address the societal challenges, and then to weigh with facts and science the best, most realistic, achievable policy solution.
This work is doable. I am optimistic we will succeed. My late father, Felix Warburg, was a veteran of both World War II and Korea. Born in Europe, he returned to Vienna with troops as a skinny 20-year-old U.S. Army intelligence officer in 1945. No one in his mother's neighborhood survived Hitler's madness. Dad's takeaway was simple: "Every day is a gift." He returned to Harvard with a new career direction: architecture. He dedicated himself to building homes for people. His indefatigable optimism in the face of unspeakable tragedy inspires us. It is a well of confidence to draw from in difficult times.
We must hew to first principles. We must recognize that public policy challenges are difficult because public servants' words and decisions are so consequential. We can do the hard work. Our nation is strong and the vast majority of our citizens are determined to work together for the common good.
• Anne Coughlin, Lewis F. Powell Jr. Professor of Law and expert in women's issues, School of Law
To achieve gender justice, feminists must identify – and strenuously oppose – the connections between patriarchal ideology and white supremacy. To say the least, it will not be easy to dismantle the patriarchy. But, if we are to do so, our only hope is to work in solidarity with anti-racist scholars and activists. 
Let me be less abstract. My students and I are working to reform Virginia rape law so that it no longer puts women on trial for having sex. The authors and enforcers of this archaic law were quick to defend the system on the ground that it protected women's honor. When you scratch the surface, you see that, for women, "honor" meant "chastity." This seemingly antiquated notion – that women are honorable only if they are chaste – still is formally inscribed in the Virginia penal code, which says that sex "defiles" women. That is why core elements of the crime of rape – proof of physical violence by the man and/or physical resistance by the woman – put women, but not men, on trial for having sex. It is not enough for a woman to say "no" to sex, because she is expected to do more than register a verbal objection when her very honor is at stake. Unless she pushes back physically or the attacker uses something that amounts to force, the sex will be treated as lawful. It is no wonder, then, that "I believe her" has become a rallying cry for gender justice advocates around the world.
If you scratch the surface a bit more deeply and you will see that the formal law was suspended in cases involving African Americans. Over the centuries, women of color have been defined as unchaste, so that they could not expect to receive – and, tragically, have not received – even the feeble protections that rape law afforded to white women. As important, the kind of sex that was considered to be the most defiling was any sex – no matter how consensual – between a black man and a white woman. As Ida B. Wells-Barnett explained in "The Red Record" of 1895, her study of lynching, this "peculiarly" American crime was justified across the board by the excuse "that Negroes had to be killed to avenge their assaults upon women," even when no assaults had occurred. She documented "numerous instances" where African American men were treated as if they had committed rape –and were lynched for it – although "it was positively known at the time of lynching, and indisputably proven after the victim's death," that the sex "between the man and the woman was voluntary." 
This is just one example of the ways in which sexism and racism are inextricable and mutually defining, of the ways in which white supremacy has constituted as adversaries women and men who should work in solidarity to defeat it. Thus, for my students and me, the challenge in the coming year is to develop a rape reform strategy that dismantles the collusion between patriarchy and racism.
• Kevin McDonald, Vice President for Diversity, Equity, Inclusion and Community Partnerships
Note: The following is an excerpt from a piece McDonald wrote for The Daily Progress.
A year like no other in recent memory, 2020 has reminded us how important it is to stay supportive and connected during difficult times. To be a "weaver."
In my role at the University, I'm reminded of the Social Fabric Project, which starts with the idea that "America's social fabric is being ripped to shreds by distrust, loneliness, alienation, inequality, racism, spiritual emptiness and tribal enmity," but with the recognition that there are everyday people in local communities across the nation, called "weavers," who are fighting these challenges and having a transformational impact. These weavers recognize the importance of putting any notion of hyper-individualism aside in favor of relationalism and the ultimate goal of weaving together inclusive communities. The Charlottesville-Albemarle community is full of "weavers" who are committing their lives and their talents to centering relationships, to being selfless and not selfish, and to eradicating scourges that have served to the detriment of so many of our community members for far too long. From poverty to chronic homelessness, to food inequity and insecurity, weavers in our community continue to strive to create a better tomorrow, today.  
The question is: Are there others willing to join the "weaver" movement in our community? There's room for so many more who are eager to put their different perspectives, ideologies and personal interests aside to better our community. We need weavers now more than ever. With so many things dividing us, if we don't all come together as a community to fight these pressing issues, we'll have no hope of ending them. This idea is analogous to President Jim Ryan's consistent suggestion that we look for ways to build bridges among us. I'm grateful for the opportunity to serve my UVA and Charlottesville-Albemarle communities every day, and this coming year, I commit to joining the weavers within our community to tackle some of the most pressing challenges of our present and our future. How about you? Are there any new weavers among us? It will take people with willing hearts and a love for humanity who will join others in identifying root causes instead of symptoms and committed action that matches committed rhetoric.
As we all continue to reflect both personally and organizationally and move to heal and repair our future, we must understand and embrace how connected we all are. It's up to all of us to center relationships at the core of what we do and how we serve. We must continue to understand the historical separation that has been here for generations and the value of repairing that bridge, and we must commit ourselves to continue working together to build new bridges that create a better future for all.
• Theresa Carrol, Senior Assistant Dean for Academic and Student Services, School of Nursing
Just keep laughing.
We used to have a painting right outside my office door that repeated over and over, "Just keep swimming." It was an appropriate place because there were a lot of folks who came down that hallway feeling like their head was barely above water. I always hoped that when they left my office and saw those words, it would be a good reminder that as long as they kept their head above water, as long as they kept swimming, they would make it to the other side of wherever it was they were paddling.
When my girls were little, they took dance classes. While rehearsing for the annual big show, they would repeatedly hear their instructor remind them to "just keep dancing." If they missed a step: just keep dancing. If their costume fell off (heaven forbid!) or came undone: just keep dancing. I say a version of these words to my staff before any of our big ceremonies: Family Weekend, pinning, hooding, graduation. If we have to move the event inside due to rain, just keep smiling. If we stray from the program, just keep smiling. If we look like everything is going as planned, there is no reason for anyone else to think it isn't.
Although either of these mantras are worthy of the current times – and I highly recommend them to you – I would like to add, "Just keep laughing." Find the fun in the moment, even when it seems that we don't have a lot to laugh about. Seek books or movies or entertainment that takes you to that place where you cannot hold back a hearty guffaw. Giggle uncontrollably until bubbles come out your orifices. It will make you feel better, I promise.
Article Information
January 28, 2021
/content/be-grateful-build-community-fight-justice-tips-2021-experts