The University of Virginia's Board of Visitors on Friday reviewed plans outlining the next phase of student housing construction on Brandon Avenue, the name of the new softball stadium on Massie Road and an ambitious strategy to expand UVA's sustainability efforts.
Brandon Avenue
Identified as a redevelopment zone in the 2008 Grounds Plan, the Brandon Avenue Master Plan was approved by the board in 2016 to provide a blend of residential, academic and other University mixed-use buildings linking UVA Health and Central Grounds. It incorporates green space amenities, circulation and parking, storm water features and University utilities, as well as a new student health and wellness center.
A design team led by Elkus Manfredi Architects of Boston, collaborating with the Office of the Architect for the University, Facilities Management, Student Affairs, Business Operations and Housing and Residence Life, on Friday presented a schematic design for the second phase of upperclass student housing on Brandon Avenue to the board. The plan provides for approximately 350 beds for upperclass students, informal gathering spaces and dining areas.
Already completed in the Brandon Avenue sector is Bond House, a six-story, 313-bed, upper-class residence hall named after the late civil rights icon Julian Bond, who was a faculty member in UVA's Corcoran Department of History from 1992 to 2012. The building includes academic and student activity space on the ground floor and two levels of parking underneath the building. The building, which opened in August, shares a courtyard with neighboring Bice House.
Palmer Park
At the request of the Department of Athletics and the Virginia Athletics Foundation, the board approved the naming of the University's new softball stadium as "Palmer Park," after former Cavalier softball player Lisa Palmer, a 1989 economics graduate, and her mother, Frances Palmer. Lisa Palmer received Academic All-America honors in her fourth year, and UVA retired her jersey number to recognize her academic and athletic records. A longtime supporter of the softball program, she is the president of Regency Centers, a shopping center developer/operator, and is a director of a number of community, health and professional organizations in the Jacksonville, Florida, area.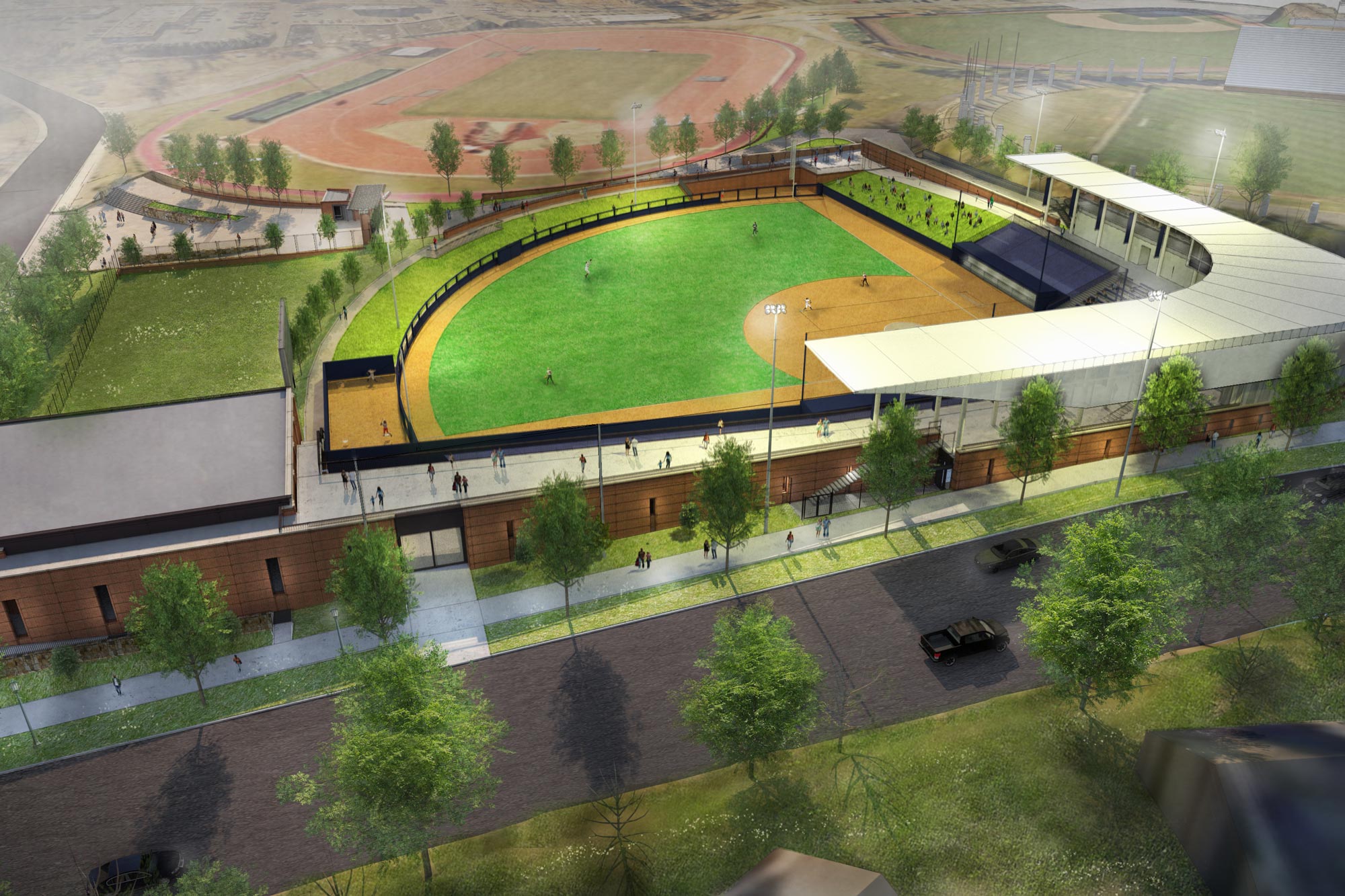 Palmer Park, located adjacent to Lannigan Field, Klöckner Stadium and Disharoon Park, is slated to open in time for the spring softball season.
The stadium, set to open in time for the spring season at the intersection of Massie and Copeley roads, has 25,500 square feet of enclosed program space, along with 522 seats with a southeastern orientation which offers fans a scenic view toward Monticello and Carter Mountain. The facility will feature an indoor practice facility that includes three batting tunnels, player lockers, coaching offices, administrative support space and a player lounge.
Sustainability Plan
The board also considered revisions to the University's sustainability plan, including an arrangement with William & Mary whereby both schools pledge to be carbon-neutral by 2030 and fossil-fuel-free by 2050. The plan builds on UVA's significant progress in meeting or exceeding several previous sustainability and greenhouse gas emissions goals, years ahead of schedule.
UVA and W&M plan to regularly share information and resources on their respective strategic climate action plans and implementation. The schools will collaborate on outreach and engagement opportunities internally and with their surrounding localities, as well as support other higher education institutions.
A subset of the 2020-30 plan's goals, under the title "30 by 30," includes reducing water use and reactive nitrogen emissions by 30%, reducing UVA's waste footprint to 30% and increasing its sustainable food purchases to 30%, all relative to the University's 2010 levels, by 2030.
Article Information
December 6, 2019
/content/brandon-avenue-student-housing-softball-stadium-naming-and-sustainability-news