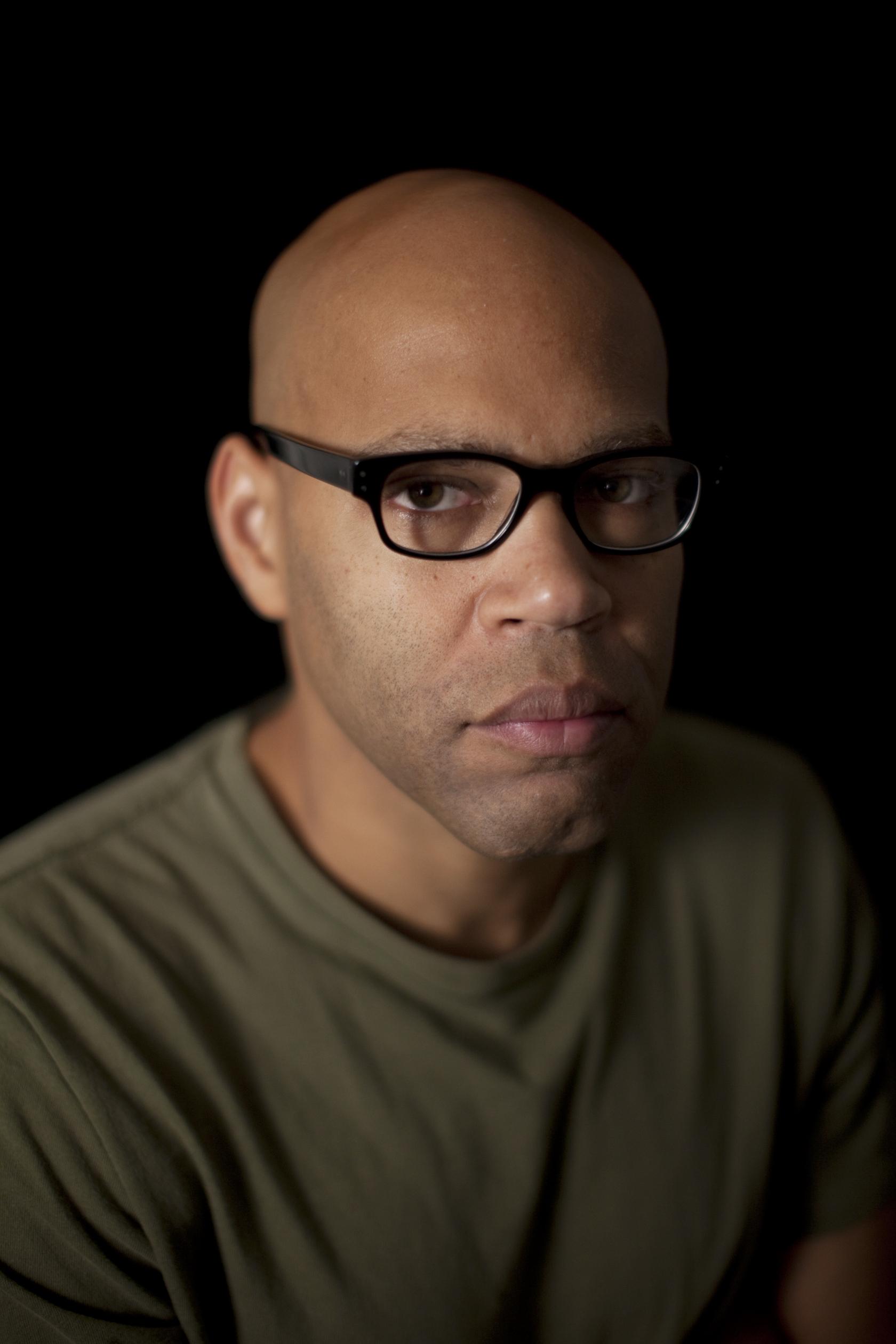 Reprinted from the Spring 2011 issue of The University of Virginia Magazine
April 26, 2011 — Take the drudgery of working at a dry-cleaning company, the bareback riding styles of black cowboys in North Carolina and workers putting up a Volkswagen billboard intended to appeal to African Americans, and you have a sampling of the inspiration for Kevin Everson's work.
He's an experimental filmmaker who's been an associate professor of art in the University of Virginia's College of Arts & Sciences since 2000. He teaches cinematography classes in which students learn how to shoot 16-millimeter film and video, make their own films and practice editing their own footage. His advanced classes focus on making experimental films and installation art.
"The subject matter is the gestures or tasks caused by certain conditions in the lives of working-class African-Americans and other people of African descent," Everson said.
Everson has five feature films and almost 70 short 16-millimeter, 35-millimeter and digital films under his belt, and a restless drive to continue what he's doing – capturing the culture of working-class black Americans.
But before he was a filmmaker, he was an art student in Ohio working in a variety of media. Sculpture inspired him to pick up a camera.
"I started doing films because I thought it was another way to explain the sculpture I was doing. I needed a time-based medium, and I wanted to explore how long things last," he said.
An exhibition of Everson's work, "More Than That: Films by Kevin Jerome Everson," will be on view at the Whitney Museum of American Art in New York City from April 28 through Sept. 8.
Everson built a body of work and started submitting to festivals. Almost immediately, he was admitted to the Sundance Film Festival (he's been back five times) with "Eleven-Eighty-Two," a film about the "new prison economy."
Since then, his artwork and films have been exhibited at the Museum of Modern Art in New York, the Whitney Museum of American Art, the Rotterdam International Film Festival and the New York Underground Film Festival, among many others.
Everson has a novel approach to the creative process. Whereas most artists start out with an idea or impression and then have to figure out how to best execute it, Everson identifies a section of the filmmaking process he'd like to explore, and uses it as a diving board into a new subject. "Every year I come up with a formal issue I want to exercise – color, time, sound and footage, aggressive editing or no editing, and I go from there," he said.
His recent film, "Erie," was shot in Northern Ohio and Buffalo, N.Y. Interested in long takes, Everson decided to create the film as a series of single shots that last around 10 to 11 minutes, the length of time it takes for a spool of film to move through the camera. From scenes of Niagara Falls to a young girl staring at a candle, the result is more of a cinematic meditation than a film with a traditional narrative arc.
Teachable Travel

Every spring for the past six years, Everson has taken his cinematography students on a weekend trip to New York City. They visit artists' studios and attend art shows. In this way, they can see artists, in the flesh, working at what they love and actually making a living. "Students can see that folks do have careers," Everson said. "They can meet the artists, who talk to them about how they make their artwork and how they survive in the big city."
He also recently completed "Quality Control," which consists of back-to-back, 10-minute reels of people working at a dry cleaner.
"It reminded me of the days I worked in the factories as a student," he said. "I like the noble effort of the day-to-day grind of doing a good job at work. Taking pride in one's work appeals to me."
On set, Everson is careful to use methods that don't upset the authenticity of his chosen environment. He prefers natural lighting, hardly any crew and few actors; he'll insert one or two into a situation where everyone else is continuing their normal routine. "Usually the actor is the person I can focus on while the other people are doing their own thing," he said. "Let's say I'm on a job site. I don't want to get in the way. This way I can say 'cut' or 'change the angle' without disturbing the production." 
Though he's shown his films regularly in film festivals, they are not Everson's source of satisfaction. "I like shooting," he said. "I just like the art-making process. I'm out there, figuring things out, being active and composing things. For a while I was doing a lot of found footage, using a lot of archival footage, and I thought, 'Man, I've got to start shooting again.'"
— By Emma Rathbone