The efforts of three members of the University of Virginia community – a student, a faculty member and an administrator – have gone a long way in changing the culture to reflect diversity, offer equity and promote inclusion in sustainable ways.
Darius Carter, a Ph.D. candidate in UVA Engineering's Department of Mechanical and Aerospace Engineering; Susan Kools, associate dean for diversity and inclusion in the School of Nursing; and Tabitha Smith, the Title IX coordinator who also became director of compliance and inclusion at UVA-Wise, were recently selected to receive John T. Casteen III Diversity-Equity-Inclusion Leadership Awards.
These recipients are role models who take ideas and conversations and turn them into action, their nominators wrote. Their efforts to create and enhance a sense of community that promotes and supports diversity, equity and inclusion have led to the formation of new groups and programs in their respective schools to make lasting change – from the Grounds to Southwest Virginia.
The award recipients also acknowledged, as Kools put it, "so many colleagues and students [who] have been deeply engaged in the work to dismantle racism and its devastating impact on health, well-being, education and even life itself."
The University's Division for Diversity, Equity and Inclusion established the Casteen Award in 2010 – with President Emeritus Casteen being the first recipient – to recognize people making a significant impact on transforming the climate on Grounds.
Last year was the first time three people were awarded, and this year, the selection of a UVA-Wise employee is a first.
A closer look at the winners:
Darius Carter, Engineering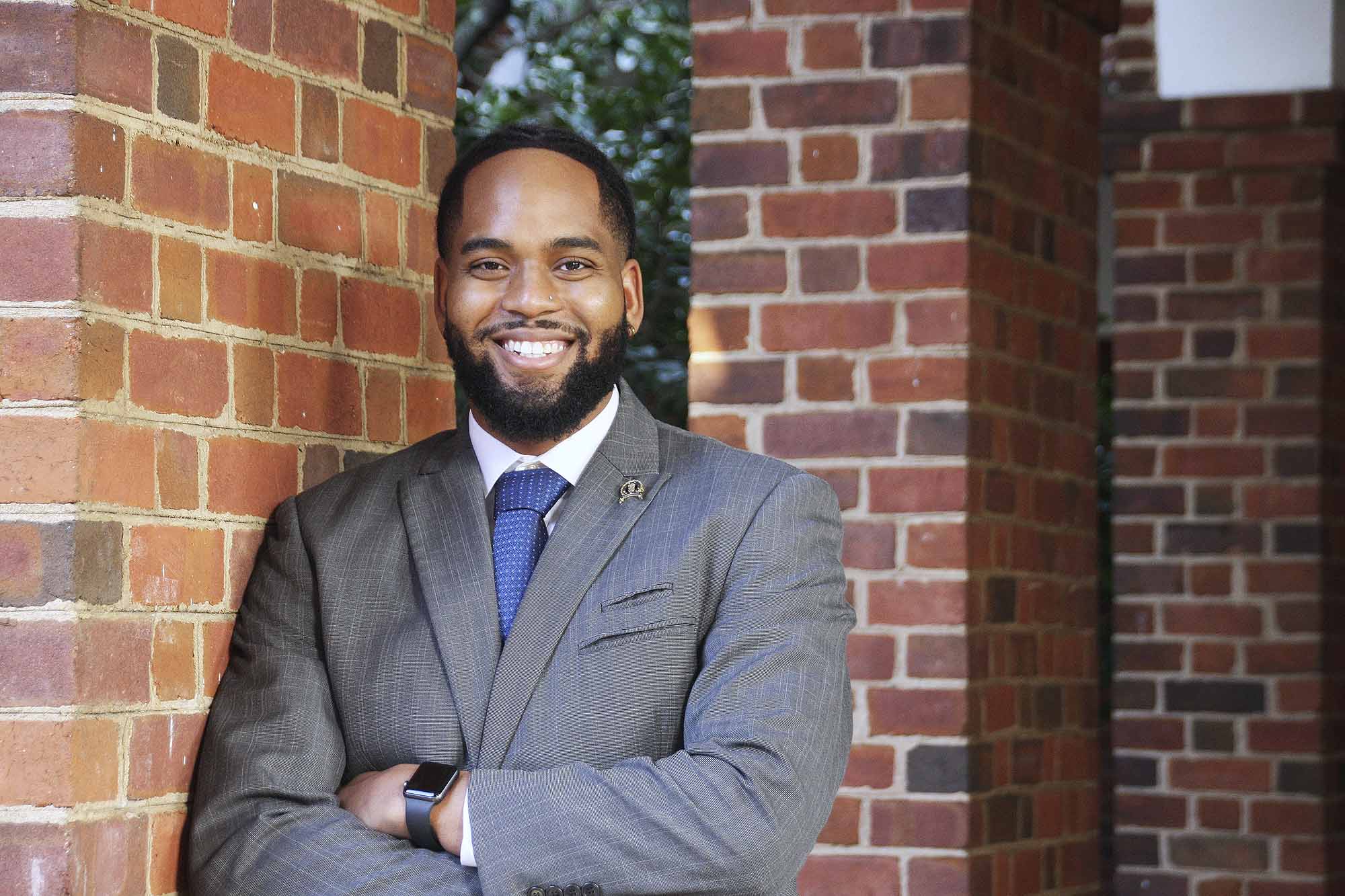 Darius Carter is a Ph.D. candidate in UVA Engineering's Department of Mechanical and Aerospace Engineering. (Photo by Sarah Nerrette)
Carter, who earned his undergraduate degree from UVA Engineering in 2017, plans to complete his Ph.D. in mechanical and aerospace engineering this summer.
Passionate about research in fluid mechanics and unmanned aerial and underwater vehicles, he is just as enthusiastic about enhancing the culture, especially for underrepresented minorities, in the Engineering School and in the academic profession.
Carter has made an impact on the national level, working with the National Society of Black Engineers since he was an undergraduate and up until recently, at one point serving as membership chair for the organization, which has more than 20,000 members.
His undergraduate experience was positive, but he "didn't see too many professors who looked like me," Carter said recently in an online interview. "I wanted to develop community in the department and among other Black students."
He noted that graduate work can sometimes make a student feel isolated. Carter has sought to emphasize collaborative projects and participate in initiatives for underrepresented students in engineering and make their voices heard, he said. With that in mind, he co-founded the mechanical and aerospace engineering department's Graduate Student Board and has served as its recruitment chair. He's also a member of the Link Lab, a multi-departmental research space in the Engineering School.
Carter participated in the Black Graduate & Professional Student Organization at UVA, serving as co-president, and in GRIT – the Graduate Recruitment Initiative Team – as co-chair for the Engineering School. He also chaired a departmental task force to increase diversity among the faculty and students, called the DRIVE program (focusing on diversity, respect, inclusion, vision and equity) this past year. He presented the group's findings and recommendations at two departmental town-hall style gatherings.
Assistant professor Daniel Quinn, who nominated Carter for the award, said, "Some of the times I've seen Darius most excited about promoting diversity and inclusion are when we do community outreach events. … I remember that Church Hill Academy visit well, because Darius happened to have grown up in the same Richmond neighborhood as many of the students. When he revealed that detail, there was an immediate shift in the vibe of the tour. Students came closer to Darius's setup, they took more photos, and they asked Darius tons of questions."
He was glad to answer.
Carter said when he was younger, some people didn't seem to believe in him and questioned his choice to study engineering. He pursued his interests, showed his abilities and found good opportunities, however. He wants to make sure others feel supported and have opportunities, too, he said.
Pamela Norris, executive dean of engineering, who supported Carter's nomination for this award, appointed him to the diversity, equity and inclusion initiative she co-chaired – the only student member, she wrote. She was going to ask him to join another high-level committee, but the provost's office asked him to serve on the search committee for the next engineering dean, "a true sign of the respect our University leadership has for him," Norris wrote.
"As an undergraduate student, he worked diligently to create an environment where both he and other underrepresented minority students could not only survive, but indeed flourish. Then once again, after transitioning to graduate school, he realized the need for his leadership and he once again stepped in to fill a gap. That's just the type of leader Darius is – when he sees a need, he doesn't hesitate from volunteering to meet the need."
Carter plans to continue the academic life he started at UVA and join the professoriate.
Tabitha Smith, UVA-Wise
Smith, the Title IX coordinator at UVA's College at Wise, also took on a leadership role in January 2017 as director of diversity and inclusion initiatives (a post now called director of compliance and inclusion). In nominating her for this award, Jewell B. Worley, vice chancellor for student affairs, described Smith as "a role model for students and professionals on how to take ideas and conversations and turn those into action steps."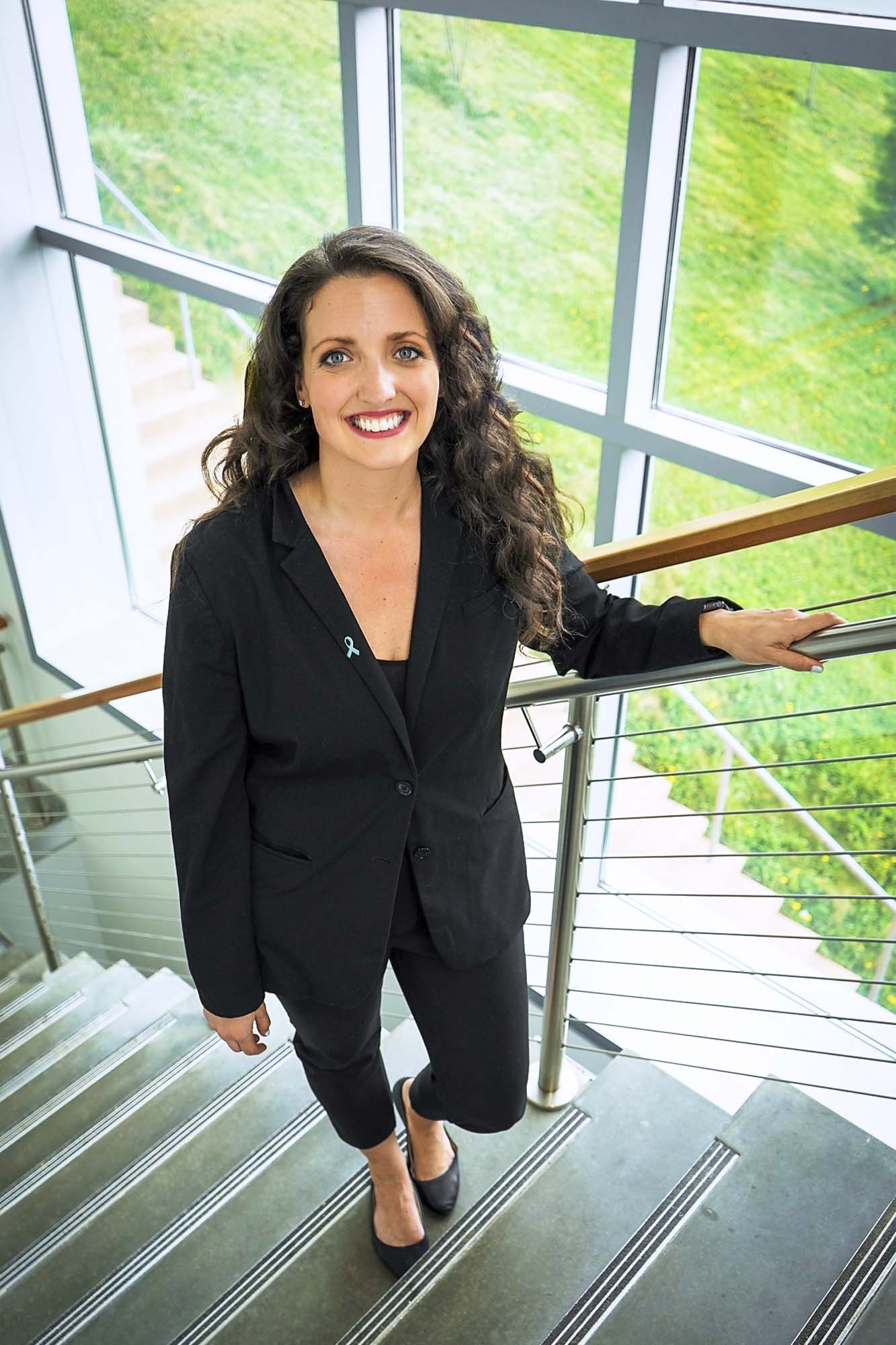 Tabitha Smith is the Title IX coordinator and director of compliance and inclusion at UVA-Wise. (Photo by Molly Land)
"Four years ago, there was no Gender Inclusion Committee or policy," Worley said. "Four years ago, there was no lecture series for Women's History Month. Four years ago, there were no designated gender-neutral bathrooms on campus at UVA-Wise. Three years ago, there was no Multicultural Center, nor was there a diversity and inclusion intern." She marked new projects Smith started one and two years ago as well.
Smith not only founded a Multicultural Center for students, but also created paid internships to staff the center. They spearheaded efforts to honor the college's first African American student, Miriam Fuller, who enrolled in 1960, and now the library foyer is dedicated to Fuller.
Earlier this year, Smith arranged for UVA-Wise to participate in the University's Martin Luther King Jr. Community Celebration, hosted by the Division for Diversity, Equity and Inclusion – specifically the reading and discussion of King's book, "Where Do We Go from Here: Chaos or Community?" Smith organized deliveries of free copies of the book on campus and to local libraries.
Smith wrote, "I would be remiss if I did not promptly note the years of support and active conversations with UVA-Wise leadership, coworkers, students and my colleagues at the University who have all given their time and understanding that we are taking an ownership in creating a culture of respect on our campus."
Thomas Costa, chair of the Department of History and Philosophy, has worked with Smith on some of these projects. A grant enabled them to plan student trips to Atlanta's Civil Rights Museum and the Equal Justice Initiative's Legacy Museum and National Monument to Peace and Justice in Montgomery, Alabama. Smith also was able to take UVA-Wise students to visit the UVA Grounds and experience the culture and history of the University and the area.
She also worked with the Equal Justice Initiative to memorialize lynchings in Wise County.
"To date, we have secured approval for a state highway sign marking the lynching of Leonard Woods in 1927 and are in ongoing discussions with the EJI to place a sign memorializing all three Wise County lynchings at the courthouse. None of this would have been accomplished without Tabitha's support," Costa wrote.
"She is continually reaching out, forming partnerships with faculty to come up with interesting and educational diversity initiatives. Her enthusiasm is infectious," he said.
"While I am honored, being the staff recipient of this award is an inspiration for the ongoing intentional work and time being invested in [diversity, equity and inclusion] at UVA-Wise," Smith said. "It truly is a community engagement. This accolade demonstrates the good work that we have begun and will motivate us in where we need to continue to go."
Susan Kools, School of Nursing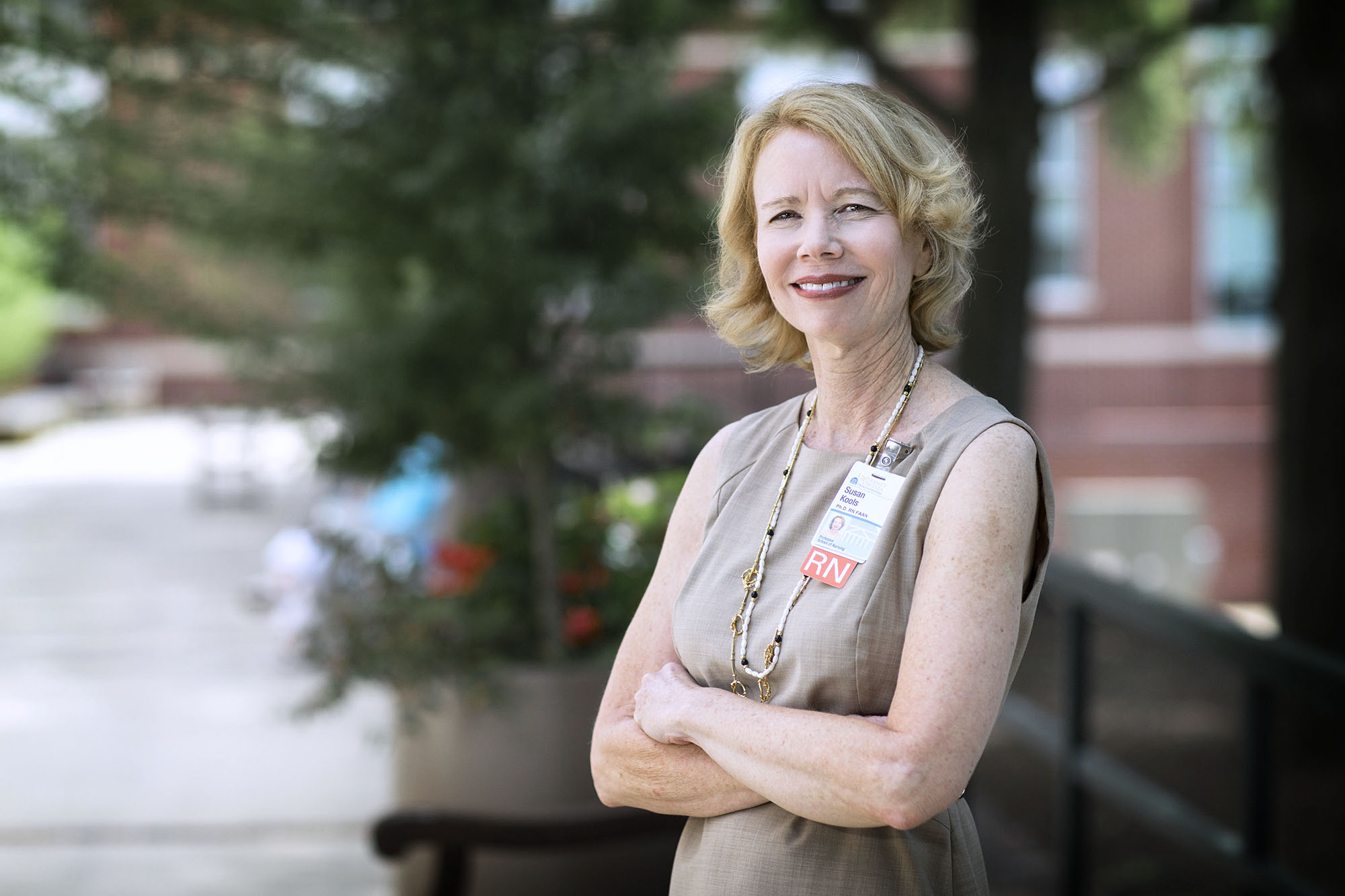 Susan Kools is associate dean for diversity and inclusion in the School of Nursing. (Photo by Dan Addison, University Communications)
With her track record of 25 years of sustained diversity, equity and inclusion leadership, at the University of California San Francisco before UVA, Kools' efforts as associate dean for diversity and inclusion at the UVA School of Nursing have had a significant impact on the school, the University and the broader community, wrote nominator Pamela Cipriano, dean of the Nursing School.
After she arrived in 2014, Kools instituted the school's Inclusion, Diversity and Excellence Achievement initiative, known as IDEA, which "continues to provide both a philosophy and a structure for not only making significant and sustainable gains in the School of Nursing, but also offering a model of change across UVA," Cipriano wrote.
Through the initiative, Kools has led change in faculty and student recruitment; faculty development around implicit bias and classroom dynamics; through student training sessions, including during orientation; by cultivating diverse teams, from her office's staff to a faculty and staff volunteer ally group; and in many other efforts to dismantle racism in nursing and on Grounds.
She and her team have assisted students as they developed affinity support groups, such as Diversity in Nursing for a Better Community, qRN (an LGBTQ+ organization for nursing students), UVA Nursing International Student Network, Graduate Students of Color and Advocates for Medical Equality.
Victoria "Tori" Tucker, who earned her bachelor's degree in nursing from UVA in 2012, said when she returned to the Nursing School for graduate school in 2015, "It was striking to see the intentional evolution of syllabus content, community programming and increased levels of faculty and staff engagement" in the areas of diversity and inclusion.
Tucker, a Ph.D. student who said she considers Kools an important mentor, worked with her and Barbra Mann Wall, former director of the Eleanor Crowder Bjoring Center for Nursing Historical Inquiry, with support from the School of Nursing Alumni Association, in the mission to uncover and visibly tell a more inclusive history of nursing. For example, with the support of a Jefferson Grant, they developed the Hidden Nurses project to bring to light the experiences of African American licensed practical nurses who were trained in a collaboration between UVA Hospital and Jackson P. Burley High School, but were not allowed to attend the UVA School of Nursing during segregation. Kools, with Wall, Tucker and former dean Dorrie Fontaine, offered a formal apology to LPN graduates and moved to ensure they became full members of the Nursing School and University alumni communities.
Across Grounds, Kools serves on the UVA Diversity Council, the LGBTQ Committee and the Diversity Consortium in the School of Medicine, and is one of the faculty directors of the UVA Equity Center.
She has been an invaluable member of the Equity Center's faculty leadership team, said Nancy L. Deutsch, professor in the School of Education and Human Development, who also serves on the group.
"Her heartfelt commitment to making UVA a more diverse, more equitable, and more inclusive community is lived in all of her work and relationships and comes across in both her big actions and her day-to-day activities and conversations," Deutsch wrote. "One cannot have an interaction with Dr. Kools without experiencing that passion and walking away thinking in a deeper way about one's own role and place in doing the work of diversity, equity and inclusion."
Kools credits her staff, students and colleagues. "So many have worked in the trenches without recognition, generously sharing their time, talent and wisdom to change structures, minds and behaviors," she wrote in an email, "so that we can hope for a future where all in our University and surrounding communities can feel support, affirmation and can thrive."
When a difficult situation arises, Kools responds and knows how to facilitate difficult dialogues, her supporters said. After the August 2017 "Unite the Right" rallies brought violence to the community, she organized a program with Shaun Harper from the University of Southern California's Center for Race and Equity, and has since organized more than three-dozen nursing faculty and staff members' participation in annual training cohorts. In the wake of the killing of George Floyd and other Black deaths at the hands of police, Kools compiled an antiracist resource guide for faculty and staff and partnered with Theresa Carroll, senior assistant dean for academic and student services, to mobilize an antiracism working group comprised of students, faculty and staff.
"Her efforts and their effects throughout the school, University and community cannot be measured in hours or dollars, but rather, by the creation of brave spaces in which we collectively acknowledge injustices, recognize privilege, remedy harms inflicted, and live up to our commitments to inclusive excellence in all that we do," Cipriano wrote.
Article Information
April 16, 2021
/content/casteen-awards-go-engineering-nursing-uva-wise-community-leaders