Telemedicine – the ability to receive health care and counsel through a live, virtual medium – has been the saving grace of patients and hospitals during the global pandemic. At UVA Health alone, virtual visits rose more than 700% between March and May.
But while telemedicine works for many Americans, for others – especially those who live in rural regions that lack fixed broadband – it's a fiction. Unless, that is, they can get themselves to their local library.
University of Virginia associate professor of nursing Pamela DeGuzman says that libraries may provide the key for rural patients' ability to access to telehealth. According to an analysis just published in the Public Health Nursing, DeGuzman found that the vast majority of Virginia libraries had the four components necessary for telemedicine to work well: fixed broadband, computers, technologically savvy staff and private spaces where telehealth visits could take place. Once the state's physical distancing requirements loosen, DeGuzman asserts, clinicians and librarians must partner to ensure that rural patients, too, can tap this important modality of care for mental and physical health needs.
Two students from the College of Arts & Sciences, Megan Leimkuhler and Zack Siegfried, co-wrote the study with DeGuzman.
"COVID-19 has increased the urgency of this technology, and our ability to deliver health care remotely long-term," said DeGuzman, who recently created a virtual program to support rural cancer survivors. "As social distancing eases, libraries offer a perfect solution that's literally right under our noses."
In her research, DeGuzman polled nearly 400 Virginia libraries at the outset of the pandemic. Of the 39 that responded, one-third of them rural, more than 85% reported having fixed broadband, at least four computers, staff to assist patrons with technology, and rooms where telehealth appointments could take place privately. She found no significant differences between rural and urban libraries.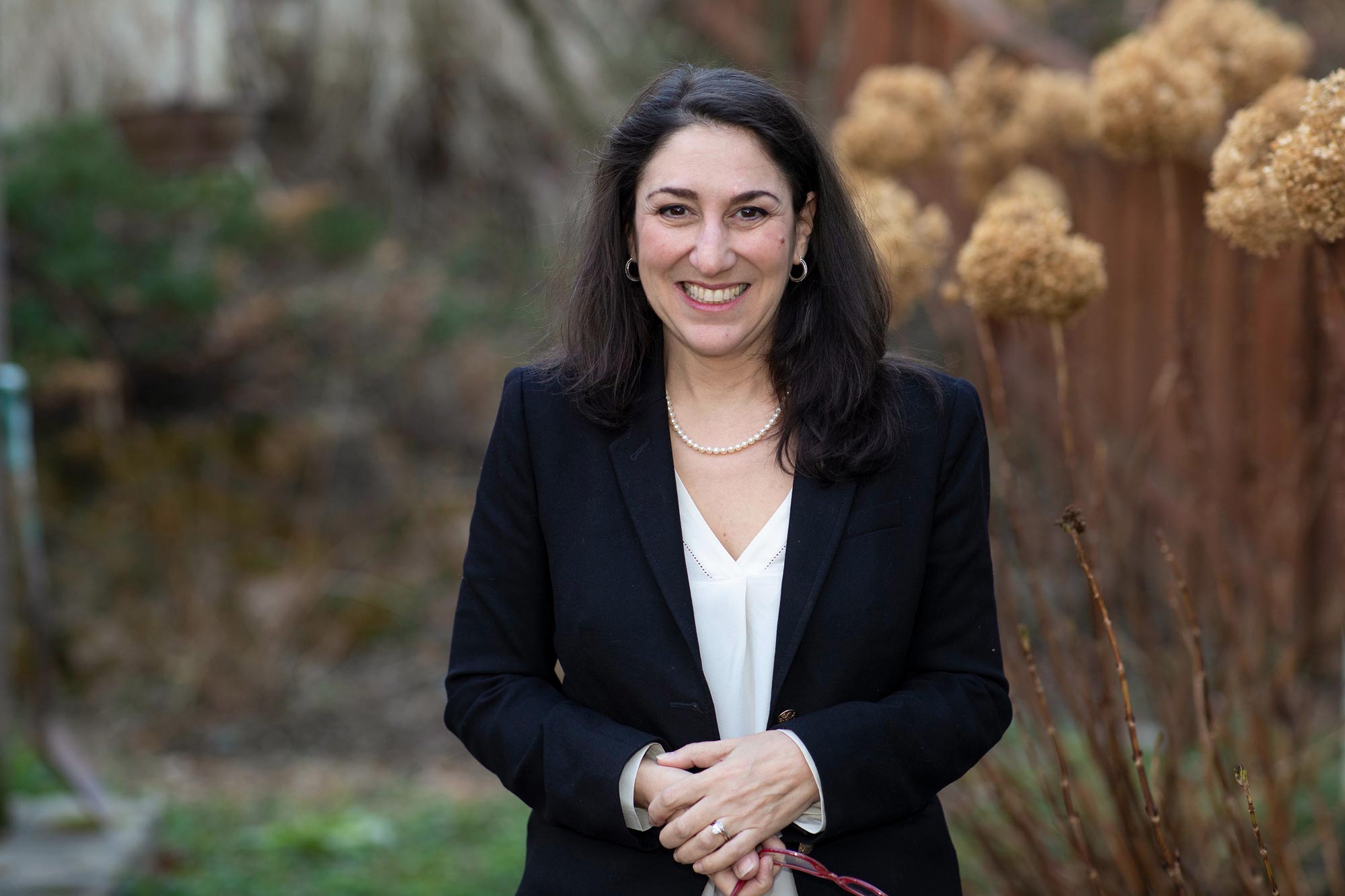 UVA professor of nursing Pamela DeGuzman says that libraries may provide the key for rural patients' ability to access to telehealth. (Photo by Dan Addison, University Communications)
One-third of rural Virginians lack access to broadband internet at home, and nearly 13% have no access to internet at all, DeGuzman said. The vast majority of Virginia residents live within at least a 30-minute drive of a public library, however, and virtually all of them offer free access to Wi-Fi across fixed broadband, which is essential to keeping costs down.  
Creating a Wi-Fi "hotspot" isn't an adequate solution for telemedicine connectivity, DeGuzman added, noting that while 95% of Virginians own a cell phone, just 71% own a smartphone –  required for telemedicine's private, HIPAA-compliant connections.
"Often people will ask me, 'Can't people just connect on their phones?'" she said. "Using a smartphone to conduct a telemedicine visit can work, but connecting over a cellular signal is often cost-prohibitive to rural users. Not only is the cost to connect higher in rural areas, but rural residents tend to have lower incomes than their urban counterparts."
Although many libraries throughout Virginia (there are 378 total) remain closed due to COVID-19 restrictions, as communities reopen, libraries must be evaluated as places where citizens can connect to care providers while still minimizing disease exposure, DeGuzman said. Cities and towns that are building or renovating library spaces must consider the space and technology requirements of telehealth, she added, as it will remain an important modality going forward.
Librarians like Lisa Varga, executive director of the 4,600-member Virginia Library Association, say they're eager to see how they can serve on this important new frontier, particularly as residents' mental health needs continue to grow.
"Our communities have been traumatized by the changes COVID-19 has brought us," Varga said, "and as good stewards of the tax dollars that come into our libraries it makes sense for us to use them to give back to people, and offer them opportunities to talk and connect."
"Pam's research is a great starting point," she added, "and while libraries do a lot of things, this definitely fits into our mission. We're at a baseline, at a beginning point of saying, 'Hey, we have this crisis; how can we help people get through it?' This research is really innovative, and I'd like to see it explored more."
DeGuzman is developing guidelines to evaluate and guide collaborations between libraries and health care providers so telemedicine becomes more broadly available to Virginians as the commonwealth turns the page in the pandemic.
Article Information
August 19, 2020
/content/check-out-telemedicines-next-frontier-local-libraries