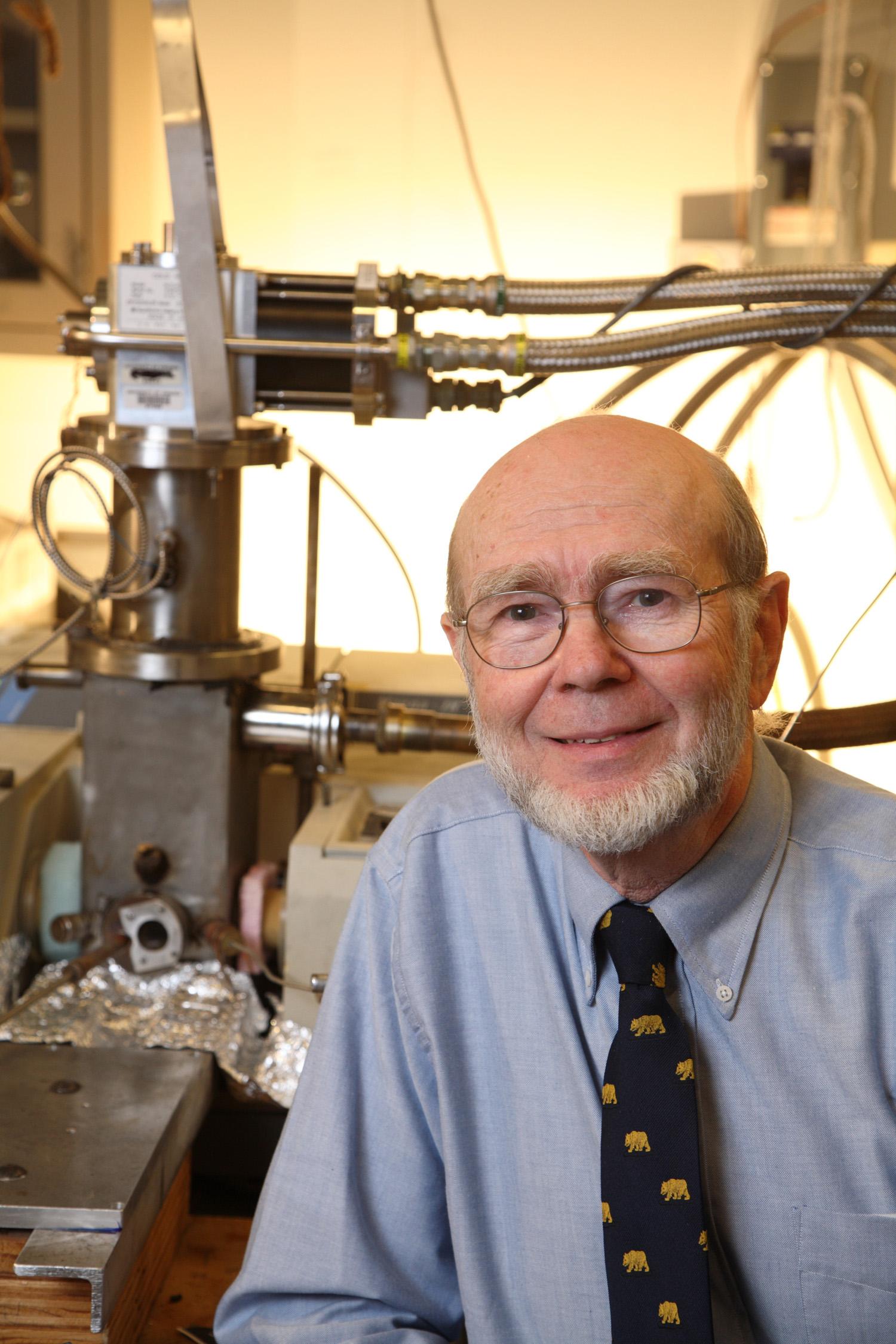 February 18, 2008 — The University of Virginia's Office of the Vice President for Research and Graduate Studies has given the 2007-08 U.Va. Distinguished Scientist Awards to Lester S. Andrews, a renowned physical chemist, and Ian G. Macara, international leader in the field of cellular regulation.
The Distinguished Scientist Award honors established faculty members in the sciences, medicine and engineering who have made extensive and lasting contributions to their discipline. Nominees are judged on publications, awards, peer reviews and impact upon their field of study, both nationally and internationally. In addition to recognition, awardees receive a $10,000 grant to enhance their research activities.
"Lester Andrews and Ian Macara are distinguished scientists who have had enormous impact at U.Va.," said Ariel Gomez, vice president for research and graduate studies. "Lester has established an institutional tradition of world-class innovation in physical chemistry and spectroscopy that now attracts the very best investigators of each new generation. Within just 12 years, Ian has achieved striking breakthroughs in cellular regulation that cut across disciplines and link investigators throughout our biomedical research community. For their personal scientific achievements and their institutional impact, we are grateful."
Andrews is a long-time professor in the Department of Chemistry who is well known for matrix-isolation spectroscopy research, an experimental method of studying the individual molecules of chemical compounds at very low temperatures. He has worked with every non-radioactive element in the periodic table and his work has fundamentally changed the understanding of chemical bonding in many elements, providing key insights for generations of chemists to come.
Macara is the Harrison Distinguished Teaching Professor of Microbiology and director of the School of Medicine's Advanced Microscopy Facility. He is highly regarded for his research in two distinct areas of cell biology: nuclear protein transport and cellular polarity. His research has important implications for understanding the molecular basis for human diseases, including cancer.
Lester S. Andrews
Lester Andrews received his Ph.D. in physical chemistry from the University of California at Berkeley in 1966 under the direction of George C. Pimentel, inventor of the chemical laser. Andrews then secured a position with the U.Va.'s Department of Chemistry and has been a faculty member for over 40 years. During his long and productive career, he has amassed more than 720 publications and his Web of Science citation index is 59, an exceptional score nationally and internationally.
Andrews' research continues to expand the bounds of chemistry. He and his colleagues recently created the first uranium-carbon triple bonded molecule. This investigation, published in the Proceedings of the National Academy of Sciences, contributes important insights to uranium chemistry. Since uranium is used to fuel nuclear power plants and create weapons, a greater understanding of the element is imperative.
"Lester Andrews is among the most distinguished scientists at the University," said Peter Brunjes, associate dean for the sciences in the College of Arts & Sciences. "His dedicated efforts have made him one of the most highly cited chemists in the world; indeed, his work has been cited over 18,500 times.
"I'm told he is also a terrific clarinet player who plays for the Charlottesville Municipal Band and with the U.Va. Klezmer ensemble."

Ian G. Macara
Ian Macara received his Ph.D. in biochemistry from the University of Sheffield, England. He then served in various faculty and research positions at top institutions, including the University of Nairobi in Kenya, Harvard University, the University of Rochester School of Medicine, and the University of Vermont Medical School before joining U.Va. as professor in the Department of Microbiology in 1996.
Macara is recognized as a scientific leader, both at U.Va. and beyond. He has been instrumental in acquiring state-of-the-art cellular imaging equipment for the Advanced Microscopy Facility, creating an invaluable resource for U.Va.'s scientists. In addition, he has over 165 publications, many of which appear in prestigious journals such as Cell, Science, and Nature. His citation index of 58 is extremely high, indicating the importance and regard his research has generated.
"Ian Macara's research on nuclear protein transport and cellular polarity has shown how cells such as neurons or mammary cells organize information to form specific structures, and to orient within tissues," said Dr. Sharon L. Hostler, interim vice president and dean of the School of Medicine. "This has significant impact in understanding tissue development, and dysregulation of cell function in early tumor progression."