Each year, class trustees at the University of Virginia develop a list of potential keynote speakers for Valedictory Exercises. In the past, this process has yielded athletes such as Peyton Manning; comedians and actors including Sarah Drew and Stephen Colbert; and the president of Colombia, Juan Manuel Santos.
The 2017-18 academic year demanded something different. Finishing a year scarred by the trauma of white supremacist violence in August 2017, and college careers that endured more than a fair share of difficulties and national attention, students searched for a speaker with strong Charlottesville ties.
They wanted someone with a demonstrated record of service and genuine selflessness. Someone who clearly had committed to a life of working to improve the world, starting here.
Enter Chris Long.
Not Chris Long, once a marauding defensive end for UVA's football team, though he was all of that and more during his time on Grounds. Not Chris Long, Super Bowl champion, though he's accomplished that twice now.
What the Class of 2018 trustees wanted was the Chris Long whose lasting legacy might be how he chased the spirit of a Ralph Waldo Emerson quote rather than how he chased opponents on a football field:
"What you do speaks so loudly that I cannot hear what you say."
To Long, Emerson's quote has become a creed. A calling. A way of life.
It's a belief system ingrained so deeply that Long, at this point, knows no other way.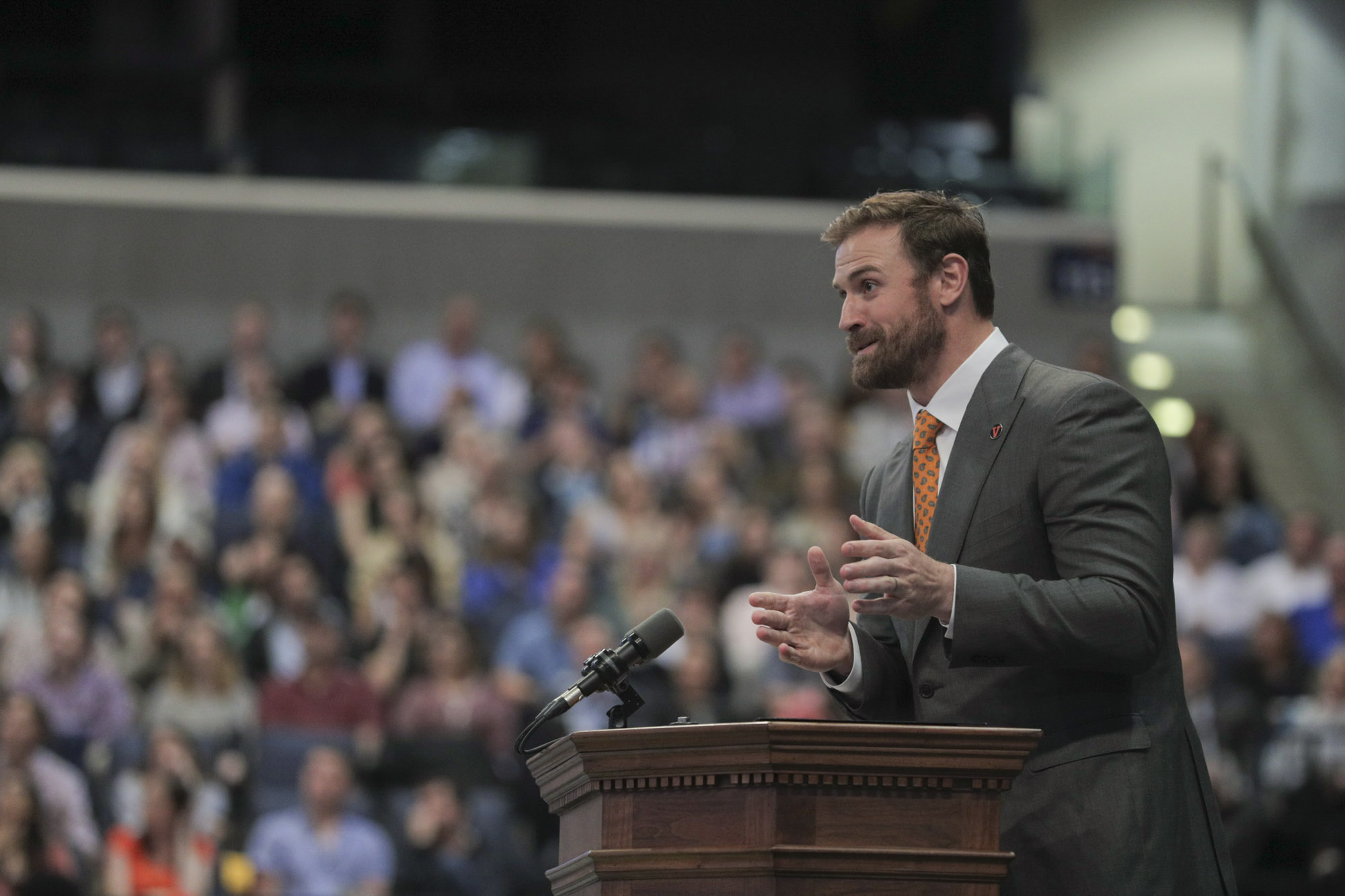 Former UVA football star Chris Long was the keynote speaker for Valedictory Exercises at John Paul Jones Arena in May. (Photo by Sanjay Suchak, University Communications)
"Progress is not self-sustaining. Complacency is widespread. Hatred is rampant," he said at UVA's Valediction in May, urging graduates not to forget what happened in August 2017. "It's a reminder that in times like these, we need people that will rise to the challenge and stand in the storm that is raging between right and wrong, not sitting back and saying, 'He's got it. She's got it.' We need more people saying, 'I got it.'"
Long has established an impressive record of rising to the challenge. It has transformed him from a sports star to a more expansive kind of social celebrity who builds on philanthropy and purposeful engagement with issues of the day.
UVA is at the root of Long's ideology.
"This University," he told students during his address in May, "encouraged me to be a complete human being – not just what I do for a living."
In 2015, Long started the Chris Long Foundation, which has supported multiple causes, including providing clean drinking water in Africa and helping the homeless, underserved youth and veterans.
Long was climbing Mount Kilimanjaro in Tanzania in 2013 when he came up with the idea for his "Waterboys Initiative," which unites NFL players for the shared cause of providing clean, accessible drinking water to rural communities in East Africa. To date, the initiative has raised more than $1.5 million, which has funded the construction of 40 wells. Every summer, Long leads retired NFL players and wounded military veterans up Kilimanjaro to call attention to his project.
"It is one of the single most fulfilling teams I've ever been on," he said.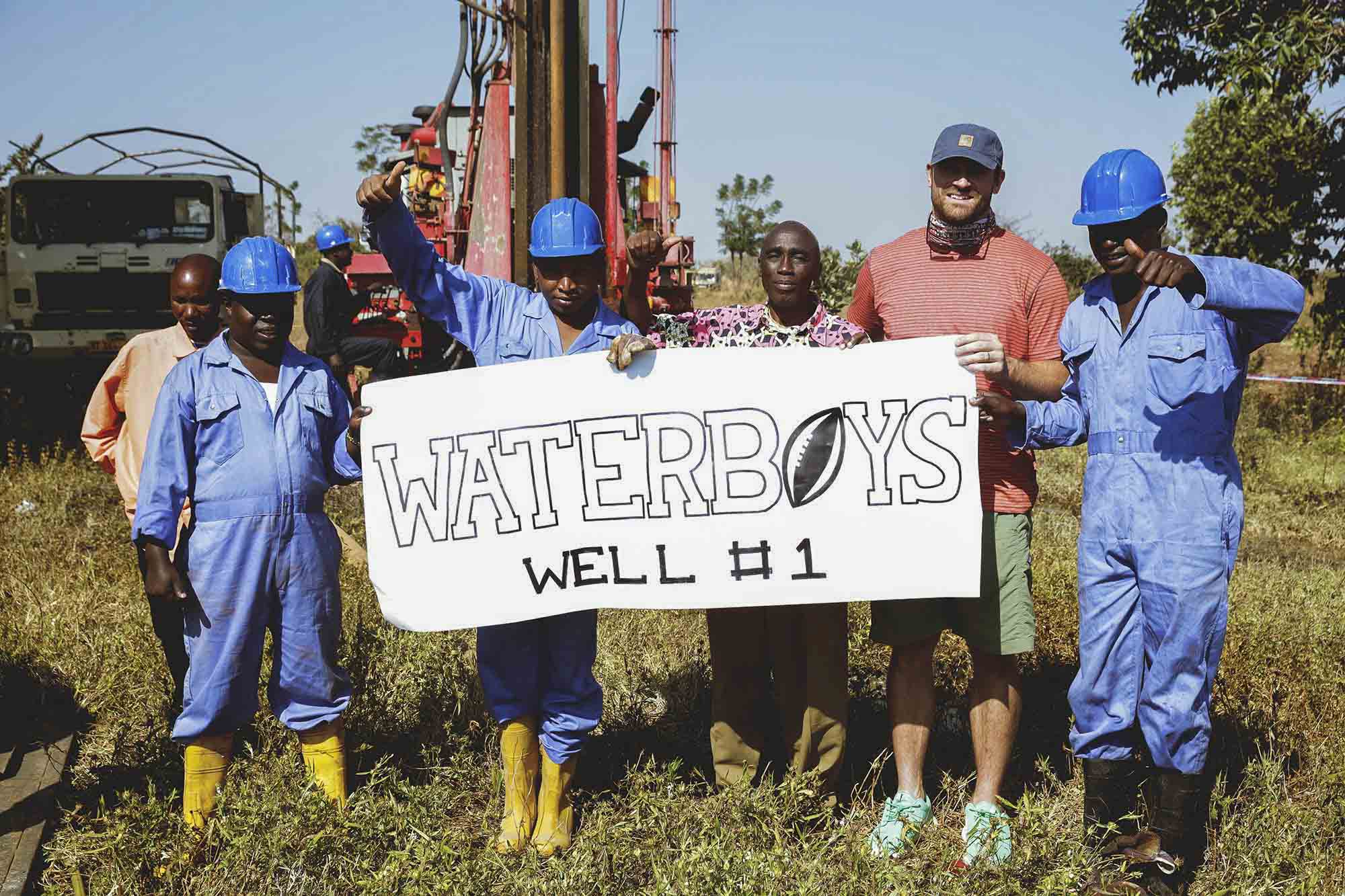 "Waterboys Initiative," which unites NFL players for the shared cause of providing clean, accessible drinking water to rural communities in East Africa, has funded the construction of 40 wells. (Contributed photo)
After August 2017's violence on Grounds and in Charlottesville, Long again stepped forward. He and his wife, fellow Wahoo Megan O'Malley, announced that Long would donate his first six NFL paychecks to fund scholarships for students who attend Boys & Girls Club of Central Virginia at St. Anne's Belfield School in Charlottesville, where Long was a student from seventh through 12th grade.
At that point, Long was just warming up.
A month later, he decided he would donate his 10 remaining 2017 Philadelphia Eagles paychecks to launch the "Pledge 10 for Tomorrow" campaign. The initiative encourages donations to organizations in St. Louis, Boston and Philadelphia – the three cities in which Long has played in the NFL – that support educational equity programs.
In all, Long donated his entire season's salary.
For all of his good deeds, Long found himself at the center of attention at last season's pre-Super Bowl media day in Minneapolis. "I always tell people I wish it wasn't the case where doing the right thing got so much praise," said Long, who starred at UVA from 2004 to 2007.
Long, 33, describes his actions as a byproduct of how he was raised. He credits his parents with instilling the right values in him.
"My dad didn't have the opportunities that I did growing up and that always, I think, affected the way he raised me," Long said, referring to NFL Hall-of-Famer Howie Long. "And my mom has always been a big inspiration for me – always very giving, charitable and the type of person who truly cares for people. If I can just be half of what they are, then I'm happy."
In middle school – and especially in high school – kids can fall into cliques. That's what made Long's time at St. Anne's so memorable to those who knew him best. Though he played four sports at STAB – football, basketball, baseball and lacrosse – Long didn't just hang out with fellow athletes.
"He was the kind of kid who would talk to every student," recalled Doug Tarring, the longtime St. Anne's lacrosse coach and administrator. "He was good to everyone and didn't gravitate to any one group.
"Chris looked at every kid as a person and not at whether they were into art or music or drama or athletics. He was someone who reached out to everyone and never tried to elevate himself because of his athletic ability or who his family was."
At UVA, Long met Megan – a former lacrosse player – and they have been together ever since. "I'm proud to say that I found true love here at UVA," Long said, "and we all need love and encouragement on good and bad days."
Long, who was the first UVA player to have his jersey retired while still an active player, played eight years for the then-St. Louis Rams before winning Super Bowls in each of the past two seasons, with the New England Patriots and Eagles, respectively.
While at UVA, Long was the first player to have his jersey retired while still an active player. (Photo by Matt Riley, UVA Athletics)
"Chris is a very special person; I've told him this," UVA Director of Athletics Carla Williams said. "I have had a chance to get to know him and learn more about him as a person, and he is really remarkable in that he actually cares about his surroundings. Not only does he talk about it, he actually puts his words into action and supports different causes financially. He is just a special person that we are all very, very proud of."
Shortly after the events that took place in Charlottesville in August 2017, Long – as the national anthem played before a preseason NFL game – placed his arm on the back of Eagles teammate Malcolm Jenkins, who had raised his fist in protest of racial injustice. The gesture of support immediately thrust Long into a raging national debate about the anthem, individual and team responsibilities, freedom of speech and racial struggles. He has not shied from the controversy since.
Long says given the landscape in which some players – most notably former San Francisco 49ers quarterback Colin Kaepernick – have had trouble landing jobs because of their outspokenness, it was a risk. But those are the types of risks he's accustomed to taking.
"I am personally not afraid to lose my job," Long said. "I would always just rather be me than be a fake version of me and have a job. And I'm lucky that I've been paid a lot of money to do what I love, and this stuff has kind of come when I'm in a comfortable position. But I'd like to think if I was a rookie I'd do the same thing."
One of Long's biggest pet peeves is when athletes are told to "stick to sports."
"If everybody stuck to what they did, nobody could talk about real issues," Long said. "If we're role models, we're going to tackle real issues. We don't just do turkey drives."
St. Anne's-Belfield football coach John Blake coached Long for four years and has maintained a close connection with him since. He isn't the least bit surprised by Long's philanthropy.
"He's always been one to help out the little guy – the people who don't have what he's had," Blake said. "Nobody ever got picked on when they were around Chris."
Blake said Long has a relentless spirit that sets him apart.
"He gets involved with something and he just runs with it," Blake said. "And that's just him. That's what he is. When he sees something or learns about somebody in need, he does everything in his power to help out."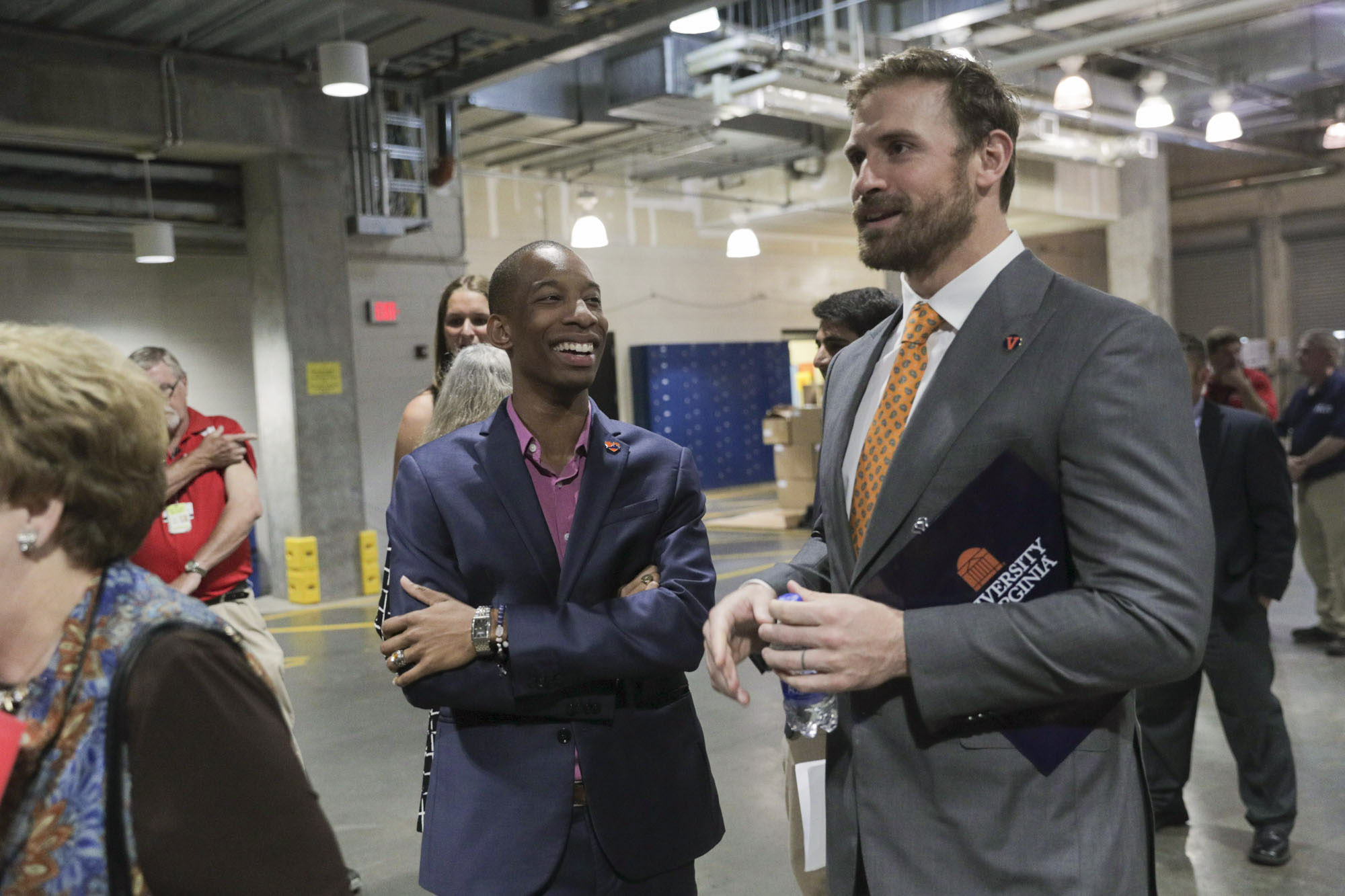 Long shares a light moment with UVA Class of 2018 President Malcolm Stewart during Valedictory Exercises at John Paul Jones Arena in May. (Photo by Sanjay Suchak, University Communications)
Longtime Richmond Times-Dispatch sports columnist Paul Woody said he hasn't seen many athletes like Long.
"He's in the minority," Woody said. "He's willing to risk his paycheck and final years of his career to say what he honestly feels and to point out the inequities that he sees – not so much in his profession, but the world outside his profession. His awareness and his willingness to do something about it is unusual.
"What I've seen from Chris Long is just like the old saying goes – he walks the walk and he talks the talk."
Long keeps it simple. He's just trying to make the world a better place.
"I prefer to be able to have an influence, make a difference, promote education, be a role model," he said. "I have to approach things through that lens."
The lens through which one's actions speak the loudest.
Article Information
August 7, 2018
/content/chris-long-player-worlds-stage