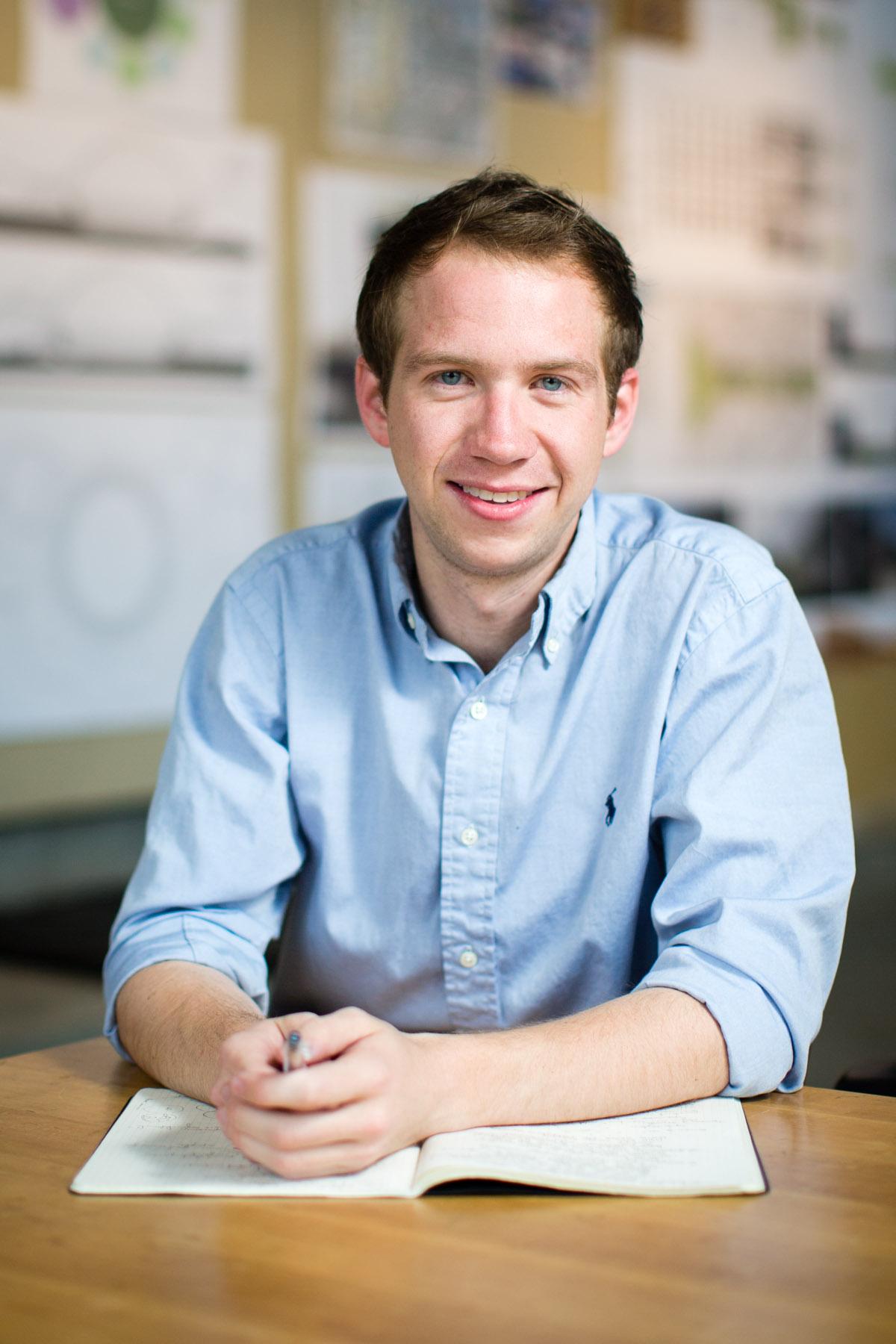 Matthew Pinyan always knew he wanted to design things.
The prestigious awards and achievements he's racked up during his college years – runner-up in a Museum of Modern Art PS1 Young Architects Program Competition, a Sarah McArthur Nix Fellowship, an American Institute of Architects award for excellence in design and, most recently, an unsolicited deal with a Barcelona-based publisher to print the second volume of a journal he co-founded at the University of Virginia this year – speak to his talent.
His impressive work, thus far, is rooted in unpretentious beginnings.
His decision to pursue architecture came from a childhood love of drawing, building and creating. Growing up in Salisbury, N.C., Pinyan was encouraged by his parents, Joe and Gina Pinyan, both high school teachers, to explore his imagination.
"My parents never gave me coloring books – they gave me blank sheets of paper," Pinyan said. "So if I wanted to color, I had to draw the picture first.
"I played with the cardboard boxes that toys came in more than with the toys themselves, turning the boxes into hideouts, towers, houses – anything that I could build with scissors and a roll of tape."
His grandmother, who was always making baskets, clothes or quilts, also influenced Pinyan.
"She created things with a sense of care that taught me the importance of craft," Pinyan said. "I always enjoyed watching her work and find that her thoughtfulness and attention to detail are an integral part of how I design."
From 2007 to 2011, Pinyan attended North Carolina State University in Raleigh, and graduated as valedictorian with a bachelor's degree in environmental design in architecture.
As an undergraduate, he studied in Prague and received numerous merit scholarships and fellowships, as well as an American Institute of Architects award for excellence in design.
Pinyan decided to come to the U.Va.'s School of Architecture to pursue a master's degree because he could see that the U.Va. faculty and students were focused on larger social, cultural and environmental issues – and the way that the actions of designers impact those realms.
"My work has benefited and become stronger from this mode of thinking," he said. "The U.Va. School of Architecture embraces the idea of design as a process – that the means by which one arrives at a solution are just as important as the solution itself – and for me, an investigative and explorative design process is incredibly important."
"Matthew is one of our top students in a very strong class," said John Quale, associate professor of architecture and director of the graduate architecture program. "He has a deeply sophisticated understanding of the discipline of architecture, and at the same time, he's an extraordinarily nice person."
Last winter, as part of the Museum of Modern Art PS1 Young Architects Program, Pinyan and five other U.Va. students were a part of a design team working with TempAgency – an office headed up by School of Architecture faculty members Leena Cho, Matthew Jull, Seth McDowell and Rychiee Espinosa – whose installation was a finalist and runner-up in the annual competition.
Entitled "My Hair is at MoMA PS1," the installation used 80 cubic feet of human hair from more than 120 hair salons and barber shops as architecture. According to TempAgency's description, "The project found the potential to develop the thermal, acoustic and structural qualities of architecture with the same material that is such a significant cultural element of character and identity."
Pinyan, along with Jake Fox, a Masters of Landscape Architecture graduate, produced animation for the project and contributed to the team's winning design. "The experience was very intense, as we spent the entire winter break working – burning through hundreds of schemes, iterations and ideas," he said.
Last summer, Pinyan won a Sarah McArthur Nix Fellowship, which funded a month of independent study in France. Because he had always been fascinated with the notion of sacred space, Pinyan had proposed a pilgrimage of churches, monasteries and other sacred sites in France. The drawings from this trip were exhibited at the School of Architecture this spring.
"Much of my own work and projects deal with understanding the ways in which the constructed environment is shaped and impacted by human forces of culture like society, politics and religion," he said. "My interests in this realm led to studying the idea of sacred space with the Nix Fellowship – attempting to draw connections between notions of spirituality and the physical architectural responses to these ideas."
"It was really amazing to spend a month traveling with just a backpack, sketchbook and camera, stopping at truly inspiring and powerful spaces to draw and study them intently."
Pinyan's ideas about sacred space also guided his design of a monastery in New York City last fall.
Recognizing the importance of religious tradition and ritual to daily life in India, Pinyan imagined the cultural center as a sacred compound, a series of temples and monastic spaces intended for worship, prayer, celebration, meditation and study. Although there are no plans to build the center, Pinyan's theoretical project presents an exploration of how architects might construct sacred space within the chaos of the metropolis.
Pinyan counts helping to found "Catalyst," an Architecture School publication, as one of his most gratifying experiences. Along with Ghazal Abbasy-Asbagh, a lecturer in architecture, and Rebecca Hora, a fellow master's student, Pinyan proposed a comprehensive publication that would capture the work of the entire school over the course of a year.
As co-editor and graphic designer, Pinyan helped to select the work, collect the materials, curate related exhibits, design and eventually print and bind the first issue. The initial "Catalyst" was such a success that ACTAR, a Barcelona-based publisher of books on architecture, graphic design and contemporary art based in Barcelona, will publish the second volume this fall.
Pinyan's master's thesis focused on reframing the way architecture responds to war and international conflict. He proposes a new institution, similar to the United Nations, to actively take part in conflict resolution – serving as a space to mediate the political, cultural and social differences that underlie most contemporary conflicts.
"Matthew has a unique capacity to engage in a rigorous design process, while remaining incredibly open-minded about that process," Quale said. "This lets him push his ideas through to a level of development so that others can understand the architectural – and societal – implications of his ideas in greater depth."
Serving as a teaching assistant for three undergraduate studio courses "has been one of the more meaningful things I've done at U.Va.," Pinyan said. "I find the opportunity to work with undergraduate students really exciting – especially students in their first and second years – since they're just beginning to understand what architecture is all about. Their enthusiasm often helps me get more excited about my own work."
Pinyan eventually plans to go into practice as a professional architect. But for the immediate future, he will remain at the School of Architecture this fall for a yearlong teaching appointment and help out with projects around the school.
"Matthew is always thoughtful in his interactions with colleagues," said Kim Tanzer, dean and Edward E. Elson Professor of Architecture. "He is deeply committed to the School of Architecture, with a true notion of service and giving back to the profession, to the University and to his peers. Matthew is a gifted teacher, and exhibits a quiet leadership without seeking the spotlight."