"Pink tutus and bejeweled tiaras? Check. Diva sunglasses and sparkling earrings? Check. Shimmering face glitter and pink nail polish? Check. Emma flashed me a twinkling smile and nodded her head – Team Tinker Bell was ready to rock and roll."
That is how graduating biology major Bethany Bruno began the personal statement that accompanied her medical school applications.
What do tutus and Tinker Bell have to do with medicine? A lot. Bruno is describing a downhill skiing run she shared with Emma, a 6-year-old with spina bifida, during Therapeutic Adventures' annual Independence Cup race. Working through Madison House, Bruno has coordinated 40 volunteers for the adaptive ski program all four of her years at UVA.
"The program lets us share our love of skiing with people who otherwise might never get to experience the thrill of flying down a mountain," she said.
Bruno, a Midlothian native, also has volunteered as a counselor, outreach coordinator and fundraiser for Camp Kasem, a free, weeklong summer camp coordinated by UVA students for children whose parents are coping with cancer. As Bruno describes it, "camp gives these kids a chance to escape their difficult home situations and be silly again. At the same time, it surrounds them with a network of peers who understand what they're going through."
During Bruno's time at the University, through volunteering with children and working with doctors in the UVA Medical Center's emergency room, she has learned that it's the personal touch, and a touch of heart, that make a great doctor.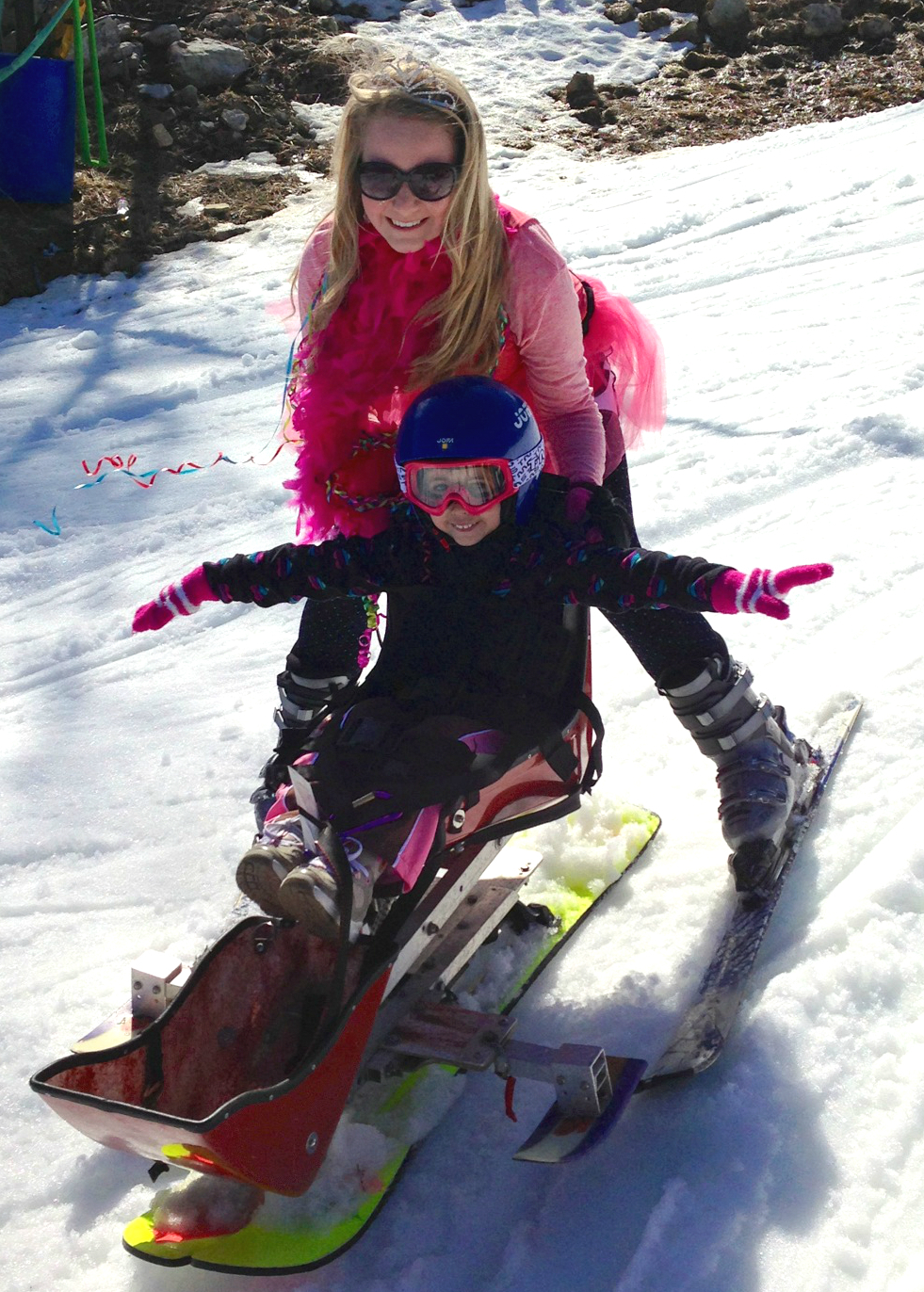 Bruno, skiing with a young client. Bruno coordinated UVA's adaptive ski program through Madison House.
"When I first decided to pursue medicine, it was all about the science," she said. "I absolutely loved genetics and I was interested in research. I wanted to find ways to minimize chemotherapy's devastating side effects through targeted drug delivery."
At UVA, she dove into laboratory research through the Virginia International Genetically Engineered Machine team, winning a gold medal at a North American jamboree held in Toronto. She found that she loved working in a lab. But along the way she realized that medicine goes beyond the results of science. It's about "establishing healing relationships with patients that improve quality of life," she said.
"Science may never solve all major medical problems, but medicine can still provide small miracles by focusing holistically on each patient as a person," she said.
She witnessed one such miracle when skiing with Doug, a 28-year-old paraplegic who zoomed past amazed skiers on a mono-ski down one of the steepest, most difficult slopes. Bruno realized that "medication, therapy and a little encouragement" helped him do this, and that active engagement with patients involves trust and collaboration.
To further her experience with patients, Bruno took a job as a medical scribe in UVA's emergency room. A scribe works closely with physicians, observing patient interviews and documenting pertinent information in the electronic medical record. This has offered Bruno firsthand encounters with people from all walks of life who seek treatment for a range of medical issues – some very serious, and some requiring little more than a bandage. And she has observed the medical professionals who are providing the best care possible in a fast-paced setting that requires plenty of triage.
Bruno is able to witness "people at their best and worst," she said.
"I see doctors who I want to emulate in my career, and occasionally I observe an attitude or behavior I hope to avoid," she said. "It has helped me see what it takes to be a compassionate doctor."
Her experiences have led to a strong interest in biomedical ethics, and a minor in that area. Bruno completed a summer fellowship last year in biomedical ethics research at the Mayo Clinic and earned a summer ethics internship award from UVA's Institute for Practical Ethics and Public Life. This semester, she is teaching an undergraduate seminar on the ethics of organ transplantation.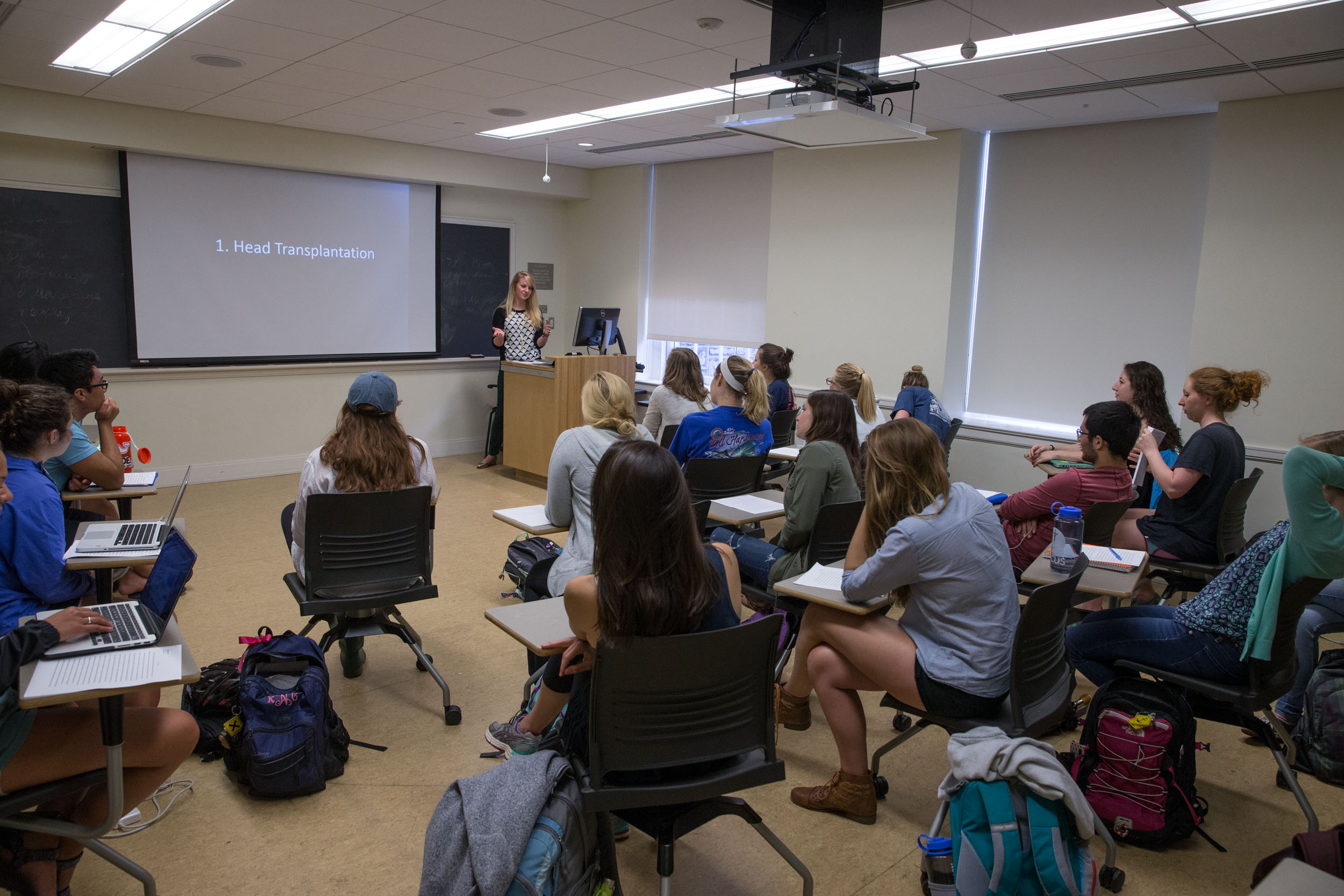 Bruno teaches an undergraduate seminar on the ethics of organ transplantation. (Photo by Dan Addison)
"Having seen doctors grapple with the limits of professionalism, health care resource allocation and decisions regarding end-of-life care, I know that my biomedical ethics knowledge will be part of my everyday work as a physician, enabling me to take the best possible care of my patients," she said.
"Bethany Bruno is without question one of the finest students I've had the pleasure to teach and mentor in my 27 years on the UVA faculty," biology professor Michael Wormington said. "She is an exceptional student, and one of the most decent, caring individuals I have known."
When Bruno isn't teaching or skiing or scribing, she plays the harp as a creative outlet. She began taking lessons in the fifth grade before joining the American Youth Harp Ensemble two years later. The group has performed at Carnegie Hall, the Kennedy Center, the White House and in London and Vienna.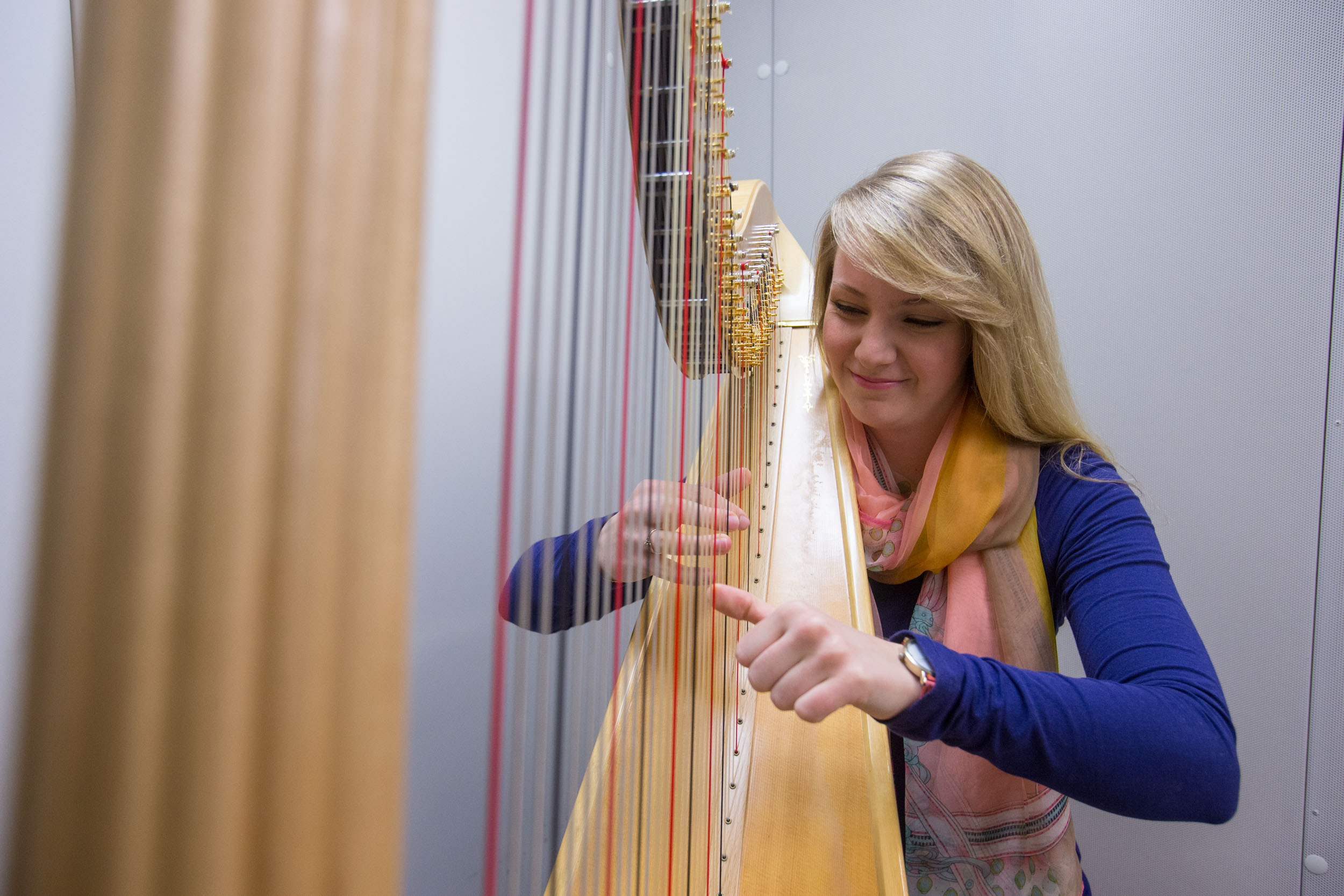 Bruno has played the harp since fifth grade and has performed at the White House and major venues nationally and internationally. (Photo by Sanjay Suchak)
Bruno came to UVA as a U.S. Presidential Scholar, National Merit Scholar and Echols Scholar. She has won three additional scholarships and is a Raven Society member. She's proud to note that her mother is an alumna of the McIntire School of Commerce, and her sister is a third-year commerce student.
After gaining admittance to 11 medical schools, Bruno has accepted a full scholarship to the Cleveland Clinic Lerner College of Medicine of Case Western Reserve University, beginning in July. She said she will bring with her the stimulating experiences that have shaped her at UVA, and memories of the people who have inspired her and helped her develop – patients, physicians, professors and fellow students.
"Their stories have become part of me," she said. "They inspire me to take nothing for granted and to embrace life's challenges with patience, creativity, composure, compassion and resilience."
Article Information
May 5, 2016
/content/class-2016-pre-med-student-adds-compassion-her-passion-science