Frances Morales has a thing about goals, and she knows how it originated.
Back when she was a freshman at Colonial Forge High School in Stafford County, and relatively new to the school's track team, she posted a really good time in the mile, her favorite event. At 5 minutes, 7 seconds, she was just one second off the school record.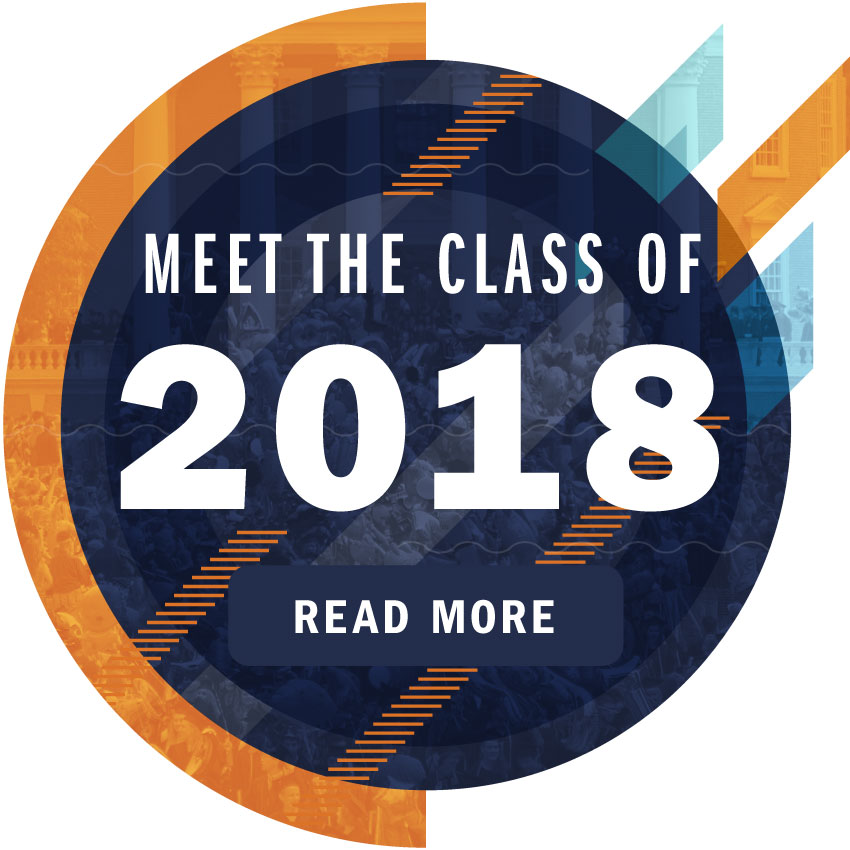 So she set a goal: break the record. She talked to her coach about how to improve, logged the practice hours, and the next year posted a 4:57. In the process, she established a sort of personal mantra about setting and surpassing ambitious goals.
"That was when I realized you can achieve almost anything if you're determined," she said.
That mindset has served her well at UVA, where she led the School of Engineering and Applied Science's student leadership through a series of accomplishments, sought out a mentorship with a UVA doctor who works at the intersection of engineering and medicine, and helped start a program to give a boost to local middle school students interested in engineering.
Heading Toward a Future in Medicine
In the fall, Morales will head to Duke University to pursue a master's degree in biomedical engineering. After that, she hopes to head to medical school, with the aim of becoming a pediatric surgeon. 
"I really love working with kids," she said. "I feel like if I can give a child with a congenital heart defect a chance to find a passion, then it's something that I want to do."
In addition to her academic work in the Engineering School, Morales sought out a chance to get some real-world exposure to practicing medicine. In the spring of her second year, she began shadowing Dr. Gorav Ailawadi, chief of UVA's Division of Cardiovascular Surgery and a professor of cardiac surgery and biomedical engineering.
This meant observing what he did in the operating room, listening to him talk to patients and support staff in his clinic, and getting a broader idea of what it takes to be a practicing doctor. The clinical work in particular gave her a better perspective, as she observed Ailawadi talking to patients both before and after procedures, developing treatment plans with nurses, and more.
"She routinely came to clinic with an inquisitive mind, linking patient diseases and identifying patterns, all with a smile that would help comfort patients," Ailawadi said.
Ailawadi, who teaches in UVA's undergraduate biomedical engineering program, also helped Morales realize how important engineering can be in health care, especially when it came to designing just the right tool for complicated procedures.
Leaving Behind a Better E-School
Drawn to UVA's culture of student self-governance, Morales got involved at the Engineering School almost right away. Her first year, she was a member of the school's Student Council and proceeded through several leadership roles, culminating in her presidency.
Morales said her goals were to advocate for female students and for students from backgrounds that are under-represented in engineering, to grow the school's culture of service and collaboration beyond UVA and to reflect the school's core values.
To meet the first goal, she helped launch a speaker series featuring prominent UVA Engineering alumnae, which included addresses by Frances O'Sullivan, the general manager of the IBM China Cloud Platform; Kathryn Harris, senior advisor to the vice chair of the Joint Chiefs of Staff; and Vicki Schmanske, deputy president and COO of the Leidos Health Group.
The Engineering Student Council leadership team was entirely female during her fourth year, which stands in sharp contrast to the way the group was constituted when she was a first-year student, Morales said. It produced a video highlighting the role of female engineers at the school. 
"It was definitely good to be part of a positive change," she said. "I think that having such motivated girls working with me made it that much better."
Expanding Community Service
Extending the Engineering School's impact beyond Grounds was important to Morales, as was finding a way to mentor and positively influence young people. She helped develop a partnership with an engineering club at Charlottesville's Buford Middle School that she hopes will lead to more UVA students in mentorship roles for middle school students interested in engineering, especially those from under-represented groups.
"I thought it was a great opportunity for the Engineering School to make that connection with younger students," she said. The program is still in its planning stages, but about 45 students have applied to be mentors, she said.
Brendan Martin, a UVA graduate and Buford teacher, said Morales reached out wanting to find genuine opportunities to serve students in Charlottesville.
"After meeting with her, she helped us craft a vision for a mentorship program that would provide embedded support to underrepresented STEM populations in our program," he said. "She did all of this in her outgoing semester, where she won't even be able to benefit from its impact, which truly showcases her selfless commitment to making positive impacts on the community."
Her service work wasn't all channeled through the Engineering School. On the side, Morales volunteered at the Fralin Museum of Art, where she got to mentor an 8-year-old girl and expose children to both the art at the museum and life at UVA, including visiting her room and – no surprise – giving talks about the importance of setting big goals. It's advice that translates well to incoming students, she said.
"I've found during my time here at UVA that dreams come a size too big for a reason," she said. "Don't be afraid to dream big and seek help from people who are here to support you, like faculty, advisers and older students. Develop goals for yourself and seek the guidance to achieve your goals! This will help you to grow, learn more about yourself, and make the most out of your four years here at UVA."  
Article Information
May 16, 2018
/content/class-2018-morales-dreams-come-size-too-big-reason