Passing her anatomy course was the least of Rebecca Abdul's worries.
It was the fall of 2013 when Abdul – then a 19-year-old, second-year University of Virginia student just entering the School of Nursing – struggled to keep her focus. Always a straight-A student, her difficulties had little to do with the science and everything to do with her mother.
Abdul had just received a desperate phone call from the woman she'd left behind in Africa at age 11, whom she hadn't seen in eight years. Masida Mwanamimi, "Mimi" for short, was holed up in a hospital – weary, penniless and fleeing the endless war in the Democratic Republic of Congo, with Abdul's three younger half-siblings in tow.
Since leaving Congo in 2005 to live with her American father, Abdul hadn't once spoken to her mother by phone, though the two exchanged letters. And in the intervening years, much in Mimi's life – and circumstances in Congo itself – had worsened, driven by the country's chaotic war.
The family's circumstances hadn't always been so dire. After Abdul was born in 1994, they traipsed through the African countryside for years before finally settling in Lukonzolwa, on Lake Mweru. Abdul – then called Amina – still recalls her early years as happy ones, even if they were patterned by transience.
To support her family, Mimi bought fish, cured them with salt and dried them in the sun before trekking to the city of Lubumbashi, more than 200 miles away, to sell the food. She also sold garments and shoes. It was, for a time, a good living in a region where electricity was scarce, blue jeans a luxury, refrigerators unheard-of and telephones rare.
"I can still close my eyes and picture every part of the village," Abdul said. "It was beautiful, peaceful, and for us, a refuge."
Abdul was 11 when her father, an American citizen and nurse who'd come to the United States, in the 1980s, sent for her. After arriving at her new Northern Virginia home and assuming a new given name, Rebecca, at her father's insistence, Abdul began sixth grade, quickly learning English (though Swahili was spoken at home, "cartoons were a big help learning English," she recalled) and excelling in her studies.
Abdul's academic success surprised everyone, including her seventh-grade math teacher, Ms. Cornish, who pulled the young Abdul aside after a particularly challenging math test.
"She was shocked by how well I'd done, being that I just learned English," Abdul recalled, "and she took me outside and said, 'You know, Rebecca, if you continue to do this well you can make it to college, maybe even UVA.' She really said this. At that time, I didn't even know what UVA was."
Though Abdul and her mother didn't communicate often, they were never far from one another's minds.
"I never went a single night without thinking about her," Abdul, now 24, said. She made a promise to her mother in a 2010 letter. "One day when I can afford to give you a life, I will come back and help you," she wrote.
By 2013, having heard of the plight of her African family, Abdul determined to get her family out of Congo and into a refugee camp in neighboring Tanzania, where there was reliable food, water and shelter. Of course, that took money. More than she had.
So after pleading with School of Nursing officials to hold her spot, Abdul withdrew from UVA, rented a small room and found whatever work she could – as a Best Buy cashier, a restaurant hostess, as a nanny – and "spent the year doing some heavy fasting and praying," she said.
All the while, Abdul knew she "had to do nursing again, to get back to what [she] had started." Her family's welfare, however, had to come first.
By October 2014, Abdul had earned the $3,000 needed to transport her family to Tanzania and the safe, if stagnant, confines of the refugee camp.
But, given the growth of violence, death and disease that spread within, it quickly became clear the camp wasn't a long-term solution. On the advice of friends and a fellow Congolese woman also living in Charlottesville, Abdul determined to petition for her mother to come to the United States on a permanent residency visa, and to enroll her three half-siblings in a boarding school in Ghana.
Knowing she needed still more money, she found full-time work as an in-home caregiver even as she re-enrolled in the School of Nursing and steadily fought her way back academically.
Little did she know that the process to bring her mother to the United States would take years, thousands of dollars and hundreds of hours of paperwork, document-gathering, photo submissions, DNA tests, tax documentation and agonizing wait times. Knowing that a single mistake could derail the entire application, Abdul followed the process to the letter, but for years was shunted from bureaucrat to bureaucrat.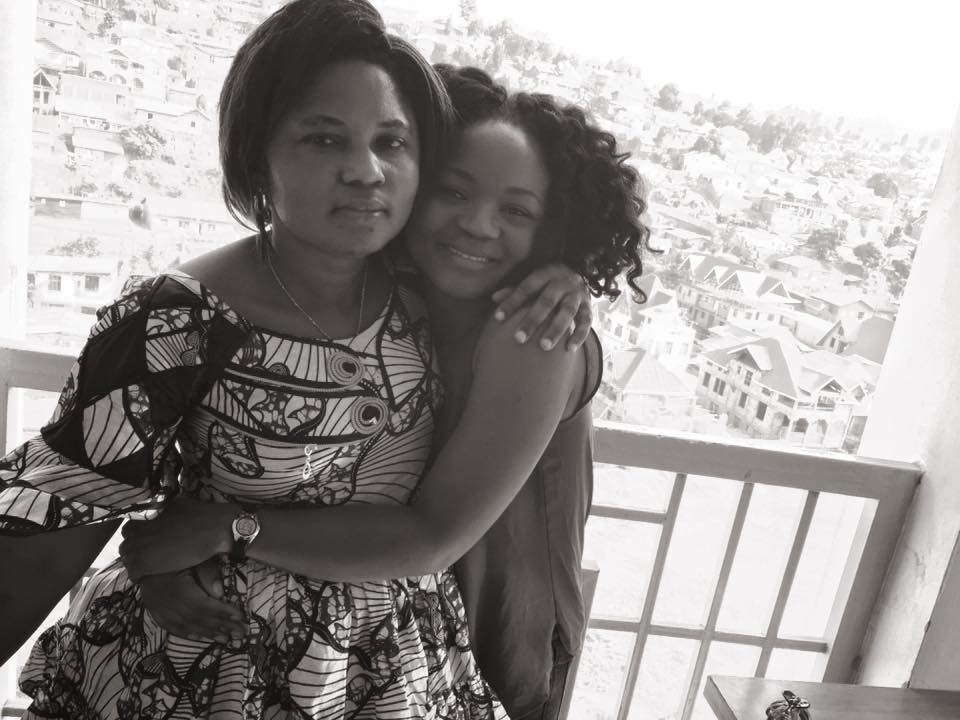 Rebecca Abdul and her mother, Masida "Mimi" Mwanamimi, in 2017 during a visit to Bukavu, Democratic Republic of Congo. (Contributed photo)
It wasn't until May of last year that Abdul, ever the optimist, felt her hope falter. Told repeatedly by officials at the Department of Homeland Security that there were no updates on her mother's application status, she impulsively bought an $800 ticket to meet her in Bukavu, Congo. She hadn't seen her mother in 13 years. Her brother, a baby when she left, was 16, and nearly grown. Difficult to put into words, it was a day she says she'll never forget.
While Abdul's story continues to unfold, there is a light at the end of the tunnel. Abdul learned Saturday that her mother's visa had – after a nearly four-year process – finally been granted. After a late-April trip to Africa to escort her three siblings to boarding schools in Ghana, Abdul has purchased her mother a one-way ticket from Africa to Washington, D.C.'s Dulles Airport, where she'll arrive on Sunday –  Mother's Day. With graduation just days away, it's a fitting end to a long-sought dream.
"Having my mother at graduation will be the biggest blessing of my life," Abdul said.
Abdul is currently choosing between nursing jobs in Nashville and Northern Virginia. Wherever she lands, she will live with her mother after a decade and a half apart. As she considers her lengthy, often difficult journey, Abdul said she owes a debt of gratitude to UVA and the School of Nursing for the unflagging support and strength she received, and giving her a second chance to complete her entry ticket to the profession she loves.
She's also proud of herself.
"I'm proud of what I've accomplished," she said. "No matter what happens, I've always, always tried my hardest; done my best."
Article Information
May 9, 2018
/content/class-2018-nursing-student-saves-mother-war-zone-just-time-graduation