More than once while Sarah Alexander was growing up, her ballet teachers thought she should limit school and focus on a professional dance career. But the young dancer, who began taking lessons at the age of 3, was determined to figure out how to pursue both school and dance.
Next month, the fourth-year New Orleans native will walk the Lawn in Final Exercises as a Phi Beta Kappa graduate with a degree from the University of Virginia's Frank Batten School of Leadership and Public Policy. Through Batten projects and her volunteer work with Madison House's Cavs in the Classroom, and even in ballet, she has learned a set of leadership skills that combine organization and attention to detail with a dancer's confidence and grace.
Since stepping on Grounds, she has been a member of the Rhapsody Ballet Ensemble, the only student-run dance group that performs "en pointe" – on the tips of those square-toed shoes that lace up to the ankle.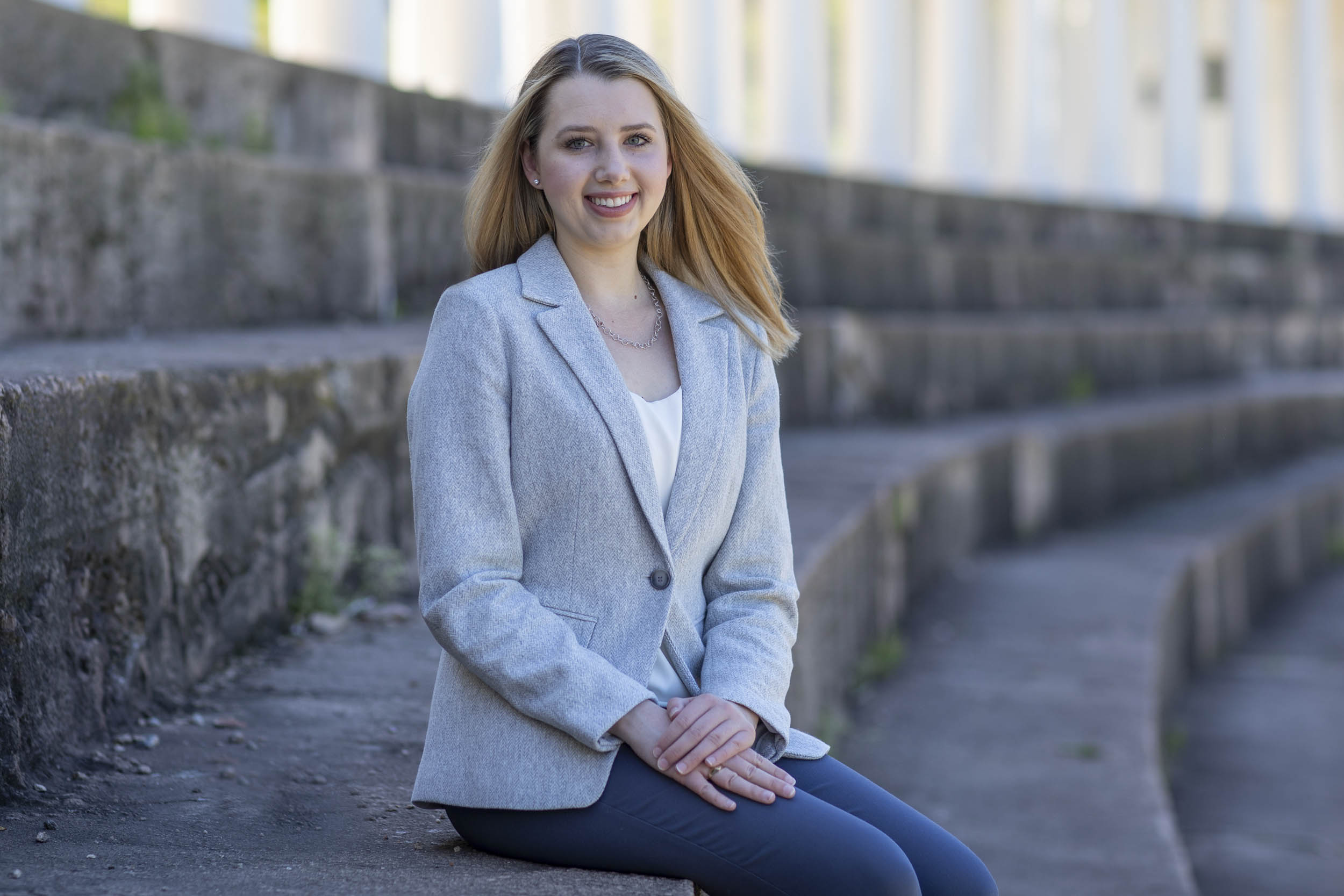 Having found the way to continue ballet, Alexander applied to and will earn her undergraduate degree from the Batten School of Leadership and Public Policy.
Although both of her parents went to UVA (and also took professor Ken Elzinga's economics courses, as did Sarah), the University wasn't her sole choice for college. The "Days on the Lawn" program for newly admitted students and the availability of continuing ballet clinched it. During her visit to the University, she auditioned with the Charlottesville Ballet and was offered a professional trainee contract by co-director and UVA alumna Emily Hartka.
She has practiced with that company almost daily, in addition to performing on Grounds with Rhapsody Ballet, which she joined her first year. The ensemble performs "The Nutcracker" every fall and a series of student-choreographed pieces in the spring. She also danced the female solo from the ballet, "Tchaikovsky Pas de Deux," as well as performing with two fellow Rhapsody dancers in their annual fourth-year showcase. Over the past four years, Alexander has choreographed six pieces for the ensemble.
In addition, she has taken on leadership roles with the ensemble, as vice president for two years and president this past year. She recounted one unusual task of being president: being allowed to drive her car on the Lawn to deliver the special flooring the dance company uses in Old Cabell Hall.
Having found the way to continue her devotion to ballet, Alexander decided on a practical route academically. She was inspired to apply to the Batten School after being selected from George Samson's "Ecology of the Arts" course to attend a lunch with Bill Ivey, former chairman of the National Endowment for the Arts. Alexander asked him, "What is the best way to promote the arts on a national scale?" Ivey's answer was public policy.
"Batten was one of the best decisions I have made at UVA," Alexander said. "My degree has prepared me to create meaningful change. You can apply policy to anything."
For her capstone project, Alexander and her team focused on education in associate professor Paul Martin's course, "Policies for Conflict and Peace in Northern Ireland." The project included spending spring break in Northern Ireland and Ireland; it was Alexander's first study-abroad endeavor, and she appreciated getting hands-on experience, she said.
Her student team examined education reform in Northern Ireland, where schools are segregated along religious and ethnic lines. Critics find similar problems with standardized testing as in the U.S., charging that the testing caters to certain groups and becomes too deterministic. Test scores often predict – and restrict – a student's life trajectory, starting at age 11.
Martin said, "In her time at Batten, [Alexander] excelled at leading in small groups. Batten does a lot of group projects and one consistent element has been team leadership."
He taught a new course last fall, "From Inequality to Action," based on case studies of political activism, and lauded Alexander's efforts on a particular class project. "Her team focused on living wage issues for UVA employees and encouraged the community commission President Ryan empowered to prioritize wages as the most important issue. Of course, success is attributed to lots of factors, but having student voices lending themselves on these critical issues always helps."
For the capstone course, he said, "I asked all of the students to nominate one person from their group that they saw as offering significant leadership, and from Sarah's group she was the consistent nominee."
He also shared comments from two of her peers: "She was a fantastic organizer" and, "Without her, there were times where we probably would have been unable to either meet deadlines or produce the type of work we did."
"I knew I enjoyed school and I love learning," Alexander said. Working with young pupils through Cavs in the Classroom – not to mention growing up in Louisiana, with a struggling public education system – has shown her firsthand the importance of education, she said.  "I believe the solutions to our problems lie with making sure we have an educated citizenry."
Cavs in the Classroom is one of 22 programs offered through Madison House, the independent, nonprofit UVA student volunteer center. Essentially, college students act as teacher's aides in local elementary schools and lead groups of children in activities covering reading, math, spelling lessons and art projects.
"We're helping the schoolchildren – not by doing things for them, but empowering them to do better themselves," Alexander said.
For example, she worked with one girl who was struggling with taking tests. Alexander taught the girl strategies, such as using the process of elimination on a multiple-choice test, and her grades improved dramatically.
This past year, as Cavs in the Classroom's head program director, Alexander has overseen 16 program directors and placed approximately 300 UVA students, who served 16 local schools on a weekly basis, while also continuing her own volunteer shift.
After graduating, Alexander plans to apply her academic and leadership skills working at a consulting firm in the D.C. area – and will continue dancing. She plans to take advanced classes with the Washington Ballet.
Article Information
April 29, 2019
/content/class-2019-ballet-dancer-soars-leader-public-policy-volunteer-work