Lauren Mims, set to walk the Lawn and graduate from the University of Virginia on May 19, has written a curriculum based on Michelle Obama's best-selling memoir, "Becoming," and will pilot it this summer in Chesterfield County as a way to improve the educational experiences of black girls.
Mims is earning a Ph.D. in educational psychology: applied developmental science from UVA's Curry School of Education and Human Development.
She said she is seeing a "golden age" of positive representation of African American females in the media "that I haven't seen during my lifetime," and is seizing on that in her work.
"Part of my dissertation work sought to better understand how media, including #BlackGirlMagic, influenced the identity development of black girls," she said. "For example, there are stories written about black girls by black women that have been on the New York Times best-seller list for a long time.
"I'm thinking about the powerful representation of black girlhood in 'The Hate U Give,' by Angie Thomas, a coming-of-age story about a black girl that was recently made into a movie," Mims said.
As an additional example, for the first time in history, Miss USA, Teen USA and Miss America are all black women, providing new, powerful role models for black girls, Mims said.
Meeting Black Girls on the Moon
Obama's book opens with her experiences growing up. "The first eight chapters talk about the unique educational experiences of Michelle Obama as a black girl," Mims said. Obama's book, Mims' prior work as an appointee in the Obama Administration, and experiences working with black girls in schools informed her dissertation, which she successfully defended in the Rotunda in March.
Her dissertation, "Meeting Black Girls on the Moon: A Qualitative Exploration of Black Girls' Experiences in Schools," explored black girls' perceptions of middle school and identified what supported or disrupted their learning and development. "For example, they might be perceived differently," Mims said. "[In the classroom], they might be seen as disruptive when they raise their hand or make a comment, rather than being seen as bright, assertive, and engaged."
Her work suggests that the school ecology is a contentious space that requires black girls to navigate unique social challenges along their educational journeys; that feedback from academic, media and peer environments influences black girls' identities and understanding of oppression; and that institutions can play an important role in supporting or hindering the success of black girls.
Mims said the "meeting black girls on the moon" reference in her dissertation title underscores the need for educators to provide black girls with the resources, supports and opportunities to thrive. "We need to celebrate black girls where they are," she said, "and that may mean meeting them as far away as the moon."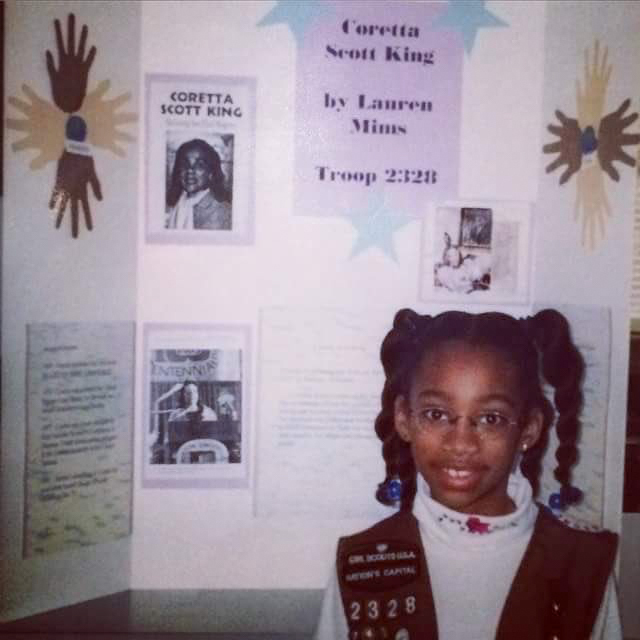 A young Lauren Mims gave a report on Coretta Scott King when she was a Brownie growing up in Fairfax. (Photo courtesy of Lauren Mims)
In her own experience growing up in Fairfax, Mims said she had supportive teachers. A self-described bookworm, her instructors often tailored reading lists for her once she'd barreled through her assigned reading. "I loved reading and writing and that love was nurtured and supported, rather than dissuaded or not acknowledged," she said.
While Mims herself did not experience much of the dismissive treatment she learned about in interviewing and working with black girls for her dissertation, she witnessed some of those dynamics in public schools.
"When I came to UVA as an undergrad [Mims earned bachelor's degrees in English language and literature and psychology in 2012], I was a mentor and then a facilitator for the Young Women Leaders Program, and I saw that happen for the students I was working with," she said.
In the program, Mims was paired with a middle school student in the community. Seeing the dismissive dynamic made Mims determined to focus on the educational experiences of black girls and find ways to better support them.
The White House and 'Becoming' Curriculum
After earning her master's degree in child development at Tufts University, Mims was an appointee in the Obama administration, serving as the assistant director of the White House Initiative on Educational Excellence for African Americans. She also was part of Michelle Obama's "Reach Higher" task force, which encouraged Americans to continue their educations past high school, and part of the Council on Women and Girls, created to advise the president on issues related to women and girls' welfare.
After President Obama left office, Mims returned to UVA to complete her Ph.D. She bought Michelle Obama's book as soon as it hit book stores last November.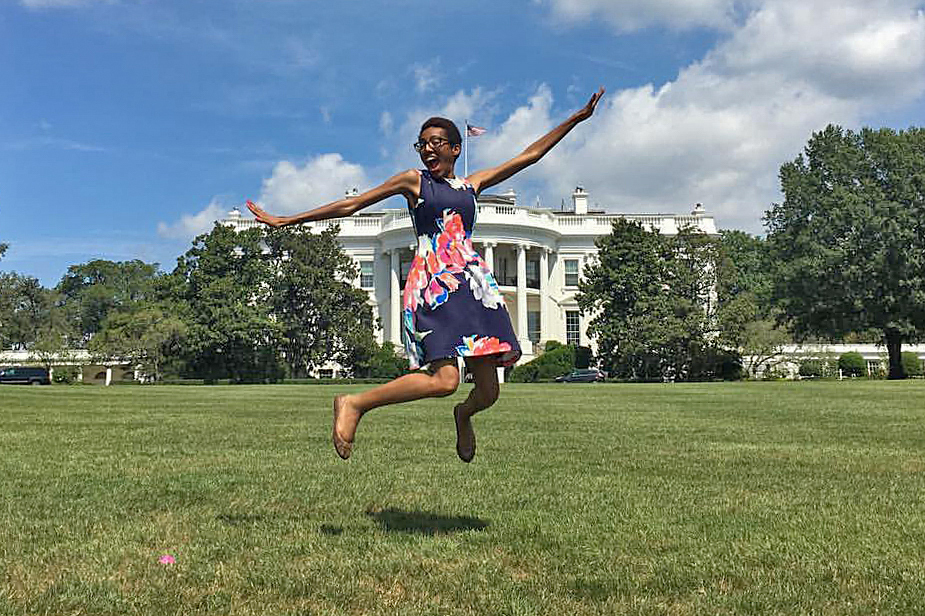 Mims served as the assistant director of the White House Initiative on Educational Excellence for African Americans under the Obama administration. (Photo courtesy of Lauren Mims)
Mims was struck by the stories Obama told. "As I was reading the book, there were so many moments that she talked about; how when she becomes an adolescent, she is aware of the liabilities of her body. I thought about how many girls in my study reported getting in trouble because the way they are walking down school hallways, because it is associated with having an attitude," she said. "She talks about how teachers said she would never be able to go to Princeton even though she thrived in school. She talks about how she was unchallenged in school and how her mom would go to the school so Obama was supplied with supplemental curriculum."
Mims' mind went to the girls she has taught over the past decade and how so many of them were having similar experiences.
That led her to do two things: create a potential college course about the learning and development of black girls that uses "Becoming" as a core text, and build the "Becoming" curriculum she will teach in Chesterfield at a summer program for middle and high school girls of color.
"It will provide an identity-affirming space for black girls to go through the first eight chapters of the book and other text and videos that center on what it means to be a black girl," Mims said. "In having them read these works and watch other media, I hope they can have that same positive effect from the media I found in my dissertation.
"I also want to provide a space where they can talk about some of the inequities they see in their lives."
Mims and her students also will explore how the girls can be a positive force for change in their community.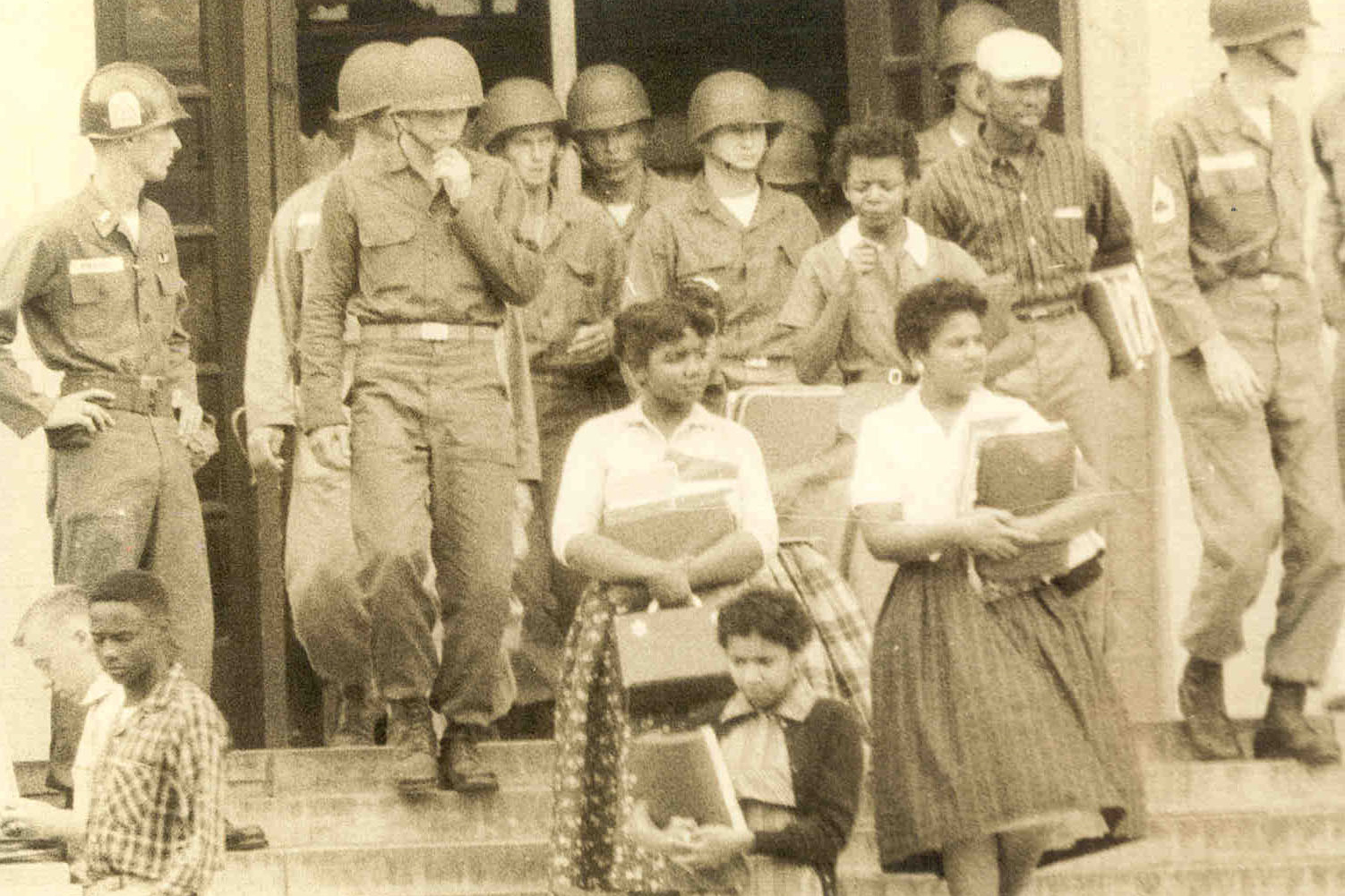 One of Mims' favorite books is "Warriors Don't Cry," by Melba Pattillo Beals (with lunch box), one of the famed "Little Rock Nine." (Photo courtesy of Central High Museum Historical Collections and University of Arkansas, Little Rock Archives)
 "Many of the girls I will be working with this summer are already activists in their community," she said. "During this semester, they actually called a meeting with the governor to talk about educational inequity and testified at the Virginia Capitol about the disproportionate rate of suspensions for black girls."
The plan is to pilot the course this summer and then find ways to further share the curriculum.
"My passion is seeing so many brilliant, loving, super-bright black girls thriving. I hope to better equip researchers, policymakers and practitioners with knowledge that can be applied when researching and working with black girls," Mims said.
Curry associate professor Joanna Lee Williams was Mims' adviser and dissertation chair. She heard her defend her dissertation and sees big things in Mims' future.
"I admire Lauren's work and think her ideas will mean real change for black girls," she said. "Her level of dedication to comprehending the future possibilities of black girls is inspiring and will inform how we frame and intervene in inequalities in the future."
Article Information
May 9, 2019
/content/class-2019-graduate-lifting-black-girls-schools