There are bad guys in cyberspace, plotting malicious things, and Mariah Kenny aims to stop them.
Kenny, graduating May 19 from the University of Virginia's School of Engineering and Applied Science with a degree in computer science, is well on her way to doing that. She has a job secured with CrowdStrike, a cybersecurity and tech firm. She co-founded a company that runs cybersecurity training and competitions. Kenny also led  an 11-member UVA team to successfully defend its title in April at the National Collegiate Cyber Defense Competition in Orlando, Florida.
"Last year, we came in as underdogs," Kenny said. "This year, there was definitely more pressure, since we were the defending champions. We didn't let that pressure get to us; we just focused on the tasks at hand: competing and defending our systems."
The competition is based on real-world scenarios, such as defending a business network under active attack.
Last year was the first year the UVA cyber defense team competed in this challenge, and it took first prize. Kenny said this year's team was more technically sound than last year's, but its competitive edge was teamwork and communication. Emerging at the top of the pack from among 10 competitors again is still exhilarating.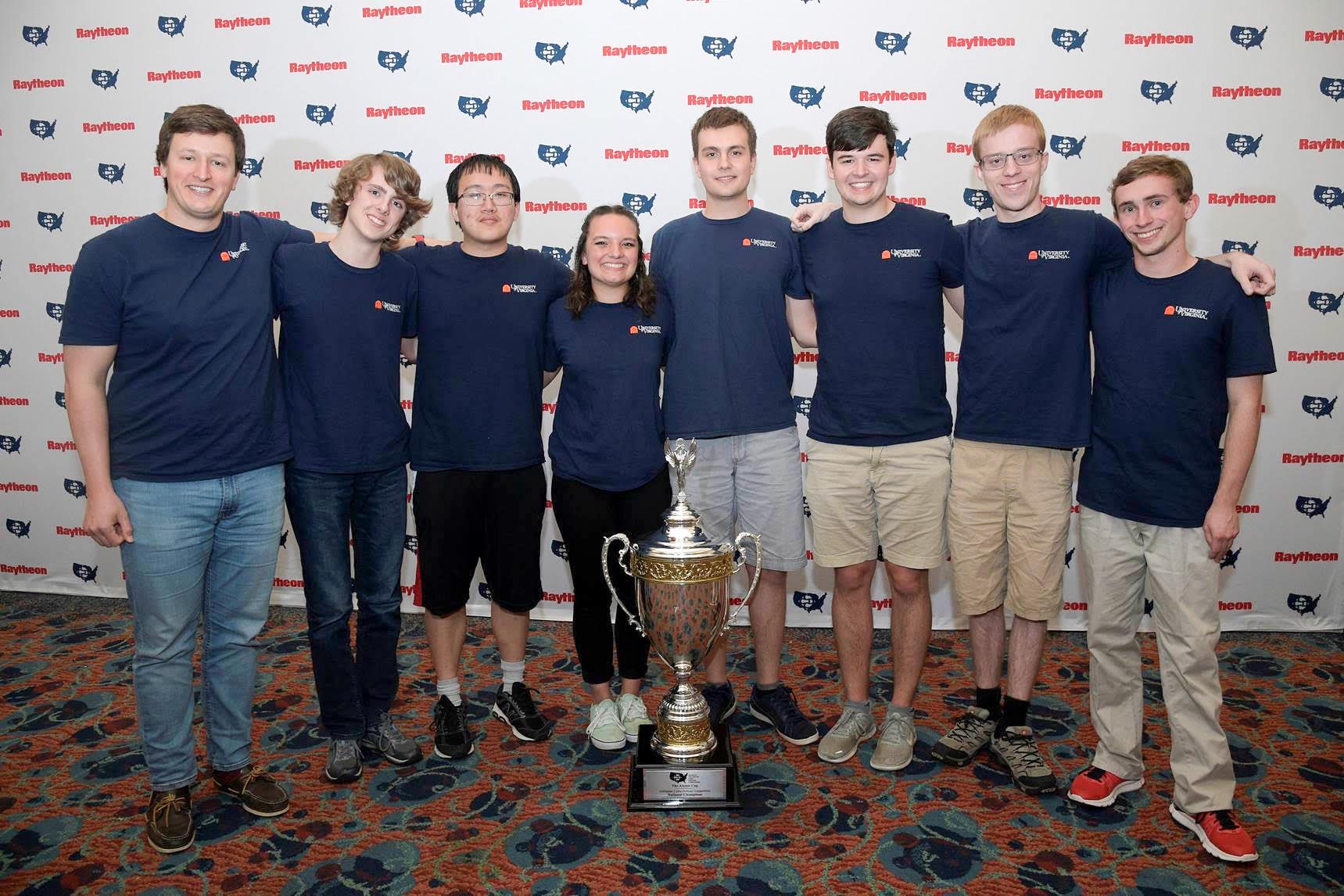 The UVA cyber defense team's adviser said Kenny, center, ranks among the top computer science students in the country. (Submitted photo)
"It was awesome to win a second time in a row," Kenny said. "We felt a healthy mix of disbelief, excitement and exhaustion from leaving all of our energy in the competition. I'm proud of all of the hard work that we put into preparing for the competition, and excited that it paid off."
Yonghwi Kwon, an assistant professor in the computer science department and adviser to the cyber defense team, said he would rank Kenny among the top students in the country. He called her a great communicator, with her teammates and with other teams.
"The fact that she is a great communicator does not mean she is short on the technical side," Kwon said. "Communication in computer science is very unique. You need to understand the techniques and details to effectively communicate. Mariah has a very strong background in computer science and she knows how to dissect technical details and reconstruct them to explain better. This, I believe, is a truly gifted skill for a computer science student."
Because of her skills, Kwon said she is a wonderful person with whom to work.
"She has outstanding skills to approach different people effectively," Kwon said. "She maintains great relationships with other teams and even sponsors. That is a really needed skill for success. I believe she will be a leader in the field and we will hear her name in various channels very soon."
Kenny, from Glen Allen, said she likes problem-solving and helping people.
"I figured computers are going to be part of our lives and every aspect of the future, so by studying that field of engineering, I could be the most useful to the most people," she said.
But all of this connectivity has a dark side.
"People need to be more aware of how it will change our lives, especially in the aspects of data security and privacy, because we are more connected," she said. "I think it is good, but you have to be aware of what changes could happen because of it."
Kenny wants people to think about with whom they share which data. Some data should never be shared, some can be shared with trusted friends and some can be made public. Kenny urges people to question the security of those with whom they do share information.
"Sometimes, it's better to say something over the telephone than send it in an email where it can sit on a server forever," Kenny said. "And if you're really worried about your phone lines being tapped, then you have a different threat model. You have some other things that you should be focusing on."
Aside from offering cybersecurity courses such as "Defense Against the Dark Arts," taught by Jack Davidson, a professor of computer science, Kenny said UVA has another advantage for aspiring computer scientists.
"One thing that gets overlooked is the alumni network, through which I have learned a lot of cybersecurity," she said. "When we won some of the competitions, some UVA alums who actually work in the cybersecurity industry reached out to me. I shadowed the chief information security officer at Fannie Mae for a day, which was awesome to get that perspective. I learned a lot through UVA alumni. That was a hidden thing that I did not think about that has been super-valuable."
Kenny's CrowdStrike position is in Washington, D.C., so she will remain near the University.
CrowdStrike is not her only cybersecurity venture. Kenny, along with two other students and a UVA alumna, have created MetaCTF, a cybersecurity company that runs cybersecurity competitions and training for companies, organizations and schools. MetaCTF emerged from the Pike Fellowship program at the Engineering School, which provided funding and mentoring to help the company continue to expand. It was also one of the winners in UVA's Entrepreneurship Cup competition.
Kenny is helping the University build interest in its cybersecurity offerings, especially among women interested in science, technology, engineering and math areas. A member of Women in Computing Sciences and the Society of Women Engineers, Kenny helps with a visitation program to talk with high school students who may want to follow in her footsteps.
She encourages women to work in cybersecurity because of their communications skills.
"Women are thought to be stronger communicators than men, but we often choose to apply these skills in more traditional fields, such as education, and overlook others," Kenny said in an article she wrote for U.S. News & World Report. "In fact, a new study in the journal Psychological Science found that women may be less likely to pursue careers in science and math because they identify more career choices in other fields, not because they have less ability in engineering or computer science."
Kenny suggested that more mentoring for women would help. "Without role models at the educational and professional levels, women will forgo careers in cybersecurity," she wrote. "Networking and mentorship are the key to closing the cybersecurity skills gap and the gender gap."
Kenny said women have a strong presence at UVA Engineering, but that more work needs to be done.
"UVA has one of the highest percentages of women in engineering and computer science in the country, so here we are at least doing something right," she said "The University is getting better, but we still need to work on it. We are bringing about a more general awareness to it, but there needs to be a willingness for the industry to make that shift."
Article Information
May 9, 2019
/content/class-2019-mariah-kenny-cyber-defense