Reading was difficult for Casedy Thomas. As a second-grader, she just couldn't get the hang of it. Thomas can still recall her parents coming to school for conferences with her teacher about what they could do to help her.
But throughout the frustration and, at times, embarrassment, there was a silver lining.
"In that struggle of not being able to read and struggling with the literacy piece, I found confidence in math," Thomas said. "It was the thing that really pulled me in and what I really loved to do.
"That's when I really developed an appreciation for math."
You could say she got pretty darn good at it. On Saturday, Thomas – a first-generation college student who grew up in Crimora, a 2,200-person Shenandoah Valley town located near the intersection of interstates 64 and 81 – will receive her doctorate from the University of Virginia's Curry School of Education and Human Development.
The mother of two, who previously earned her master's degree in education from Curry, has made quite the name for herself.
"Dr. Casedy Thomas is the standard by which I measure doctoral students," said Curry professor Robert Berry, the former president of the National Council of Teachers of Mathematics.
Thomas, who was born when her parents were only 18, had always dreamed of attending UVA, but after her grandfather died from cancer toward the end of her high school career, she elected to stay closer to her roots in Augusta County by attending Bridgewater College.
It was Thomas' grandfather, Douglas Terrell, who paid for her to have a tutor twice a week for three years when she was having her reading difficulties.
Thomas, who would go on to become a valedictorian at her high school, believed she needed to remain nearby for her family, which included her brother, Zachery, who was eight years her junior.
Plus, she really liked Bridgewater's teacher-to-student ratio and cozy feel. There, Thomas majored in math, and after graduation became a math teacher at a school in Augusta County close to where she grew up.
But Thomas knew she wanted to go back to school.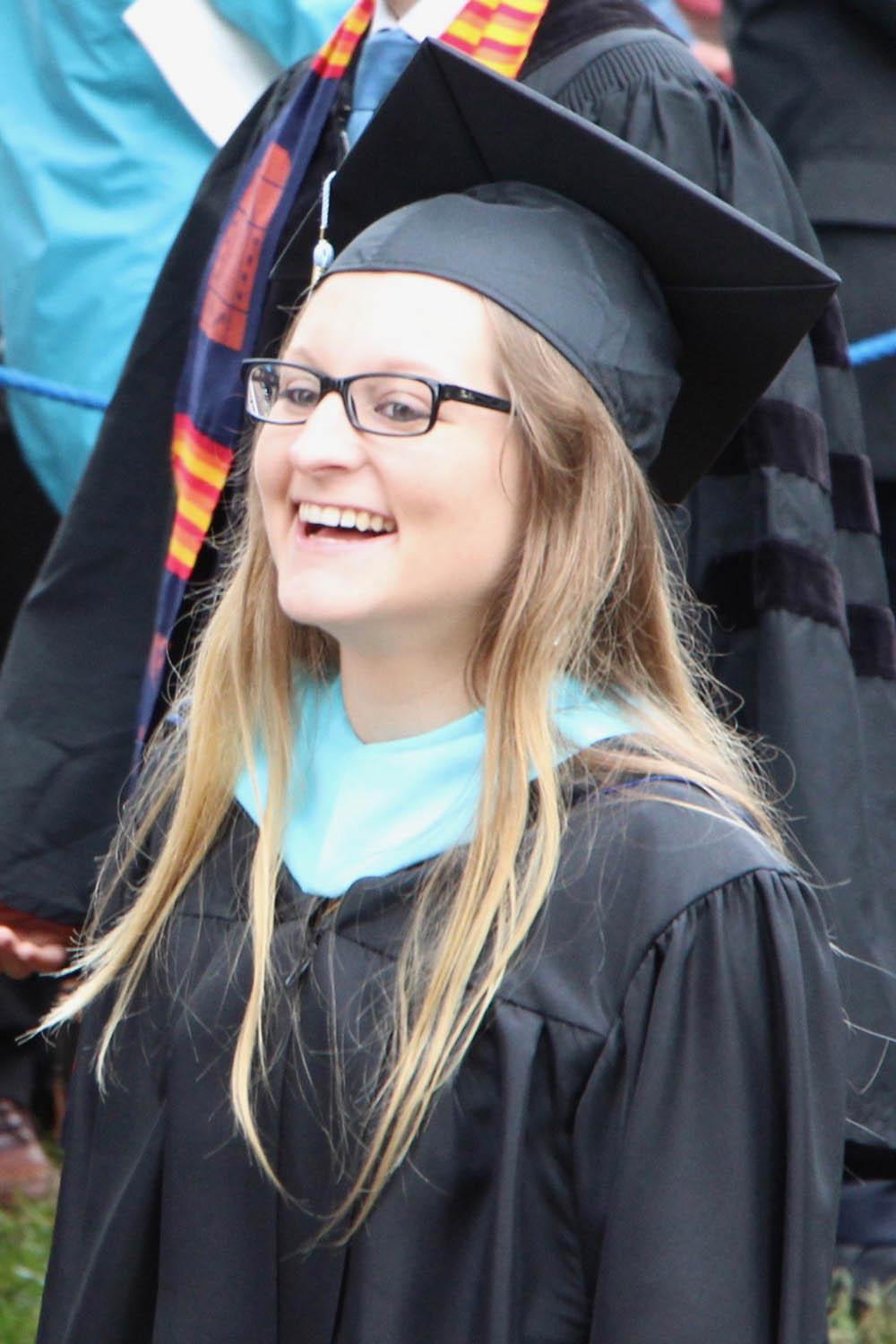 Thomas previously earned her master's degree in education from the Curry School. (Contributed photo)
In 2015, after having her first child, Thomas started working toward her master's at the Curry school.
That fall, she took a course taught by professor Derrick Alridge called, "The Civil Rights Movement in Education."
"I fell in love with his class," Thomas said.
Thomas subsequentially started work on an oral history project that examined the history of segregation at Central Augusta High School, which existed from 1961 to 1966 in Augusta County.
Thomas is still working on the project.
"It's kind of been like my baby because I grew up in Augusta County and I wanted to know more about it," said Thomas, whose cousins on her mother's side are biracial, "but over time, the project grew because the history of the local cities of Staunton and Waynesboro are so interconnected. So we started also conducting interviews with students [at other schools]. Each one of these interviews has kind of served to create a bridge for us to have more information of what the school was like, what kind of curriculum they were taught, and gives us a glimpse into some of the culturally relevant pedagogies that were going on.
"What was life like at this school that only lasted for five years during the civil rights movement?" she said. She noted that its brief existence came years after the Supreme Court case that forced schools to desegregate – "but Augusta County was still hanging onto to segregated schools and refusing to integrate."
Thomas still talks excitedly about Alridge's course.
"The energy he brought, the readings that he had …," she said. "I loved the diversity in our class, too. That was the thing that really struck me, because it was over 50% black, and we were just having some really engaging and interesting conversations about things that had happened and were still happening."
It wasn't long after starting at UVA that Thomas knew she wanted to eventually get her Ph.D., too – especially after she was introduced to Berry by now-retired Curry school professor Susan Mintz.
"She said, 'You have to take his classes; your interests align so much with his,'" Thomas recalled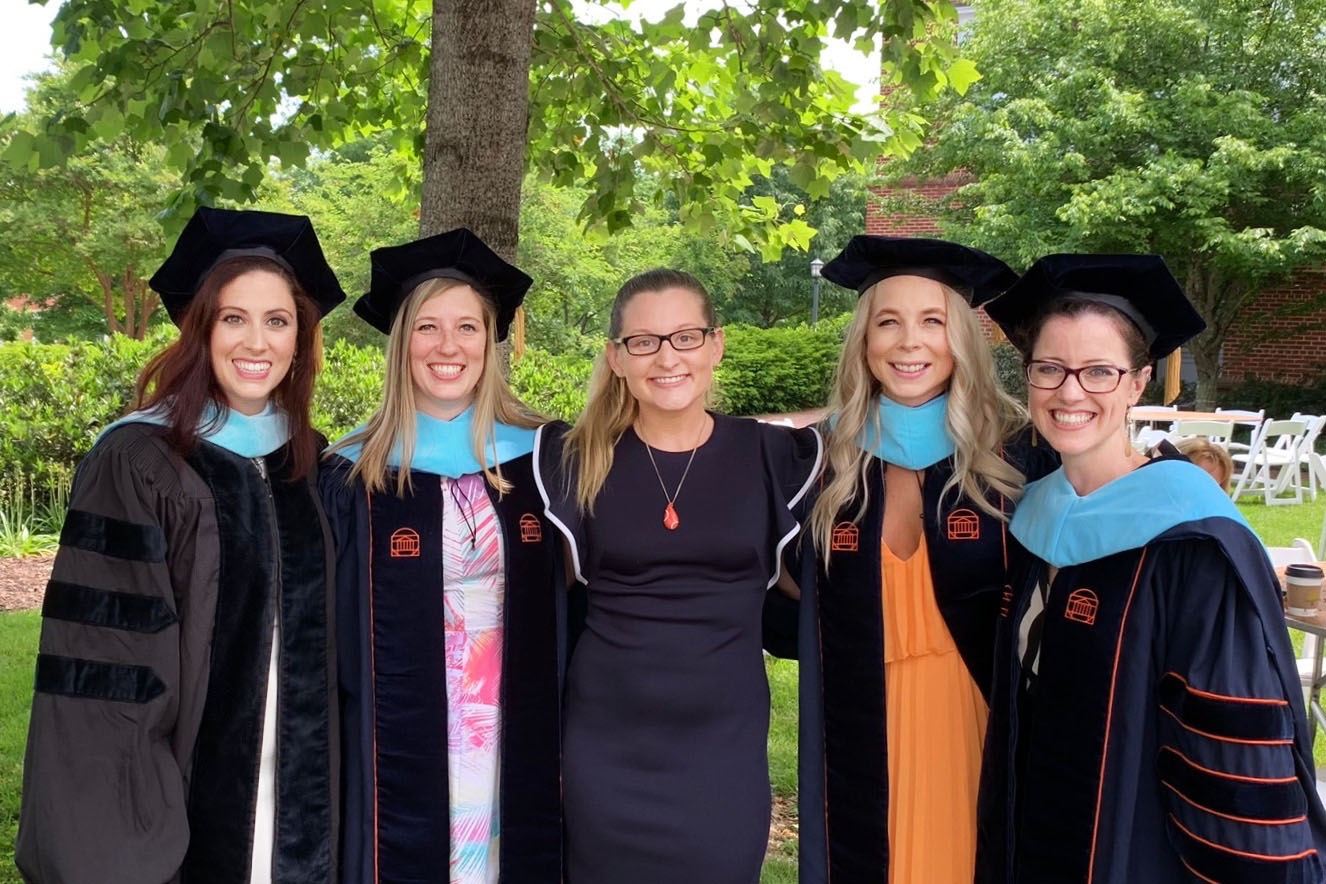 Thomas says she made great friends during her five years at UVA, whose support gave her confidence in her work. (Contributed photo)
Berry became Thomas' mentor.
For her dissertation, Thomas wound up focusing on three completely different studies.
One of them, which she did with Berry, looked at research in math education, focusing on culturally relevant pedagogy at the pre-K through 12th-grade levels. The duo's paper was published in Journal of Math Education at Teachers College.
"I firmly believe that Casedy's dissertation work exemplifies qualitative excellence," Berry said. "She has developed as an emerging expert using qualitative metasynthesis research methodologies in mathematics education."
And she did it while raising two toddlers.
Thomas, who prior to the coronavirus pandemic was commuting from Crimora to Charlottesville, said she couldn't have made things work without her husband, Matthew, whom she has been with since she was 16. Matthew put his career on hold to be a stay-at-home dad.
"If he had not been willing to do that …," she said. "Throughout this whole journey, that's been very consoling."
Following graduation, the Thomas family will be leaving the state of Virginia for the first time, as Thomas has accepted a tenure-track position as an assistant professor in secondary math education at the University of Alabama.
"We're both really excited to be forging our own path," Thomas said. "And who's to say we're not going to make our way back home one day? But right now, we're really excited to see where this journey takes us."
Thomas said her UVA experience lived up to her dreams. She credits her fellow students with helping her gain the confidence she needed in her work.
"We were all coming in from different backgrounds and areas, but really formed strong friendships," she said. "Going through all this together … I came for a degree, but feel like I've gained so much more."
Article Information
May 13, 2020
/content/class-2020-first-generation-student-has-become-standard-grad-students