Find the latest information on the University's response to the coronavirus here.
Looking back to when he began the Executive MBA program at the University of Virginia's Darden School of Business, Dr. Taison Bell never imagined that he would start a company with a classmate.
He also never thought he would be fighting a global pandemic from the halls of the UVA Health, where he is the medical director of the intensive care unit.
And yet, here we are.
Bell, among many other duties at UVA Health, has been part of the successful trial of the antiviral drug remdesivir, which this month became the first treatment authorized by the FDA for use against COVID-19.
Later this month, he will earn his MBA, alongside classmate Timothy Harvey. For two years, the duo has juggled the Darden EMBA program's online courses, in-person residencies and global study programs, while getting their company, Owl Peak Labs, up and running. The company focuses on in-home diagnostics; its first product, currently under development, is an imaging pill that can scan a patient's gastrointestinal tract for polyps or other early signs of colon cancer.
"Colon cancer is a preventable, treatable cancer. If it is diagnosed early, patients can live long and productive lives," Harvey said. "But too many people are not able, or do not want, to go be screened. This technology could change that, and it could mean that people will have longer, happier lives. That is why we do what we do."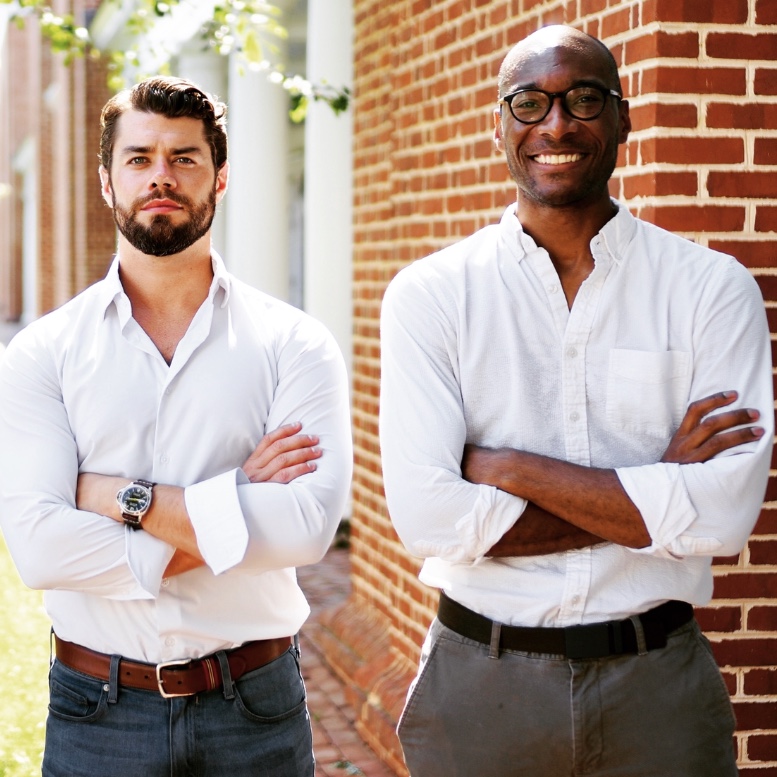 Harvey, left, is an experienced entrepreneur with a background in finance; Bell is the medical director of the ICU at UVA Health. (Contributed photo)
What Bell has seen at UVA Health during the COVID-19 pandemic has strengthened his belief in the importance of at-home diagnostics. 
"Telemedicine and in-home care helps patients while ensuring that clinical staff can tend to the highest-need patients," Bell said. "Globally, this pandemic is exposing vulnerabilities in our health care system like no other crisis I have seen, and I think the lessons coming out of it will be really widespread."
"It has given us a renewed understanding of not only the importance of remote diagnostics, but how critical it is to be able to scale that technology quickly," Harvey added.
Harvey, an experienced entrepreneur who worked in finance before coming to Darden, came across the diagnostic technology during his first year at Darden, when it was presented to him as an investment opportunity. He reached out to Bell to see if his classmate would be interested in getting involved.
"Taison and I met early on at Darden, and became fast friends – we had an inherent respect for each other's process and work," Harvey said. "We started looking into this new imaging technology, and found it so compelling that we began to discuss options for building a company around it."
They spent about a month doing their due diligence, talking with developers about acquiring the technology and getting legal papers in order. They officially launched the company last summer, while on a trip to Berlin as part of Darden's Global Study program, with Bell and Harvey as co-CEOs, joined by chief financial officer Max Quinlin.
"The technology was developing quickly, and we wanted to be a part of it," Harvey said. "We didn't want to wait any longer."
"Darden was instrumental at every stage," Bell added. "The classes tie directly into the business environment, so we were able to learn as we were going. As someone coming from a medical background, it was a really cool way to learn.
"For me, my primary identity has always been as a doctor," he continued. "Running a company never crossed my mind, but now I have started a company with a classmate, one I am really excited about. I think it shows that personal evolution and personal growth are a huge part of the Darden experience, and that you have to be comfortable knowing you will come out of a program a different person than when you entered."
Now, as Bell and Harvey near the finish line at Darden, Owl Peak Labs is focused on "Project Oscar," their name for efforts to develop the imaging pill focused on colorectal cancer.
"The pill can image your gastrointestinal tract and find out if you have polyps or other conditions, using patent-protected infrared technology as an additional aid to image through the bowel wall," Bell said.
The Owl Peak platform can then send those results to patients' physicians, who can review them and determine if patients need to come in for additional treatment.
"It is a win-win for doctors and patients, and could fill a testing gap, especially in underserved communities," Bell said.
Right now, the team is refining ways for patients and caregivers to access data on their platform, and working to make sure they are in line with all Health Insurance Portability and Accountability Act, or HIPPA, requirements.
They hope to debut the pill imaging technology within about two years with extensive research and development, especially once concerns about the pandemic ease and Owl Peak employees can return to their labs in greater numbers.
"As the world continues to evolve and open up again, we are going to do our part to deliver this innovative solution to patients with the best partners we can find," Harvey said. "While the global economic conditions are certainly challenging, we believe that remote medicine will continue to grow, and that we will fit well into this new world of medicine."
Media Contact
Article Information
May 7, 2020
/content/class-2020-home-colon-cancer-screening-two-mbas-are-making-it-happen