Find the latest information on the University's response to the coronavirus here.
When the University of Virginia shuttered its classrooms in mid-March after the novel coronavirus struck, fourth-year School of Nursing student Reanna Panagides tossed a few essentials from her Charlottesville apartment into her backpack.
Clothes. Two sets of nursing scrubs. Her computer. Her hive tool.
The referenced media source is missing and needs to be re-embedded.
The crowbar-like tool – used by beekeepers to separate hive boxes that bees seal with propolis, a sticky secretion made from poplar and cone-bearing tree pollen – fit snugly beside her laptop and near the pocket where her stethoscope and UVA Health badge are tucked. And while she won't get back to Morven Farms to tend the bees again anytime soon (it, like Grounds, remains closed to visitors), she'll be ready when physical distancing rules lift, and waxes philosophical about the sea change this spring.
"I felt like I was in my prime time, coming into my fourth year," Panagides said. "A job lined up, two research projects going, the gardens humming along. But I'm trying to take a positive outlook, to have just as much of an impact on the world.
There's a metaphor in the disparate tumble inside Panagides' backpack that hints at her varied interests. There's her love of gardening. Of international travel. Of teaching, research, community service and beekeeping. Of her foundational belief in compassion and resilience as she cares for COVID-19 patients.
Four years ago, after arriving on Grounds, Panagides dreamed up and established Perennials for Patients, a student group that raises, cultivates and delivers bouquets and notes to UVA Health patients in need of uplift. Since then, she constructed a half-dozen raised beds for the effort at Morven Farms, assembled hoop houses to extend the plants' growing season, and rallied fellow students to help deliver the crop to hundreds of patients over the last four years.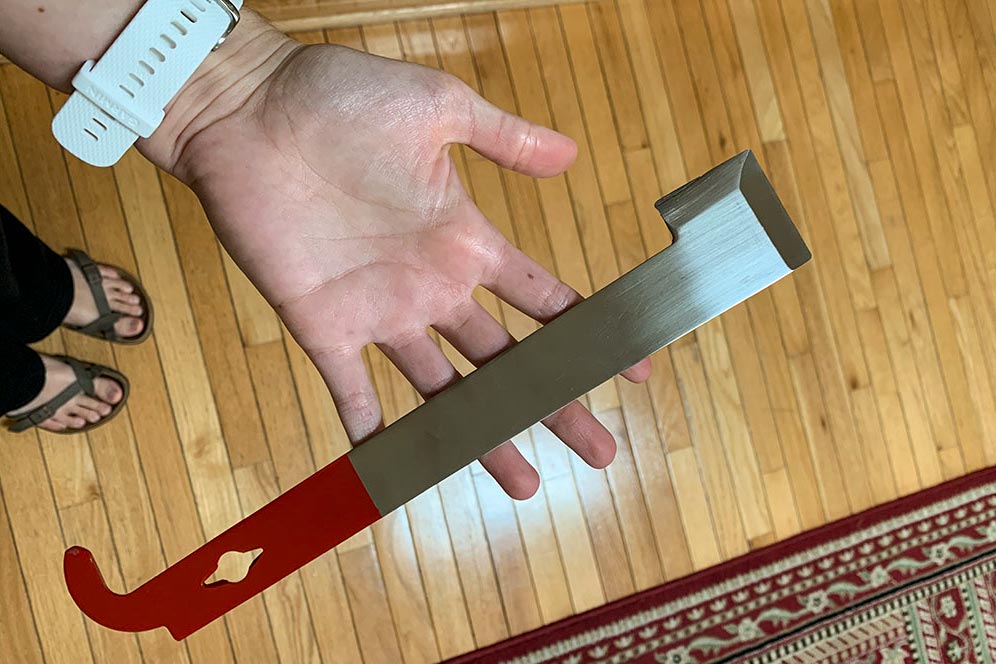 Panagides uses this hive tool in her beekeeping practice at Morven Farms, where she also grows flowers for UVA Health patients. (Contributed photo)
Her academic endeavors were nurtured with the same grace. Working with nursing professor Emma Mitchell, Panagides analyzed data related to an HPV vaccine program in Virginia and presented work on Latin American breast and cervical cancer screening programs at the American Public Health Association conference. With five fellow students, she earned a Center for Global Health grant to assess Honduran women's sexual and reproductive health needs. And although she had plans to return to Honduras again this summer to work more on interventions focused on adolescents at risk for unintended pregnancies, sexually transmitted diseases and unhealthy relationships, she's reoriented her work to keep physical distance rules, connecting with her partners via Zoom and making plans to develop videos.
In her third year of nursing school, Panagides began working as a patient care technician at UVA Health, working weekends and doing extra shifts when she could. In the wake of the coronavirus, that's meant a lot more hours and even more of a chance to hone her skills.
"It's been such an influential experience to my nursing career, just being in the ICU setting," she said, "and working with the [Medical Intensive Care Unit] team is just phenomenal. The nurses there are so strong and high-spirited, especially during this time."
At first, Panagides' job was to help nurses properly don and doff protective gear before and after they'd care for COVID patients, and to disinfect equipment, like face masks and shields, so they could be reused. But lately, she's been caring directly for COVID patients in the hospital's Special Pathogens Unit, where she suits up in specially colored scrubs and dons her own personal protective equipment before tending the needs of her patients, helping nurses with lab tests, checking vital signs and tending to patients' hygiene.
"I keep in the back of my mind," Panagides said, "that I'd want to have the same kind of care I'm giving."
And though she's polished in protocol and her fears of contagion have lessened, she's agonized over the way COVID-19 keeps patients and their loved ones apart and admired how nurses compassionately bridge that gap – an often herculean, sometimes tragic task.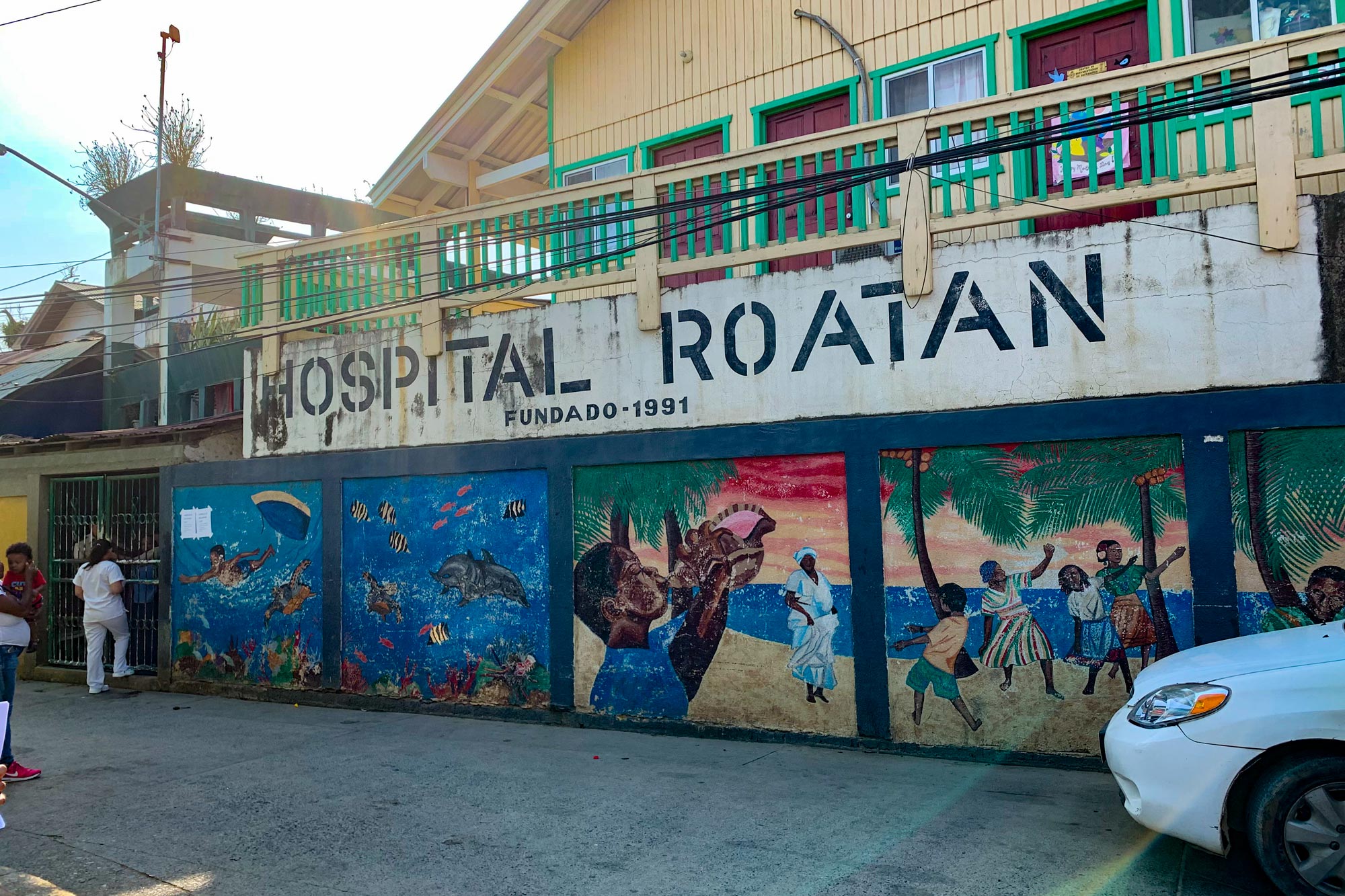 At UVA, Panagides earned a Center for Global Health grant to assess women's sexual and reproductive health needs at Roatan Hospital in Honduras. (Contributed photo)
It's a reminder, Panagides said, that clinicians must also keep full their own reservoir of resilience and well-being – a focus area in UVA's School of Nursing for more than a decade – more than ever.
"The school helped us cultivate this skill to be able to change and respond," Panagides said. "We've really used these skills in a time where everything is changing and requires us to very quickly adapt."
Being adaptable and driven to care is what fuels Panagides these days as she jockeys between her parents' house in Sterling and her Charlottesville home where she'll soon begin work as an ICU nurse at UVA Health. COVID-19 or not, Panagides' resilience looks a lot like before.
She's gardening. Doing research. Holding Zoom meetings with her Honduran colleagues and developing plans to create video education programs focused on sexual health. She's even doing a little carpentry.
Last week, Panagides and her two brothers (including incoming student Anthony Panagides, a member of UVA's Class of 2024) constructed several raised beds to plant cauliflower, Thai basil and kale. And she dreams of Morven's bees who, she heard last week, survived the winter – a fact that's not always a given. Maybe there's a metaphor there, too, she mused.
"It's been exciting to be a part of this history, to be on the front lines," she said. "It's humbled me. It's a scary time and people are afraid, but also a time where the community is coming together and we are supporting one another. I'm honored to be playing a part.
"I think a lot about what I want to get out of life," she added, "and it relates to having an impact in a positive way in the world. I'm thankful to have found myself in nursing; it's one way I can impact the world."
Article Information
April 30, 2020
/content/class-2020-reanna-panagides-tends-patients-pollinators-and-plants