Students, faculty and staff are rolling out the welcome mat for the University of Virginia's newest Wahoos, who begin moving in this Friday.
Grounds is abuzz with activity, with Housing and Residence Life staff readying dorms, and planning is well underway for "Wahoo Welcome," UVA's welcome-back event.
Students Adriana Allen and Nick Smith, co-chairs of the residence staff program, took to UVA's Facebook page Friday to field questions about move-in . They work with UVA's resident assistants to ease the transition for first-year and transfer students and "give a great residential experience for everyone," Smith said.
We wanted to know what incoming students should be packing, and not packing, as they prepare to move-in on either Friday or Saturday.
Allen recommended harm-free wall-mounting products, especially hooks. "It just gives you a lot more storage space in your room to hang up, like, a towel, a robe, something like that." Shower shoes and caddies are also key to dorm life, she said.
Allen said she was caught flatfooted the first time it rained because she forgot to pack an umbrella.
Smith said in his first year he, surprisingly, forgot his laptop, in all the chaos of packing. "That was one of the things that I forgot, which you would think is … a key thing to bring," he said. "So, my mom gave me some flak for it."
Along those lines, students, don't forget your phones and various chargers.
Another important item to pack, if you already have it, is your UVA student identification card. You will need it to not only get into your dorm building, but to get into your room. "If you have it, bring it with you because you need that," Allen said. And don't hesitate to take advantage of UVA's official "Greeters," who volunteer to help students move into their dorms.
As for the things you should not bring to UVA: "octopus" lamps, which have several plastic shades and pose a fire hazard; candles, for the same reason; as well as extension cords. Air conditioning units are also a no-no, but with most UVA's dorms now air-conditioned, that should not be much of a problem. Box fans, however, are allowed. And for that overly festive student who wants to put a Christmas tree in his room – just don't.
Allen and Smith said it is useful to talk with your roommates before move-in to coordinate who is bringing what; there is no need (or space) for two microwaves, two mini-fridges or two game systems. Another tip is to stagger your arrival to your dorm, so two families are not trying to furnish a single room at the same time.
Microwavable foods like macaroni and cheese, oatmeal and soups are good food staples to have on hand, as are nuts, dried and canned fruits and hot chocolate and tea, the head RAs advised. "I really love popcorn, so popcorn is my go-to," Allen said. Single-serve coffee makers, hot pots and electric hot water kettles are also allowed.
The pair say to bring a good mindset, too. That means understanding that everyone around you is experiencing college life for the first time, so don't be hard on yourself.
"Comparison is the death of all joy," Smith said. "Come in with an open frame and be ready to engage. It's cliché, it's been said a thousand times, but whatever you put in, you'll get out."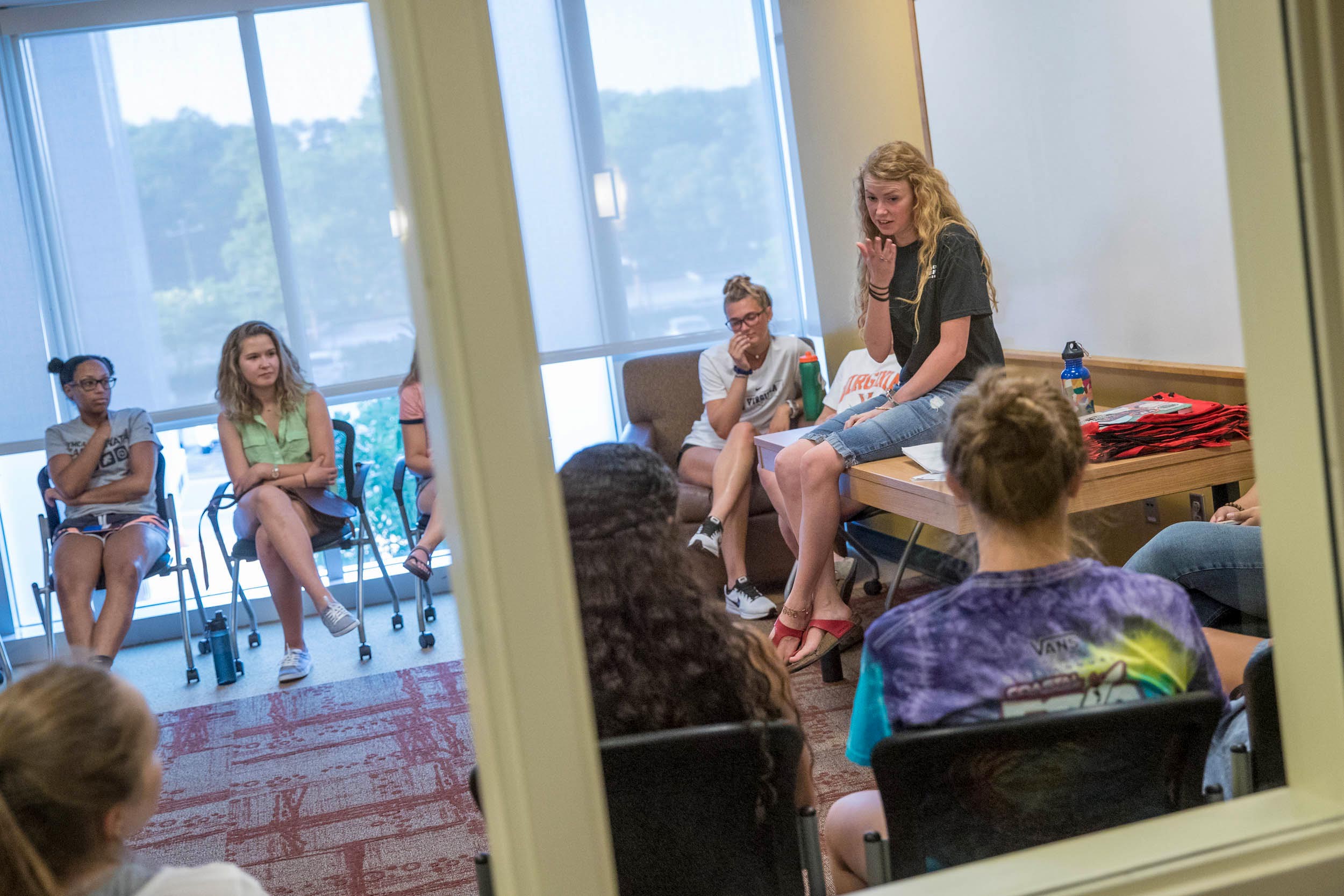 Former RA Rebecca Lewis addresses her hall in 2017. After move-in, every hall attends a mandatory welcome meeting where their RA answers questions and shares common rules. (Photo by Sanjay Suchak, University Communications)
Once students get settled in, the fun begins with Wahoo Welcome. This Orientation & New Student Programs event includes Welcome Week, a weeklong bash created by the student-run University Programs Council.
On Friday from 9 p.m. to midnight, UPC is putting on "CarniVILLE," its take on a carnival. Taking place in McIntire Amphitheater, the event will feature inflatables and free food.
Also in the amphitheater, "Saturday we have a concert with rapper A$AP Ferg," Nguyen said. The artist just published "Floor Seats," his first studio project since his popular 2017 mixtape, "Still Striving."
"All of the council is super-excited to put on the concert so students can enjoy the music," Nguyen said.
Sunday evening is Opening Convocation, when the entire class will gather on the Lawn to receive an official welcome from UVA President Jim Ryan and sign the honor code, promising not to lie, cheat or steal.
Filling out the week are the annual Rotunda Sing, when UVA's acapella groups hold an evening performance on the Lawn; a comedy set from "The Daily Show's" Jaboukie Young-White; and the traditional show by popular hypnotist Tom Deluca.
To learn more about what the early days of dorm life are like, check out this story.
Article Information
August 19, 2019
/content/class-2023-heres-what-pack-and-not-pack-move-weekend