Having been a University of Virginia medical student for only a month, Victor Teran wasn't sure what was going to come out of his visit to UVA Health System patient Leo Kingrea's rural Gordonsville home on an autumn evening 3½ years ago.
"It was kind of surreal," Teran recalled. "He lives out in the woods and had a horse. I guess I had thought the days of house calls were over."
Teran soon learned the name of Kingrea's horse (Sissy), the name of the 1949 Chrysler DeSoto he had been rebuilding (Jezebel), and of his love for drag racing. He also got to meet Kingrea's partner, Venna Wiest.
"It was interesting to go to his place – as opposed to him going to the clinic or seeing him for the first time in a hospital bed in a gown," Teran said. "When you see someone at the hospital and they have their IV on and the blood pressure cuff on, it's easy to lose track of who they are outside of here."
Looking back on that initial interaction, Kingrea, 72, didn't know what to make of the fact Teran and his mentor, Dr. Peggy Plews-Ogan, wanted to visit him in his home.
"I had some doubts at the start," Kingrea said with a wry grin, "but it worked out beautifully."
Today, thanks to a number of in-home visits, phone conversations and Teran accompanying Kingrea to doctor's appointments, there is a palpable warmth between the two. When they talk, they seem more like bowling buddies than med student and patient.
The relationship is a byproduct of the UVA School of Medicine's Patient-Student Partnership. Now a mandatory part of the curriculum, for the first time this program allows medical students to establish deeper, long-term relationships with patients and gives them a real-world context to their academic experiences.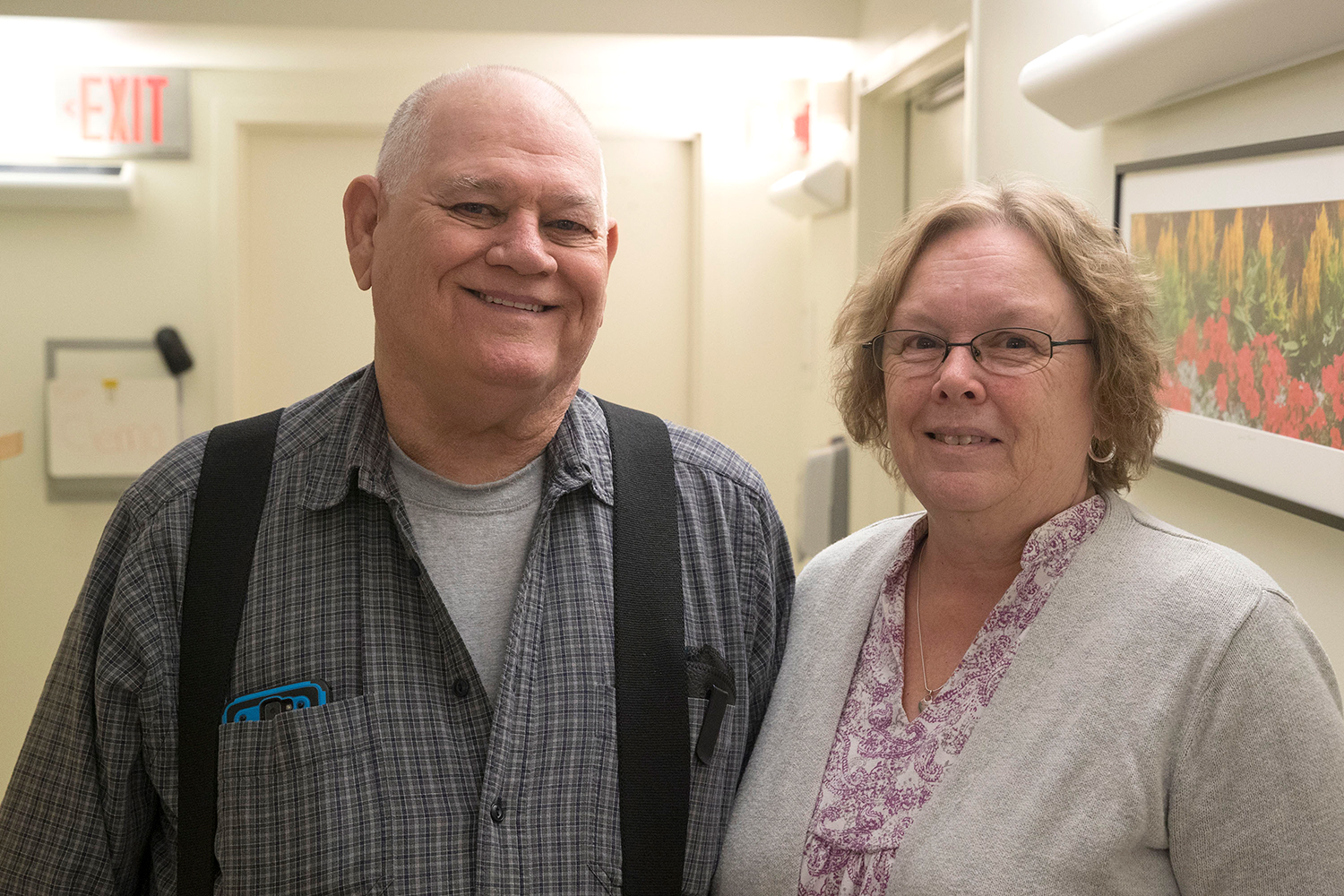 Gordonsville resident Leo Kingrea (left) and his partner, Venna Wiest, say the UVA Health System's Patient-Student Partnership has been a big help. (Photo by Dan Addison, University Communications)
"When they first walk in the door at medical school, they think, 'Oh, I don't know anything yet. How can I help my patient?'" said Dr. Rachel Kon, an assistant professor of internal medicine and the course director. "But there's so much that they can do in acting as advocates for patients."
"Students won't be able to decide what medicine patients need," Patient-Student Partnership coordinator Colleen Kiernan added, "but they can help their patients after the visit to make a to-do list of all the things the doctor wanted them to do. They learn how some patients have difficulty navigating the health care system and what can be done for that."
The program grew out of the Phronesis Project that was started by Dr. Plews-Ogan.
This year, all 156 incoming medical students were paired with a chronically ill UVA Health System patient – mostly adults, but also some children with complex medical issues.
Kon feels a bridge is being built between the UVA Health System and members of the greater Charlottesville community.
"I think it makes the patients realize how passionate the students are and how much they really care," she said. "Patients get to experience medical school through their students and learn what kind of training goes into becoming a doctor, and hopefully feel that they're influencing that."
Typically, medical students don't have much contact with patients during their first 18 months of school.
"They are often just taking tests and reading textbooks, and are not interacting with patients. Our goal is to remind students of why they chose medicine," Kon said. "They start becoming disillusioned by all the work. So I think really you have to provide meaning in what they're learning and show them the importance of the relationship aspect in their work."
But it's not just a one-way street.
"The whole idea of this partnership is that they learn from each other," Kon said. "It's not just the patient being here to teach the student, and for the student to follow along and watch."
Teran has learned so much from Kingrea – who has suffered several heart attacks, undergone a back surgery and has diabetes (just to name a few issues) – that he now thinks of Kingrea as his first medical school professor.
"The most important lesson I've learned is that there's a Leo behind every person in the hospital – so it's worth it to take the time to get to know them," Teran said. "It helps you have better interactions with that person while you're taking care of them and also gives you more meaning in what you're doing as a doctor."
During a recent exam, Kingrea – who has ridden horses for much of his life – talked about Sissy. "She had a temperament like a grizzly bear," he said, shaking his head. "I'd get so mad at her."
Wiest said the Patient-Student Partnership has been a godsend for Kingrea, whom she lives with in Gordonsville.
"It's just very personable, very friendly, very caring," she said. "They stay in touch – not only during your visit, but afterward. They make home calls, which is fabulous. They got to see our home and meet on a whole different level than just being in the doctor's office.
"And now [Leo] feels at ease with Dr. Plews-Ogan and Victor. He's real comfortable with them."
A great facet of the program is that Leo won't be left in the lurch after Teran graduates. As students begin their fourth year, they hand off their patients to incoming first-year students. To that end, Teran has already introduced Leo to first year student Ryan Duong.
Already, Duong sees the value of the program.
"When you see something in class and then you see someone who has this thing you just learned about, it makes it stick that much better," he said. "I think it's really interesting to be able to follow him and see how a medical problem progresses through different departments and all these different people talking together, because in class you don't get to see the big picture."
At the end of his most recent exam, Kingrea became excited as he talked about his beloved DeSoto. He and Wiest are currently redoing the car's interior together.
"Maybe we can finish it this year," he said. "That would be a blessing."
For more information on the program, click here.
Article Information
February 14, 2019
/content/close-and-personal-uvas-patient-student-partnerships-win-win