Saturday morning dawned muggy, quiet and solemn in Charlottesville as members of the University of Virginia community came together to reflect upon the violent white supremacist demonstrations at UVA and in Charlottesville one year ago.
UVA students, faculty members, staff, alumni and Charlottesville-area community leaders gathered in Old Cabell Hall for "The Hope that Summons Us: A Morning of Reflection and Renewal." The free, ticketed event, also streamed live to thousands, included remarks by University President James E. Ryan, choral performances and poetry readings, followed by a communal breakfast for attendees.
In his address, "The Imperfect Pursuit of High Ideals," Ryan urged the University and the wider community to address gaps between its highest aspirations and its reality.
"This question of how we live our values is also the question that has opened up newly vibrant conversations about the University's past, and conversations about the University's relationship with the surrounding communities of Charlottesville and Albemarle County," he said.
The morning began with a moment of silence, a hush falling over the crowd in the large auditorium as they honored those hurt or killed in last year's violence, including 32-year-old Heather Heyer, whose mother Susan Bro was in the audience, and state troopers H. Jay Cullen and Berke M.M. Bates. Across Grounds, the bells of University Chapel tolled in remembrance.
Saturday was, as the Honorable John Charles Thomas told the audience in his opening remarks, a morning of both grief and hope. Thomas, the first African-American appointed to the Supreme Court of Virginia and the youngest person ever to sit on the court, earned both his undergraduate and law degrees at UVA.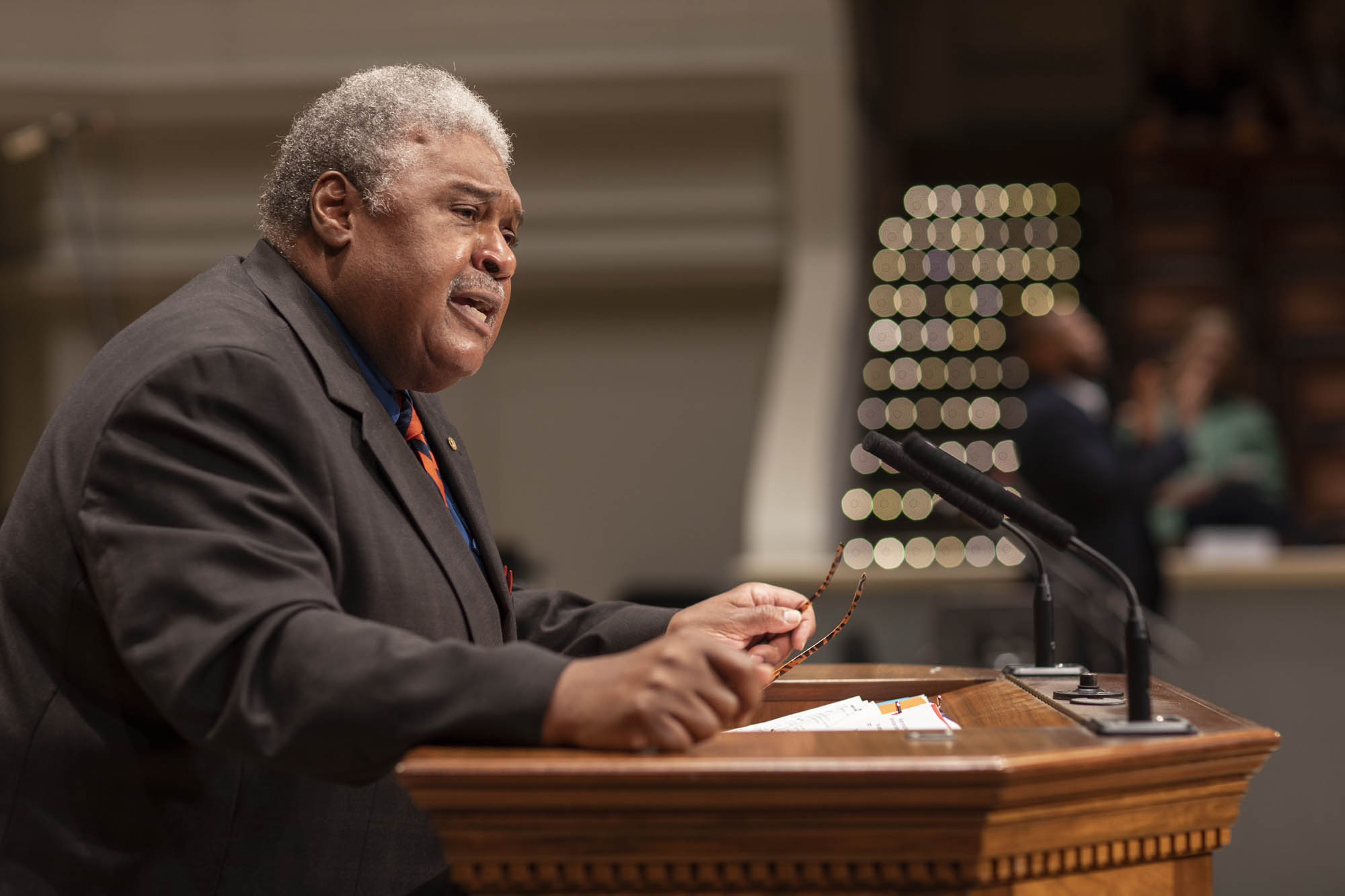 "We gather here today because we are sure that light will conquer darkness, that understanding is more curative than bigotry, that love is stronger than hate, that hope will lead us to a better day," Thomas said. "Without hope we lose our determination to build a joyful future, but with hope we are inspired to embrace our differences and with hope we are motivated to uplift humanity… Thus, hope gives us the courage to stand up against evil, and so it is that we join together this morning to contemplate the hope that summons us."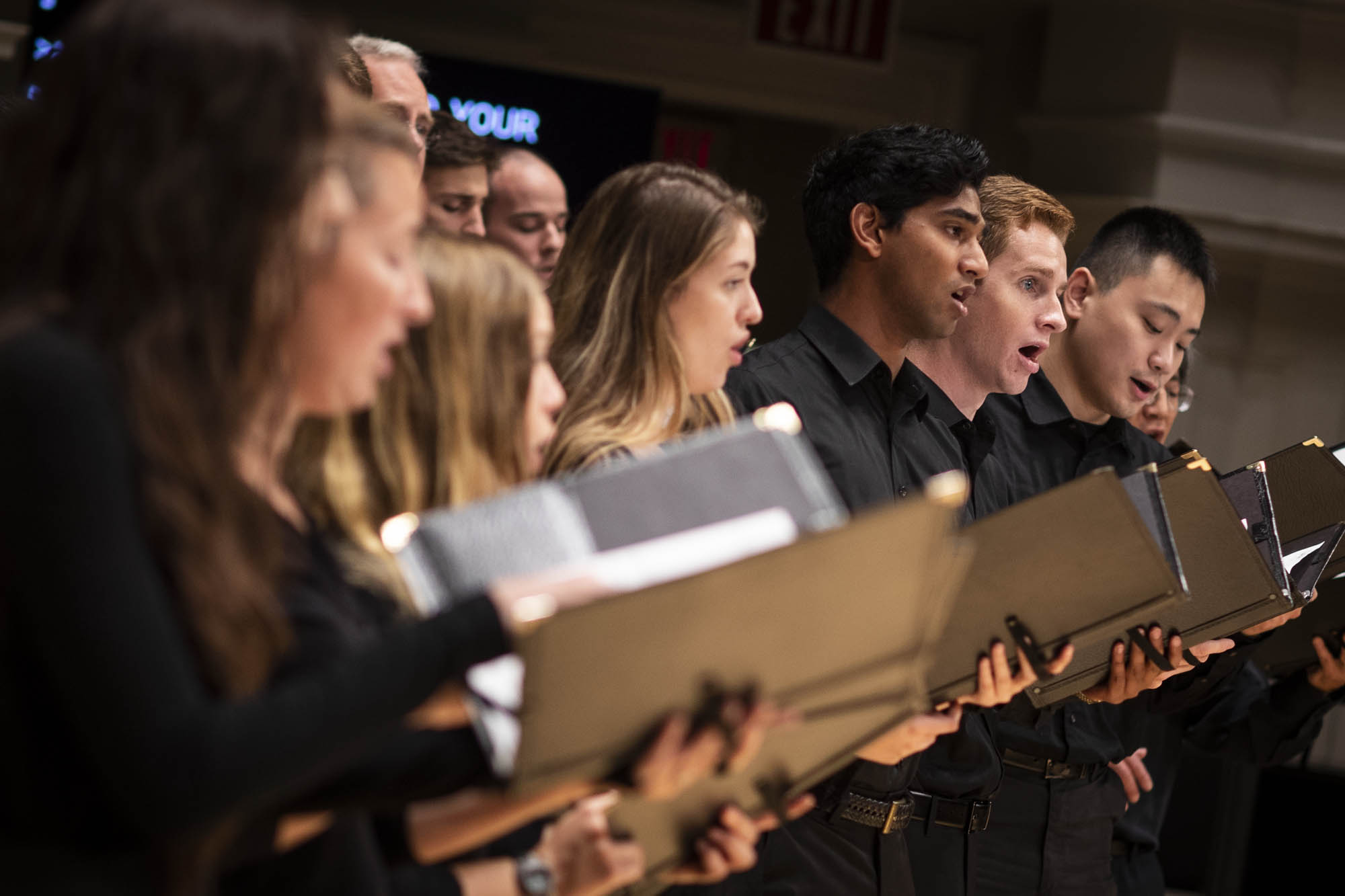 Saturday was also, Ryan said in his remarks, a time to recognize "the gaps that still exist between our aspirations and our everyday realities."
Ryan took the stage after choral performances by members of the Oratorio Society of Virginia, the University Singers and the Zion Union Baptist Church Adult Choir, as well as a poetry reading – "This Poem is Not About Facebook" – by Valencia Robin, who earned her Master of Fine Arts degree from UVA in May, and a reading, in eight languages, of Coretta Scott King's quote, "The greatness of a community is most accurately measured by the compassionate actions of its members."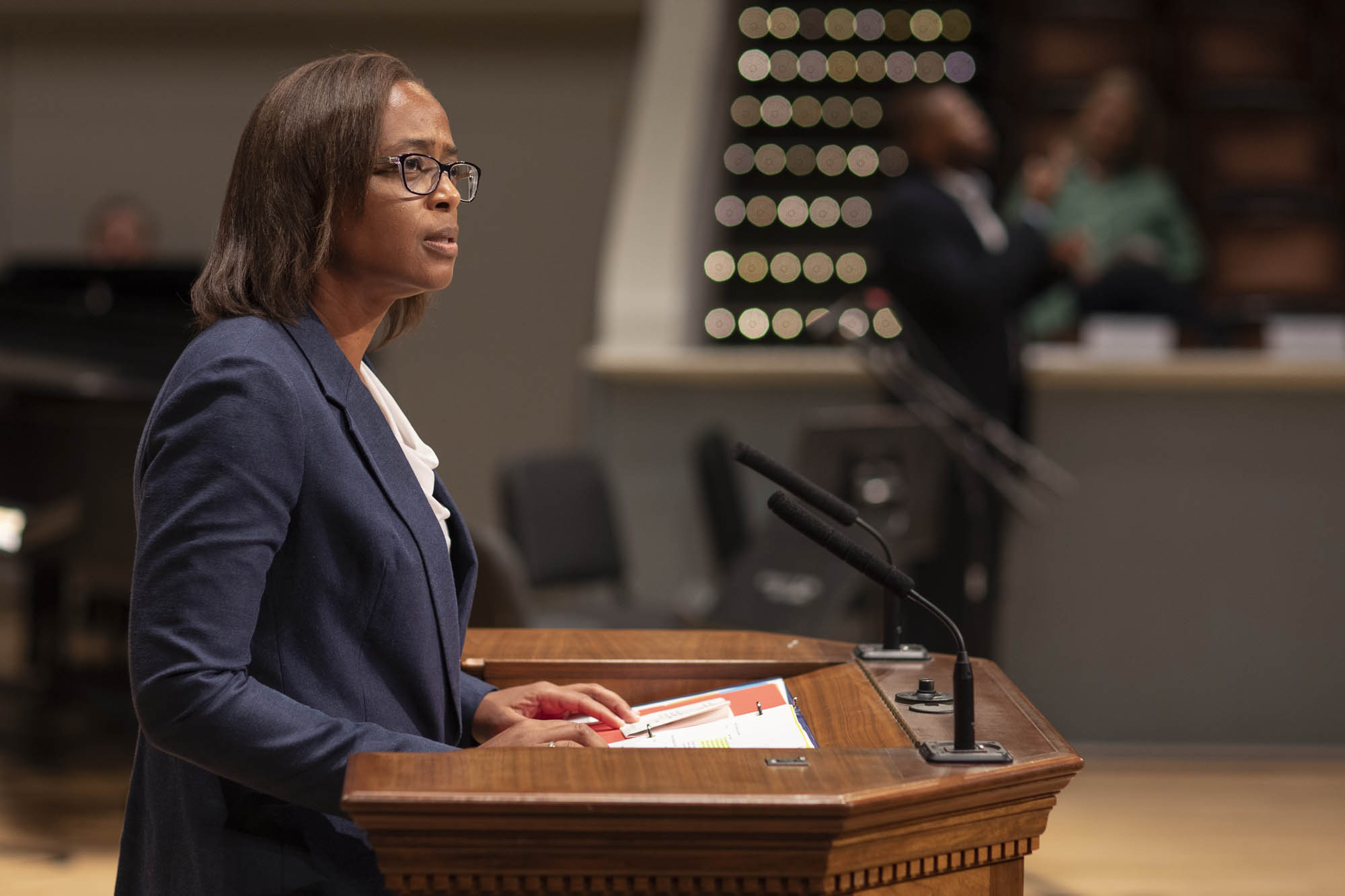 The new president focused his speech on closing the gap between ideals long cherished as a core part of the University – diversity, tolerance, civility, equity and inclusion, to name a few – with the harsh realities that last year's marches exposed in the community and the nation.
Read the full text of Ryan's address.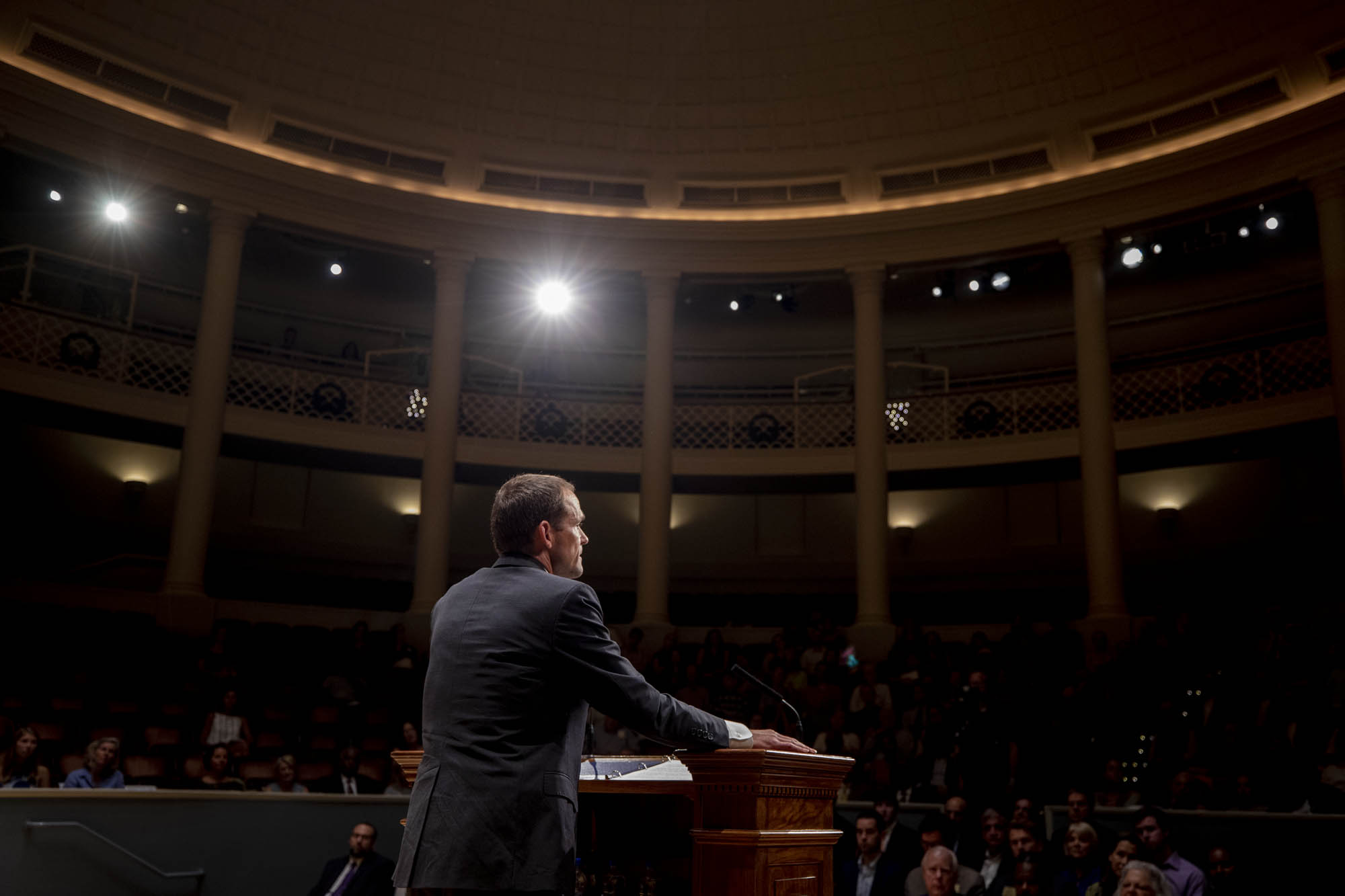 "Our professed and cherished ideals as a community were confronted with the grim and horrific reminder that everyday realities are sometimes quite different," Ryan said. "To wrestle with that difference, to come to grips with the gaps that still exist between our aspirations and our everyday realities, is indeed what being an American is about. It is also, importantly, what being a member of this community is about, or should be."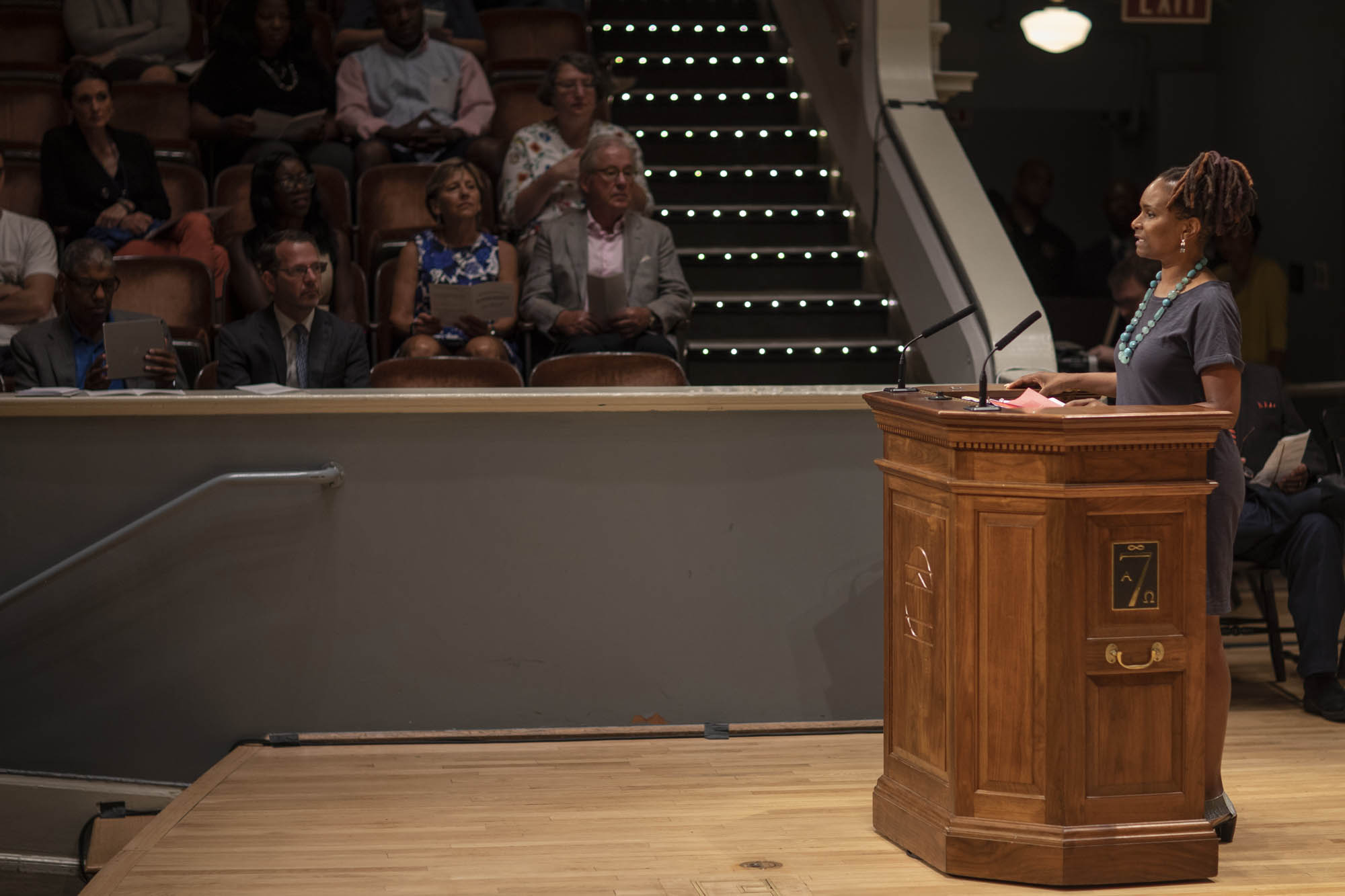 Acknowledging those gaps means celebrating the many UVA alumni who have played important roles in creating a more just and equitable world, Ryan said, citing Thomas, former NAACP Legal Defense Fund leader Elaine Jones, fellow School of Law graduate Robert Kennedy, and many others.
"The university today is a much different place than it was 200 years ago; it is a much different place than it was 65 years ago, when black students were excluded, or 50 years ago when women were excluded and, to my eyes, a different place than it was even five years ago, when I was last here as a faculty member," Ryan said. "And we are a university that should be proud to have graduated innumerable alumni who have dedicated their lives to advancing our values and to advancing racial, social, and economic justice."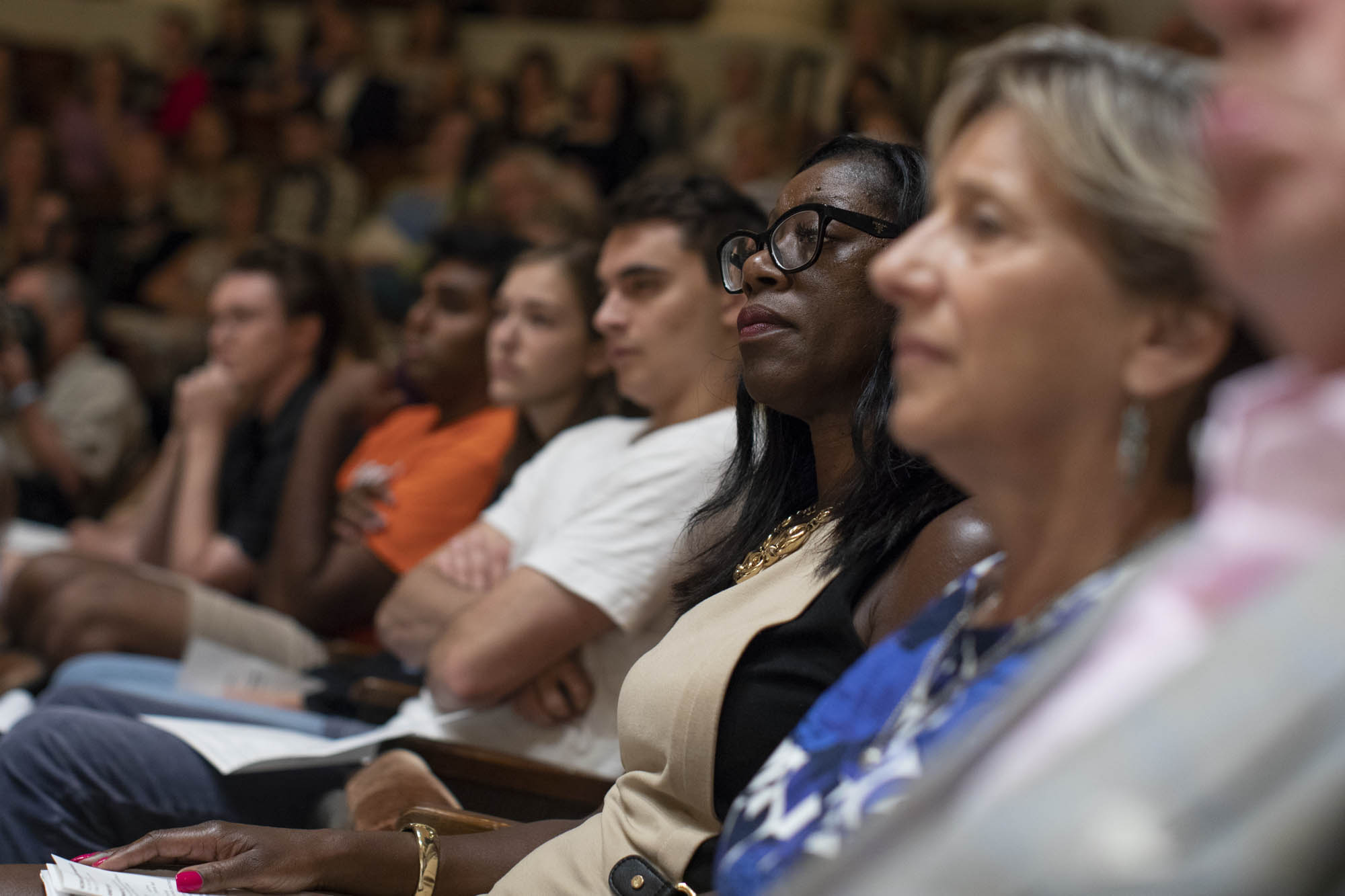 However, he continued, it is also important to acknowledge far less illustrious parts of the University's past and present.
"This is also the university, we should acknowledge, if we have the courage to be candid and open to self-examination, that graduated two of the organizers of last year's hateful march," he said. "To be part of this community – be an honest and courageous member of this community – we have to recognize that there is still a gap between our aspirations and realities."
Ryan also acknowledged the counterprotesters who were surrounded by torch-bearing marchers in front of Thomas Jefferson's statue on Grounds last August.   
"We do nothing more than recognize our common humanity to say to those who were attacked around the statue last year: I am sorry. We are sorry," he said.
Ryan ended his remarks with his hope that the University would constantly seek to close that gap and continue pursue its ideas courageously, while acknowledging that there will inevitably be obstacles and mistakes along the way.
Doing so, he said, is the best hope we have.
 "I believe with every fiber of my being that the pursuit of high ideals, even if carried out imperfectly, is our only chance," he said. "And I believe that is what universities, and ours in particular, should be all about."
Article Information
August 11, 2018
/content/closing-gap-aug-11-event-ryan-highlights-aspirations-realities