Last summer, Tim Davis opened one of his first workshops for University of Virginia athletic coaches with a moment of vulnerability.
Over Zoom, he held up a photograph of himself in high school raising the Ohio state soccer championship trophy. "Then I shared what was really going on in my mind at that moment – which was shame," Davis said.
With the score at 0-0 and seven minutes remaining, Davis had missed a critical shot on goal after a beautiful pass from a teammate. His coach pulled him from the game.
"We went on to win in thrilling fashion with me on the bench," said Davis, an associate professor of public policy in UVA's Batten School of Leadership and Public Policy. "I was more demoralized by that than excited that we won."
By sharing the experience with the coaches in his course, he was essentially telling them, "I'm not going to pose here for you," Davis said. "I'm going to tell you about the real Tim, and I hope you'll take me up on the offer to tell me about the real you, as a coach and as a person."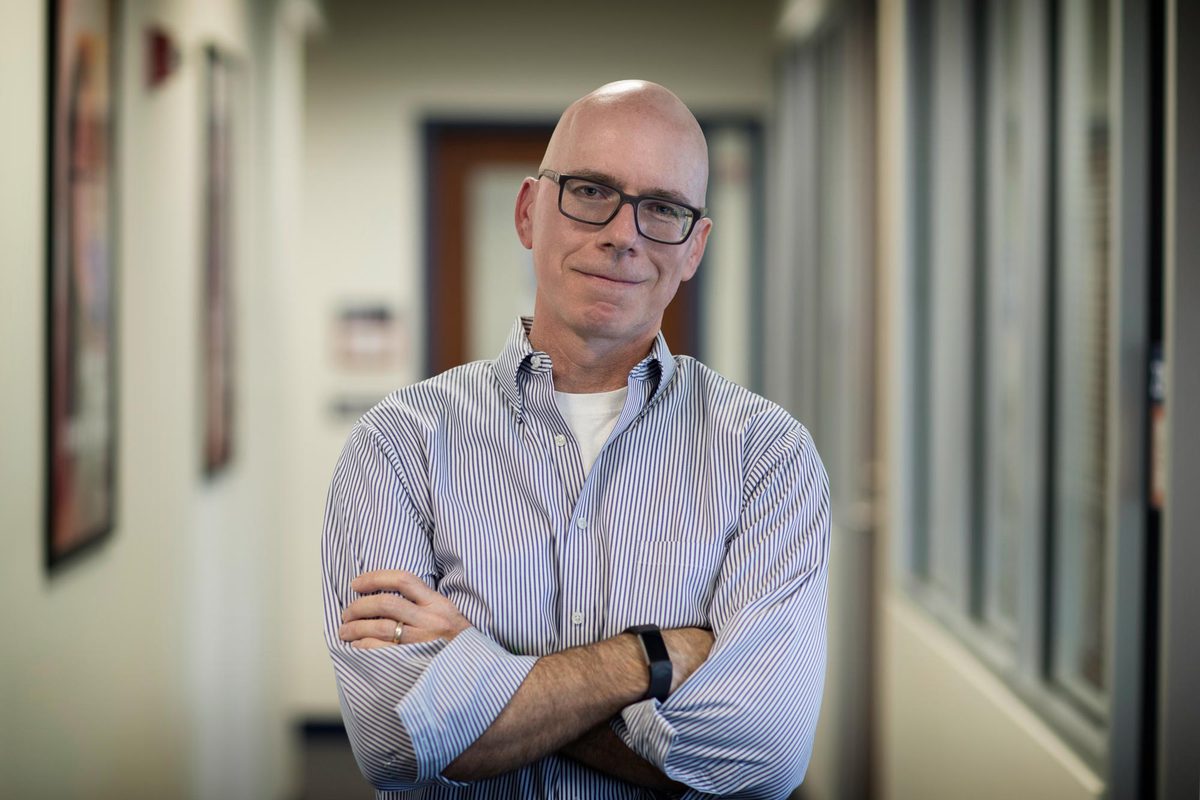 A clinical psychologist who studies team leadership and emotional resilience, Davis co-taught a series of four workshops to head and assistant coaches at UVA with psychology professor Chris Hulleman in July 2020. The course – hosted by BattenX, the Batten School's lifelong learning initiative – focused on motivating student-athletes, and proved so popular that he'll be teaching another focused on emotional resilience in the near future.
Both coaches and athletes experience hardships differently than the average person, Davis noted. "They don't face life-and-death adversity, but their highs and lows are higher and lower," he explained. "Every year they go through either winning a conference championship or a devastating loss at the end of the season.
"For many of us, our ups and downs are much less intense and much more spread out."
Regardless of their profession, some people respond to the lows in life more positively, he added. While it might seem natural to feel depleted after going through a difficult experience, some people come out feeling stronger. Within the context of athletics, Davis's course explores how those people think.
Through lectures, discussion and evening take-home activities, coaches in the program learn to navigate challenges and use them as opportunities for growth. One particularly important concept the course covered last year, Davis said, was intrinsic motivation: valuing the work you do for its own sake. Participants also learned new techniques for communicating feedback and discussed what deep listening looks like on both the inside and the outside.
After sharing his experience at the state championship, Davis was impressed by how the coaches in his class were willing to be equally vulnerable – and to admit how much they had left to learn.
"I loved how open they were," he said. "As a group of elite coaches, they have every reason to pose and act like they have it all together. And they do. These are very high-level people. But to hear them say, 'That's something I haven't finished developing' or 'I need help in that area' – it was really inspiring."
Todd DeSorbo, UVA's head swimming and diving coach who also will be an assistant coach for the U.S. swim team in the Olympics later this month, said that he enjoyed the opportunity to receive some outside guidance last summer.
"My athletes and my assistant coaches look to me for advice and suggestions, but nobody's doing that for any of us. Nobody coaches head coaches," he said. While his technical knowledge of swimming might be a more obvious qualification for his job, effectively leading and motivating his team "is equally, if not more, important," he said.
Joanna Hardin, head coach of UVA's softball team, said the course's focus on resilience felt especially relevant to what her players are experiencing. In the age of screens and social media, everything about playing a sport is very public, she said. It can be hard to hold on to a feeling of self-worth and see the value in your contributions, no matter what form they take.
Players often struggle with seeing their teammates play while they themselves spend the game on the bench, for example. "We, as coaches, know they're important, but to an 18-, 19-, 20-year-old, if they're not in the lineup every day, they don't feel important," she said. "There's also a tension there. We tell them to work hard and be diligent, but in the end, your results are what get you in the lineup. Sometimes the athlete who's working really hard just isn't producing enough to get on the field."
Davis's course, she added, helped her consider how to navigate that tension. "It's important to provide some perspective," she said. "We need to recognize that there will always be people who don't have to try as hard as we do, but still get better outcomes. We've got to learn to walk in that and live in that."
That's where intrinsic motivation comes in. "When we can get a player 'all in' for the sake of an activity, just because it feels rich, it feels satisfying – can you imagine a whole team of people motivated on that level?" Davis said. "That's how we kicked off the intrinsic motivation piece: How do you help players want to improve how they play just because it feels good to them?"
Hardin said she loved working with Davis and has kept in close touch with him over the past year. But the course's value, she said, lies not only in his expertise, but in the way it brings together coaches for all different sports, from rowing to lacrosse.
"We can easily become siloed because our seasons are different and our offices are in different places," she said. "You can start to believe something is only a problem in your program. But the reality is that all of our goals are the same, and we all face similar challenges."
For Davis, those challenges extend far beyond athletics. "I enjoy the whole idea of sports as a microcosm for life, because they totally are," he said.
Although he never pursued a career in athletics himself, other than a couple stints in sports administration, he sees the course as an opportunity to explore how athletics and psychology overlap. "I love being a psychologist and being a teacher. Getting to do it with athletics rings all the bells for me," he said.
Still, sometimes he wonders what would have happened if he had tried coaching professionally instead. He might still have a chance. Hardin periodically calls him to talk through the daily challenges her team faces, and she recently told him that she's looking for an executive coach.
"So I offered him the job," she said, laughing. "I don't know if he'll reply."
Hardin said she would jump at the chance to take Davis's course again when it becomes available. "It gives us all a competitive advantage," she said. "I'm really grateful for the opportunity."
Article Information
July 14, 2021
/content/coaching-uvas-coaches