Margot Lee Shetterly, a 1991 University of Virginia alumna who had a successful career on Wall Street, told a Charlottesville audience on Monday she went into the McIntire School of Commerce because she decided at the age of 9 she wanted to work in the stock market.
But after working on the trading floor and then in several other business ventures over about 20 years, Shetterly made a life change – one that her UVA education helped prepare her for. Embracing the path of lifelong learning and following her curiosity, she decided to delve into the histories of "hidden figures" in the U.S.-Soviet space race.
Shetterly's project – telling the stories of black female mathematicians Dorothy Vaughan, Mary Jackson and Katherine Johnson, who helped put white American men into space through their work at NASA's Langley Memorial Aeronautical Laboratory in her hometown of Hampton – blossomed into an acclaimed book and Oscar-nominated film, "Hidden Figures," one of the readings woven into UVA's new curriculum in the College of Arts & Sciences.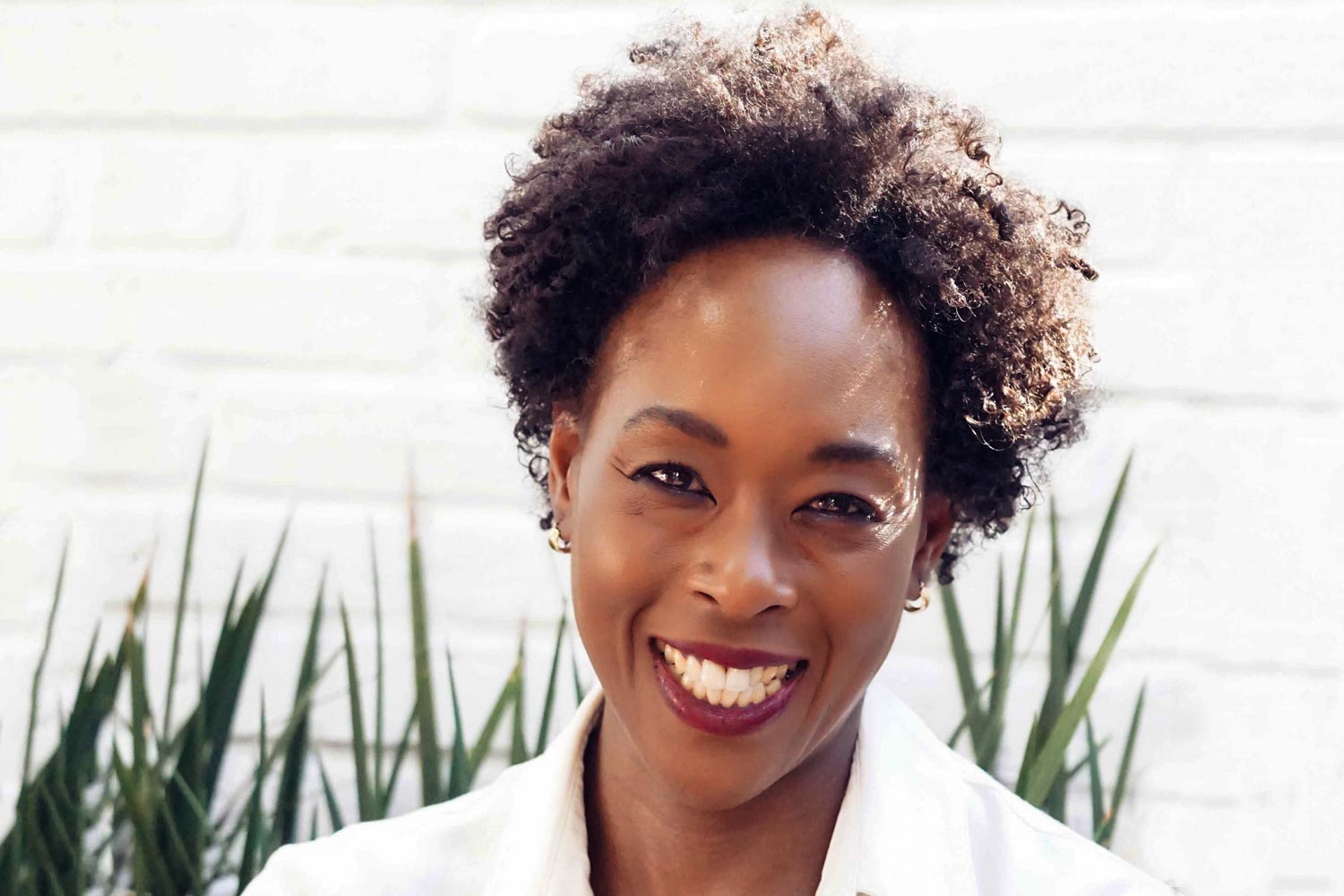 Margot Lee Shetterly said she realized a part of history was hidden in her own backyard when her father, a research scientist at NASA-Langley Research Center, told her about the black women who worked there. (Photo by Aran Shetterly)
Shetterly's appearance Monday at Charlottesville's Paramount Theater, in which she talked about her experiences and education, was the first event of the Engagements Lecture Series, one component of the new curriculum.
This year, about 600 first-year students opted to enroll in the pilot New College Curriculum – more than the 540 anticipated, associate professor of German studies Chad Wellmon said. He co-directs the College Fellows, the select group of distinguished faculty members from across Arts & Sciences departments, who designed the new Engagements courses, the heart of the new curriculum pilot.
During the process of considering what a curriculum for the 21st century should look like, the College Fellows and Arts & Sciences Dean Ian Baucom held a summit in January to brainstorm with, and receive feedback from, prominent academic leaders who helped guide similar efforts at five other elite institutions: Harvard University, Stanford University, the College of William & Mary, Duke University and Barnard College.
Suzanne Shanahan, co-director of Duke's Kenan Institute for Ethics, said, "I am hugely impressed with the UVA plan – both the curricular vision and implementation strategy. The first-year Engagements are a real standout, and the mechanism of the College Fellows program is a model."
The reform process encouraged faculty "to take ownership of the curriculum and challenged them to ask the big questions and make connections across disciplines," Wellmon said. It has also cultivated a new sense of community among the faculty beyond departments, he said.
Because the College Fellows meet regularly, he said they were able to discuss how to bring into their classes topics related to the new curriculum pilot and the events of Aug. 11 and 12 in Charlottesville, including white supremacy, memory and history, and peaceable assembly.
The curriculum's innovative redesign aims to provide an education in the liberal arts and sciences built upon a new first-year experience, a set of "Engagements" courses – designed to help students flourish at UVA, in their chosen careers and as active citizens.
Students take four two-credit courses in their first year in the following areas: "Engaging Aesthetics," "Empirical and Scientific Engagement," "Engaging Differences" and "Ethical Engagement." The Engagement courses were created to form a shared academic experience for students and encourage innovative, creative, ethical and critical thinking to frame their intellectual journeys at UVA and to prepare them to succeed and thrive in the modern world.
Along with the Engagements, the general education curriculum contains two other components, "Literacies" and "Disciplines," each offering a range of courses.
The free lecture series also serves as the public-facing aspect of the Engagements for the Charlottesville community.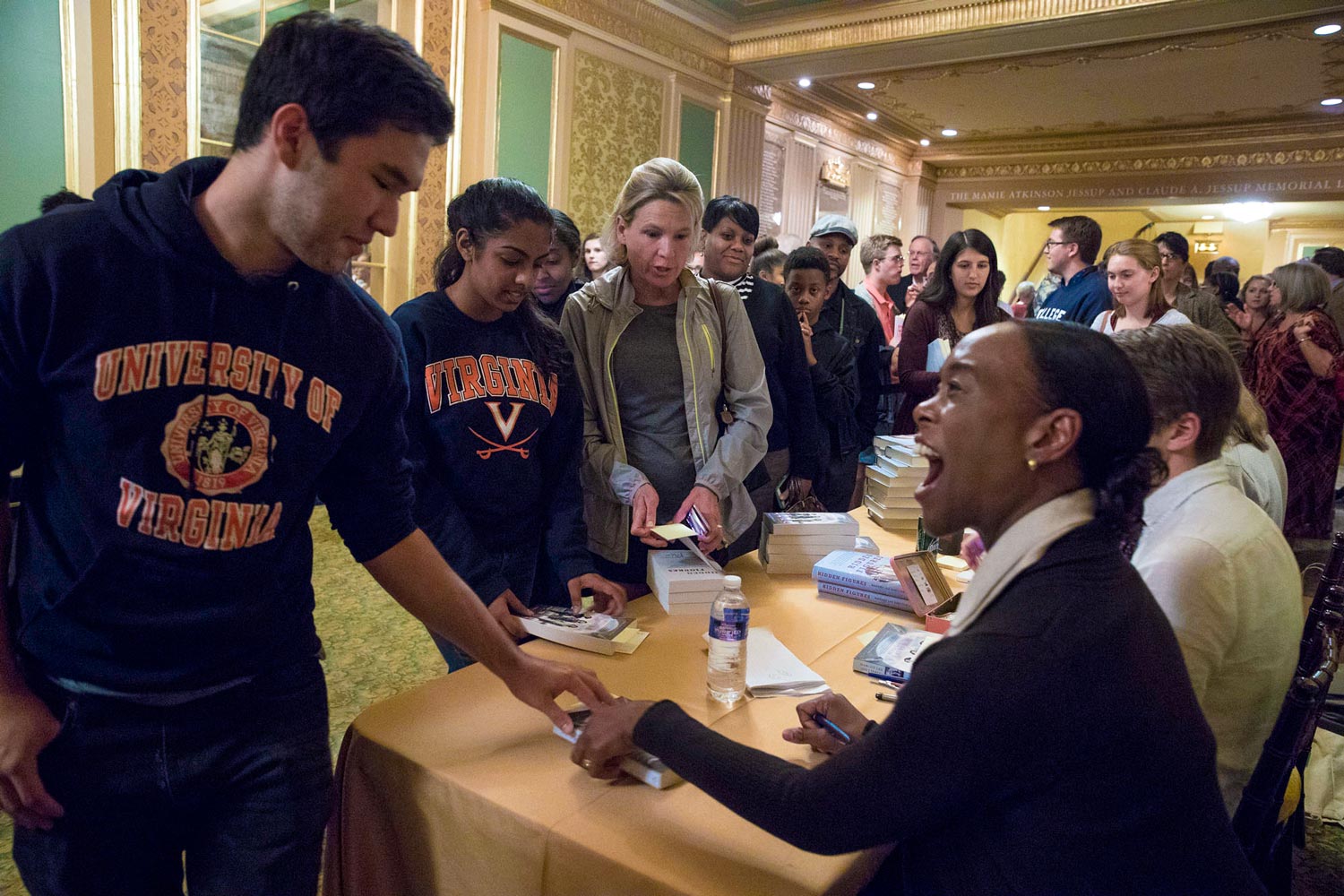 Author Margot Lee Shetterly signed copies of her book, "Hidden Figures," that students and faculty talked about in the new curriculum's Engagement discussion groups.
In addition, the students join discussion groups that mix people from all four Engagement themes and focus on shared readings. Shetterly's program included her talk and a question-and-answer period, followed by a book signing and a screening of the movie. In advance, students read and discussed an excerpt from her book, plus Richard Wright's essay, "The Ethics of Living Jim Crow." They also prepared questions to ask her.
Biology professor Debbie Roach, who is teaching the Empirical and Scientific Engagement course, "How Has Evolution Shaped Who We Are?", said she could not think of a better story to have as a focal point for this shared experience than Shetterly's "Hidden Figures."
"It touches on art, because it is fantastic story and a great movie. It touches on history, because the story is about real-life people from Hampton, Virginia. It touches on ethical conflicts, as people make right and wrong decisions during a time of discrimination. It touches on science and math, because the people in the story were the mathematicians who helped the United States win the space race.
"It is also a story of differences within our society," Roach said. "We hear regularly about how science and math fields are dominated by men, and that more needs to be done to recognize and encourage women into these fields. Yes, this story is about that, but it is even more, because the mathematicians who are at the center of this story are not only women, but they are also African-American women."
Shetterly, who said she is "very proud" to be a UVA graduate and uses her education every day, said when she was young, she wanted to leave history behind because the way black Americans were discussed, if at all, seemed so narrow and degraded from the real people she grew up with, an upbringing she described as extremely positive and integrated. A career in finance seemed much more powerful and forward-looking, she said.
Eventually she realized a part of history was hidden in her own backyard when her father, a research scientist at NASA-Langley Research Center, told her about the black women who worked there in a segregated unit, women she knew in her community.
"To face history, you have to make yourself vulnerable," she said, to look at all its complicated, conflicting ideals, failures and achievements. You have to consider "who lives, who dies, who tells your story," she said, quoting a song from the 2015 play, "Hamilton."
Several students talked about how the new curriculum offers the chance to do just that, using an interdisciplinary scope.
Kayla Hess is taking the Empirical and Scientific Engagement course, "Doing Field Work." She thinks the new curriculum offers to "nurture a worldly perspective and different points of view." "Hidden Figures," she said, reveals the intersectionality of race and gender in the sciences. The protagonists' experiences and recent current events show why it's still important to study these topics.
Zoe Larmey, an American who grew up in Tanzania, said her discussion group connected the state of education today with what it was like during the book's time period, from the 1940s into the '60s, and considered what holds young people back nowadays. They compared the progress toward space and discovery to what progress had been made, or not, in healing wounds around racism and equality, said Larmey, who is taking an Aesthetics Engagement course, "Art Inside/Out." That course is taught by associate professor of art history Sarah Betzer, who co-directs the College Fellows with Wellmon, and English professor and author Bruce Holsinger.
In the Q&A period, one student asked, given the fact that black people were discriminated against during the Cold War years – 100 years after the Civil War and Emancipation, Shetterly pointed out – why did these women want to work for NASA?
These were good-paying jobs in a subject they were well-trained in, Shetterly said. She also noted that conflicting ideas about patriotism and inequality were being argued in World War II. "Black soldiers were fighting for full citizenship at the same time they were fighting for their country. They felt they had to push America to live up to its ideals," she said.
As part of her research, she read the Constitution carefully. "We should read and understand these documents and how they apply to our daily lives," she urged the audience.
The students in the New College Curriculum are, in fact, doing that, with a common reading of "Our Declaration: A Reading of the Declaration of Independence in Defense of Equality," by Danielle Allen, a Harvard professor of ethics and politics. Allen will visit UVA on Feb. 1 for the third Engagements lecture.
The second Engagements guest, giving a presentation on Oct. 23, will be Mark Dion, an American conceptual artist based in New York City who came to UVA as a visiting artist-in-residence in spring 2016. A fourth event, more of a roundtable discussion, is being planned for the spring, Wellmon said, and will focus on the economics of higher education.
In addition to the New College Curriculum, the University offers two other options for students to fulfill general education requirements: the traditional curriculum and the "Forums Curriculum," launched last year, that has attracted more than 100 students this year. The latter offer students opportunities to explore critical questions of our time by tailoring groups of courses around a central theme, topic and problem, such as "Epidemics," which focuses on the profound scientific and social impacts of epidemic outbreaks.
Article Information
September 12, 2017
/content/college-changing-how-students-engage-their-learning