In his Valedictory address at the John Paul Jones Arena, Colombian President Juan Manuel Santos told University of Virginia graduates that they would face more failure than success in their lives, but that learning from those failures would help them attain success.
"If you learn how to use the incredibly valuable lessons that failure offers you to further your goals and dreams, then, and only then, your life will end up being a true success," he said.
Santos, father of Estaban Santos, who is graduating from the Frank S. Batten School of Leadership and Public Policy, was among the speakers who congratulated the Class of 2017 for completing their four years and gave them advice as they prepared for the next phase of their lives.
Families of the graduates filled the arena Friday afternoon for the Valedictory Exercises, during which a variety of awards were announced, the class gift was presented to University President Teresa A. Sullivan and class leaders reflected on the class' four years at UVA. Before the ceremonies, the families were serenaded by student a cappella groups.
Santos cited to the graduates Ralph Waldo Emerson's measure of success: "To laugh often and much; to win respect of intelligent people and the affection of children; to earn the appreciation of honest critics and endure the betrayal of false friends; to appreciate beauty; to find the best in others; to leave the world a bit better whether by a healthy child, a garden patch, or a redeemed social condition; to know even one life has breathed easier because you have lived."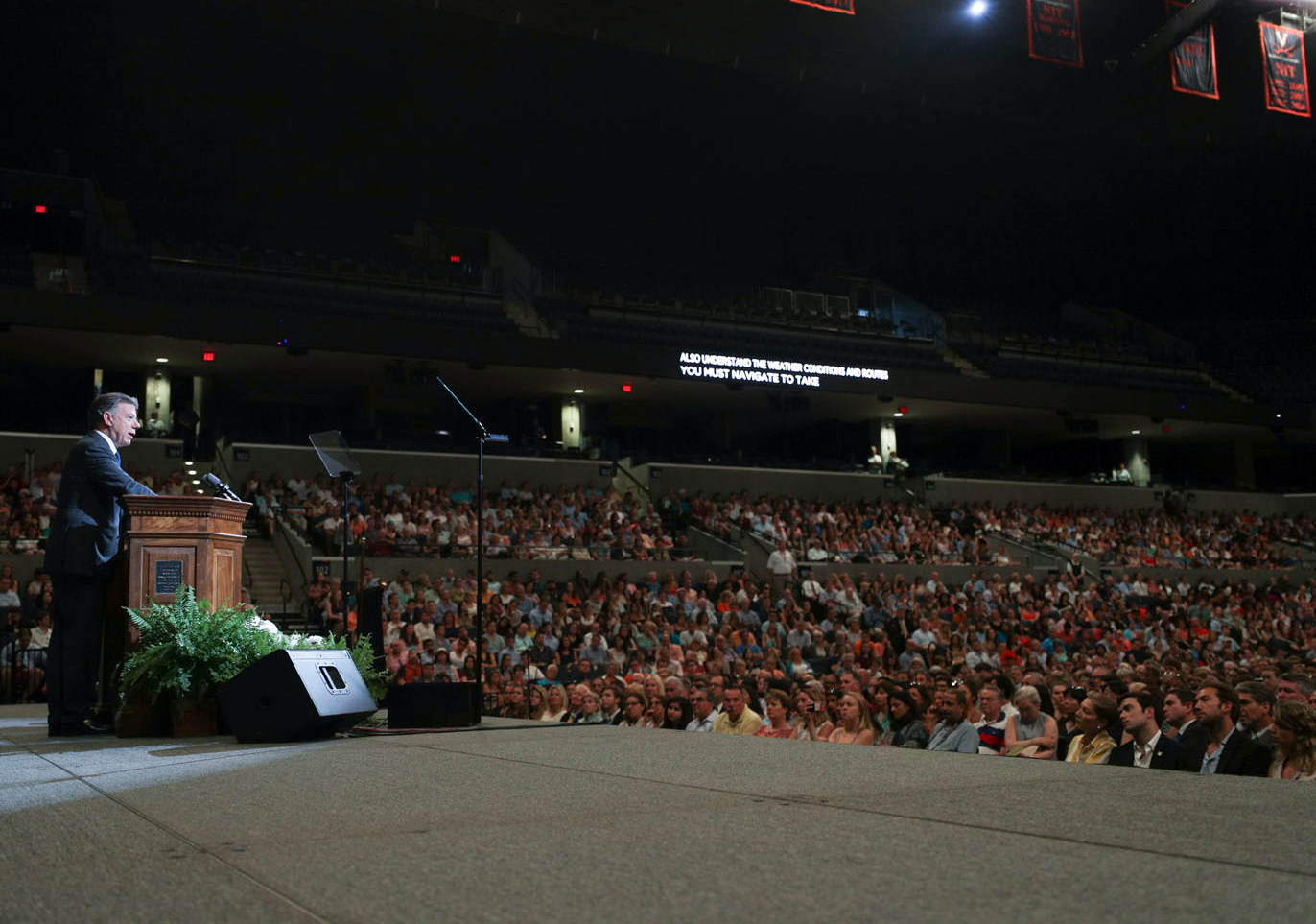 Santos, the father of a 2017 graduate, reminded students that they will face great adversity in life and urged them to persevere. (Photo by Sanjay Suchak, University Communications)
"That, honored graduates of the Class of 2017, is the true definition of success," Santos said. "To make a difference, to help a friend, a fellow citizen, your community, or your nation be a little bit better, simply because you existed."
A former journalist first elected president of Colombia in 2010, Santos received the Nobel Peace Prize in 2016 for his efforts to end his country's protracted war with the Revolutionary Armed Forces of Colombia, or FARC, a Marxist guerrilla organization.
Santos cited his peace negotiations with FARC, noting that there were many failures along the road of the talks. He said that previous administrations in Colombia had tried to defeat the FARC and failed, leaving both sides unwilling to make and maintain peace. Santos said he started reaching out to FARC as a journalist and was called a traitor. As minister of defense he waged war against FARC. When he was elected president and announced that he would pursue peace with the rebels, he was again branded as a traitor.
"You too will discover someday that your conscience will whisper in your ear, late at night, telling you the right thing to do," Santos said. "I ask you, follow that voice. It's the voice of your inner wisdom."
He said once the peace process was completed, Colombian voters rejected the measure. Shortly after that he received the Nobel Peace Prize and reopened the negotiations, eventually producing a better agreement.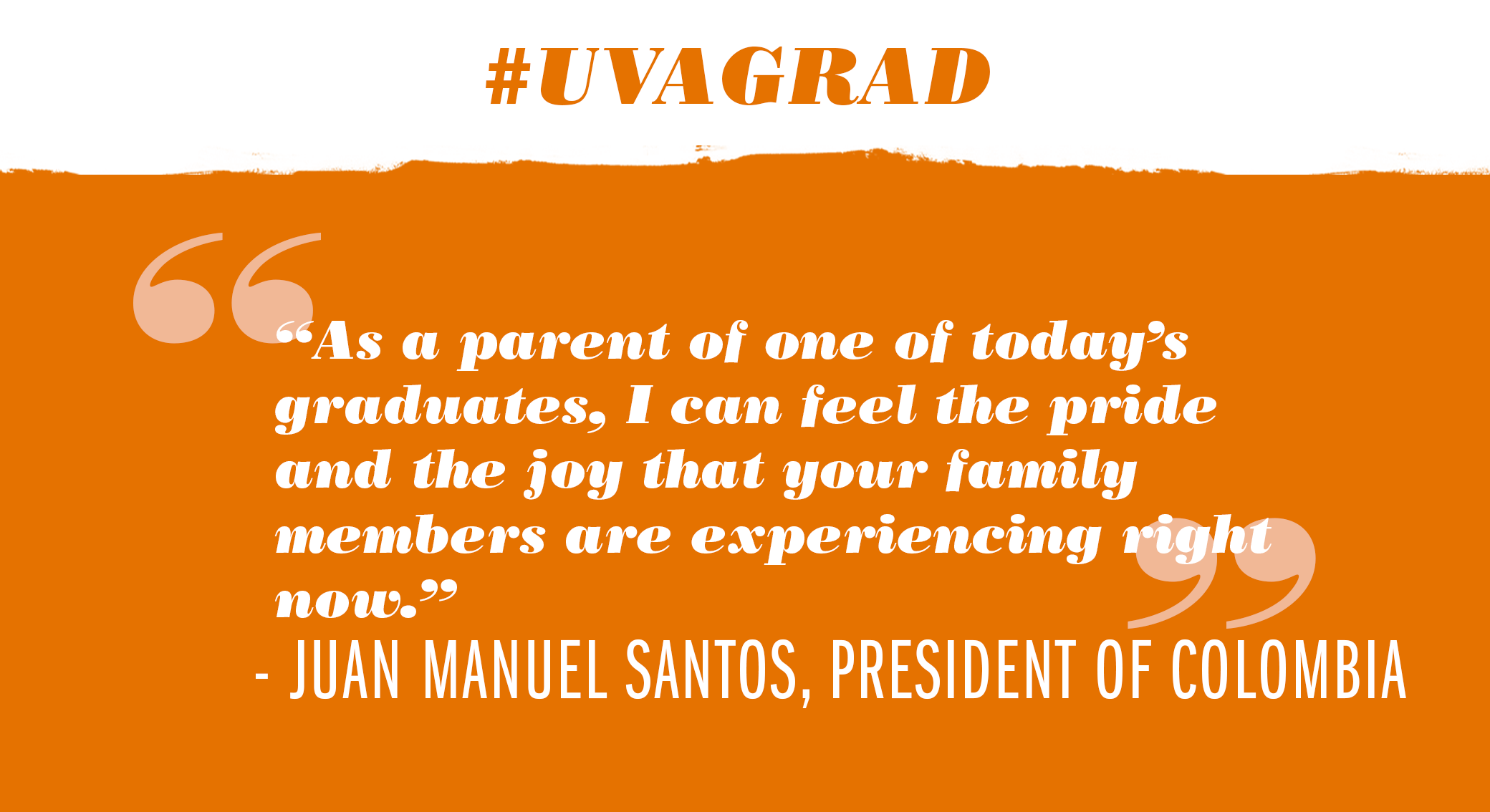 Santos urged the graduates to plot their own courses and not be deterred.
"Today's polarized world is facing political upheaval, the threat of terror, eruptions of brutal sectarian warfare, and the rising – terrifying – possibility of nuclear conflict," he said. "The answer is not to give in to fear, intolerance and hatred toward those who are different than you. Your generation cannot and must not retreat and give in to these regressive and sinister forces. Your generation must lead now, not later, now. Your leadership must unify, not divide. And that leadership must be wise at your young age.'
Santos closed his remarks with an appeal to unity.
"Your generation has compassion," he said. "Your generation believes in the unifying power of love. Your generation sees diversity as a strength, not a weakness. You will do the right thing for the rest of us, because you understand that this is not the moment to come apart, but to come together. This is not the moment to turn away, but to reach out. This is not the time to disconnect, but to re-connect.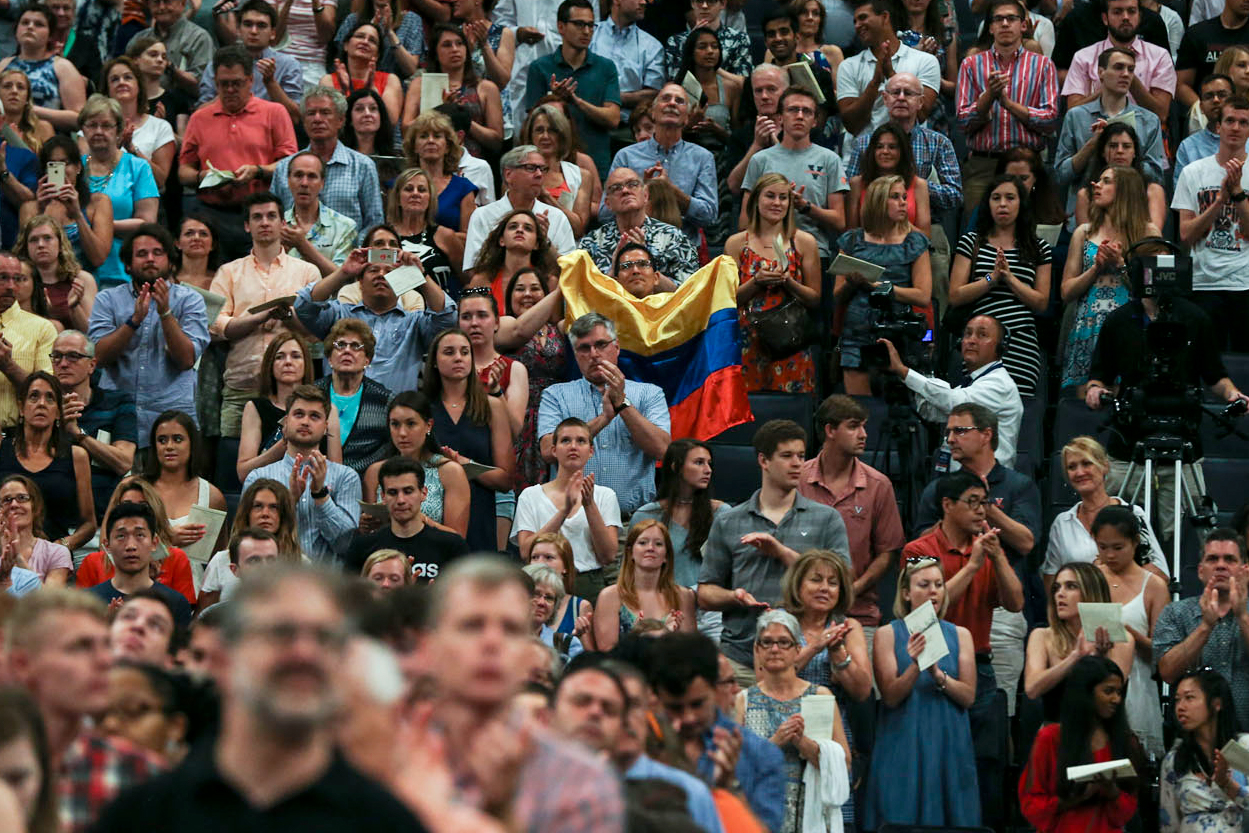 Juan Manuel Santos, a 2016 Nobel Peace Price winner, received a standing ovation after his speech Friday at the University of Virginia. (Photo by Dan Addison, University Communications)
"Differences in race, creed or sexual preference cannot distract us from this essential, indisputable truth: we are all humans," he said. "We are all one. We are only one people, and we call it the world. We are only one race, and we call it humanity."
Santos received a standing ovation for his remarks.
Class Trustee Joshua M. Cockream opened the ceremonies and in his welcoming address recounted some of the high and low points of the past four years and what they meant to the graduates. And he reminded his classmates that while they were going their separate ways, they would always have a bond.
"As the warm months of summer approach, we will begin a new chapter in each of our lives," he said. "Regardless of how you do it, the next chapter is sure to be uniquely your own. But, as we walk the Lawn in the coming days, proudly wearing the honors of Honor, remember that at one point, our paths did cross."
Samantha C. Westrum and W. Wyatt Moorer, co-chairs of the class giving committee, presented Sullivan a check for $316,517 from the donations of the graduates.
"We want to say thank you for leaving a legacy through your participation in our class campaign," Moorer said to the members of the Class of 2017. "Each gift is critically important to the success of this University and overwhelmingly valued by every area that received financial support. We hope that this tradition of giving back is something for which our class will always be remembered and we hope you will continue to give to UVA in the future."
In thanking the graduates for their donations, Sullivan said more than 400 programs have benefitted from the class' generosity, with the money broadly distributed.
"The nearly 2,000 members of the class who participated in the class giving campaign will leave an enduring mark on the University," Sullivan said. "Your gifts will strengthen us, and remind us of the generous spirit of the Class of 2017."
Sullivan also cited for praise the members of the graduating class who were commissioned into the Army, Air Force, Navy and Marines through the school's ROTC program.
"When you see our graduating students in uniform this weekend, I hope you will pause to congratulate them and thank them for their service to our country," Sullivan said. "They have chosen a future based on service to our nation and they deserve our recognition and gratitude."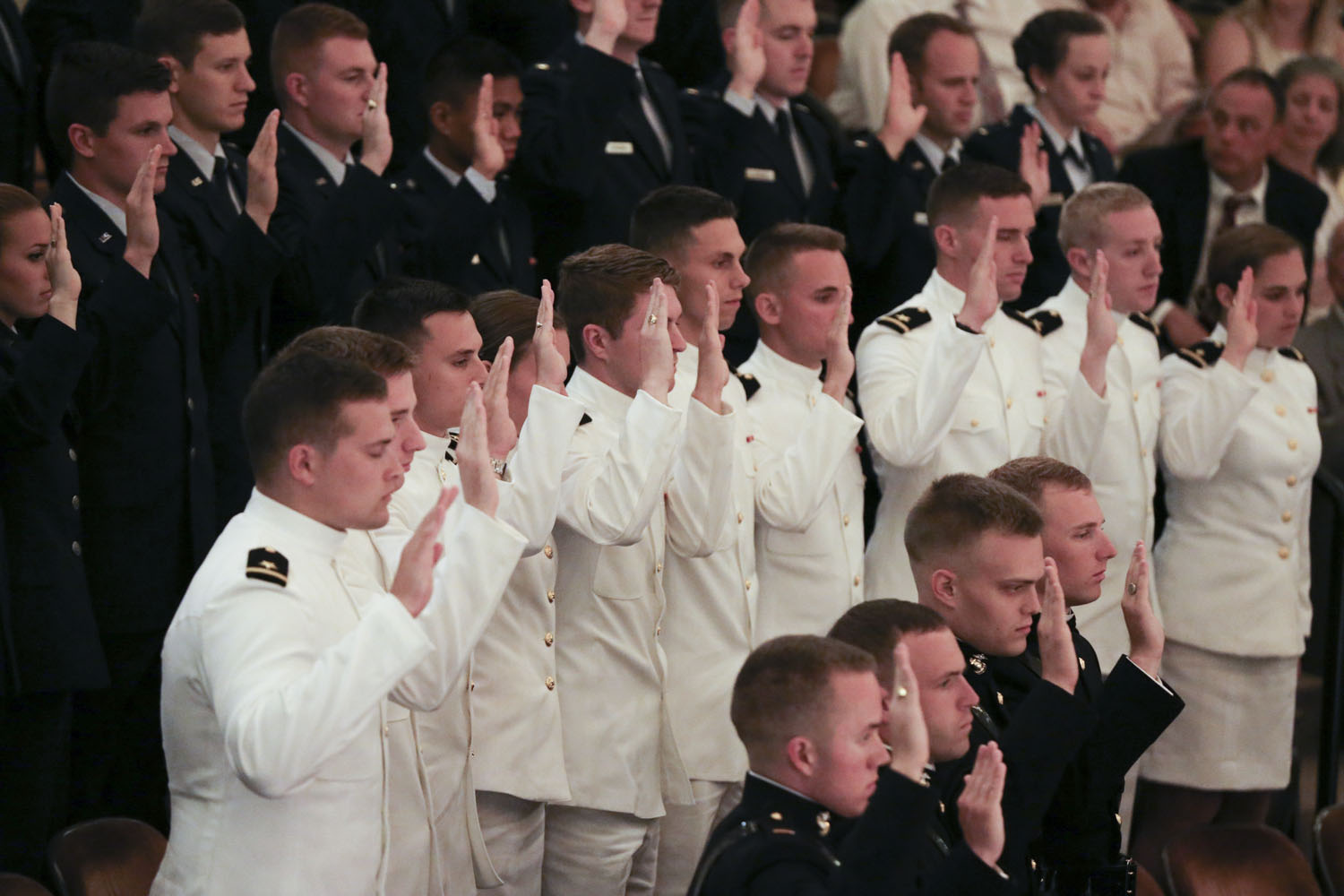 The University's Joint Commissioning ceremony took place in Old Cabell Hall earlier Friday. (Photo by Dan Addison, University Communications)
Sullivan told the students how much she has enjoyed getting to know them over the past four years and watching them overcome adversities that other classes have not had to face.
Class Vice President Joshua W. Leidy reminded the graduates of all the support they had received along the way from family, friends, faculty and University staff. He also noted that roommates and classmates and friends had turned into a family.
"Just like any family, there were some fights here and there and the occasional awkward Thanksgiving table conversation," Leidy said. "But we always rallied together. These past four years have been a roller coaster of emotion, but through every challenge we supported each other and have left a lasting legacy on these hallowed Grounds."
Class President Patrick F. Rice closed out the ceremonies, reminding the graduates of how they were when they started at UVA four years ago. He cited the importance of handshakes — as greetings, as farewells and as a way of closing a deal. He said the uncertain youths of four years ago who were shaking hands in greeting, would now be shaking hands, with their professors and each other, in farewell, but doing so after they had formed a bond with one another.
"That group of people assembled in the front of the Rotunda, then strangers, are now brothers and sisters for life, a group with a unique bond that will last for years and decades beyond this moment when we formally say goodbye," Rice said. "We may be passing this place on to new students, but we will forever carry a piece of this place with us. We may no longer be University of Virginia students, but we now become University of Virginia graduates."
He urged the graduates to shake hands with one another, as a way of honoring the education they have received. The graduates, and their family members, stood and shook hands with one another.
Media Contact
Article Information
May 19, 2017
/content/colombian-president-tells-students-use-failures-achieve-success