The idea first came to Melissa Stefaniak when she was baking in her small New York City apartment, which had precious little room for flour and sugar, let alone standing mixers or cookie sheets.
"I love to bake – it's always been a creative, meditative outlet for me," the University of Virginia Darden School of Business student said. "But it was just my husband and me in this tiny apartment, and we really didn't need a whole tray of brownies around."
And so, as Stefaniak stirred brownie batter, frosted cakes and balanced flour precariously on her counter, an idea started to form.
"I realized that, if I could miniaturize my favorite recipes into one or two servings, we would not waste any food or have to feel guilty for eating more than we probably should," she said.
That idea became a business – Single Baked Sweets – and that business took Stefaniak back home to Virginia, where she enrolled in Darden's Executive MBA program and, last summer, joined UVA's iLab startup incubator. After the iLab, she quit her consulting job with Ernst & Young to focus on Single Baked Sweets full-time.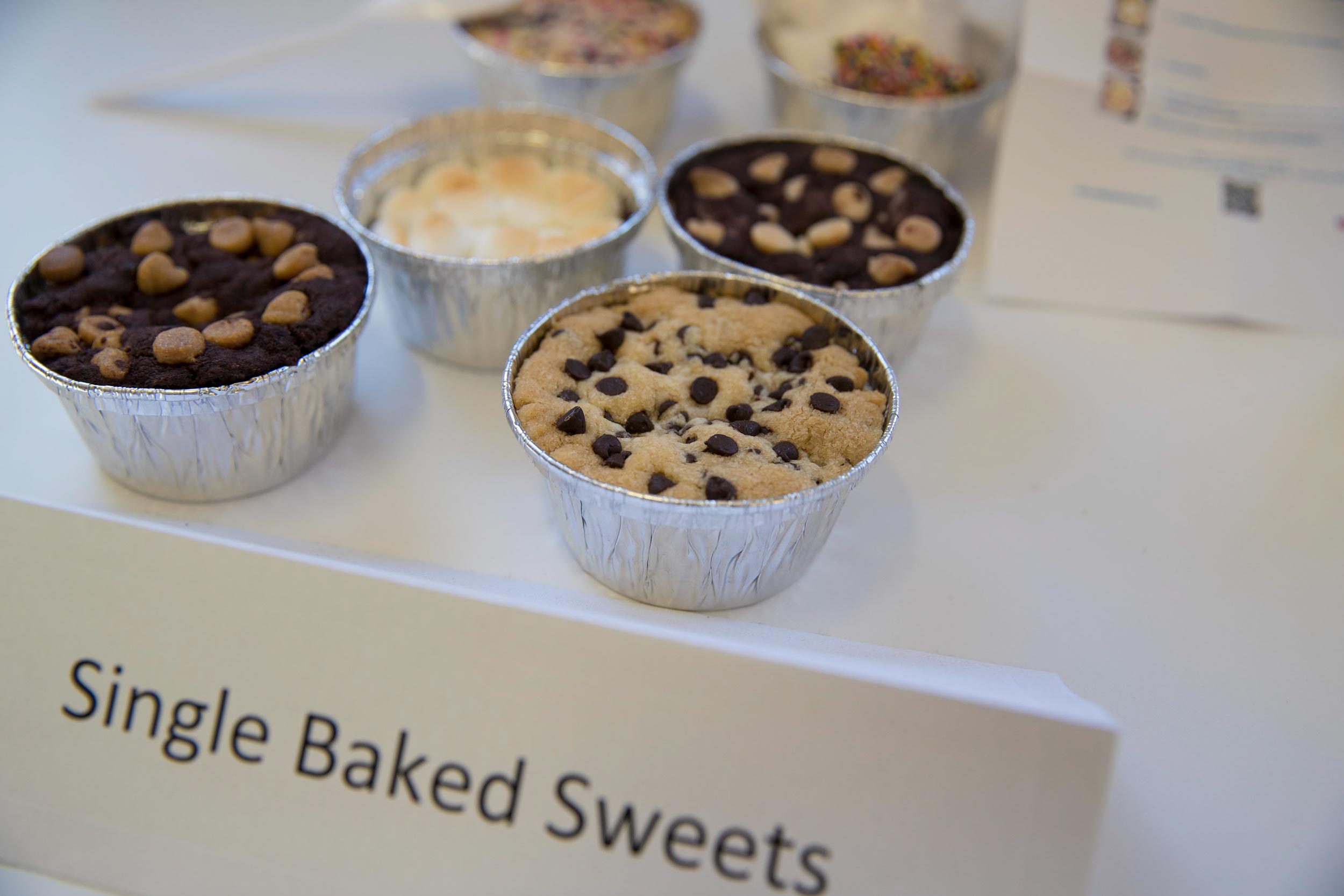 Stefaniak currently offers five desserts: a chocolate chip cookie, a s'mores pie, a sugar cookie, a dark chocolate cookie with white chocolate chips and a dark chocolate peanut butter cookie.
The basic idea is close to what Stefaniak originally envisioned. Each customer receives a small package with a foil ramekin, simple instructions and pre-measured dry ingredients for one of five recipes – a classic chocolate chip cookie, a s'mores pie, a sugar cookie, and two dark chocolate chip cookies, one with white chocolate chips and one with peanut butter.
All the customer has to do is melt a tablespoon or so of butter, mix everything together and pop the ramekin in an oven or toaster oven. A few minutes later, a warm, homemade treat emerges.
"I wanted to keep the step-by-step aspect of baking, which I find fun, while making it really simple," Stefaniak said. "And of course, it has to taste good."
The idea – reminiscent of increasingly popular meal kits – has caught on.
Stefaniak won the Entrepreneurship Cup at UVA, and was invited to Austin, Texas' South by Southwest festival last month, where she joined 24 other entrepreneurs in a prestigious Startup of the Year Competition that will end in October. She also met with Darden alumni at the festival through the Darden Connect program, including venture capitalists, possible investors and alumni who have started or run their own companies.
She honed her pitch with Darden lecturer and angel investor Damon Devito, who teaches Stefaniak in a "Venture Velocity" course designed for entrepreneurs with a ready-to-launch business. The course works in two-week segments, workshopping ideas and tweaking their businesses based on one-on-one feedback sessions with Devito.
"Melissa's idea really resonates with people," said Devito, who brought some of the kits home for his daughter to try. "She loved it, and its tastes great. … It's sweet, but not guilt-inducing, which seems to be what American consumers want right now. High-quality, tasty products with real ingredients, in reasonable amounts. She's figuring out that balance."
And, he said, Stefaniak's attitude will be her biggest asset.
"No product is going to go anywhere unless the person behind it can navigate all of the challenges and still come out with a positive attitude for the customer," he said. 'It's not easy to do, but Melissa just keeps accomplishing things, keeps moving forward with a smile. She keeps staying in love with her business, and that's the best way to do it." 
Stefaniak said all of the advice she has received at UVA – from Devito, from her classmates at Darden and from her peers in the iLab – has made Single Baked Sweets a much stronger company.
Devito, for example, helped her realize that she needed to sell the kits in bundles, rather than as individual units, to make a profit. His feedback, along with many others, also proved critical when Stefaniak changed her original idea – which included perishable ingredients – to focus only on nonperishable kits.
"Most baked goods include eggs, but I realized early on that perishable ingredients would be much harder to transport, store and ship," Stefaniak said.
Stefaniak worked to create egg-free recipes that only need the customer to provide butter.
"That was hard for me to move away from, because I felt like being all-ingredient-inclusive was a big part of my product's value proposition, but talking with many others made me realize that I needed to focus on what the customer wants and need, not just what I want," she said.
Her professor also helped her navigate a new potential market – wedding favors. Stefaniak has already had one bride sign on with a big order for May, and Devito, who works with a number of local wedding venues for another business, has helped her find more potential customers.
"We have already made some inroads, getting purchase orders," Stefaniak said
Now, Stefaniak's biggest challenge is launching her online platform and scaling her business for online orders – and lots of them.
"I started out selling at farmer's markets, where you can sell at low cost and interact with the customer," she said. "Now, I need a website that can provide that personality and encourage people to trust the product, especially since they will be eating it. And, I need a financing model that will allow for growth."
She said she relies on her Darden community for advice and support.
"My greatest need as an entrepreneur was a very supportive environment," she said. "I could have forgone Darden, but I don't think I would be as far as I am today. Being here gives you a network that you are accountable to, and everyone has really coalesced around this business, and searched out ways to help.
"I've never done this, and there is no real roadmap, so my interactions with other entrepreneurs – at Darden, at the iLab and in Charlottesville – have taught me so much."
Media Contact
Article Information
April 3, 2019
/content/could-darden-students-startup-be-next-dessert-craze