"He definitely loosened us up, made the guys laugh," recalled UVA head coach Andres Pedroso, who served as an assistant coach under Brian Boland that season. "He would do impersonations of all the coaches and players on the team, and it was kind of a roast.
"He was hysterical. He had a unique – and sometimes dark – sense of humor that all of us just found so funny. He just made us laugh on a daily basis."
On Saturday, Scheinman will unveil his latest character when his new film, "Café Americano," premieres in the Virginia Film Festival. The 2016 alumnus wrote, directed and starred in the film, which will be screening at 9:30 p.m. at the Violet Crown Cinema on the Downtown Mall.
Scheinman plays Mikey, a filmmaker from Los Angeles who, as it turns out, has no idea how to make a film.
"I know a lot people out here who are much more interested in getting famous than doing the thing that gets them famous," said Scheinman, when asked where the inspiration for the character came from. "They'll want to get a following first and then figure the rest out later.
"That is such a fascinating type of person to me where it's just, at all costs, 'Pay attention to me.' But for what? 'I don't know, but just please pay attention.' That kind of not-so-quiet desperation informed this main character."
The "Café Americano" cast consists of actors Scheinman worked with at The Groundlings, the improv and sketch comedy troupe in Los Angeles that has produced a number of Hollywood stars.
One of Scheinman's co-stars in the film is 2014 UVA alumnus Nick Cafero, a former member of the Hullabahoos a cappella group, who has been on an episode of "The Office" and had roles in "Pitch Perfect" and "Black-ish."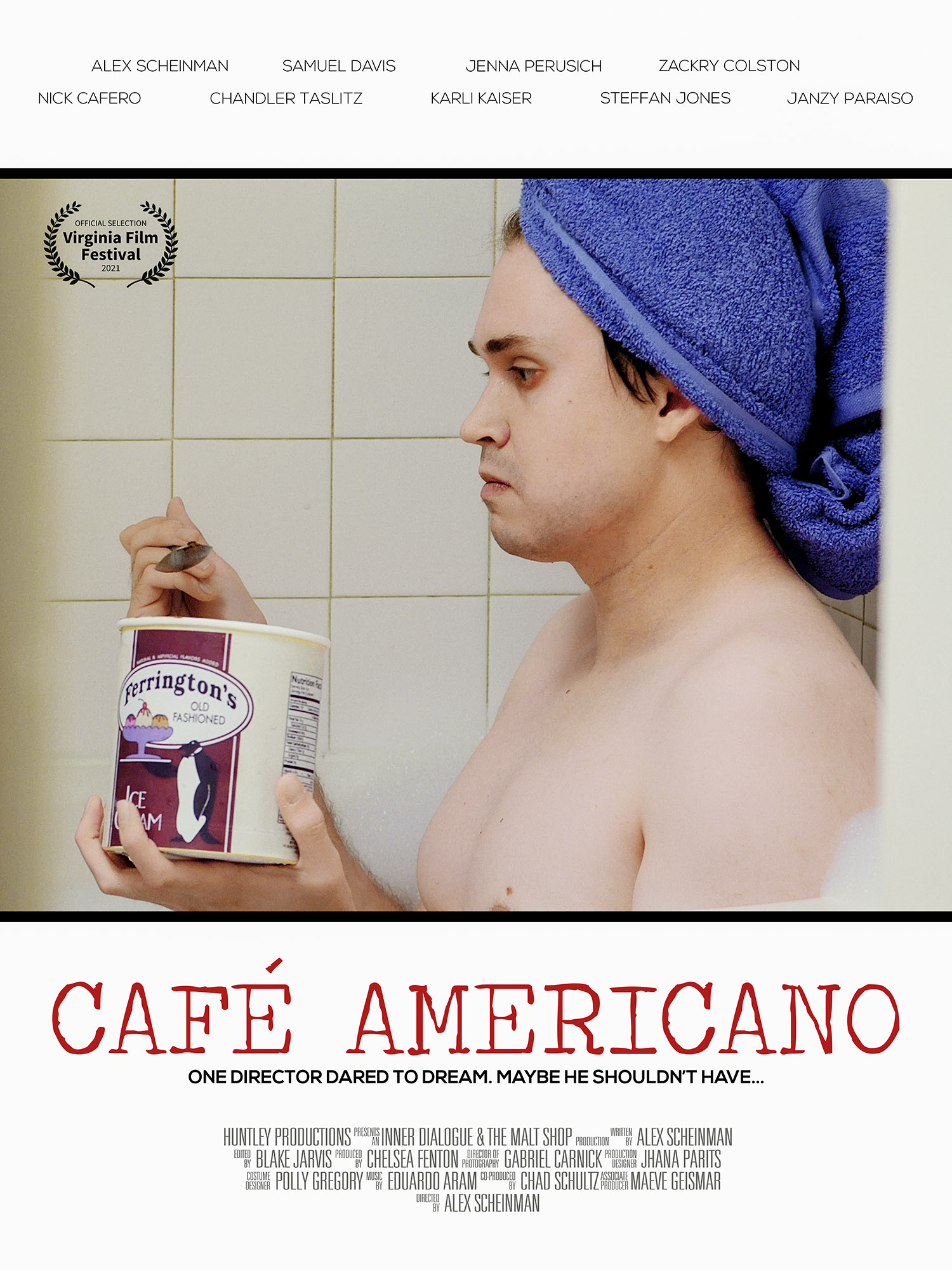 "What makes ["Café Americano"] special to me is it doesn't take more than a few swipes on a dating app out here in L.A. to realize that everybody is a 'filmmaker,'" Cafero said, "but it's a very small number of people who actually make something and actually see it come to fruition, see the project through from the beginning to the end. Alex did that, and I'm just so proud of him for doing that because it is so much work.
"On top of that, the fact that he made a concerted effort to do it with his friends and people he liked is just so special. And I really think that shows in the movie itself. I think you can tell that the cast is friends and gets along and enjoyed making the movie. I think that will translate from the screen to the audience."
As UVA students, Cafero and Scheinman never knew each other; they met via a chance encounter at The Groundlings when Scheinman spotted former Cavalier basketball player Evan Nolte (who stands 6-foot-8) in the audience.
Cafero, who was recently cast in an upcoming Lorne Michaels and Seth Meyers' NBC comedy, "Crazy For You," said one of the best things about "Café Americano" is that it doesn't take itself too seriously.
"There are a lot of comedies now that are billed as comedies, but are really more dramedy – they lean into the drama – and I think this one does not do that," Cafero said. "[Scheinman] tries to tell jokes, tries to make people laugh. He's not trying to reinvent the wheel. He's just trying to do something fun and do it with his friends. I think people will enjoy watching that."
Scheinman calls "Café Americano" a "love letter to independent film making," using the word "scrappy" to describe the feature-length flick that was shot in only 17 days on just a $200,000 budget. "It is very much a comedy, which I know is not necessarily normal festival fare, but we're hoping that after last year, we all could use a laugh," Scheinman said.
Scheinman was inspired by low-budget, do-it-yourself television comedies such as "It's Always Sunny in Philadelphia" and the original, British "The Office," as well as the movie, "Best in Show."
"They did a lot with very little," he said.
The irony of a real-life, first-time director playing the role of a first-time director (and a hapless one at that) certainly isn't lost on Scheinman.
Scheinman, though, seems to think he fared better than Mikey. (At least, that's what he's been telling himself.)
"All the stuff I was new to – managing a set, dealing with unions, locations, contracts, the nuts and bolts of actually making the movie – was handled brilliantly by my producer, Chelsea Fenton," Scheinman said. "I could focus on the creative side of it, which, thankfully, wasn't that different than what we, as a cast, had already done. When you're doing these shows on stage [at The Groundlings], you're in charge for the most part of the writing, the performing, the blocking, the costume design, the sound design, props. Anything you can think of, we have to do because obviously you don't have a crew. We're doing all of it. When that's your training, it's much easier … I just treated it like a stage show."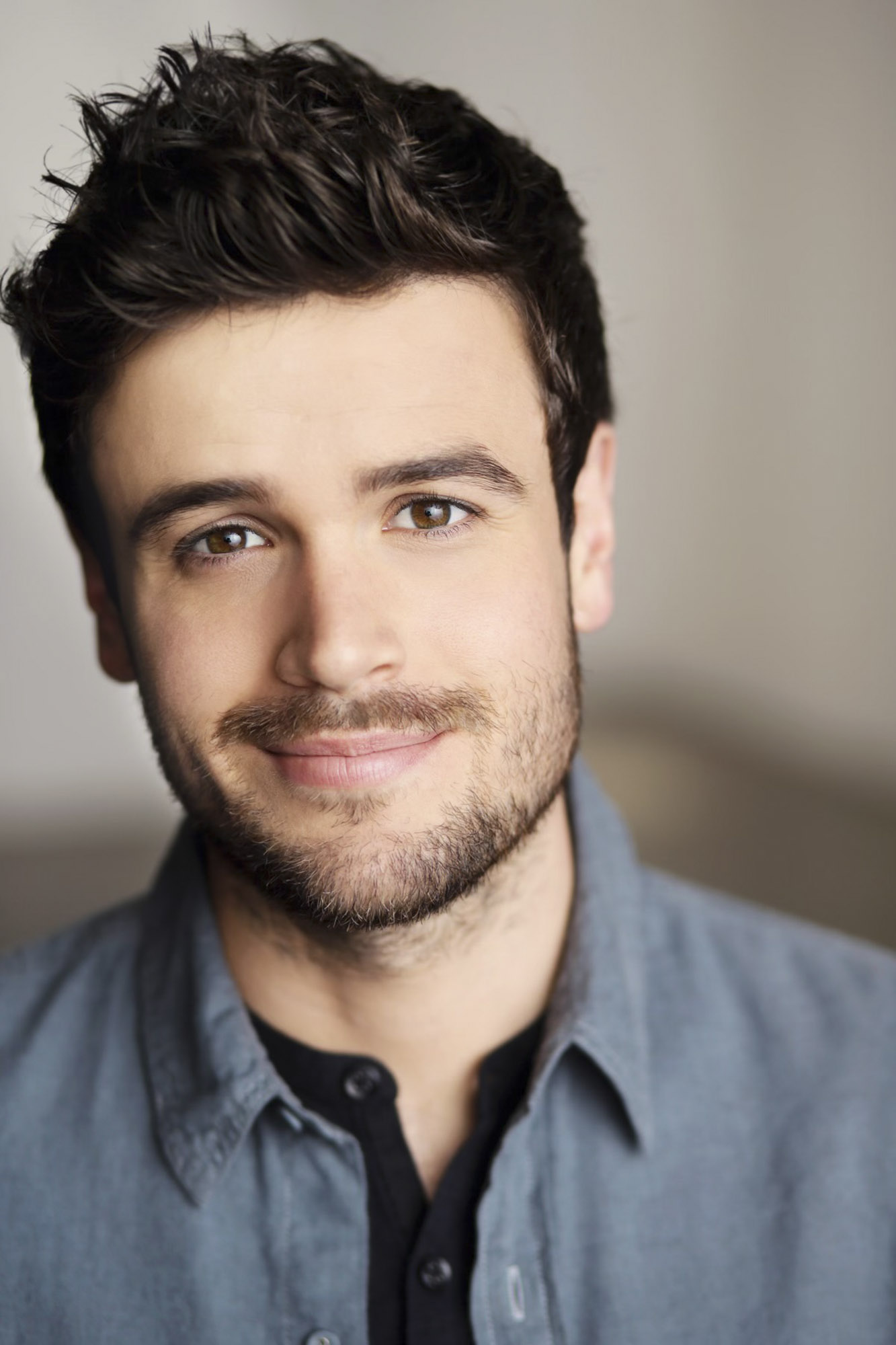 Scheinman was fortunate to be able to receive advice – as well as financing assistance – from his father and uncle, both UVA tennis alumni who have enjoyed successful careers in Hollywood.  His father, Adam, is a writer with numerous film credits, including "Little Big League" and "Mickey Blue Eyes." His uncle, Andrew, produced "The Princess Bride," "When Harry Met Sally" and "A Few Good Men," was an executive producer of "Seinfeld" and is currently a partner at Castle Rock Entertainment, a movie and TV production company based in Beverly Hills.
Scheinman, whose mother, Susan, was an Air Force brat originally from Mississippi, gets a laugh out of the fact that he has gone into acting. When he was at UVA, he never took a single drama course. Yet he said the impact that his academic experience has had on his foray into film has been immeasurable.
"I feel like I became a writer in Charlottesville," Scheinman said. "I was in the poetry program and had to have a capstone and manuscript – and that kind of taught me how to write works that are longer, that aren't just a 10-page essay, that are a 60- or 70-page manuscript. That allowed me to start thinking about projects as opposed to schoolwork, if that makes sense.
"I think I got as good an education as far as writing as you can get at UVA," Scheinman added. "Film school is great, but for me I think a broader education was much more helpful."
Scheinman credits English professor Lisa Russ Spaar for helping him find his voice.
"Lisa is just amazing and has absolutely been one of the biggest influences on my writing and my creative life in general," Scheinman said. "She's a miracle worker."
Spaar said she was "grateful" that Scheinman accepted her offer of admission into the English department's highly competitive Area Program in Poetry Writing.
"It was a privilege – I'll go so far as to say a joy – to work alongside Alex closely for two years, to converse with him about everything from 'Peaky Blinders' to [Martin] Heidegger," Spaar said. "His poems just got better and better…
"Alex is one of the smartest, most insightful, witty and compassionate people I know. He's a force of nature, really, which makes movie-making a natural step for him. It's a chance to bring it all together – beauty, creativity, irony, philosophy, humor, music, poetry, satire, dread, the full menu of humanity … he's got such a manifold, creative imagination."
The English department's impact on Scheinman is evident in "Café Americano" when, amid jokes about looking like Steve Buscemi or getting a lifetime ban from Red Robin, Scheinman's Mikey character riffs on Shakespeare and Faulkner.
Scheinman still stays in close touch with Spaar and other UVA English professors, including Stephen Cushman.
"He was vital – vital, vital – to my understanding as a writer," Scheinman said of Cushman. "He really pushed me to read Hemingway and Joyce in ways that I just like – didn't. You know, I'd read, but I think I became more serious about writing as a possibility as a profession with those professors."
While he was on research leave, Cushman visited Scheinman in California, where Scheinman told him all about the film, then in progress.
"It was clear he had taken many of the principles of rhythmic design into his work on film," Cushman said. "Most impressive is Alex's grasp that the aesthetic cannot be disentangled from the ethical, the emotional and the spiritual. I'm really looking forward to seeing his film."
Ditto for Pedroso and many of Scheinman's former tennis teammates, who will also be at Saturday's premiere.
Getting to see all the familiar faces is what Scheinman said he is looking most forward to.
"It's amazing that it's worked out this way," Scheinman said. "The Virginia Film Festival was one of our absolute top choices … the fact that we got in was really great. I just can't imagine a better homecoming."
For ticket information and the full schedule of films, click here.