Many of the aspiring actors and singers in the University of Virginia's departments of Drama and Music can trace the roots of their passion for musical theater back to the cast recordings of "Les Misérables" and "Miss Saigon" that they memorized growing up. Many of them maintain vivid memories from the stage productions of those award-winning musicals that they attended with their parents.
None of them, it is safe to say, envisioned getting the opportunity to rehearse with and perform in front of Alain Boublil and Claude-Michel Schönberg, the creators of the plays that in decades of productions remain worldwide hits. For three days last week, however, the acclaimed duo served at UVA as artists-in-residence, holding workshops and fielding scores of questions about their theatrical creations and their composition and libretto-writing experiences.
Their visit was supported by funded by the Arts Endowment, a permanent fund established in 2014 to expand, improve and promote excellence in the arts at the University, and was co-sponsored by the Office of the Provost, the Vice Provost for the Arts, the Department of Drama and the Department of Music.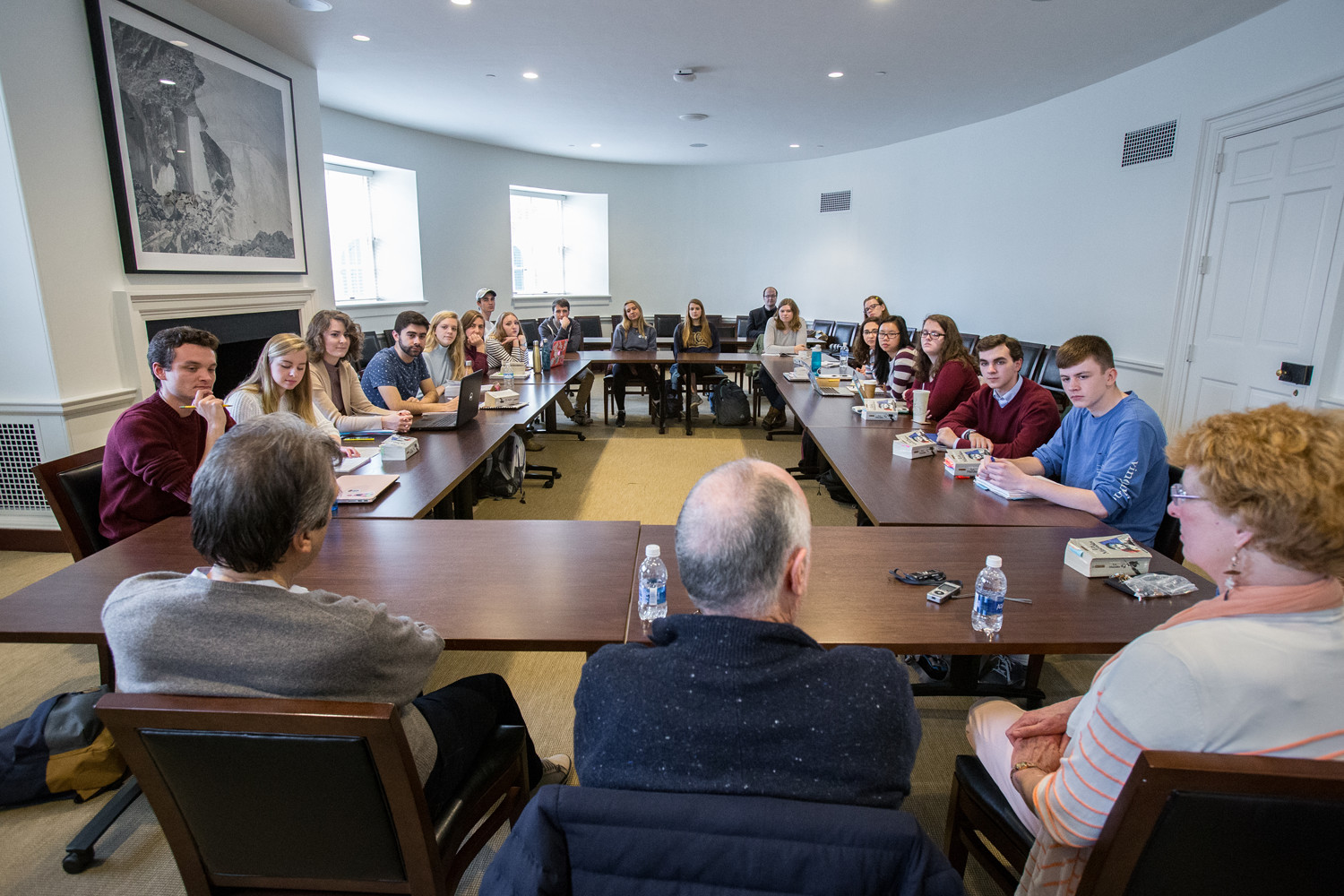 Schönberg and Boublil were generous with their time during their residency, mentoring UVA students in art and music.
In classrooms with faculty and aspiring student actors, in rehearsal with the University Singers as they prepared for a Feb. 23 performance of some of the most memorable songs from their musical adaptation of Victor Hugo's "Les Misérables," and in a pair of well-attended public appearances last week, Boublil and Schönberg offered encouraging critiques to performers and creative insight to University and community audiences.
"I think intimidating is the first word that would come to mind, but it also was such an honor and an exciting experience to be able to perform for them," said Wesley Diener, a third-year music major and member of the University Singers. In addition to singing with the chorus, he performed "Empty Chairs at Empty Tables," from "Les Misérables," as a soloist at the Old Cabell Hall concert.
"They were sitting right in the front, so it was challenging to try not to watch them while performing," Diener said of Boublil and Schönberg. "But the concert was amazing. It was really fulfilling and exciting to get to rehearse before them. It definitely gave me a greater insight into their work. To be able to interact with them in that way, it was so interesting to hear where their initial interests in musical theater and music came from."
Longtime Careers
Boublil, a lyricist, and Schönberg, a composer, collaborated to open "Les Mis" in Paris in 1980. Five years later, it was introduced on the London stage, where it became a smash hit, and then a worldwide phenomenon. The musical has been seen by more than 70 million people in 44 countries and performed in 22 different languages, and has received more than 140 major theater awards, as well as three Academy Awards for its 2012 movie production. It is still on stage after 35 years.
Their musical "Miss Saigon," first performed in London in 1989 and on Broadway in 1991, returned to Broadway this month following a successful new production in London. Schönberg said he was inspired to retell Puccini's "Madame Butterfly" when he happened to see a photograph of a Vietnamese mother leaving her child at the Tan Son Nhut Air Base – the "ultimate sacrifice," Schönberg thought, of giving up her daughter so that her American ex-G.I. father could give her a better life. 
Their other major works together include the rock opera "La Révolution Française" (1973), "Martin Guerre" (1996), "The Pirate Queen" (2006) and "Marguerite" (2008). They are working together currently on a revised version of "Martin Guerre." Last year, they were honored at a New York Pops gala concert in Carnegie Hall, celebrating their 40-year collaboration.
"The scope of their experience is so impressive, and they generously gave of their time, engaging with students and faculty in all areas of study, from stage to film and from composition to performance," said drama department chair Colleen Kelly.
During their time on Grounds, Boublil and Schönberg discussed their efforts to bring "Les Misérables" and "Miss Saigon" to life on stage. They also shared their thoughts on musical theater today and coached student performers as they rehearsed in preparation for Thursday's musical performance at Old Cabell.
Michael Slon, an associate professor and director of choral music in the McIntire Department of Music, said that having the University Singers rehearse and perform the anthemic "One Day More" from "Les Misérables" were unforgettable experiences.
"When we performed for Claude-Michel and Alain in concert, there was an incredible energy in the concert hall, both from the singers but also from the audience," Slon said, "because they realized that they were hearing music that they love with the people who created it right there in the room."
Third-year student Lydia Flock, a drama major, said she has been performing "for a really long time," but when she rehearsed her solo in front of Boublil and Schönberg for the first time, she had not been that nervous since her stage debut..
Sharing Their Experience
"I never thought I'd get an opportunity like this, but I got to ask them about how they work with young actors and asked them for advice," Flock said. "I transferred to UVA, and I guess I'm not sure if I want to commit to life in the arts, because it's so scary. But now that I'm here and doing more theater, I'm just taking it day by day. I love it so much that I don't know if I could give it up."
The free Old Cabell Hall concert introduced a wide-ranging public conversation, moderated that evening by Professor Emeritus Marva Barnett. A second public event, including a question-and-answer session moderated by Kelly, took place Feb. 24 at the Ruth Caplin Theatre.
Barnett, the editor of "Victor Hugo on Things That Matter," a reader that highlights Hugo's ideas and their contemporary relevance, said Boublil and Schönberg appreciated the enthusiasm and curiosity displayed by undergraduate and MFA students in last week's workshops.
"Claude-Michel and Alain were struck, they said, by the passion for the arts they found among UVA students, faculty and community members," Barnett said  "I was impressed with our students' knowledge and focus in conversations ranging from the nitty-gritty of Victor Hugo's 'Les Misérables' to musical theater issues to the fine points of vocal training."
In a workshop last week with graduate students in the Department of Drama's MFA Professional Training Program, Boublil and Schönberg talked about their early struggles to get their musical vision of Victor Hugo's classic novel about the French Revolution off the ground.
If you can't cope with the fact that it's going to be difficult to live on your own creation, they told them, then don't take the leap. Art is an all-consuming enterprise that cannot afford the creators' doubts, they advised.
"If you have the will to do what you have to do, you must be like a plow horse in the field that works, and it doesn't matter what's ahead of it on the right or the left," Schönberg said. "You keep going, you do what you have to do to stay on the right track. Otherwise, don't even start it. And when you are creating something, at the very moment if you don't think you are writing Beethoven's Symphony No. 9, don't start to do it. … At every moment, you must try to be at the best, at the top of your art."
Kevin Minor, a graduate acting student, said that message was inspirational.
"It's something where you get to meet your heroes, in a sense, and you get to learn about their story and where they came from," he said. "We get to see them at this really high place, but we also get to talk to them about how they began at the bottom, which essentially is where a lot of us are in learning about the process of building ourselves and building our craft to hopefully reach that place one day. It's mind-blowing almost."
Minor's classmate, Priyanka Shetty, called it surreal to be seated in the same room with Boublil and Schönberg only a few years after watching the movie version of "Les Misérables" in India. She took Schönberg's words to heart about the amount of diligence and faith in one's work that an artist must maintain.
"That resonated so much with me, because the only way anything, any true art can come of this is if you give it everything you've got, like 100 percent," said Shetty, a first-year MFA acting student. "That only reinforced that belief for me. Now I do know that any project that I want to take up what kind of effort should go into it and what kind of faith I need to have in myself as an artist, as a creator."
Article Information
March 1, 2017
/content/creators-les-miserables-inspire-artists-residence