The Criterion Channel on Tuesday will showcase a series of short films about African American student life at the University of Virginia as one of its highlights for Black History Month.
The film series, "Black Fire," is an ongoing collaboration that UVA history professor Claudrena Harold and art professor Kevin Everson, an experimental filmmaker, have worked on for about a decade – always involving students – to focus on different aspects of Black experience on Grounds.
The Criterion Collection channel, dedicated to promoting important classic and contemporary films from around the world, described "Black Fire" as "unclassifiable, poetic short films [that] explore the ways in which Black students have transformed the University – politically, socially, culturally and intellectually – from the 1960s through the present. Creatively employing reenactment, interviews, music and performance, Everson and Harold pay tribute to the unsung trailblazers who paved the way for greater equality on the UVA campus while bringing the University's history of racial and social struggle into dialogue with the present."
Along with the "Black Fire" series, Criterion has featured films by Gordon Parks, Akosua Adoma Owusu (a 2005 UVA alumna), Wyatt Cenac and others this month. [See the Criterion website for screening information.]
The Criterion channel will show five films from the "Black Fire" series: "Sugarcoated Arsenic" (2014), "We Demand" (2016), "Fastest Man in the State" (2017), "How Can I Ever Be Late" (2017), and "Black Bus Stop" (2019). So far, Everson and Harold have made eight "Black Fire" films since 2012, and a ninth, "Pride," is in editing, Harold wrote in email.
"It is an honor to have our work featured on the Criterion Channel," she said. "Over the past few years, our films have screened at numerous art galleries, museums and international film festivals. And we are excited about more people being able to watch the films."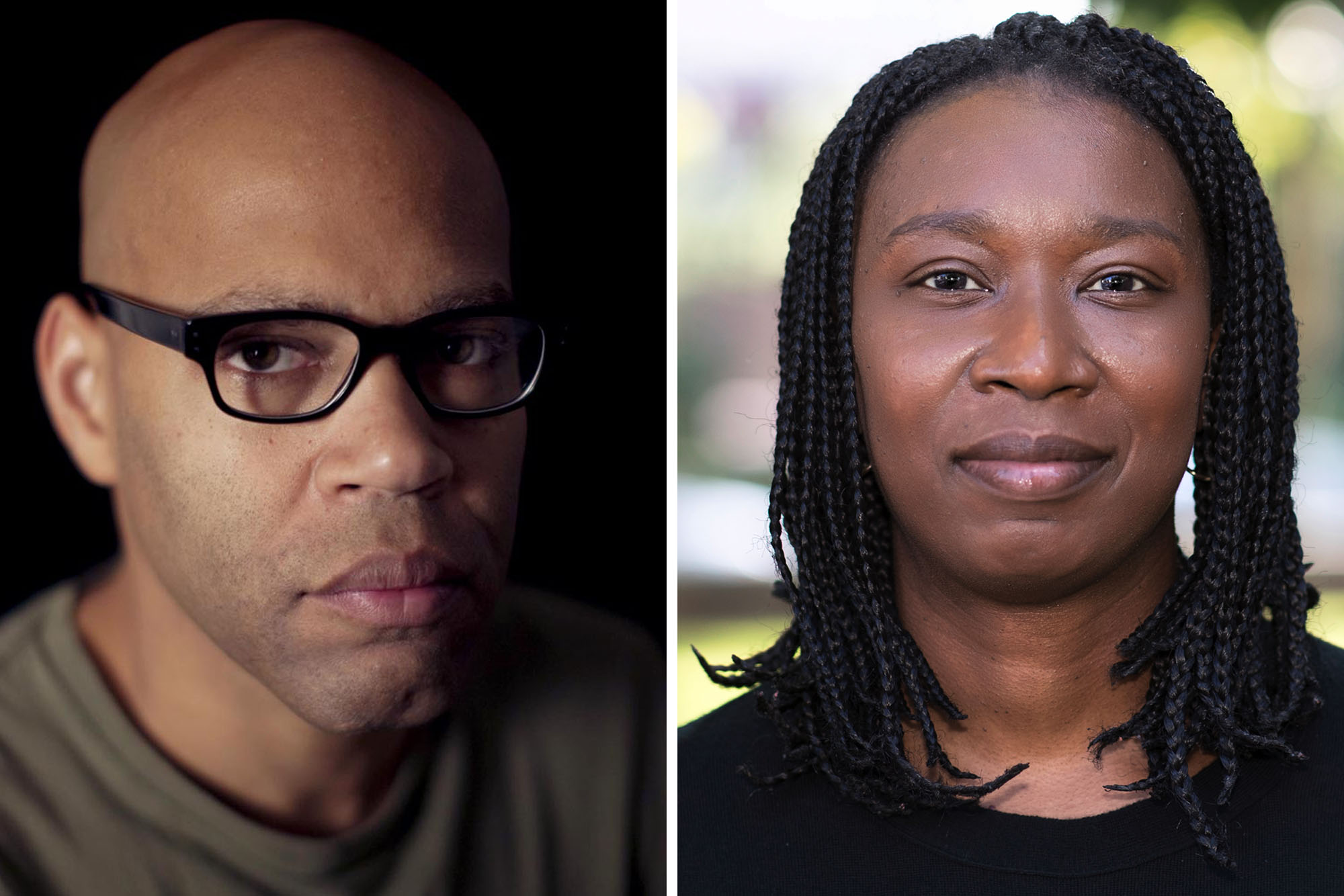 Art professor and filmmaker Kevin Everson, left, and history professor Claudrena Harold say that making the "Black Fire" short films involves students as part of their pedagogical practices.
Everson has been recognized as one of the most respected artists in his field and garnered many awards, as well as making more than 170 films. His work has been noted for its attention to daily life, whether exploring students' activities or those of working-class Americans.
"To me, teaching students about the history of UVA while teaching filmmaking is an important part of the pedagogical experience," Everson said in a previous interview. "I love working with the students and diving into that subject matter."
Harold, who currently chairs the Corcoran Department of History, teaches "Black Fire" courses, labor history and African American music – her most recent book, published in November, is "When Sunday Comes: Gospel Music in the Soul and Hip-Hop Eras." She co-edited, with Louis Nelson, UVA's vice provost for academic outreach, "Charlottesville 2017: The Legacy of Race and Inequity," a book of essays.
Of the "Black Fire" series, Harold said, "These films explore various dimension of Black life at UVA in the post-civil rights era, and the topics range from antiwar protest in 1970 to the formative years of Black studies at UVA. Whether focused on music, athletics, spirituality or politics, these films reflect our deep interest in the interiority of Black life, particularly those formal and informal spaces where African Americans communed, organized, studied, prayed, loved, quarreled, reconciled and moved on."  
She and Everson draw students from their classes and have also enlisted alumni participation when working on these films. The size of the cast and crew changes with each project.
"With all our film projects," Harold said, "we hope to provide opportunities for our students to further develop and express their artistic gifts, see the value of interdisciplinary work and contribute to the retelling of UVA's rich history."
Article Information
February 22, 2021
/content/criterion-channel-features-uva-black-fire-films-black-history-month