University of Virginia computer and security experts are teaching teachers how to teach cybersecurity to teenagers.
The GenCyber Cyberwars Camp, hosted by UVA Engineering's Department of Computer Science and sponsored by the GenCyber Program, a campaign to improve cybersecurity education funded by the National Security Agency and the National Science Foundation, wrapped up Friday. This is the first year UVA has hosted a camp, in which high school teachers spend a week on Grounds for intensive training in how to teach cybersecurity. Organizers provide follow-up support during the year.
"We want to improve the teaching methods and empower high school students with cybersecurity," said computer science professor Ahmed Ibrahim, one of camp's organizers. "We want to get more students involved in cybersecurity because it is a growing field."
Earlier this week, 25 high school teachers – including 21 from Virginia – filled a glass-walled room in Rice Hall, sitting in high adjustable chairs at wheeled work tables, their laptops open, following a lecture with graphics about the dangers that lurk in cyberspace and trying to figure out how to pass the information on to a generation that seems to share the most intimate details of life online.
"I think understanding privacy is important to that generation that uses Facebook and Snapchat," said David Evans, a computer science professor who helped organize the camp. "We hope to give teachers some ideas and tools to get their students excited about learning about cryptography, privacy and cybersecurity, and how these things can impact them."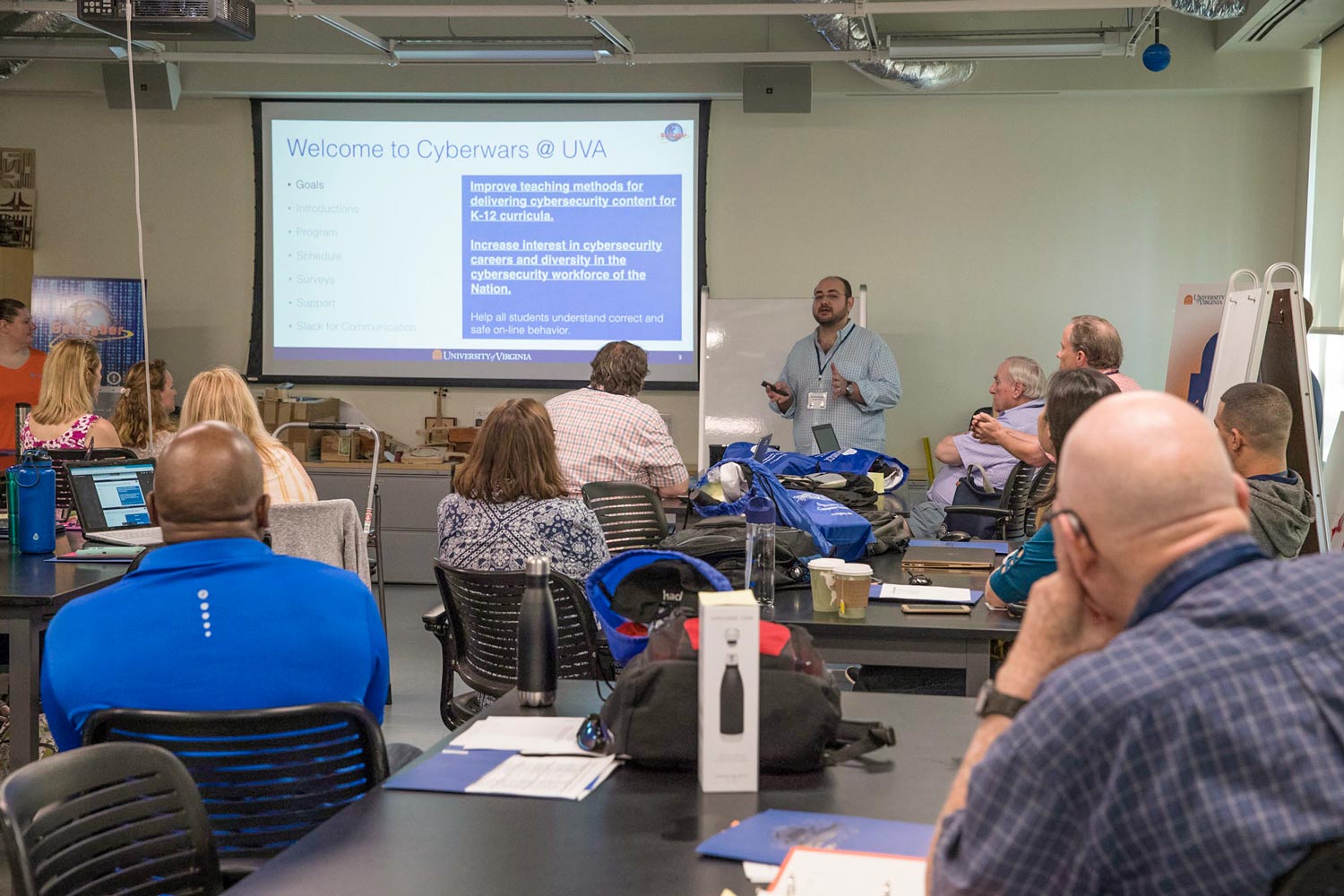 The camp drew 25 teachers, including 21 from Virginia, who learned from UVA faculty how to teach cybersecurity to their students. (Photo by Dan Addison, University Communications)
Models of Saturn, Jupiter and Earth hung from the ceiling, along with a model of a bright red biplane, while the teachers explored some of the darker corners of the internet. Coffee and boxes of Duck Donuts were laid out on a table for the teachers to steel themselves with caffeine and sugar before the session began. "No decaf here," one organizer said, though tea was offered.
Evans, Ibrahim and others outlined some of what to expect from cyberattacks – phishing expeditions, how passwords are vulnerable, how defenses can be breached and how, with "the Internet of Things," one flaky device can open an entire network to a hacker. They stressed the idea that cyberattacks are a matter of "when" and not "if," pointing the numerous incursions into business and government sites that compromised financial, personal and health records.
Thomas A. Dukes Jr., a professor at UVA's School of Law and leader of the International Military Cyber Programs Portfolio at MITRE, a federally funded research and development center, outlined the different privacy laws and protocols in the United States and the European Union. He noted that recently the European Union had enhanced data privacy regulations on the internet, which pushed internet service companies to boost the steps they were taking to protect users' privacy.
Gina Bingaman, who teaches aerospace and pre-engineering at Woodgrove High School in Purcellville, said her school will offer a cybersecurity course and, as the lead science, technology, engineering and math teacher in the district, she wanted to be part of the process of developing the curriculum.
"I wanted a hand in it because I want us to roll out the best product that is educationally relevant," she said.
She said she was glad the UVA professors were sharing their knowledge with the high school teachers who were investing their time in the process. She also appreciated the promise that the professors would follow up during the year with the teachers and be available for consultation.
Part of the camp is designed by Buffie Holley, who teaches computer science at Albemarle High School and at UVA. Her role was to translate from "college" to "high school."
"I help the professors make the lessons more 'unplugged' and hands-on instead of 'hard-core technical' throughout the camp," she said.
On the second day of the camp, Holley thought things were working well, noting that some of the teachers were just being introduced to cybersecurity, while others were more technically proficient with the material.
Holley said the camp's participants seemed a little apprehensive about how much material they would have to absorb, both at the camp and over the summer, in preparing to teach cybersecurity in the fall. But she added that while moving among the teachers during the breaks and over lunch, she heard a lot of "good conversations" going on.
"I am hearing very positive things," she said. "Some of them are overwhelmed by the material because there is so much, but they are also excited. Even the people who have higher technical levels of expertise are challenged by some of this."
While the teachers may feel overwhelmed by the material, they also were helping one another with it, both in their discussions over lunch and during their camp sessions, offering ways to present concepts to students through images and analogies, sharing methods of translating and cementing knowledge for students and offering real-world applications from their own experiences.
Holley hopes to have another camp next summer.
"A lot of preparation goes into this," Ibrahim said. "We have some ideas for next year, but we want to see how this year goes first."
Ryan Smiley, a high school teacher at the Ben Davis High School in Indianapolis, was impressed with the amount of good content in the camp. "A lot of the material was in-depth and dealt with how teachers can apply it in the classroom," he said.
Smiley viewed it as a professional. He attended as a representative of Dark Enterprises Inc., a consulting firm contracted with GenCyber to rate the summer camps GenCyber was sponsoring. Smiley said he was at UVA for one day to assess the camp's operation and would be checking out other camps at other universities in the state.
Karen Curtis, another Woodgrove teacher, who specializes in family consumer services, said she has learned a lot about new trends in cybersecurity.
"This is very informative," she said. "I think the instructors have done an excellent job."
Curtis said the information would help in her classroom, working with both students and other teachers. She said the University personnel were very generous with their information and time and were very responsive to questions.
Article Information
June 22, 2018
/content/cybersecurity-goes-summer-camp