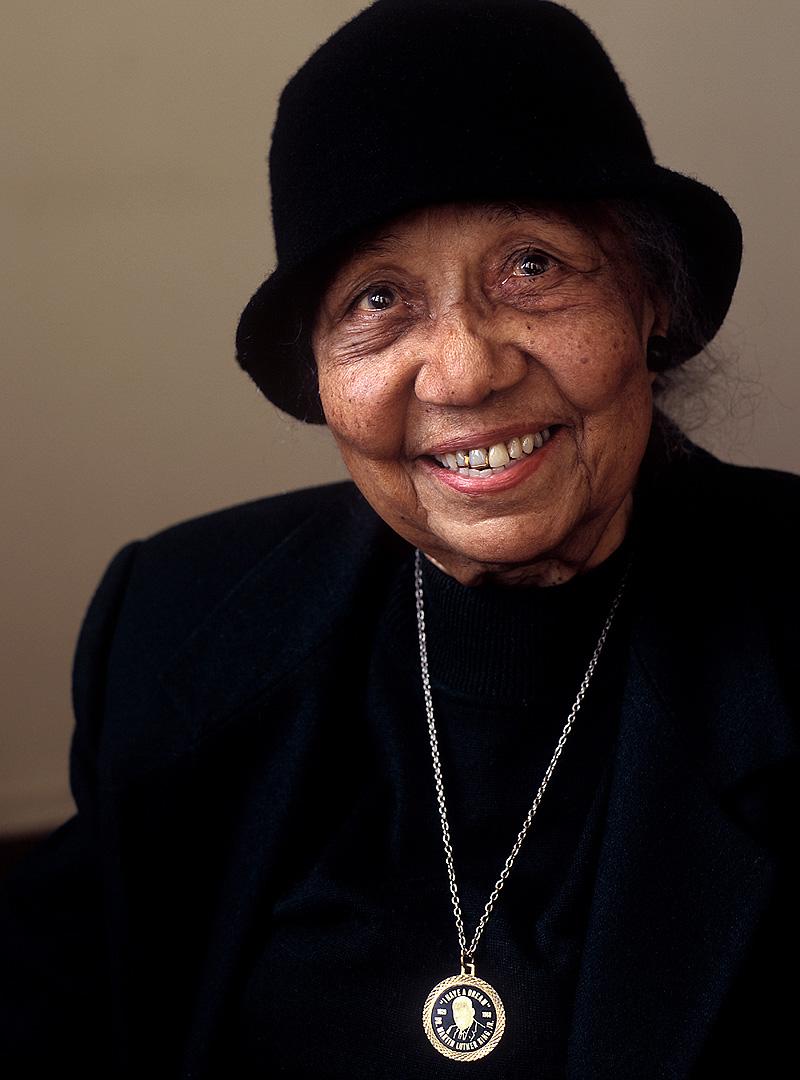 August 28, 2006 — History was sitting in the room — in the woman whose basement became an office for lawyers working on integration, in the man who raised bail money for jailed demonstrators.
These individuals, Danville, Va., residents who had fought for civil rights—some by demonstrating, others more quietly but just as effectively—attended a July 28 luncheon at the University of Virginia, hosted by the Carter G. Woodson Institute for African-American and African Studies' Center for the Study of Local Knowledge, to celebrate an oral history project and photo exhibit that captured a part of their struggle.
Ten Danville residents in all are featured in "Mapping Local Knowledge, Danville, Va., 1945-75," created by writer Emma C. Edmunds and photographer Tom Cogill, and currently on display at U.Va.'s Woodson Institute at 108 Minor Hall. The exhibit is open from 9 a.m. to 5 p.m. Monday through Friday and will run through early fall. An open house and reception is planned for Sept. 15 from 4 to 7 p.m.
Dorothy Harris, whose story is part of the exhibit, moved to Danville in 1950 and raised four daughters there. She recounted how her basement became an office for lawyers working on integration. Her husband, Charles E. Harris, ran for city council in 1964. He lost, but was elected in 1968, staying on the council until 1988. He was also Danville's first black mayor.
Harris cited Luther P. Jackson, a professor and activist who taught her at Virginia State University, who told students "When you leave here, register to vote, vote and own property. That is part of the way you earn recognition as a citizen."
Undertaker James Peters Jr., also featured in the exhibit, said he never joined the demonstrations, but he raised money to bail the arrested demonstrators out of jail.
Another resident did not want to talk about his involvement in the city's civil rights struggle but was passionate about the time he spent working in the pit crew for Danville native Wendell Scott, the first black to win on NASCAR's highest level.
Scot A. French, out-going interim director of the Woodson Institute, said the exhibit and the oral history collection are part of the institute's outreach efforts. The institute provides a place where interdisciplinary scholars such as Edmunds can gather and collaborate on projects such as this.
"Emma is a journalist and a Halifax native, and all she needed was an affiliation and a home base," he said.
Edmunds, assistant director of University Publications and Development Communications, has recorded, over the past 10 years, the oral histories of Danville-region residents who had been involved in the civil rights struggle there. Charlottesville photographer Tom Cogill took current portraits of the participants.
"We often hear about the civil rights struggle as a national story, but these are the local stories," Edmunds said.
Raised in Halifax County on the periphery of historic events, Edmunds graduated from high school in 1963, a year that saw fierce civil rights protests in Danville. Some of the demonstrators were housed in Halifax jails when the Danville lock-up overflowed. But this did not touch her life.
"I was unaware that this happened until about 10 years ago when I saw an exhibit in Atlanta," she said. Danville had been part of the Freedom Riders' route and she found there had been lynchings and thwarted lynchings in areas of Southside Virginia with which she was familiar.
Edmunds used her affiliation with the Woodson Institute, a fellowship from the Virginia Foundation of the Humanities and support from the Elizabeth Stuart James Grant Trust of Danville to record oral histories of the civil rights movement from Danville and Halifax County residents.
Cogill volunteered to photograph these residents, and he and Edmunds made four trips to Danville and one to Richmond over a year-and-a-half, photographing subjects and copying archival photos of events in the civil rights struggle.
The desegregation of Danville is an important story, but one that was overshadowed by the events in Birmingham, Ala., French said.
"We want [all] these stories told in school," he said.
The photo exhibit will travel to Danville and French is working with the Virginia Center for Digital History, of which he is the new director, on creating an online archive. The VCDH already has a collection of television footage of Danville's integration.
The traveling photo exhibit will include captions that explain the images and give voice to these residents' civil rights struggles, such as Robert A. Williams, who as a teen-ager led a sit-in at the Danville Memorial Library. Or Avicia H. Thorpe who taught the students in the segregated school system and helped support the National Association for the Advancement of Colored People in Danville.
"I listened to what they were really saying," Edmunds said. "This is how people went through a transformative time. I have really been moved by their stories."