Like many Americans, Kimberly Whitler will tune into this Sunday's Super Bowl not just for the game, but for the ads.
While the New England Patriots and the Los Angeles Rams duke it out on the field, major companies will compete to see who can make the most of the priciest advertising slots in television.
Thirty-second spots cost about $5 million, and that's just for the airtime; celebrity guest stars and high production values will run up the tab. In return, companies can promote their brand and message to the biggest live television audience of the year.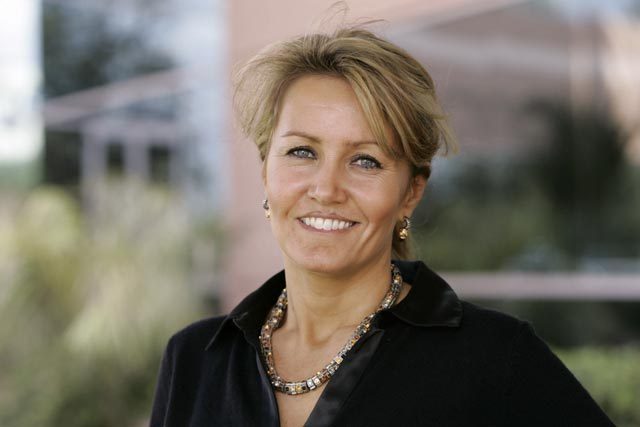 Kimberly Whitler spent nearly 20 years in management, strategy and marketing roles for major U.S. companies and now teaches marketing at Darden. (Photo courtesy of Darden School of Business)
Whitler, a professor in the University of Virginia's Darden School of Business who specializes in marketing and has led marketing efforts for major corporations like Procter & Gamble, will be watching to see which companies nail it, which companies whiff and what marketing trends the ads reveal.
We spoke with her to learn more about the ads she expects to see this year and her favorites from past years.
Q. Companies pay millions for these 30-second spots. What makes it worth it?
A. The Super Bowl is one of those rare events that millions watch in real time, rather than streaming or watching in different time slots. It attracts north of 110 million viewers, which is astronomical. The next-most-watched television event is about 30 million. If you need to get a message out quickly to a broad group, it's a great way to make an impact.
The Super Bowl also provides an unusual level of consumer engagement. Viewers don't ignore ads; they are part of the event. People want to watch them, want to discuss them. Companies also get a lot of free earned media coverage before, during and after the game. Already this week, media outlets are showing ad previews and analyzing them. Companies are promoting their ads on social media and tying them into larger campaigns.
Old Spice, for example, did a great job of maximizing coverage before and after the 2010 Super Bowl. It used the wake stream of the Super Bowl to run a social media campaign that essentially changed its brand image from your grandfather's aftershave to something that was relevant and resonated with younger men.
Q. Is this a make-or-break situation for some companies?
A. It can definitely have an impact. If you swing and miss in such a high-profile situation, it can be challenging for brands. Gillette is a good example right now. Their ad about toxic masculinity got a lot of positive attention from marketers and the media, but the reaction has not been as positive among consumers, who in some cases viewed it as insulting.
In 2015, Go Daddy previewed their Super Bowl ad on a popular talk show. The ad showed a puppy falling out of a truck – presumably from a puppy mill – and traveling through a storm to return home, only to be told by his owner that she sold the dog on a website built with Go Daddy. The reaction by viewers was swift and emotional. Go Daddy issued an apology, indicated that the dog in the ad had been adopted by an employee and pulled the ad.
On the flip side, well-received ads aren't always actually a home run for the company. For example, in 2000, Pets.com had one of the highest-rated ads in USA Today's Ad Meter (voted on by consumers) and we all know what happened to that brand. [It went bankrupt and closed by the end of that year.]
Q. What are the risks of companies tying themselves to a particular cultural conversation or social mission, and do you expect to see more of that this year?
A. I don't expect to see as much of it this year. I think many marketers are making a critical mistake right now. They look at data showing that consumers, particularly young people, want brands to stand for something and then they create ads without thinking about how they can back up their stance. Consumers don't want brands to simply say they stand for a cause – they want them to actually enact positive change. There is a huge difference, and when you lecture consumers on a cause, you better be ready to stand up to the scrutiny.
For example, Audi ran a Super Bowl ad a few years ago that focused on gender pay inequality. However, anyone looking into it more closely saw that their board and management team had very few women, and, if you ran a search on Audi's efforts to promote gender pay equality, you couldn't find anything. Consumers today are rightly skeptical about marketers. A bad version of values-based advertising or socially conscious advertising is saying one thing and doing something else. I make this point in my class by walking in with a sign that says I care deeply about students. Does that sign really make students think I care deeply about them? Of course not. They look at my actions, and consumers do the same thing.
Budweiser, on the other hand, offers a better example of how to create socially conscious ads. Last year's ad ("Stand by You") was quite provocative. The drama was centered on what appeared to be Bud workers in a rural area, getting up before the sun rises, to go to the plant and switch production lines from beer to water. A Bud truck driver transports the water and donates it to communities hit hard by natural disasters. While Audi could be perceived as co-opting an important issue to sell cars, Budweiser simply shares how they help those in need. One ad talks about a topic, the other shows action and behavior.
This year's Budweiser ad [shown below] highlights the switch to renewable energy. They aren't lecturing consumers, they are simply showing what they have done to help solve a particular problem. Given that the socially conscious ads of the last few years haven't done exceptionally well in USA Today's Ad Meter, except for that Bud ad, it will be interesting to see if more companies begin to understand the difference between words and deeds.
Q. What kind of ads do you expect to see this year?
A. I expect most ads to return to entertainment. Two years ago, there was a lot of emphasis on social messaging. However, the best-rated ads have consistently been the most entertaining – either humor (i.e. last year's Tide ads) or drama, such as the classic Budweiser ads with the Clydesdales. The Super Bowl is a time for family, friends and escape from daily pressures and the news. Based on the Super Bowl ads that have leaked so far, I am seeing a lot of humor-based ads.
It will also be interesting to see if some of last year's most successful ads return to similar themes. For example, last year's Doritos-Mountain Dew lip sync battle – featuring celebrities like Morgan Freeman – was a huge hit. Their ad this year seems to do something similar with the Backstreet Boys and Chance the Rapper. The second-highest-rated ad last year was for the NFL, featuring players reprising the famous scene from "Dirty Dancing." It was fun, hilarious, and both men and women loved it. I expect we will see more like it this year.
Q. Are there any other ads you want to highlight?
A. To me, both Verizon and Sprint did a great job last year, with entertaining ads that also drove home an important message about their company. Verizon's ad was very heartfelt and focused on first responders who depend on Verizon's coverage. It showed Verizon's core benefit, which is better coverage than their competitors. Sprint, on the other hand, highlighted cost savings. Their ad featured a robot poking fun at someone for wasting money on coverage he doesn't need.
Both ads did a good job of entertaining consumers while driving home core traits that differentiate that company from its competitors. This year's most successful ads will do the same.
Media Contact
Article Information
January 31, 2019
/content/darden-professor-breaks-down-super-bowl-ad-dos-and-donts