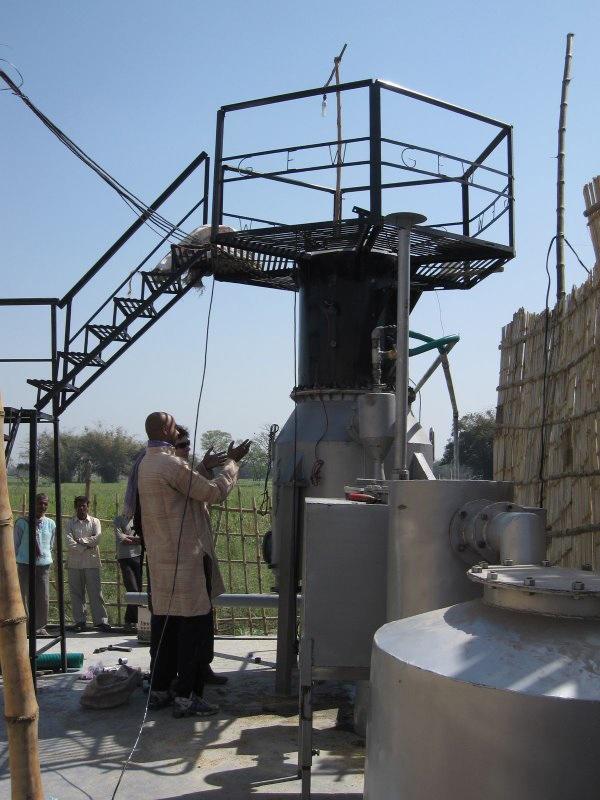 Listen to the UVa Today radio report featuring Manoj Sinha:

March 26, 2009 — When you're trying to direct a business in India from 7,000 miles away in the midst of classes at the University of Virginia's Darden School of Business, nothing is a sure thing.
That's why Manoj Sinha decided to spend his winter quarter in India supervising the rapid expansion of Husk Power Systems, a business he co-founded last year with fellow Darden student Chip Ransler. The business supplies electricity to rural villages in India with miniature power plants that make bio-gas from rice husks, a waste product of rice farming.
By several measures, the time spent abroad appears to have been well spent. With help from a $165,000 Shell Foundation grant, Husk Power Systems has installed eight gasifier power plants, with four more expected to be online in the next six weeks. They are now providing electricity to about 50,000 residents in 23 rural villages.
Sinha and the other two Husk Power partners based in India, Gyanesh Pandey and Ratnesh Yadav, have trained a special task force of employees to get new gasifiers up and running. With about nine months of practice, the team can now install and test one new unit every two weeks.
With some refinement, Husk Power aims to speed that up and have the team rolling out one new unit every week, to meet its goal of installing 50 new power plants in 2010, with an investment of $3 million to $5 million.
Since the founders won a business plan competition at the University of Texas at Austin less than a year ago, their company has grown at a remarkable pace. "We've  had tenfold growth in year two, expanding from two villages served to 23 villages," Ransler said.
But the rapid progress has required surmounting some "only-in-India" hurdles, as Sinha learned first hand this winter when he needed to have a new gasifier trucked about 90 miles from the fabricator to the installation site. A trip that would take less than two hours in America became a 17-hour ordeal in India.
Despite the long journey, the five Husk Power employees involved in the move offered to continue working for a couple more hours to complete the initial installation of the gasifier. Only after the unit was up and in place at about 1 a.m. did the team share a celebratory dinner. "We now have employee buy-in, which is a huge challenge in India," Sinha said. "The employees feel the business belongs to them."
Bringing power to villages that have never had electricity offers some unique rewards, Sinha said. Power was turned on for the first time in one village on Jan. 31. That evening when Sinha visited the village, the very first thing he saw was a child studying by the light of a single compact fluorescent bulb, which is the most important benefit to most families with children, he said.
Some of the villages Sinha had visited were known to be unsafe after dark. But since the arrival of electricity in those same villages, people are now walking freely after dark, he said. "We feel really proud when we see our power plant up and running in the middle of the night, and a village is bright, while other villages are dark," he said. "What we are doing does help a lot of people."
The Husk Power team has received a raft of plaudits in the U.S. – from winning nearly $100,000 in three national college business plan competitions, to being named "Pop!Tech Fellows" and "Social Entrepreneurs of the Year" by Fast Company magazine. Investors contact them regularly via their Darden e-mails. Ransler has been invited to speak about the company at four different universities (Duke, Maryland, Loyola and Texas), and this weekend he will address the Aspen Institute's annual Environment Forum where he will be an Aspen Environment Forum Scholar.
After two months in India, Sinha can't wait to finish up his Darden classes here this quarter (including getting credits for writing a case study about Husk Power) and return to Bihar.
"We're really excited because Manoj accomplished a lot by being able to spend just a little time focused in the field," Ransler said.
"Starting this summer we can focus full time and really get things done," Sinha added. It won't be long before Ransler and Sinha no longer have 7,000 miles separating them from their future.
— By Brevy Cannon