A main idea behind the University of Virginia's "Democracy Dialogues" series that kicked off on Wednesday night was to make some sense of the upheaval and transition taking place within the United States' political system, part of the initiative's goal of contributing to the strengthening of democracy through civil debate.
In light of the events earlier in the day that saw pro-Donald Trump rioters storm the U.S. Capitol – where members of Congress were meeting to certify President-elect Joe Biden's Electoral College win – the two-hour virtual event couldn't have been timelier.
UVA President Jim Ryan, event host and politics professor Larry Sabato of the Center for Politics and numerous guests uniformly denounced the stunning breach of the Capitol building and the distinctly anti-democratic strain that it exemplified.
"We always knew this event would be timely, but didn't expect it to be quite so relevant," Ryan said in introductory remarks. "I'm sure all of you have seen what happened at the Capitol in Washington, and many of you are feeling the same anger and sadness that I am. … The violence in Washington today was an attack on our democracy and a painful reminder of just how fragile our system of government can be. I can honestly say that I never expected to see anything like it in the United States of America.
"But if there's one silver lining to this sad day, I hope it's that more people realize that being a citizen of this country is an active thing – something we do, not just something we are. And part of being an active citizen means thinking carefully about the values we share and working together to make this country a little more perfect."
As a result of the day's events, Sabato put things bluntly, describing it as an attempted "coup" and stating that the United States lost ground in its position as the world's leading democracy.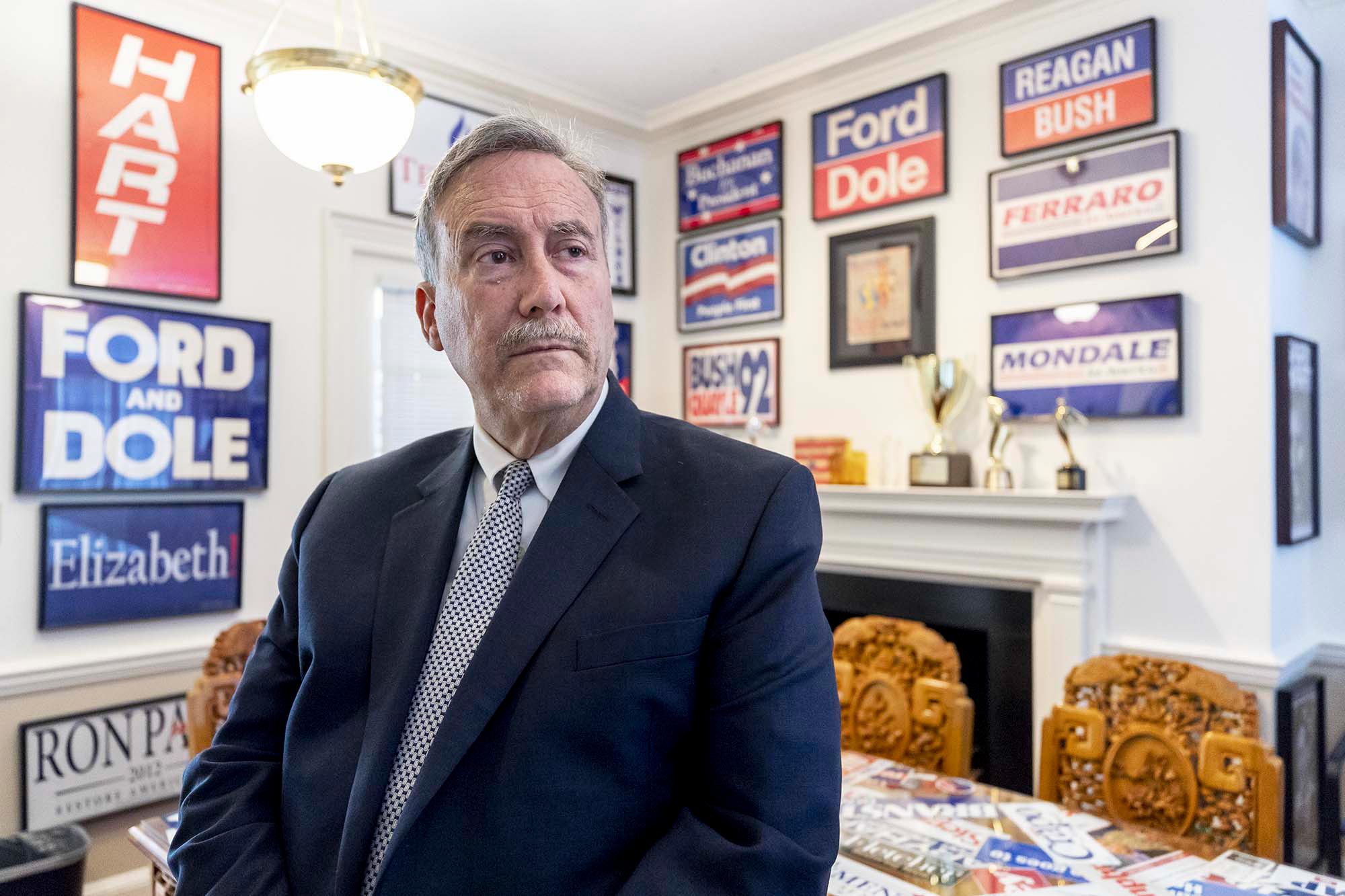 Professor and Center for Politics Director Larry Sabato hosted the two-hour virtual event. (Photo by Sanjay Suchak, University Communications)
"We obviously have to learn or relearn some of the lessons ourselves," he said. "The 'shining city on the hill' doesn't have as much sheen to it today."
Sabato's guests ran the gamut. Some were featured on taped segments that were recorded before the events exploded in Washington, while others were able to comment directly on the continuing news during live interviews with Sabato.
CBS News "Face the Nation" moderator and alumna Margaret Brennan said she, like many people, was shocked that protestors were able to breach the Capitol.
"The past year in particular has been so painful, but this moment. … Turkey and Egypt are calling for peace in the capital of the United States and calling for order," Brennan said incredulously.
"I mean we have adversaries, we have democracies, we have autocracies watching us around the world with surprise – but perhaps they shouldn't be real surprised given that so much of what is happening was telegraphed … with the inflammatory rhetoric, with the direct-to-consumer way to post information on social media that allows for planning of events.
"But yet our law enforcement and our institutions did seem surprised today and weren't able to keep these violent mobs from breaching the Capitol."
CNN anchor Don Lemon said the rioters committed "treason."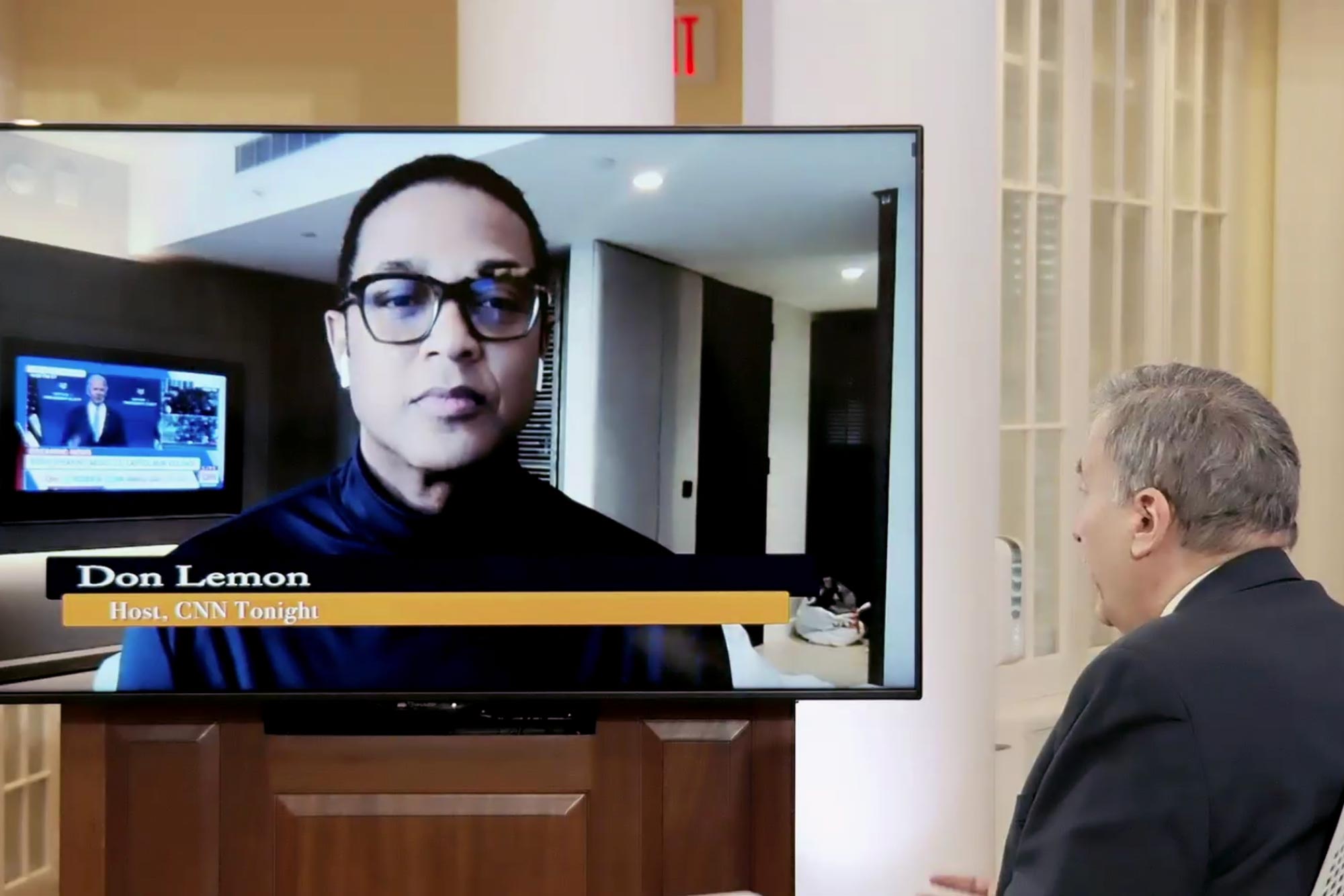 CNN anchor Don Lemon said the rioters who stormed the Capitol building committed "treason."
"It is sedition. It is an insurrection. These are not protestors; they are anarchists," he said. "These are people who are trying to subvert justice …
"They are rioting in the capital of the United States. It's outrageous. … I'm outraged that this has been allowed to happen in this country."
In a recording taped prior to the riots, former House of Representatives Speaker Paul Ryan, a Wisconsin Republican, said Biden's election was fair and called the actions of the representatives and senators planning to contest the electors' votes as "undemocratic."
"There are moments of clarity where clear principles are on the line, and this is obviously one of those things. Do you pledge fealty to a man, Donald Trump, or to the bedrock of our constitution?" Ryan said. "The president is doing this for his own personal gains, but that doesn't mean people should follow that. And that's why I felt in this extraordinary circumstance, a statement like this needed to be made."
In another segment, alumnus Christopher Krebs – the former director of U.S. cybersecurity, who soon will join UVA's Center for Politics as a visiting scholar – echoed Sabato's comments. Trump earlier fired Krebs, who had been tasked with maintaining the integrity of the election, after Krebs asserted that the presidential vote was free and fair.
"This was a secure election – there was no widespread fraud," Krebs said again. "What's happening right now is an absolute miscarriage of democracy, and I hope that when they get back in that chamber and cast their votes to support the certification of the election that there is not a single objector, because if there is, there has to be a reckoning."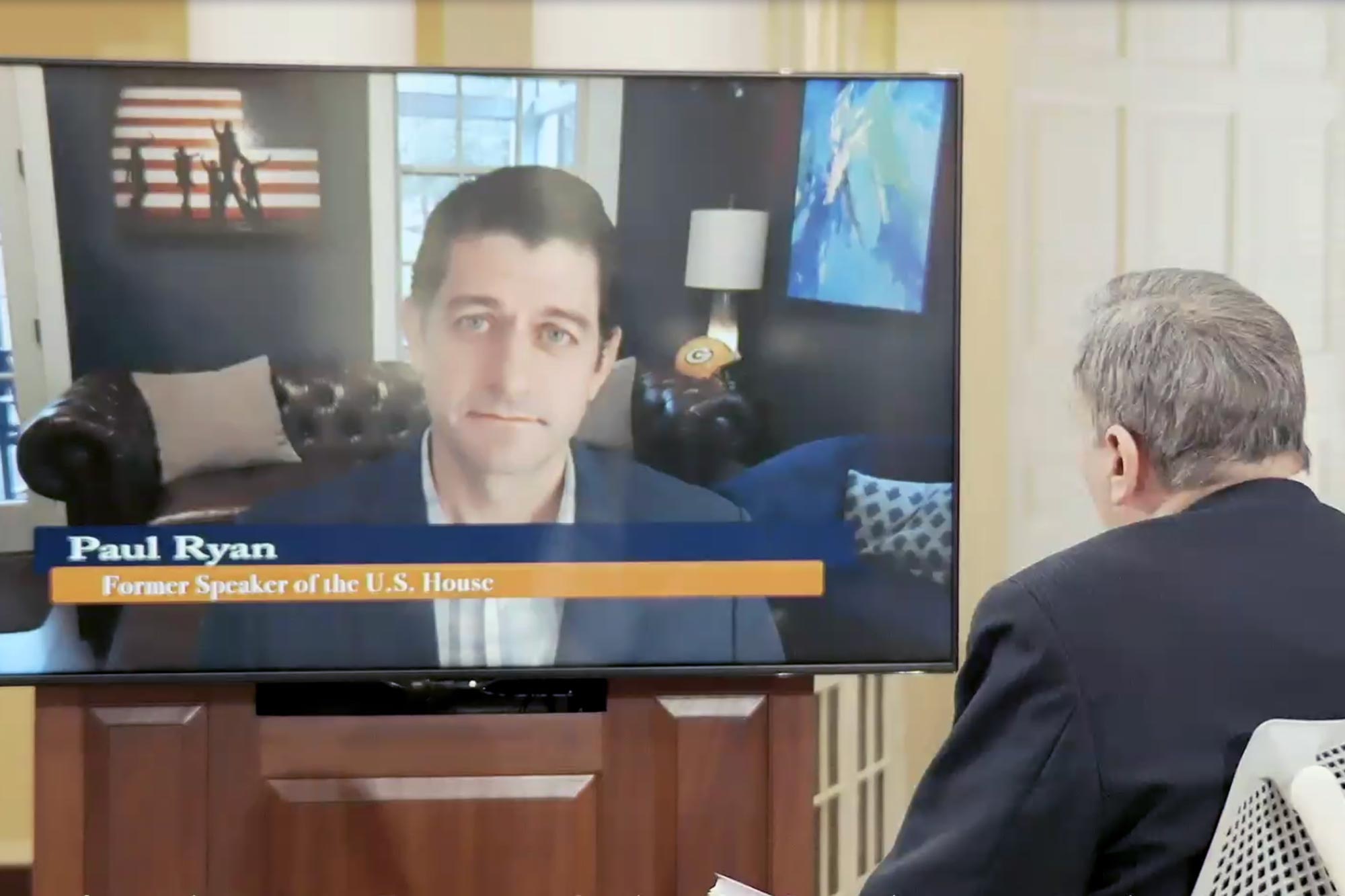 Former House Speaker Paul Ryan joined Sabato.
At around 8 p.m., moments before doing a live shot from the Capitol, Jonathan Karl, ABC News' chief White House correspondent, joined Sabato.
"Watching those people burst through the police lines into the Capitol building … it's the symbol of American democracy, it's the center of American democracy," he said.
"Barging in, taking over the Senate chamber – one of the images that blew me away was one of these rioters going into Nancy Pelosi's office and putting his feet on her desk. … Just absolutely shocking images and a horrifying day."
Karl concluded his video conversation with Sabato as he walked across the Capitol grounds lawn on his way to continue his live coverage for ABC.
New Jersey Gov. Phil Murphy, a Democrat, echoed Karl's sentiment.
"It's one of the darkest days in our country's history," Murphy said. "Completely unacceptable.
"I'm not smart enough to know where this goes from here, but I'm very happy to see that both chambers are reconvening tonight as a statement that democracy does not wilt in the face of folks who are trying to do something as untoward as they attempted to do today. That's a good thing."
Center for Politics resident scholar, political commentator and Lincoln Project board member Tara Setmayer and political commentator Paul Begala also joined Sabato as guests.
Asked how the country can move beyond the current extreme polarization, Setmayer said the country must "examine where we are culturally, the way we approach one another moving forward."
"Virtue was something our founding fathers were very particular about," she said. "They designed this system expecting there would be people who stood up and hoping the good faith of the American people and leaders would bind us together."
Rector's Gift Supports Democracy Dialogues
At Wednesday's inaugural event, President Ryan also announced a gift from Rector James B. Murray Jr. to support the Democracy Dialogues series. 
Murray's gift will establish the "UVA Democracy Dialogues Fund," which will provide the initial funding for the series, but also create a mechanism for other donors that want to provide philanthropic support for future events. 
Murray, who was appointed to the Board of Visitors in 2016 and has served as rector since 2019, is a managing partner of Court Square Ventures, and a founder of the Presidential Precinct, a consortium that fosters and enables aspiring leaders in emerging democracies. He lives in Albemarle County. 
"A core tenet of democracy, dating back to ancient Greece, is the encouragement of open debate," Murray said. "A cornerstone of a great university's educational mission is also the encouragement of open debate. By offering an open forum for opposing points of view, UVA's Democracy Dialogues will encourage the best elements of both democracy and education." 
The University's 10-year strategic plan approved in 2019, "A Great and Good University: The 2030 Plan," includes an aspiration for UVA to become an international leader in important fields of research that address pressing challenges and opportunities. One of the five areas identified is the advancement of democracy and democratic principles. 
"I want to thank Jim Murray, the rector of the University's Board of Visitors, for personally providing the initial funding to help get the Democracy Dialogues off the ground," Ryan said in introducing the Wednesday event. "Jim and the board have supported this idea from the very beginning and I want to thank them for making tonight, and future conversations, possible."
Wednesday's event was co-sponsored by the Office of the President and UVA's Institute of Democracy. The institute is a University-wide collaboration on the study and teaching of democracy. Its partners include the Arts & Sciences Democracy Initiative, the Center for Politics, the Frank Batten School of Leadership and Public Policy, the Karsh Center for Law and Democracy, the Miller Center of Public Affairs, the Sorensen Institute for Political Leadership and the Weldon Cooper Center.
Article Information
January 6, 2021
/content/democracy-dialogues-event-explores-chaotic-events-us-capitol