A recent gift of $1 million from the Manning family, strong supporters of the University of Virginia, established The Manning Fund for COVID-19 Research, designed to support the University's practically oriented research on COVID-19-related topics that can be acted upon quickly and have commercial potential.
More than 50 proposals were received from UVA faculty for projects related to developing COVID-19-related solutions.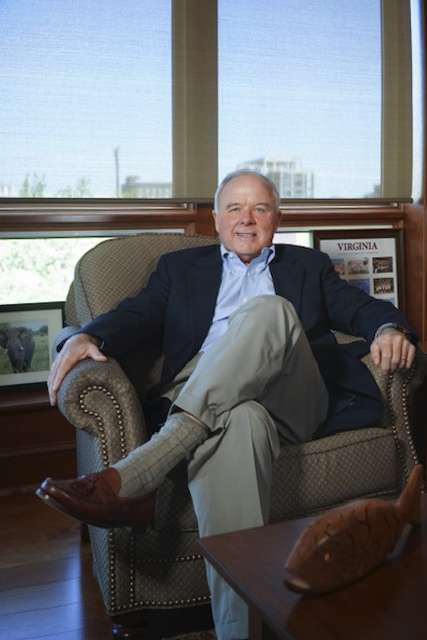 A recent gift from entrepreneur Paul Manning established a fund designed to support UVA research on COVID-19-related topics that can be acted upon quickly and have commercial potential. (Contributed photo)
The offices of the Provost and the Vice President for Research, which co-manage the fund, has funded eight proposals that support improved antibody testing, vaccine development and improving patient outcomes.
"These researchers showed they had both great ideas for conquering COVID-19, and a solid plan for how to accomplish their goals," said Melur "Ram" Ramasubramanian, vice president for research. "We couldn't be more pleased with the projects proposed and their potential impact."
"Many of our researchers have set current and pressing projects aside to redirect their energies to COVID-19," said Liz Magill, the University's provost. "We're grateful that the Manning Fund has enabled this critical research that takes advantage of the cross-disciplinary networks UVA has nurtured over the past few years."
"I want to thank the entire research team and administration for their acute sense of urgency and entrepreneurship to come up with these helpful solutions to the COVID crisis. They set short term goals and achieved them," said Manning. "I am very grateful."
A rundown of the selected projects:
IgG to SARS-CoV-2 With ImmunoCAP
Jeffrey Wilson, School of Medicine, Asthma, Allergy & Immunology
Jeffrey Wilson and his team plan to develop a novel assay to measure antibodies to SARS-CoV-2, taking advantage of the lmmunoCAP platform and producing a quantitative readout of how much IgG is present instead of just a "yes" or a "no," as is common in current commercial systems. This has implications in developing an understanding of the likely attachment sites of the virus and accelerating the development of effective vaccines.
A COVID-19 Killed Whole Cell Genome Reduced E. coli Fusion Peptide Subunit Vaccine
Steven Zeichner, School of Medicine, Pediatrics
A vaccine for COVID-19 is urgently needed to control the pandemic. Steven Zeichner and his team aim to develop a vaccine that helps the body develop antibodies directed against a specific fusion peptide found on the surface of SARS-CoV-2 virus as a component of its spike protein.  The novelty of this project is the use a modified E. coli bacterial surface to display this peptide and help the body develop specific antibodies against it. When the real virus enters the body due to infection, the body can recognize this fusion peptide and neutralize the virus.
"We expect the results from this project can be quickly translated into a safe, inexpensive, scalable, and effective vaccine appropriate for pandemic response globally, enabling an end to the COVID-19 pandemic not only in developed countries, but around the world," said Steven Zeichner.
Targeted Antibodies From Convalescent Plasma to Protect Against COVID-19
Peter Kasson, School of Medicine, Molecular Physiology & Biomedical Engineering
Individuals vary substantially in their antibody response to COVID-19, both in amount and type of antibodies produced. Peter Kasson's team aims to purify the serum from recovered patients and identify specific antibodies that are most potent against SARS-CoV-2 and to produce concentrated amounts of these target specific antibodies for the treatment of patients with increased potency.
Novel Reagents to Improve Testing for COVID-19 Antibodies
James Zimring, School of Medicine, Pathology
The goal of James Zimring and his team is to develop novel testing reagents to eliminate the problem of cross-reactivity with common coronaviruses and develop a "neutralization reagent" that can be added to any serological assay and any analytic platform for antibody testing, which will eliminate signal from other non-COVID-19 antibodies and improve the accuracy of the test significantly.
Adenosine A2A Receptor Agonists in the Prevention of COVID-19-Related Lung Injury and Systemic Inflammatory Responses
Kenneth Brayman, School of Medicine, Surgery & Molecular Physiology, Infectious Diseases
The main cause of death in COVID-19 is acute respiratory distress syndrome, which is a type of respiratory failure characterized by rapid onset of widespread inflammation in the lungs. Kenneth Brayman and his team aim to test the use of Adenosine A2AR agonists to reduce the mortality associated with COVID-19. This immunotherapy is expected to be used preemptively, in the asymptomatic phase to prevent onset of COVID-19 or in the symptomatic phase, to reverse progression.
Isolation and Identification of Novel T-cell Receptors Responsive to SARS-CoV-2 for the Genetic Engineering of Third-Party T-cells for Off-the-Shelf Therapeutic Use
Daniel Lee, School of Medicine, Hematology/Oncology, Pediatric
Daniel Lee and his team plan to study the T-cell-based immune response from patients who have been infected SARS-CoV-2 to identify viral specific T-cell receptors with the future goal of genetically engineering third-party, allogeneic T-cells with the responsive T-cell receptor, thereby producing an off-the-shelf cellular therapeutic bank for the treatment of subsequent infected patients experiencing severe symptoms. This cell therapy would be especially beneficial for immunocompromised patients infected with COVID-19.
Mass Cytometry to Identify Biomarkers for COVID-19 Severity and Response to JAK Inhibition
Hema Kothari, School of Medicine, Medicine & Cardiovascular Medicine
Cytokine storm in patients has been linked to COVID-19 disease severity. Hema Kothari's team aims to develop a customized diagnostic biomarker assay for early identification of those at risk of a cytokine storm and improve patient outcomes by taking timely action to block cytokines.
COVID-19: Big Data and Analytics for Early Detection of Cardiorespiratory Deterioration
Randall Moorman, School of Medicine, Medicine, Biomedical Engineering and Molecular Physiology and Biological Physics
Randall Moorman's team at UVA Center for Advanced Medical Analytics plans to apply artificial intelligence and big data techniques to the problem of acute and unsuspected clinical deterioration of SARS-CoV-2-infected patients, with the goal to provide continuous risk estimation of imminent deterioration using mathematical analysis of readily available clinical and monitoring data.
Media Contact
Office of the Vice President for Research
Article Information
June 3, 2020
/content/eight-research-projects-receive-funding-manning-fund-covid-19-research