Grayson Katzenbach took her first fencing class at age 14 and never looked back.
Katzenbach, now a third-year student at the University of Virginia, is the reigning state champion in two of fencing's three weapon categories. She won the state's overall points competition in both 2015 and 2016 and is also the first Virginia woman to compete in all three weapons categories – foil, épée and sabre – at the Junior Olympics. She competes both individually and with UVA's Virginia Fencing Club.
The Waynesboro native transferred to UVA this year from Piedmont Virginia Community College, an experience she calls "fantastic."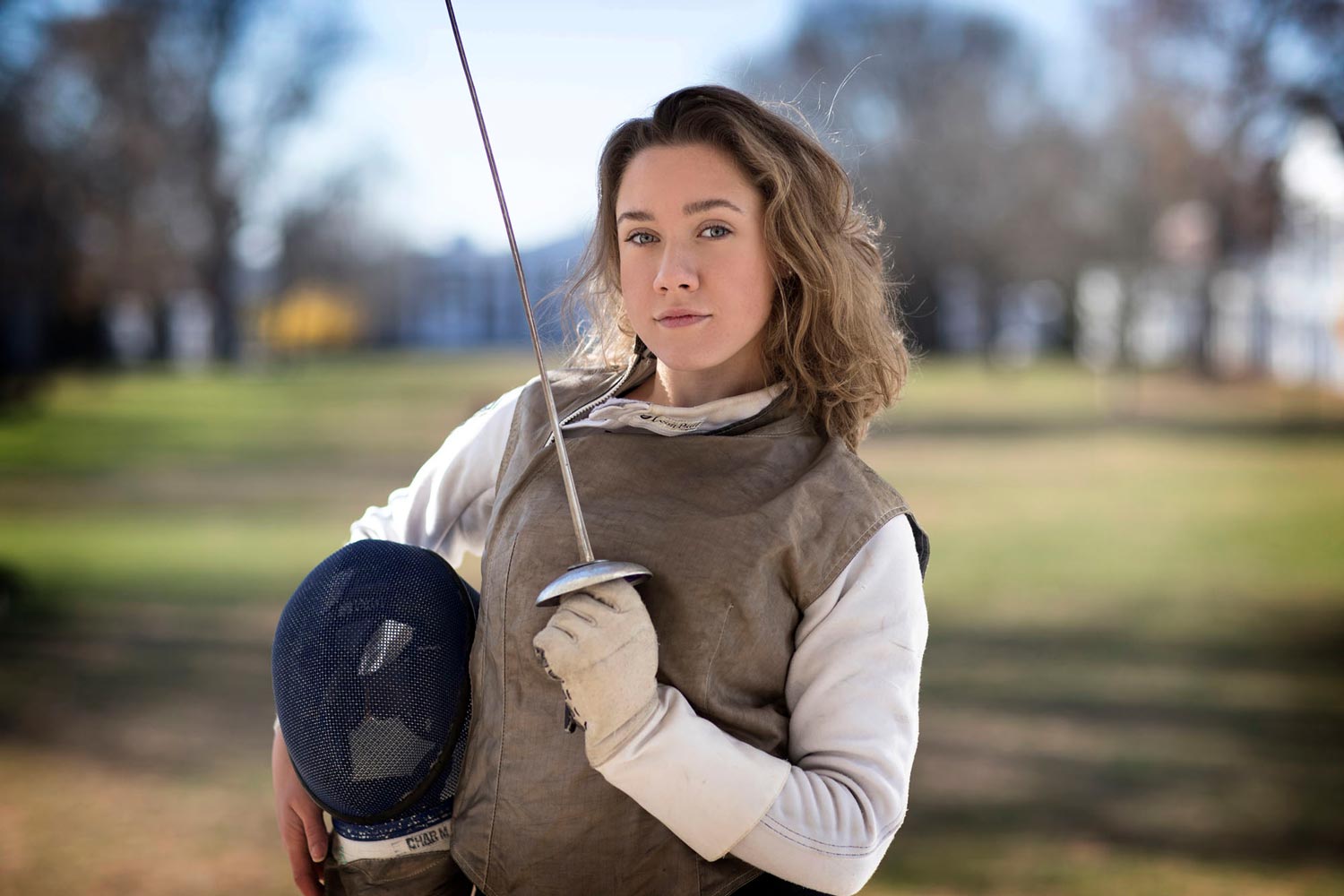 In addition to competing herself, Grayson Katzenbach is a fencing coach and referee for the U.S. Fencing Association. (Photo by Dan Addison, University Communications)
"I've always wanted to go to UVA, and the whole transfer experience, from the preparation I got at PVCC to the events for transfer students or the peer advisers at UVA, has been great," she said.
Katzenbach, who is a member of the Phi Sigma Pi national co-ed honor fraternity, is majoring in sociology and minoring in bioethics. Ultimately, she hopes to pursue work in public health and medical ethics, an interest sparked when she read about Henrietta Lacks, the African-American woman whose cancer cells were reproduced for research without her knowledge.
"I actually initially read the book to win a 'Jeopardy!' game – they were giving away a gift card," she said, laughing. "But it got me absolutely fascinated with this entire realm of bioethics that I did not even know existed."
The same could be said for fencing. Katzenbach, who was home-schooled, knew very little about fencing when she attended that first lesson. Her mother had learned about the class from other parents and thought it would be a good chance for her daughter to try something new.
Despite her inexperience, Katzenbach said she was instantly drawn to the technology behind the sport – which uses conductive vests wired to scoring machines to record exactly when one fencer scores a "hit" – and to the mental stamina required to compete.
"When I am fencing, I have to exert myself mentally just as much as I do physically, often even more so," she said. "I think the mental component of the game is a really beautiful aspect of the sport."
For all her competitive success, Katzenbach is arguably an even better champion for her sport outside the gym. She is a referee for the U.S. Fencing Association and travels around the country to officiate tournaments. Closer to home, she started her own fencing club after she found out that her former club, the Charlottesville Fencing Alliance, would be forced to close in 2016.
Katzenbach used her savings to buy the club's equipment from her coach, James Faine. Then, she started the Valley Fencing Alliance to serve her hometown of Waynesboro, nearby Staunton and the surrounding area in Augusta County. 
"I wanted to bring fencing to places where people might not have as much exposure to it, and to keep the classes as affordable as possible," she said.
Through Valley Fencing Alliance, Katzenbach runs three classes – two for beginners and one for intermediate fencers – and offers summer camps and private lessons. Her classes include both training and education about the history of fencing, which has been an Olympic sport since the first modern Olympic games were held in 1896 in Athens, Greece.
"Grayson is just a great ambassador for the sport, and just the kind of person that you want to talk to – she can brighten up a room when she walks in," Faine said. "She has been helping spread the word about fencing through word of mouth, and now she is teaching her own generation of students."
So far, Katzenbach has introduced more than 200 students to the sport, ranging in age from 8 to over 60. Typically, she said, her students know little or nothing about fencing when they first begin; often their knowledge is limited to the summer camp fencing scene in the 1998 "Parent Trap" film starring Lindsay Lohan.
"I love to see them fall in love with this sport that has done so much for me, and to watch them develop into fully confident fencers," she said. "It's very rewarding to see."
She recalled hearing one boy, who began fencing at age 8, give a speech at his school about the impact the sport was having on his life.
"He talked about how much fencing has done for him," she said. "It was one of my favorite moments and made me realize the impact I had on these kids' lives."
Media Contact
Article Information
November 21, 2017
/content/en-garde-third-year-student-force-be-reckoned-virginia-fencing