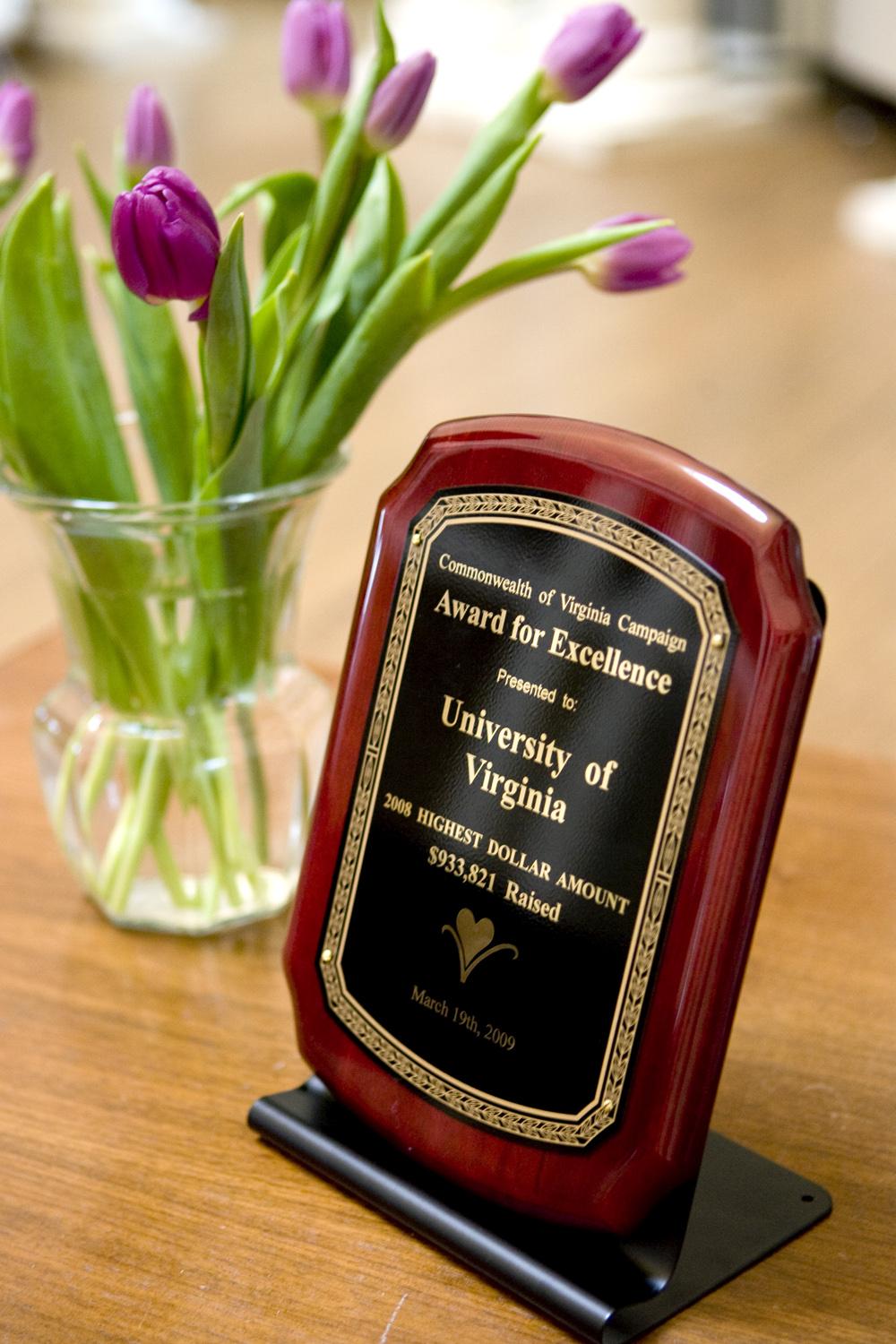 March 23, 2009 — "During these tough economic times, when it's all too easy to pull back and focus on one's own needs, U.Va. employees continued to reach out to the community in record ways," said Ida Lee Wootten, director of the University of Virginia's Office of Community Relations, at Thursday's Celebration of Community Spirit.
The annual event recognized U.Va. employees' commitment to the community through the Commonwealth of Virginia Campaign and the United Way Laurence E. Richardson Day of Caring.
Approximately 3,800 University employees contributed a record $933,700 to local and national nonprofit organizations through the 2008 Commonwealth of Virginia Campaign, surpassing last year's record-setting total by more than $40,000. U.Va. contributions accounted for more than 20 percent of the $4.2 million contributed by employees statewide.
Since 2000, U.Va. employees have contributed roughly $6 million to charity through the campaign, which ran from October through December. 
"In a year that offered so many obstacles to giving, U.Va. employees once again demonstrated their connection to the community through the CVC," said campaign chairman Jim Fitzgerald, U.Va.'s associate director of community relations. "Area charities have come to rely on the generosity of U.Va. employees, both for their financial and volunteer support."
Representatives from two nonprofits — the Jefferson Area Food Bank, which saw contributions more than double over last year, and the Charlottesville Free Clinic, which has been the top choice for U.Va. employee support for a number of years — were on hand at the celebration to remind employees of the value of their contributions.
During the 2008 Day of Caring, held Sept. 17, approximately 1,200 University and state employees completed 100 projects throughout the community.
"The work completed during the Day of Caring is frequently work that the nonprofit or school didn't have the resources to complete on their own," said Careen Waterman, U.Va.'s Day of Caring and Commonwealth of Virginia Campaign administrator. "The time and talent U.Va. employees donate in our area have a tremendous effect on the organization's operation."
Leonard W. Sandridge, U.Va.'s executive vice president and chief operating officer, presented awards to several University units at Thursday's celebration event. U.Va.'s Office of Human Resources was honored for its high-level participation in both the Day of Caring and the Commonwealth of Virginia Campaign. U.Va.'s School of Medicine was cited for its 14 percent increase in money raised through the Commonwealth of Virginia Campaign, and the Office of the Vice President and Chief Information Officer was recognized for substantial gains in both funds raised and employee participation. The U.Va. Medical Center was recognized for its long-standing gains in the campaign, this year accounting for more than half of the total raised through the campaign at U.Va.
The final award of the day, the Heart and Soul Award, given on occasion to recognize an individual with a record of unparalleled dedication and long-term commitment to service, was presented to Tonya Fincham, access specialist/patient access for pediatrics in Orange. Fincham received numerous nominations, all of which detailed her caring spirit and leadership in the campaign.
On March 3, U.Va. received the Award of Excellence from the Virginia Department of Human Resource Management for its outstanding performance in the 2008 Commonwealth of Virginia Campaign.