Eliany Mejia-Lopez was 20 years old and completing her final year of medical school in the Dominican Republic when she met a team of visiting doctors from the University of Virginia who made her think differently about the things she wanted to accomplish in medicine.
The team, which included Drs. Scott Lim, Angela Taylor, John Dent and Robert Battle, was on a humanitarian mission, screening for cardiovascular disease in underserved populations.
Mejia-Lopez decided then and there that she wanted to come to the United States for her residency – and, if at all possible, do it at UVA.
"That interaction with the UVA team changed everything," she recalled. "I remember as a student thinking, 'I want to be as good and as smart as they are.'"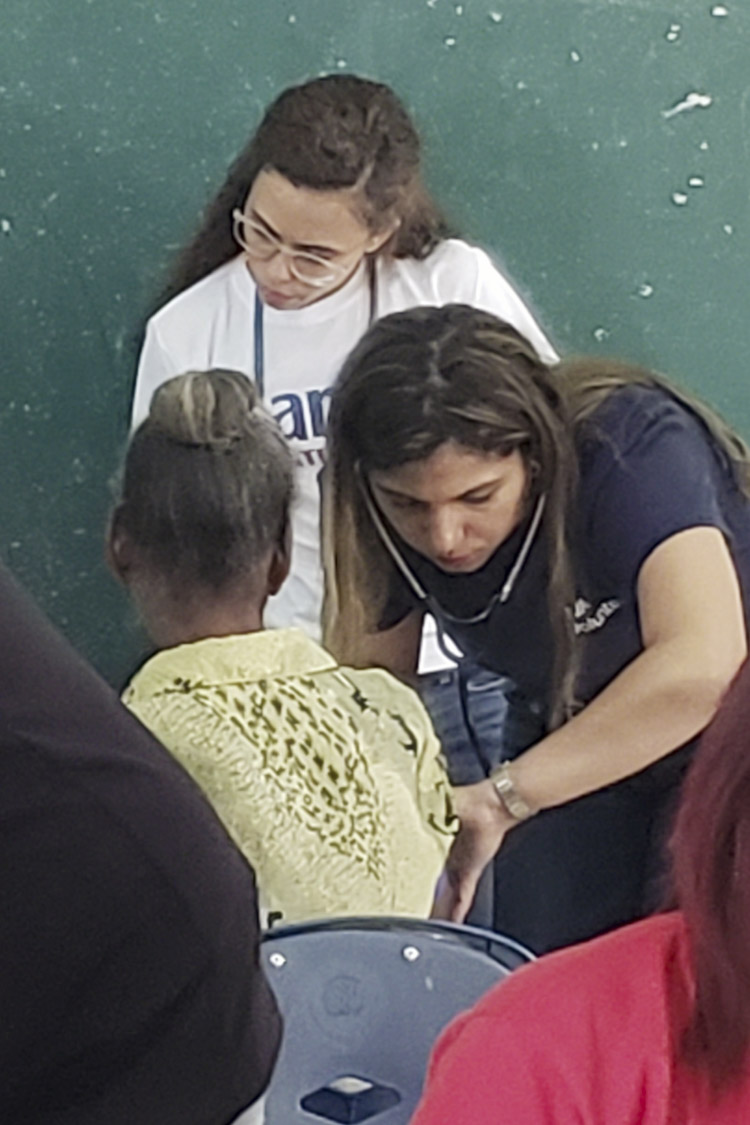 Eliany Mejia-Lopez is trying to take the things she's learned at UVA back to her home in the Dominican Republic. (Photo by Kimberly Chadwell)
Today, Mejia-Lopez is an advanced fellow in clinical cardiac electrophysiology at the UVA Medical Center, who, over the last few years, has returned to her homeland as part of the very team she was introduced to more than a decade before.
"There are so many communities there that don't have access to health care, and because of a lack of resources they can't even get to a doctor or even a clinic," Mejia-Lopez said. "They just don't have the antibiotics or the care that they need to prevent rheumatic valve disease. That happens a lot."
Rheumatic valve disease is a heart disorder resulting from rheumatic fever. Lim started taking doctors to underserved areas to screen for the disorder in 2006. The initiative was subsequently funded by a grant from Edwards Lifesciences, an American medical equipment company whose program, "Every Heartbeat Matters," has a goal of screening 1 million people globally for rheumatic valve disease by 2020.
"One of the driving forces for us is the opportunity to provide teaching to both the physicians involved and the patients themselves, so that they can better manage their own health care needs," Lim said.
Kimberly Chadwell, the technical director of UVA's adult echocardiography lab, took the reins of the team from Lim five years ago. During that time, she has led 15 volunteer trips to the Dominican Republic with cardiology fellows and third-year residents, including roughly a half-dozen with Mejia-Lopez.
"Eliany is committed to the people of the Dominican Republic," Chadwell said. "Since part of our program is the education of local physicians in point-of-care echocardiography, she truly shines as an educator. Her passion to share what she has learned over the past four years at UVA is apparent in all her interactions."
Children who contract strep throat in the Dominican Republic are far more vulnerable to developing rheumatic valve disease than their peers in the United States who have access to health care and antibiotics, Chadwell said.
"They don't have anybody telling them, 'This sore throat is bad,'" she said. "They don't have anybody that is educating them to the right course of action."
On the most recent trip, Chadwell's team evaluated more than 2,000 people, marking its largest screening yet.
"I feel that general health care is a basic human right," Chadwell said. "I think it's unfortunate, whether it's this country, the Dominican Republic or Haiti – where I've also worked – that there are people who go without basic health care. These are people who we often don't think about. It doesn't occur to us to think about these people who live remotely from us. They're sort of out-of-sight, out-of-mind. I think that is genuinely a tragedy."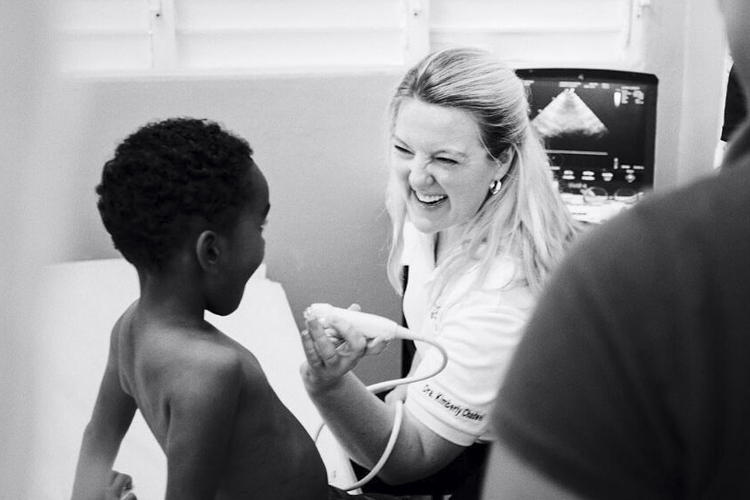 Kimberly Chadwell has made 15 trips to the Dominican Republic over the last five years. (Photo by Mary Carmen Mota)
Chadwell added: "We just want these underserved populations to know that we see them, we hear them, and we want to help, even if it is only by helping one heart at a time."
The program has been so successful that the team is hoping to replicate it in Zambia this fall.
"In the future, I sincerely hope we are no longer needed to perform these charity health care missions in the Dominican Republic, that their own people can shoulder this on their own," Lim said.
Mejia-Lopez, whose parents and two brothers are all doctors, is hoping to be part of that solution. After she finishers her training at UVA, the Puerta Plata native hopes to return permanently to the Dominican Republic and work in the field of cardiac electrophysiology, with a focus on the treatment of arrhythmia.
"The relationships I've developed at UVA will help me to promote and educate people," she said, "and to be able to provide treatment that they currently don't have access to."
Article Information
July 6, 2018
/content/every-heartbeat-matters-dominican-republic-uva-and-back-again