No one has seen a passenger pigeon for more than a century, but many people have heard of them. Once the most numerous bird species in North America, they were said to darken the sky and create thunderous noise when they migrated in flocks of millions. They were shot or netted for sport and especially for dinner. Basically, they were eaten into extinction.: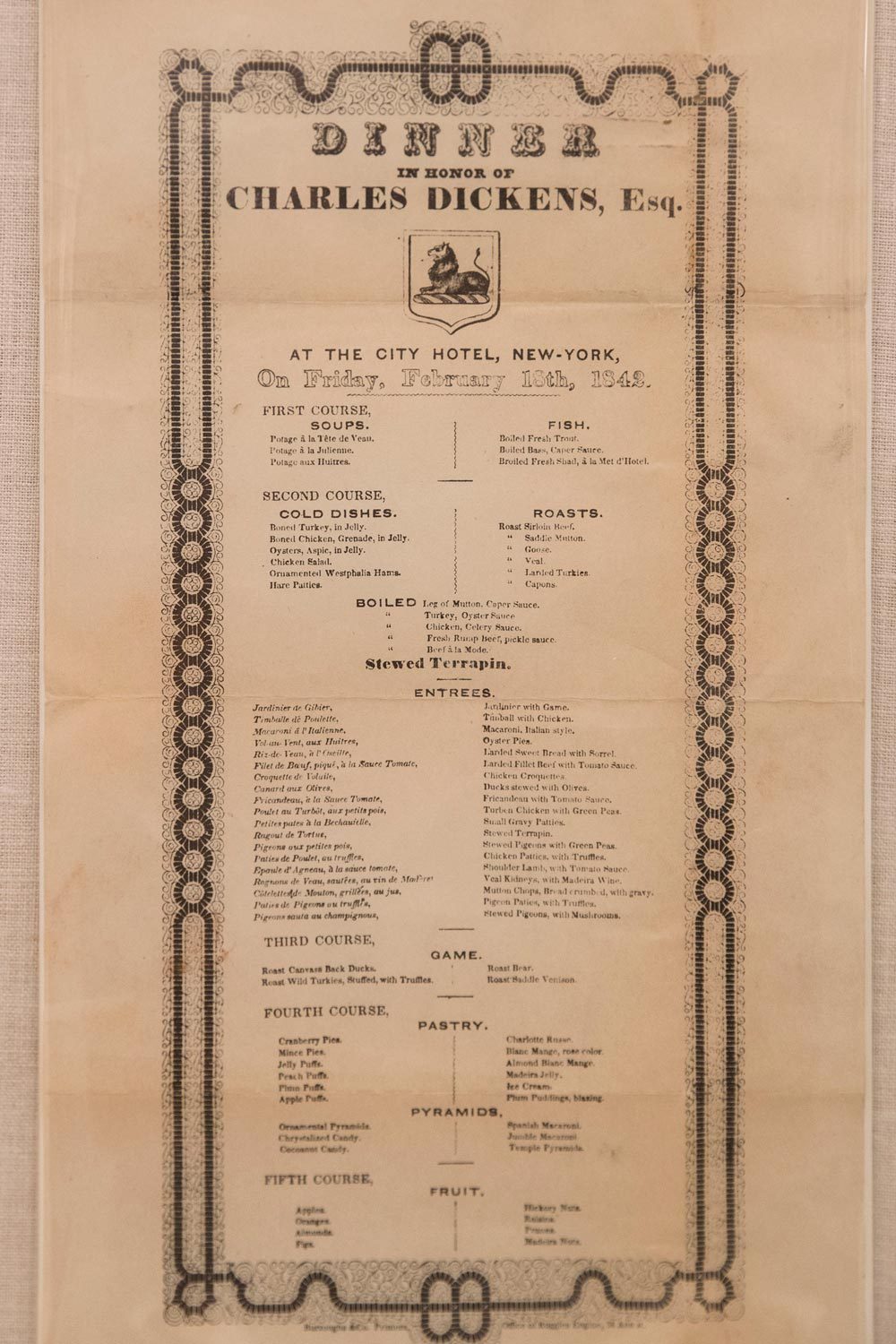 This extensive menu for a dinner honoring Charles Dickens' 1842 tour of America includes stewed pigeons – meaning the passenger pigeon, which was hunted and eaten into extinction.
"This is not only a document about Dickens and his American tour, and about the culinary history of America; it's also a document in the history of extinction and biodiversity loss," said Adrienne Ghaly, a postdoctoral fellow in the College and Graduate School of Arts & Sciences and visiting scholar in the English department.
Ghaly began teaching "Extinction in Art and Literature" as part of the New College Curriculum three years ago. She describes the course as an exploration of "how man-made, or anthropogenic, extinction is being conceptualized and represented in literature, visual art and other cultural artifacts … as an urgent conceptual, representational and ethical problem."
"The current biodiversity crisis is actually hard for most people to see and experience in their everyday lives," Ghaly said.
Last year, she asked several students if they would be interested in participating in a research project to look at the Special Collections Library's holdings and identify materials that document processes of manmade extinction, but often are not understood or catalogued as such, she said. Their work has culminated in the Special Collections exhibition, "Extinction in the Archive," which will remain on display in the first-floor gallery of the Harrison/Small building until Jan. 18.
"This was an involved process, identifying areas of possible interest such as trade catalogs and botanical prints, travel narratives, cookbooks, menus of 19th-century Independence Day dinners, game pieces and books on painters' pigments," Ghaly said of the students' research.
"The main goal of the project was to create an exhibition to raise awareness about our continual complicity in biodiversity loss over the last two centuries," Liv Gwilliam, now a third-year student, said.
While she searched through Special Collections, Gwilliam said, "What was most notable was how conscious people were, even over 100 years ago, about the harm they were doing to animals while they were doing it. This was probably the greatest lesson I learned."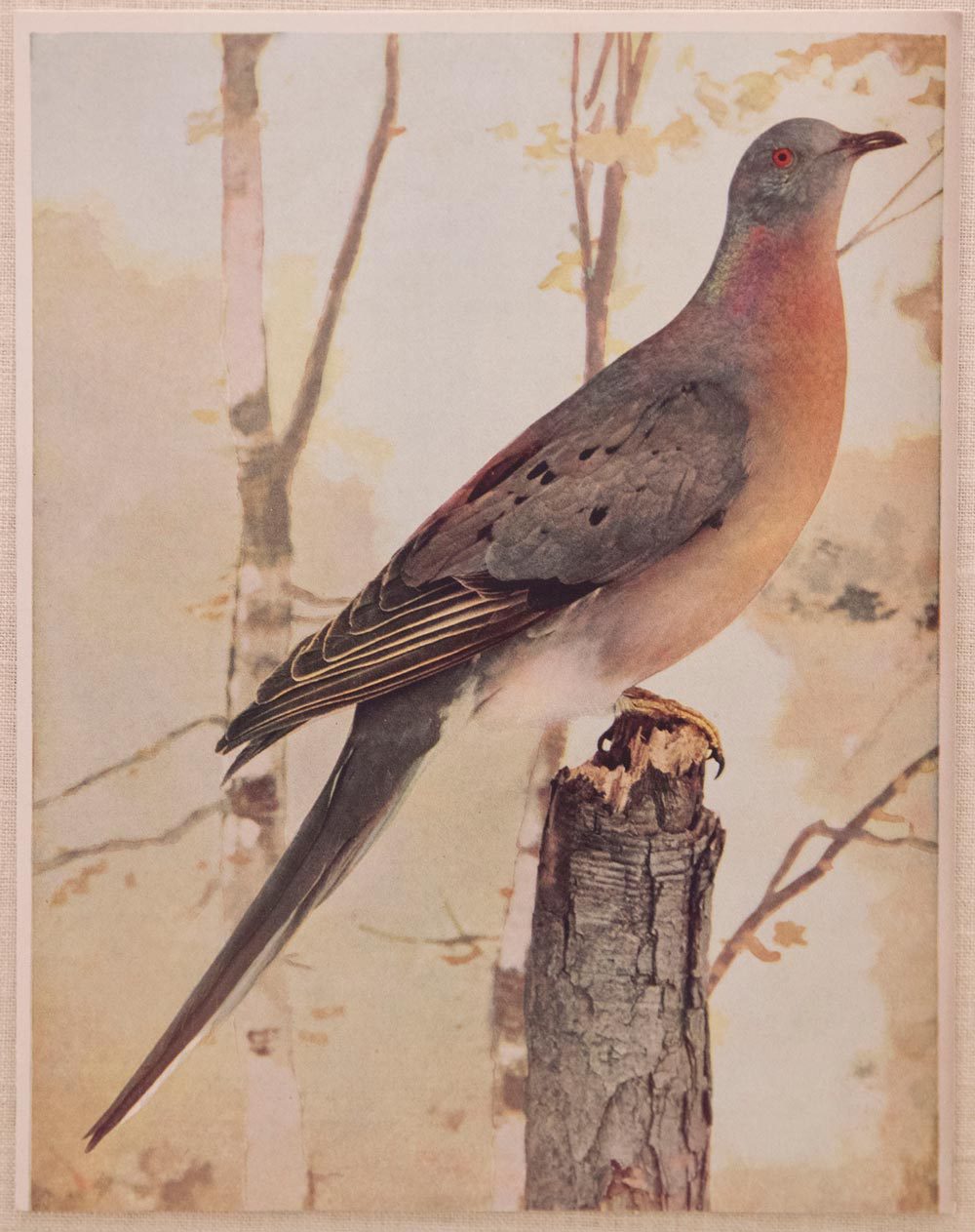 Passenger pigeons were once the most numerous bird in North America, said to darken the sky and create thunderous noise when they migrated in flocks of millions.
For instance, Gwilliam found a letter from a woman who talks about her brother and other family members killing hundreds of wild pigeons.
The letter's author, C.R. Cochran, "notes that they are hunting so many of the birds that they will likely get sick of eating them soon," Gwilliam wrote in an email. "Realizations about overconsumption, overhunting, and unsustainable practices are all over the artifacts we found for the exhibition."
She was "fascinated and passionately saddened by what she learned" about extinction in the course and in her research, said Gwilliam, who is double-majoring in the Global Studies Environments and Sustainability program and also the Frank Batten School of Leadership and Public Policy. "Focusing on the issue from a humanities perspective allowed us to interrogate the ways in which humans interact with and think about animals, and these values and actions are at the root of why we are accelerating biodiversity loss."