The University of Virginia is ranked 10th in a list of more than 200 doctoral institutions receiving Fulbright U.S. Student Awards and is the No. 1 public school in the country, a huge ascent since the University was first named to the list in the 2015-16 cycle.
This is the fourth time in five years and the third year in a row that UVA has been included on the list, and marks the first time the University has broken into the top 10 doctoral schools.
That is due, in large part, to the fact that UVA is working harder than ever to convince greater numbers of students to see themselves as candidates for the Fulbright and other competitive fellowships, said Andrus G. Ashoo, director of UVA's Office of Citizen Scholar Development.
"There are more students who can compete for the Fulbright than do, and we want the students who interact with our office to be representative of the entire student body," he said. "Over the last five years, we have been implementing a philosophy of fellowships-advising that focuses on the development of the students, regardless of the outcome."
The Fulbright U.S. Student Program provides grants for individually designed study or research projects or for English Teaching Assistant Programs. 
This year's ranking is the best in UVA's history. Twenty-two UVA alumni and graduate students received Fulbright awards for 2019-20.
One of those scholars is Joshua King, a first-generation student from Greene County.
King first came to Grounds the summer of 2015, about four weeks ahead of his first year, to participate in a program that supports new students who come from regions that historically do not have many college graduates. Next month, King is heading to a university in Puria, Peru, for a nine-month stay as an English teaching assistant.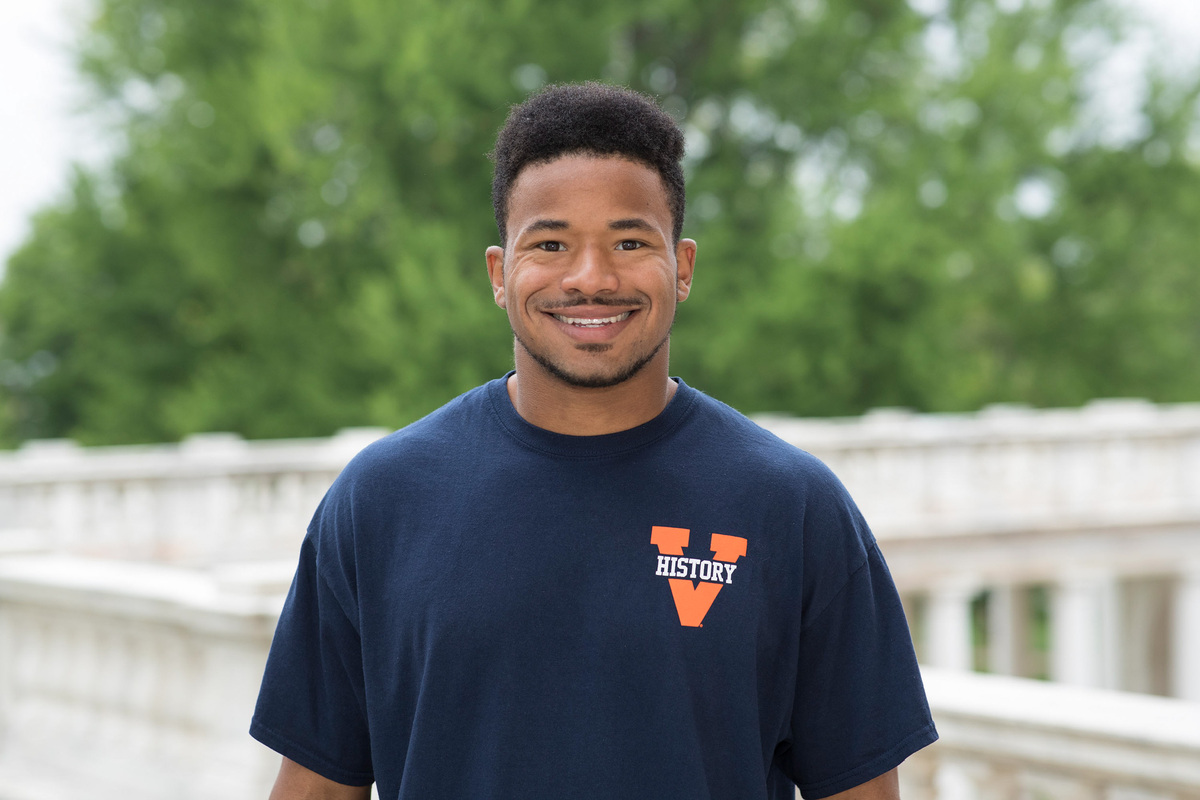 Joshua King, a first-generation student from Greene County, graduated from UVA in May 2019 with degrees in history and Spanish. (Photo by Dan Addison, University Communications)
It's quite the evolution, a fact that is not lost on King, whose father just became a parking valet at UVA Health and whose mother is an EKG technician Sentara Martha Jefferson Hospital.
"It kind of feels like you just climbed the mountain and now you're looking back at it and its beauty," King said. "You're like, 'Oh, wow, that's a beautiful mountain and I'm so glad that I got through it, because there were some hard times in college.'"
King, who graduated in May 2019 with degrees in history and Spanish, said it took about three months to complete his Fulbright application. He received a lot of support from the staff in Office of Citizen Scholar Development, which helps students navigate the application process for scores of fellowships and scholarships, including the Fulbright.
Lisa Grimes, the office's assistant director, is the primary adviser for the Fulbright. King said  both Ashoo and Grimes helped him refine the two required application essays. "One was explaining why you would be a good candidate and the other was about what you would do if you received an award," King said.
Ashoo and Grimes gave helpful feedback that King said made his essays stronger. "I remember one of my drafts was very impersonal, and they were saying 'Joshua, you don't really share anything in your life. You're just listing your résumé,'" he said.
He took their advice and added more of his personal experiences. His hard work paid off and he was awarded one of about 2,000 Fulbrights last spring.
"While we still have work to do, the reason more UVA students and alumni are receiving the Fulbright is simply because we are getting more of them to see themselves as candidates," Ashoo said. "My biggest hope is that this news encourages the students and alumni we have yet to reach to take the risk. The Fulbright can be used for research, graduate study, teaching, arts projects, service and more."
Ashoo encourages students to come to the Office of Citizen Scholar Development's annual Fulbright Forum on Feb. 19 at 5 p.m. in the auditorium of the Albert and Shirley Small Special Collections Library. Former award recipients will discuss their experiences of participating in the Fulbright U.S. Student Award program.
Article Information
February 12, 2020
/content/first-time-uva-breaks-top-10-schools-granted-fulbright-student-awards