Twenty-two University of Virginia alumni and graduate students have received Fulbright Scholarships offering research, study and teaching opportunities in more than 140 countries. This represents the largest cohort of Fulbright recipients from the University in one year.
During their time with the Fulbright U.S. Student Program, these scholars will meet, work, live with and learn from the people of their host countries, sharing daily experiences in the classroom, field, home and in routine tasks. Grantees gain an appreciation of others' viewpoints and beliefs, modes of being, and ways they think. Through engagement in the community, grantees will interact with their hosts on a one-to-one basis in an atmosphere of openness, academic integrity and intellectual freedom, thereby promoting mutual understanding.
"Many of this year's applicants took part in peer essay review sessions where, in addition to hearing different reactions to their projects and writing, they met new people and, I hope, made some new friends," said Lisa Grimes, assistant director of the Office of Citizen Scholar Development, the fellowships office of the University of Virginia. "The conversations were lively as well as thoughtful. I was impressed by the insightful feedback they offered and their openness to hearing feedback from others, and I hope to offer more opportunities for this kind of work." The staff of the office is already preparing students for the next round.
The Fulbright program gives recipients an opportunity to further their research, practice their teaching and meet new people in a wide array of settings.
This year's Fulbright recipients are:
Shree Baphna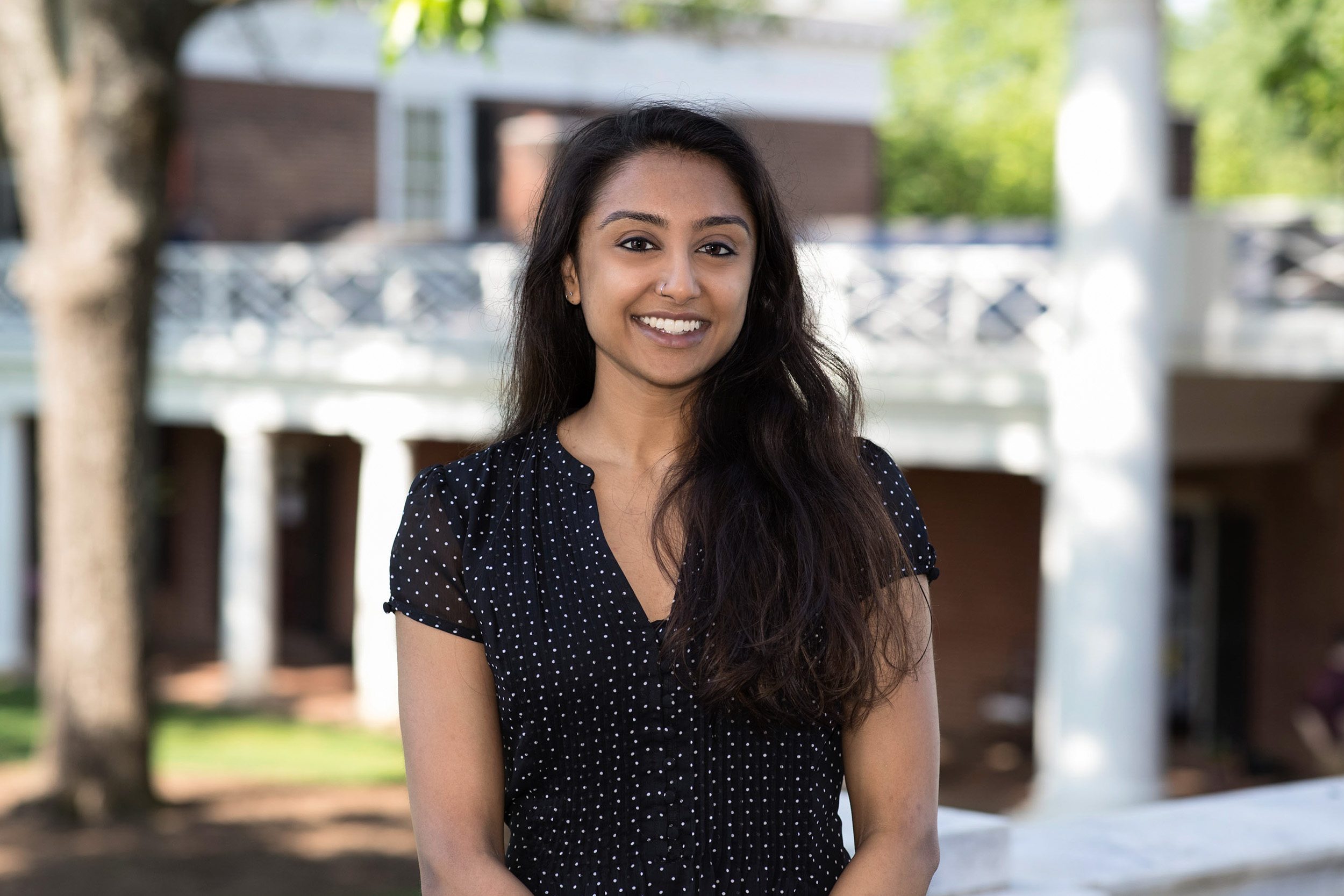 Shree Baphna of Singapore, a double major in studio art photography and sociology who graduated in May, will teach English in Malaysia. She plans to document her experiences through photography and involve her students in creative activities outside the classroom.
"I think of it as a way for me to understand the power and value behind immersion," Baphna said. "My future career in public health may involve attempting to understand the experience of other people so that I can figure out what is the best way to help them access the resources they need. For that, I need to have knowledge on how to best communicate with them. More so than that, I must learn how to understand the people I am working with so as to respect who they are and where they come from."
Baphna was a resident adviser for Housing and Residence Life; a facilitator for the Asian Pacific American Leadership Training Institute; a Madison House volunteer and life columnist for the Cavalier Daily, the independent student newspaper. A graduate of the Indus International School in Bangalore, India, Baphna later plans to work as a research assistant at an NGO in Bangalore, India.
"I will be doing research work in women's health, health advocacy and studying social determinants of health outcomes," Baphna said. "I do intend on applying for a master's in public health within the next three years."
John Barton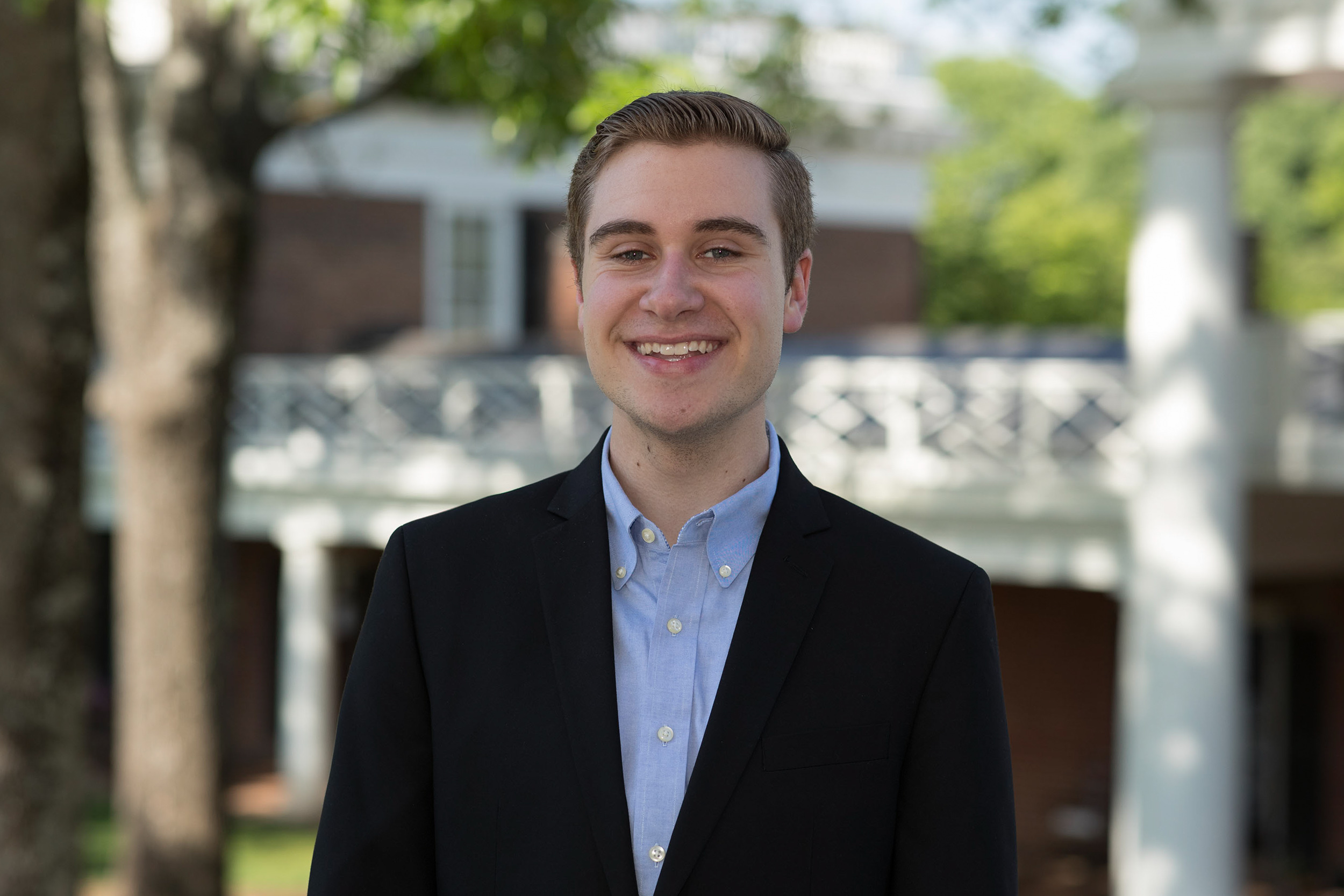 John Barton of Richmond, a three-year double major in global development studies and Latin American studies with a minor in urban and environmental planning who graduated in May, will teach English in Argentina. While there, he wants to use photographs and interviews to showcase the physical space of his community and the people who live within it.
"I will be teaching English to university students in Argentina rather than conducting a formal research project," he said. "For my supplementary side project, however, I will complete a photo essay documenting Argentine people and landscapes, accompanied by personal anecdotes told to me by Argentines I interview. My inspiration for this project was Humans of New York."
A resident adviser for two years, Barton was a senior associate for the Spanish Translation section of the Cavalier Daily; a core group leader in Chi Alpha Christian Fellowship; a volunteer as an English as a Second Language teacher through Madison House; and a ULink Peer Adviser. He was a member of Sustained Dialogue; the Global Development Organization; Sigma Delta Pi, the National Collegiate Hispanic Honor Society; and National Residence Hall Honorary. A graduate of Westminster Academy, he plans to pursue a graduate degree in anthropology and eventually enter into a career in development as a social researcher or diplomat.
"Whether as an anthropologist or a foreign service officer, responsible and respectful cross-cultural engagement will be the crux of my life's work," Barton said. "This grant is an opportunity for me to continue the engagement which I have already begun with Latin communities in a more long-term way. Rather than spending only a few weeks or months immersed in another culture, this Fulbright will allow me to spend at least a year living alongside Argentines, learning from them through personal relationships, professional development and individual interests."
Mariana Brazao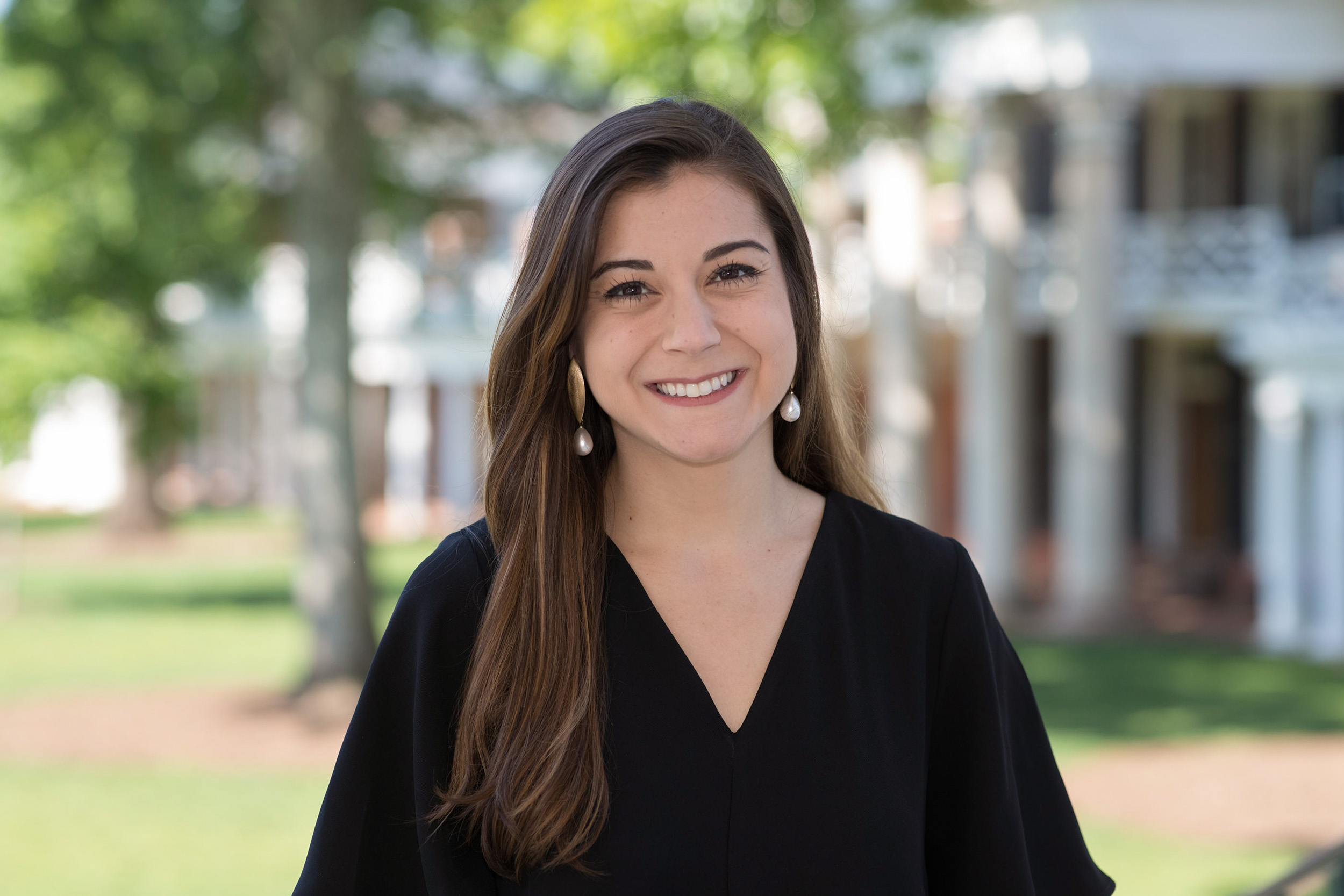 Mariana Brazao of Sterling, who graduated in May with double major in Latin American studies and foreign affairs with a minor in Portuguese, is using the Fulbright to continue the work she started with a distinguished majors program undergraduate thesis, analyzing the impact of the 2018 exhibition "The Indigenous Benches of Brazil" by Coleçao BEI in São Paulo on the promotion of the indigenous political cause in Brazil.
"The indigenous benches are literally benches used as chairs or stools for the indigenous populations in their villages," Brazao said. "These benches are a common and collective craft exercised by the several indigenous populations in Brazil, noting that they have an ancestral origin. One of their myths actually explains the creation of their universe as through the act of sitting on one of these benches."
An Echols Scholar, Brazao has worked as an undergraduate research assistant for Daniel Gingerich, a professor in the Department of Politics and Eli Carter, a professor in the Department of Spanish, Italian and Portuguese. She is a graduation committee member on the Fourth-Year Trustees; Third Year Council marketing chair, First and Second Year Council marketing committee member; honor support officer and honor committee representative for the College of Arts and Sciences; and public relations chairman of the Sigma Kappa Sorority.
She was a recipient of the Catherine Underwood Murray Scholarship; the Latin American Studies Department Travel Grant; the Quandt International Research Fund Grant; the Parents Fund Internship Grant; the Koch Fellowship; the Ingrassia Family Research Grant; the College of Arts & Sciences Small Research and Travel Grant; the Faculty Global Research with Undergraduates Grant from the Center for Global Inquiry+Innovation; the College of Arts & Sciences Deans List Scholarship and Intermediate Honors.
She is a member of the Raven Society and Pi Sigma Alpha, the National Political Science Honorary Society and has been published in the Wilson Journal of International Affairs. She tutored Charlottesville community members in Portuguese at Speak! Language Center. A graduate of the Potomac Falls High School, she wants to work at a think tank, continuing her work on Brazil.
"I then plan to go back to school and get my masters or doctorate in Brazilian studies focusing on this research I have started," Brazao said. "I plan to devote my career to promoting a strong bilateral relationship between the United States and Brazil focusing on cultural diplomacy techniques."
Kennedy Castillo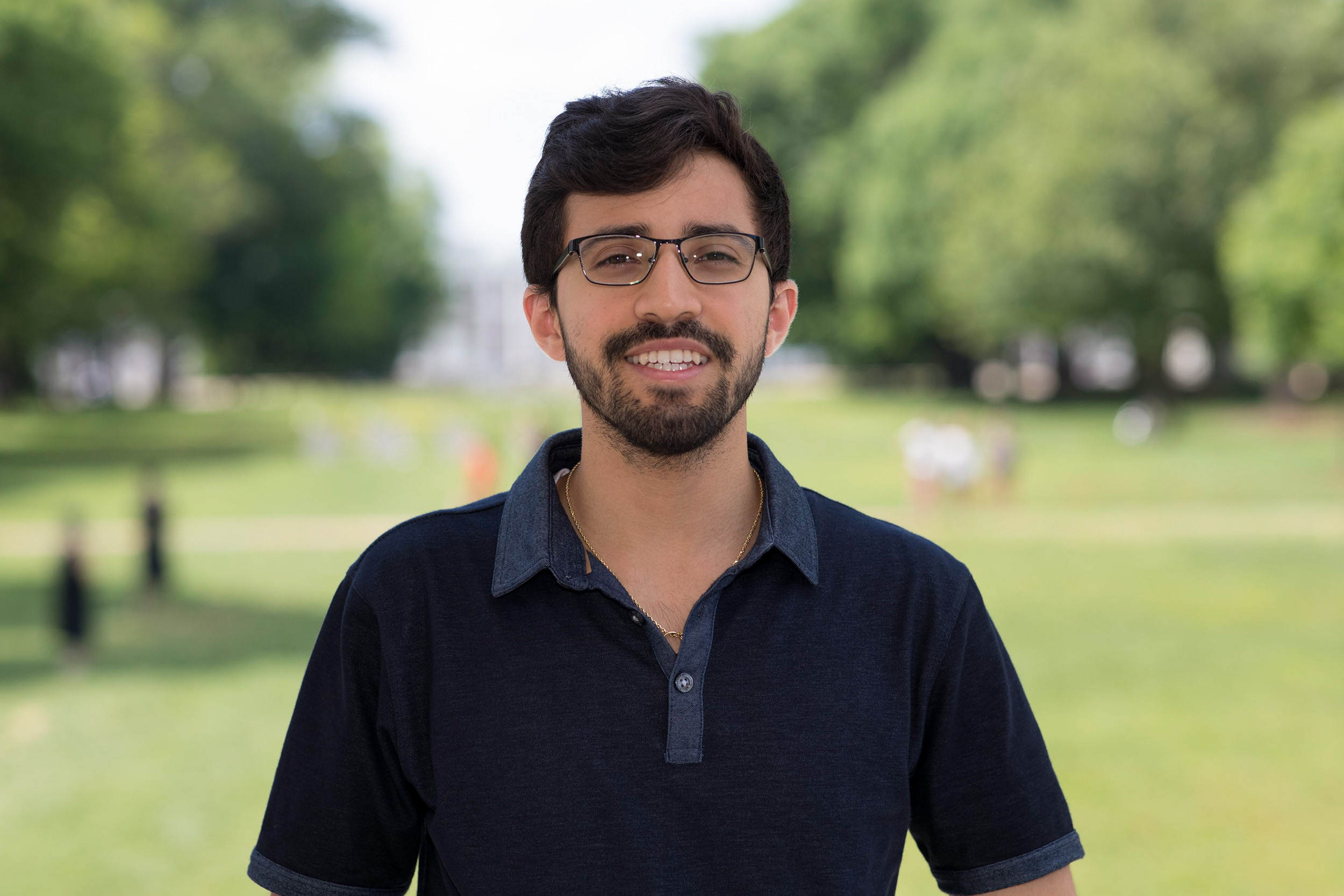 Kennedy Castillo of Pasadena, Texas, a second-year masters' student concentrating on linguistics, with special attention to the interaction of language and culture, will begin documentation of the rural sign language Cena in the small community of Várzea Queimada in the northeastern Brazilian state of Piauí by making video recordings featuring signed narratives, conversations and word lists.
"I will be documenting an emergent, unique sign language in a small town in northeast Brazil," Castillo said. "With a Fulbright, I will finally have a chance for long-term field research in a subject area I am quite interested in, all while being in one of my favorite countries, Brazil."
A teaching assistant in both linguistics and media studies, Castillo has participated in the Rare Book School as a presswork fellow, learning how to operate an 18th-century style printing press. A graduate of Deer Park High School and Washington and Lee University, with a degree in sociology and anthropology, he plans to pursue a Ph.D. in linguistic anthropology.
Carmen Garcia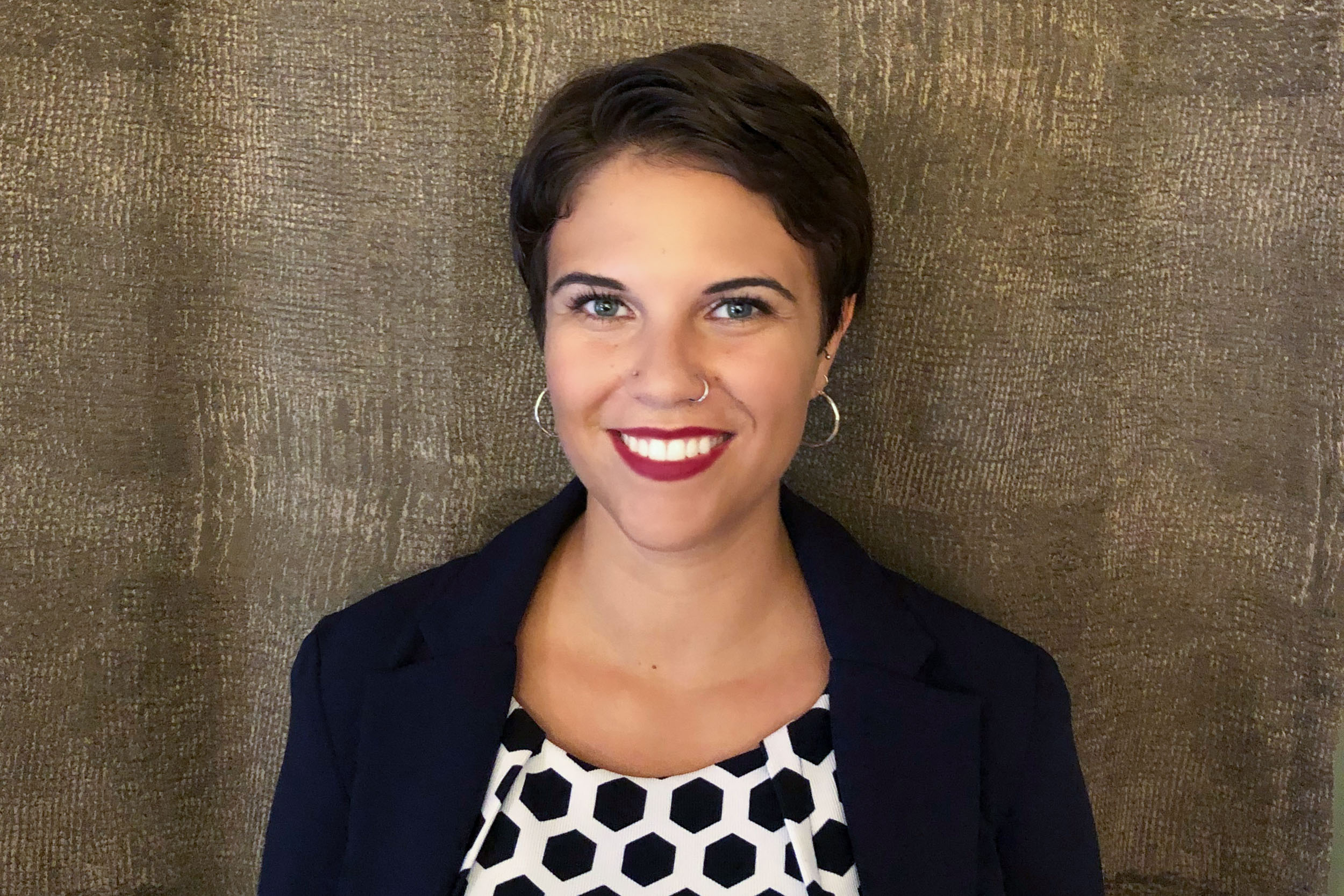 Carmen Garcia of Sterling, a May 2018 graduate with degrees in Spanish, with a concentration in literature and culture and Latin American Studies, will teach English in Colombia. Outside of her teaching duties, she plans to continue studying violin and join an ensemble as well as volunteer with a program serving at-risk youth in the community.
"A Fulbright fellowship perfectly ties together my interest in Latin American culture and desire to teach English abroad," Garcia said. "In an era of division and animosity, enhanced communication is more crucial than ever. As an English Teacher Assistant, I will not only be functioning to improve the lives of the individuals in my classroom, but to increase compassion and mutual understanding worldwide. I also look forward to serving the community of Santa Marta, a Caribbean town where many Venezuelan immigrants have taken refuge from the political turmoil in their own country."
Garcia is a member of Sigma Delta Pi Spanish Honor Society; participated in Medlife, the Peru service trip; was an intern at the International Studies Office; a peer mentor for Hispanic/Latinx students; a Madison House volunteer at the International School of Charlottesville; social chair of the Sigma Delta Tau sorority; a violin student of Professor Balija and a member of his string chamber group. Garcia received an International Teach English as a Foreign Language Academy certification to teach and was a VIPKid English instructor and a Global Leadership Adventure mentor. She has also worked as an academic tutor for Educational Connections. A graduate of Potomac Falls High School, Garcia plans to gain additional research experience abroad, obtain a translator certification and pursue a Ph.D. in Hispanic Studies
Garcia wants to get further experience as an English instructor as well as expand her cultural understanding of Colombia.
"A great deal of my undergraduate studies in literature revolved around the works of Gabriel Garcia Marquez, Colombia's most notable author, and the genre of magical realism," Garcia said. "I look forward to understanding firsthand the sources of his inspiration and the political history that served as the backdrop for many of his classic works."
Madison Hecht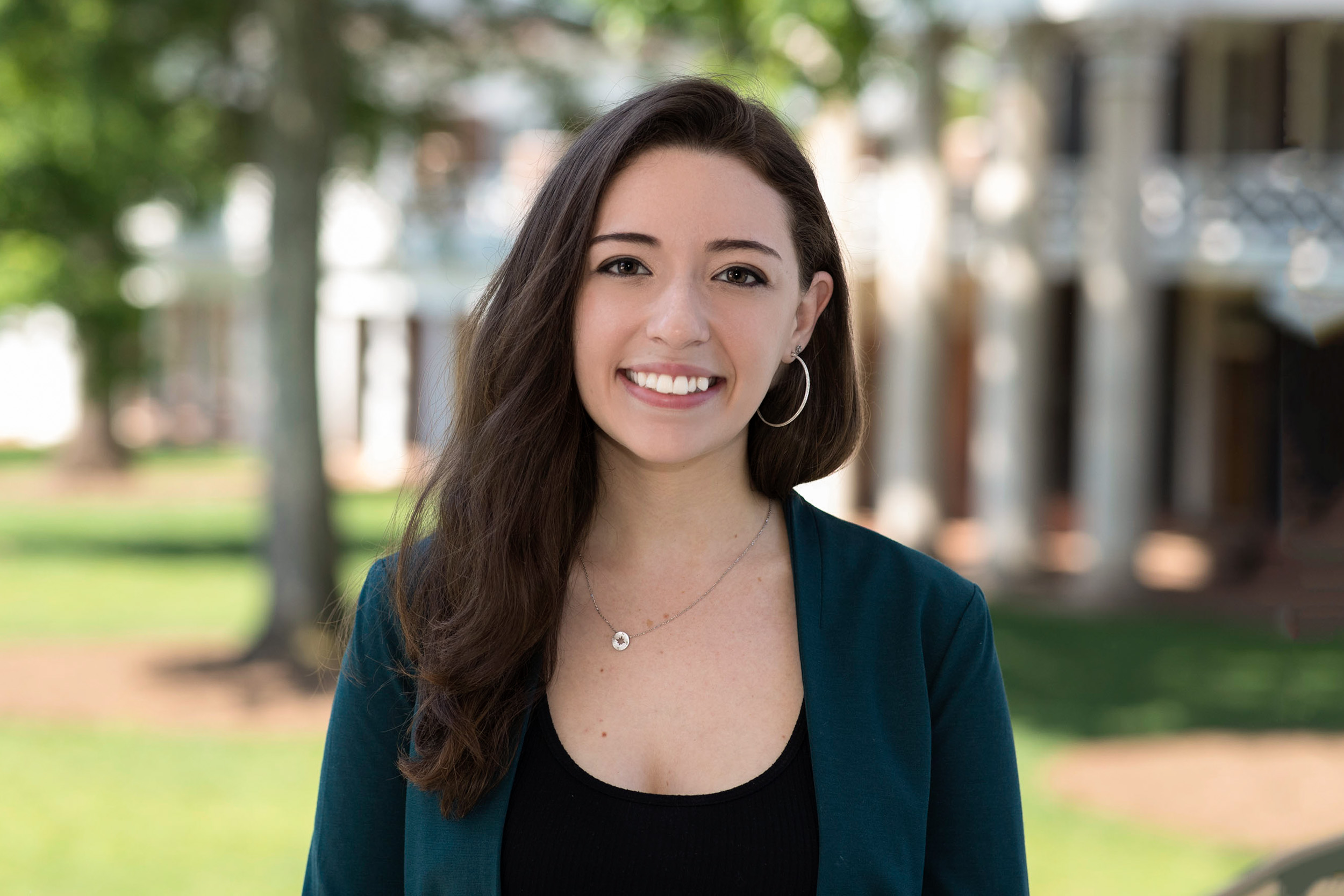 Madison Hecht of Cincinnati, Ohio, a May graduate in of neuroscience distinguished major program and English with a minor French, will conduct field research in educational psychology, focusing on the increased risk of sexual victimization experienced by, and the effectiveness of health education with, autistic adolescents in Sydney, Australia.
"Autistic people are particularly at risk for sexual victimization, and my project examines a possible protective factor in the sexual health of autistic people — effective sexual health education," Hecht said. "While working with several autistic self-advocates to ensure my study reflects the needs and values of the autistic community as closely as possible, I will interview parents, teachers and autistic adolescents to better understand the challenges experienced by autistic adolescents regarding sexual health. I will then assess the effectiveness of the national Australian health curriculum in supporting those needs."
An Echols Scholar, Hecht was program director of medical services at Madison House; a Harrison Undergraduate Research Award recipient; president of Contemplation at UVA, a student group that supports healthy living and resilience through contemplative practices like yoga and meditation; senior writer for the Cavalier Daily Health and Science Section; an Ingrassia Family Research Grant Recipient. A graduate of Indian Hill High School, Hecht plans to work in academic medicine as a neurodevelopmental pediatrician or child neurologist, able to investigate issues directly applicable to and desired by the autistic community.
"The opportunity to pursue research through the Fulbright grant is unparalleled and the experience will kickstart my future career as a physician-scientist," she said. "Yet, on a more personal level, receiving this scholarship allows me to gain a greater understanding of neuro-diverse communities outside of the U.S., make new autistic friends and encounter new perspectives."
Claire Hungar

Claire Hungar of McLean, a May graduate with a double major of English and sociology with a minor in American Sign Language, will teach English in Romania. She also wants to volunteer with ministries that work with orphaned children and their adoptive families and learn about Romanian Sign Language.
"Receiving a Fulbright enables me to explore another country and culture and represent the United States to Romania," she said. "I will be teaching at a Romanian university as well as engaging in outreach to the deaf community in Romania. This ties into my interest in disability law as well as my minor in American Sign Language."
An Echols Scholar, Hungar is a member of Phi Beta Kappa, the Raven Society, and the Phi Eta Sigma honor society. She was a support officer and outreach coordinator on the Honor Committee; a volunteer with Rise Together for Madison House; vice president of outreach for the Parliamentary Debate Society; a content tutor for the Cavalier Academic Support Team; a research assistant for Brad Wilcox and the National Marriage Project at UVA; and the recipient of the 2017 Wagenheim Prize for Best Literary Essay. A home-schooled student, Hungar plans to pursue a career in law, possibly disability law, education and healthcare policy.
 "I have always wanted to fully immerse myself in another culture and take myself out of my comfort zone," Hungar said. "Fulbright is the perfect opportunity to do this, to expand as an individual and to learn about myself and others. I have always wanted to return to Romania after a brief visit in high school, as I was incredibly touched by the people I met there."
Hungar is also drawn to Romania's deaf community.
"As someone who has lived in full immersion ASL housing for the last two years, I have a deep appreciation for the deaf community in the United States and desire to learn more about the community in Romania," she said. "This is truly a dream come true."
Matthew Johnson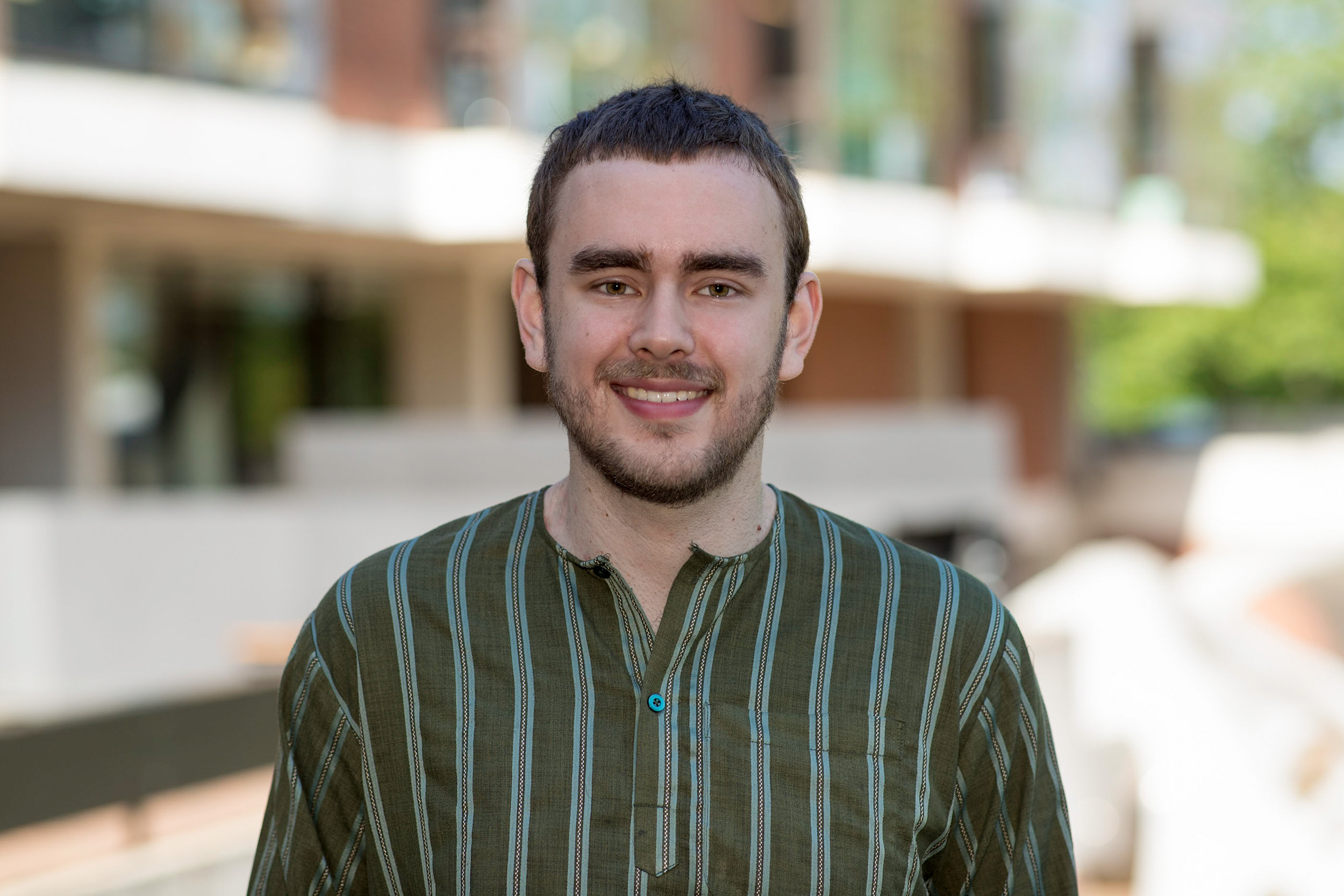 Matthew Johnson of Chesapeake, a 2017 School of Architecture graduate, will work with a team of architects, engineers and computer scientists at RWTH Aachen University in Germany to develop a method for 3-D printing concrete structures using modified construction machinery.
"I am studying architectural robotics, a sub-field that sits in between architecture, engineering, computer science and the natural sciences," Johnson said. "New technologies are poised to transform how we design and build our surroundings, with big environmental, social, economic and design implications."
Johnson was a member of the Cavalier Marching Band; the Living Stones Christian Fellowship; and the Association for Robots in Architecture. He was a recipient of Kyle Francis Kauffman memorial scholarship and Intermediate Honors. A graduate of the International Baccalaureate program at Oscar Smith High School, Johnson plans to pursue a master's degree in integrative technologies and architectural design research at the University of Stuttgart after which he may seek a Ph.D. He is weighing an academic career or robotic construction in the private sector.
"The Fulbright will allow me to gain research experience and familiarity with the European community of architectural robotics researchers before I begin my master's study," Johnson said. "It will allow me to enter into this community with greater knowledge and preparation than if I had simply dove into a European master's program."
Joshua King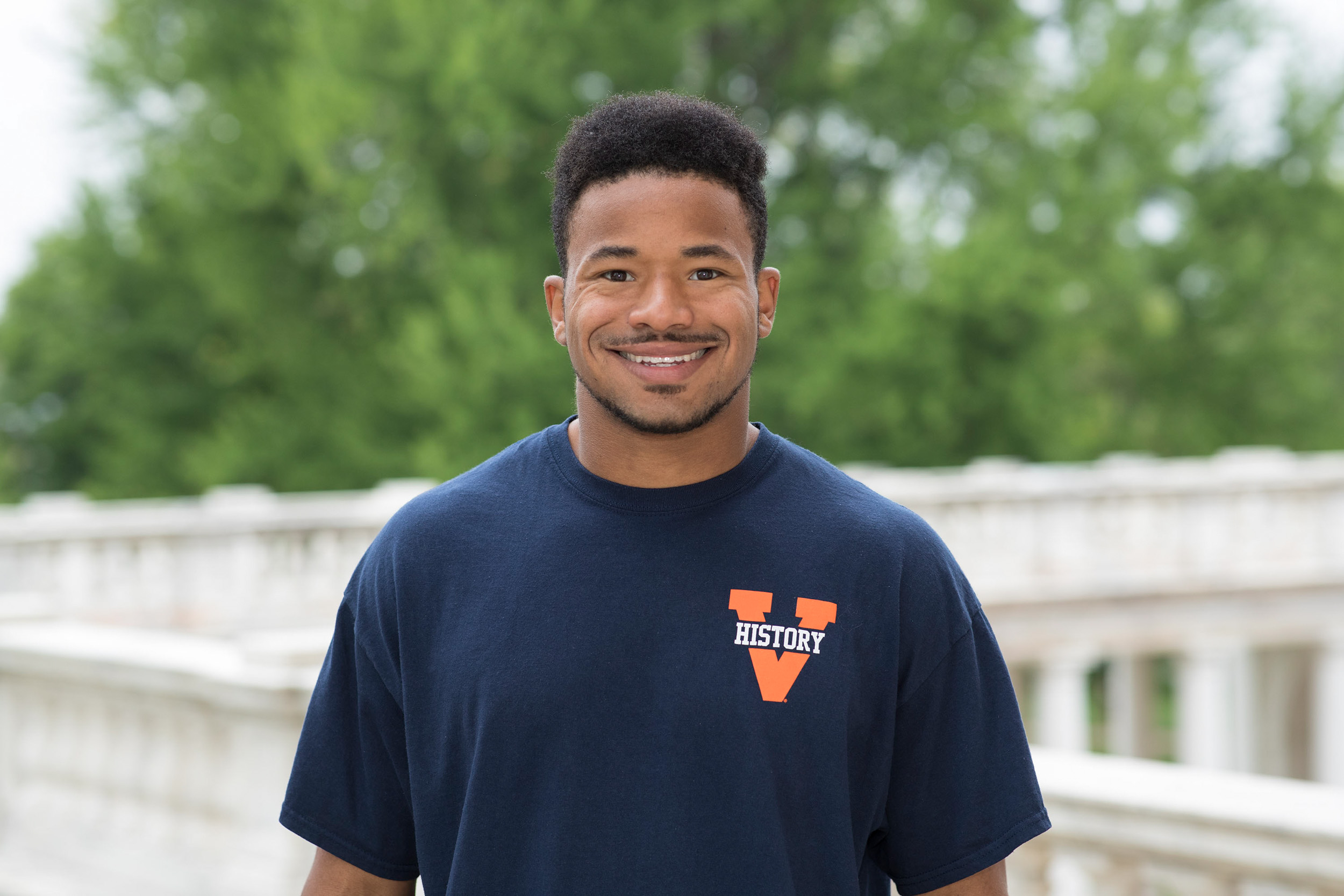 Joshua King of Greene County, who graduated in May with degrees in history and Spanish, will teach English in Peru, where he plans to use his experience playing piano and guitar to help him integrate into his host community.
"This scholarship is a clarification process," King said. "I am not sure what I want to do long-term, but I know I want to use Spanish in my future career. Being an ESL teacher in Peru will be a great avenue for me to improve my Spanish and see if a career in ESL is right for me."
King was a member of the OneWay Christian Fellowship; and Black Voices. He was an Upward Bound tutor; participated in the UVA Triathlon; was a pianist for the Ebenezer Baptist Church in Charlottesville and a Vineyard Church Pastoral intern. A graduate of William Monroe High School, he is considering graduate school for a teaching degree and certification as an ESL teacher.
"After studying abroad in Spain, I started looking for opportunities to travel to Latin America to broaden my perspective of Spanish culture," he said. "When a friend recommended Fulbright to me, it seemed like the program right for me. It allows me to travel to Latin America as give me an opportunity to develop my skills in teaching."
Adam Carter Liddle
Adam Carter Liddle of Columbus, Ohio, a third-year Ph.D. religious studies student concentrating on Tibetan Buddhism, will explore the ways Indian and Tibetan Buddhism have historically used sound and sonic imagination as a foundational medium for theory and practice by translating and analyzing texts at Namdroling Monastery in Bylakuppe, India.
"Stemming from my background as a musician and ethnomusicologist, I have always been fascinated by the ways sound can shape our world," Liddle said. "This led me to look at several key 11th and 12th century Tibetan Buddhist texts which offer a unique view of how sound creates the world, encompasses the divine and can be used to transform ourselves."
Liddle is a recipient of the Foreign Language and Area Studies Fellowship. A graduate of Bowling Green State University and Upper Arlington High School, Liddle plans to be a professor of religious studies.
"The Fulbright fellowship is known for its excellent scholarship and ability to help researchers achieve their goals abroad," Liddle said. "This research funding enables me to act on a unique opportunity to study with top scholars within the living tradition of Tibetan Buddhism and discuss these foundational texts and ideas."
Carl Liles
Carl Liles of Marshall, a 2017 graduate of the Frank Batten School of Leadership and Public Policy with a double major in leadership and public policy, Russian and Eastern European studies and a minor in Russian language and literature, will teach English in Kyrgyzstan and engage with the health care provider community.
"Receiving an English Teaching Assistant fellowship to serve in Kyrgyzstan is an opportunity for me to continue to help develop English language education at the university level," Liles said. "I'll be building off of my prior career and cultural experience in my last two years of being in Kyrgyzstan."
Liles was the social chair of the Batten Undergraduate Council; served as Cavman in 2016 to 2017; and was recipient of the 2017 Frank Batten Pioneer Award; a language scholarship to ROTC Project GO, a federally-funded Department of Defense Initiative for language learning; and a Wallerstein-UIP Scholarship for a summer internship. A graduate of Wakefield Country Day School, Liles is unsure of what career he will pursue.
"The ETA fellowship is a fantastic chance to teach and explore abroad," Liles said. "Kyrgyzstan sits at a crossroads between East and West and possesses a fusion of cultures that is difficult to find anywhere else in the world."
Justin Anthony Mann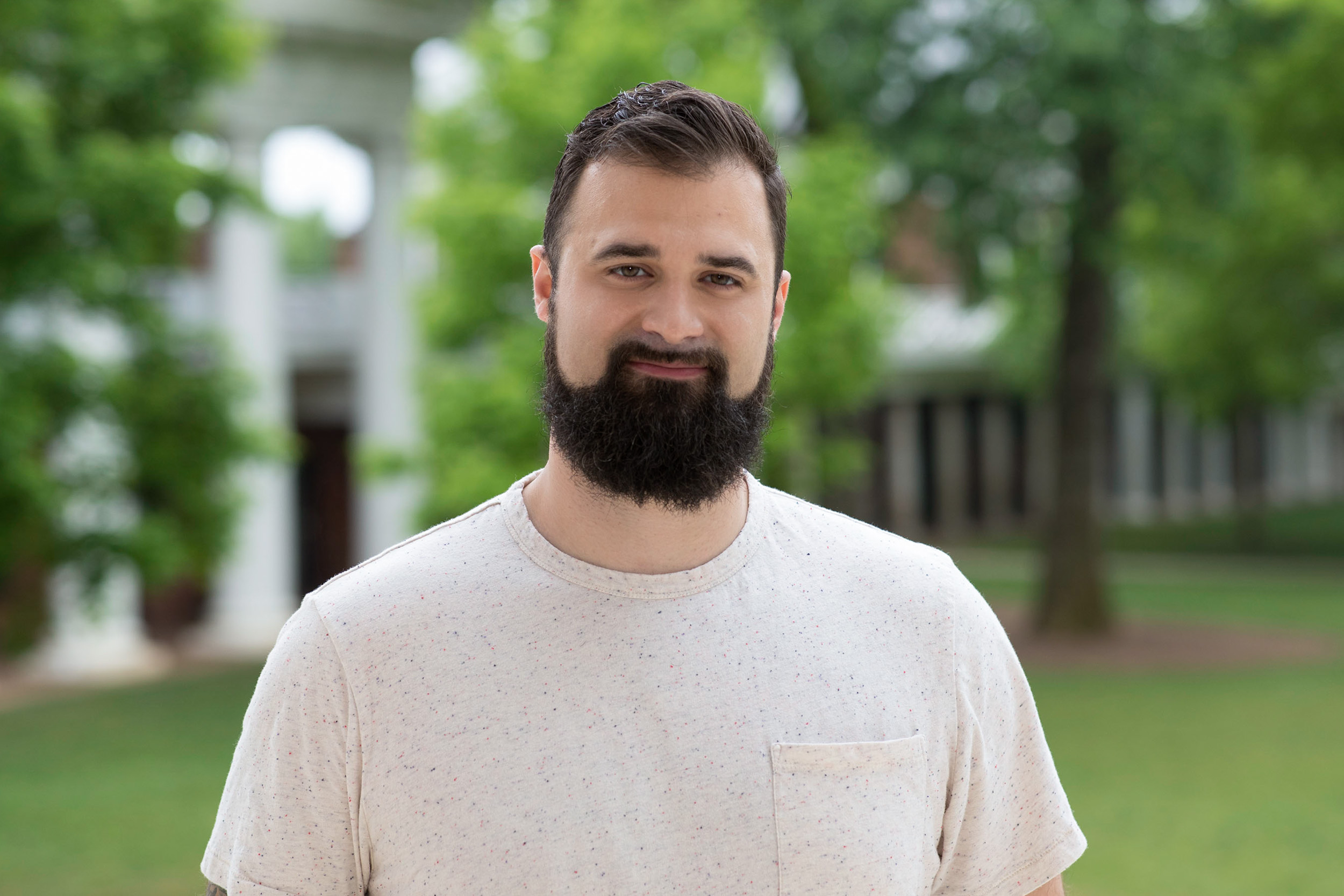 Justin Anthony Mann of Oshkosh, Wisconsin, a Ph.D. candidate in Mediterranean art and archaeology, will study the processes by which Middle Byzantine monasteries rose to prominence in central Greece through their multi-level construction, maintenance and exploitation of the landscape.
"Within the Byzantine Empire, the monastery as an institution had the potential to be far more than an isolated religious community," Mann said. "Using concepts grounded in archaeology, anthropology and human geography, my research will explain the rise of the monasticism in central Greece during the Middle Byzantine period (ca. 843-1204), using an interdisciplinary framework that focuses on the interaction between monastery and landscape." 
Mann said the Byzantine Empire has always struck him as an enigma.
"It was the cultural inheritor of Rome and a key part of history for modern Greece," he said. "Yet, it does not receive the attention of the Classics. The Byzantine monastery, in contrast, still remains an active institution. I think the questions that archaeology as a discipline asks can bring a lot to the study of an ancient empire and medieval monasticism."
Mann is the recipient of the Mellon Doctoral Recruitment Fellowship; the Buckner W. Clay Fellowship; the ECU Best Master's Thesis in the Humanities. A graduate of University of Wisconsin – Oshkosh with a bachelor's degree in 2013 and East Carolina University with a master's degree in 2016, he plans a career in academia.
"The Fulbright Research Scholarship will provide crucial funding for my dissertation project over the next year," he said. "In addition, it will allow me to tap the vast experience inherent in the Fulbright alumni network."
Kate McGinn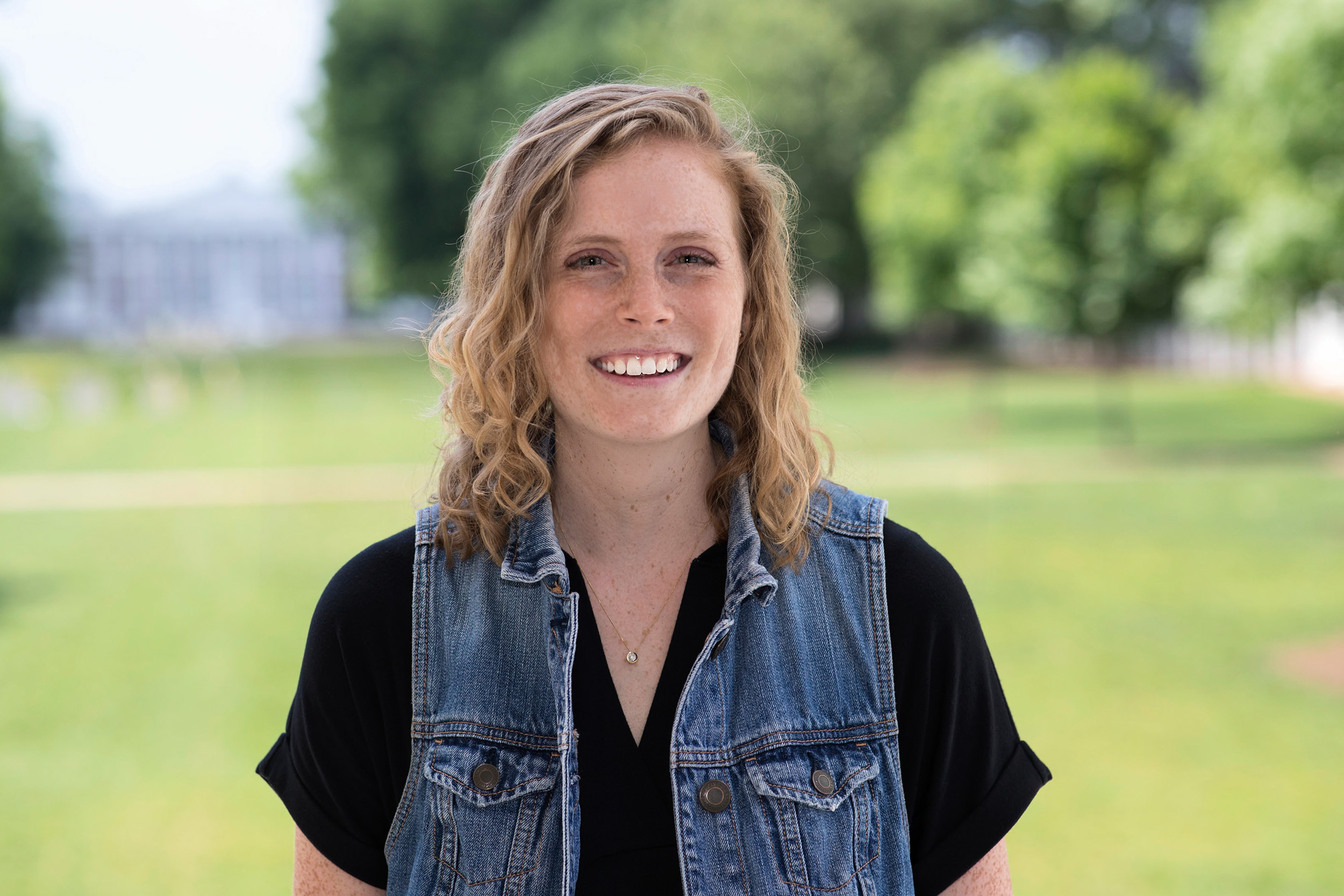 Kate McGinn of McLean, a May graduate in commerce with a concentration in finance in the McIntire School of Commerce, will make a documentary about the impact of Hungarian right-wing populism on the country's Roma minority group, in conjunction with the Theater and Film University and the Central European University in Budapest, Hungary.
"Even though I am Hungarian, I can't quite comprehend our current socio-political situation," McGinn said. "This documentary is my attempt to grapple with populism and national identity. I've also always had a passion for creating — this year is my chance to learn filmmaking and video production from scratch, and hopefully create something meaningful that people watch and reflect upon." 
McGinn was student director of HackCville; a member of 2015-18 Class Council and a 2019 Trustee; and she worked for Housing and Residence Life. She was a recipient of the 2019 Sky Alland Scholarship and a Royster Lawton Fellowship.  A graduate of McLean High School, she will pursue an offer at Makena Capital Management, a Silicon-Valley-based investment management firm, and eventually start her own company or join a social enterprise's founding team within the education realm.
"I am half-Hungarian and while I have visited family in the country many times, I have never had the opportunity to spend more than a few weeks at a time there," she said. "Pursuing research in Hungary will not only let me expand my academic pursuits and learn new skills that are applicable to my future impact-oriented ambitions; the Fulbright is also giving me the chance to better get to know where I come from and uncover some of the challenges countries like Hungary, which has been rightfully criticized for its nationalist ideals, face."
Aditya Narayan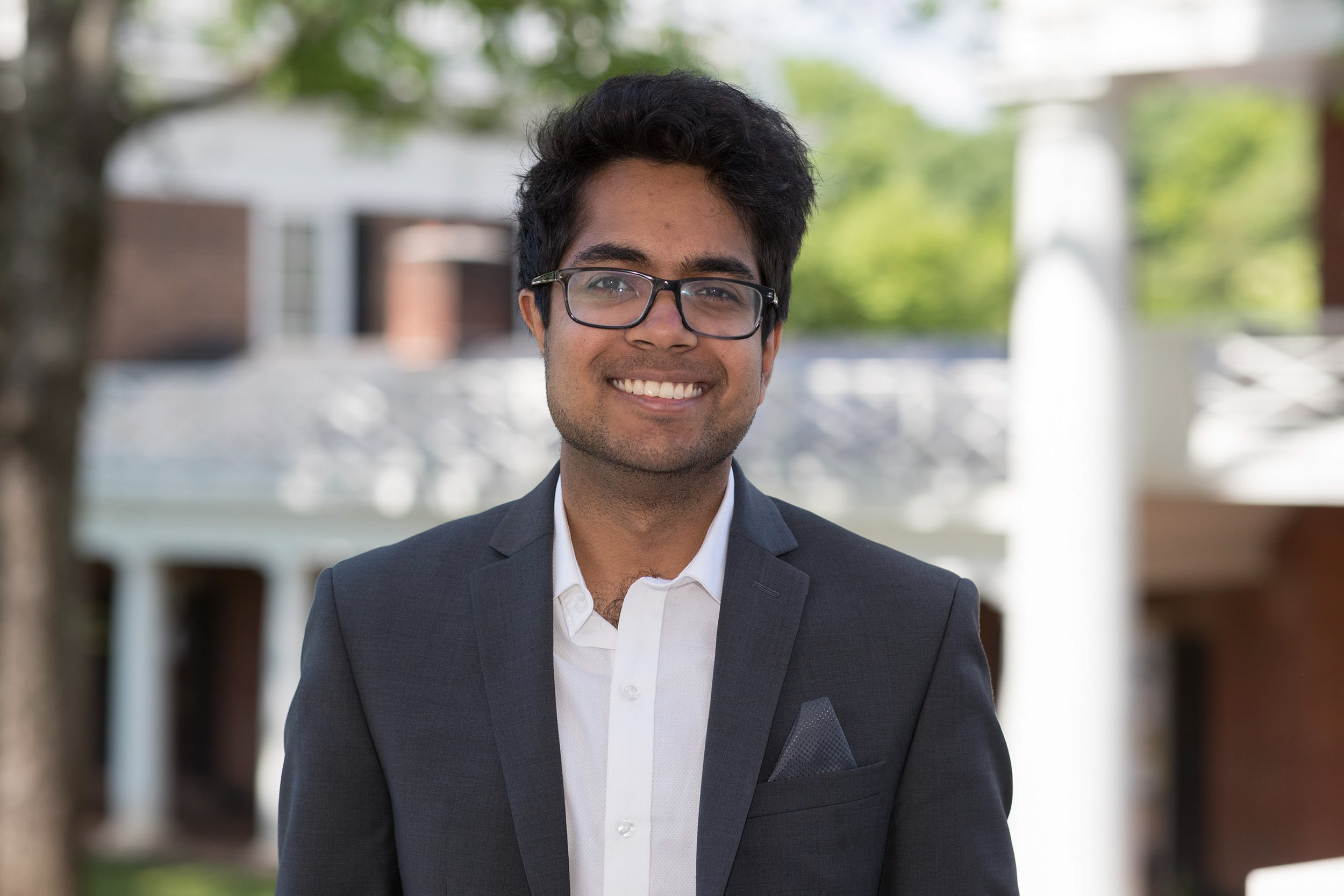 Aditya Narayan of Fairfax, a 2018 biochemistry and biology graduate, will teach English in Poland as well as volunteering as an English tutor in a local clinic or hospital.
"I chose the ETA position as I have a vested interest in exploring education from the perspective of its most important but least consulted stakeholders: students," he said. "Charlottesville is a hotbed for innovation and through my community-facing work as an undergraduate I had the opportunity to work with phenomenal leaders who are excited to rethink what teaching and learning looks like. I want to learn what forward-thinking pedagogy looks like in other countries known for their excellence in education, such as Poland, and at the same time learn to bridge this with my interests in science, conveying health information, cultivating creativity and empowering others to inspire the next generation. Beyond this, being placed at a Polish higher education institution will open doors to research and opportunities to explore ongoing innovation in health care delivery."
Narayan is currently employed at the Gordie Center as the education and outreach coordinator and works part-time as director of operations for ReinventED Lab, which he co-founded as an undergraduate, an education innovation non-profit focused on incorporating student-driven learning frameworks into schools. He coordinated the Tom Tom Youth Innovation Conference on student-driven learning efforts throughout Virginia. He is co-founder of the Co-Create UVA program, an initiative to train students as consultants in course design; founder of the Changemakers program which trained UVA students as project-based learning mentors for high school students; founding member of Medlock, LLC, a hardware/software hybrid system that tracks and summarizes patient pill consumption data for pharmacists and physicians.
He was the Madison House Program Director for Medical Services and co-founder of the Creative Learning After School and Summer program; chair for recruitment for Alcohol and Drug Abuse Prevention Team, students trained to educate their peers to reduce the negative outcomes from alcohol or other drug use; intern in the UVA Office of Health Promotion; Volunteer Chair of Global Medical Training; member of UVA Disability Advocacy and Action Committee; research intern with Code Ana; teaching assistant for Organic Chemistry Lab for Chemistry Majors; head teaching assistant for Organic Chemistry lecture course; coordinator of SPARK hackathon, which brings technical people together with local youths to solve problems; HackCville Education Innovation Class "Rethink" co-lead; a Peer Advising Family Network mentor; adviser for the Alpha Epsilon Delta Premedical Honor Society; research assistant in the Li Lab working on cancer genomics, Bilchick lab for cardiovascular translational research, Sheehan lab for neurosurgical research, work that has yielded peer-reviewed publications, presentations, and a book chapter; a Raven society member; recipient of grants from a number of organizations including NBC Universal, CACF, Bamaworks, American Evolution, the Virginia ABC, 4.0 Schools, the Jefferson Trust, and UVA.
He is a member of the Virginia Higher Education Substance Use Advisory Committee influencing legislation and research initiatives; Virginia College Collaborative supporting recovery and preventing college student substance misuse; Volunteer with Seminole Trail Volunteer Fire Department. He has received the Chemistry Departmental Award for Excellence. A graduate of Oakton High School, he wants to pursue a dual M.D. and a master's of education.
"I want to work in the academic medicine space to conduct research as well as innovate in medical education to better prepare the next generation of physicians to address the changing landscape of medical design, public health and health care delivery," he said.
The Fulbright gives Narayan an opportunity to pursue things he cares about.
"It will grant me the skills and understanding to better understand a broader audience while granting me access to spaces that may otherwise be inaccessible for me," he said. "I believe I will have the chance to confront challenges which will force me to develop as a scholar, educator and human-centered designer by having to maintain composure and navigate a foreign environment."
Sam Powers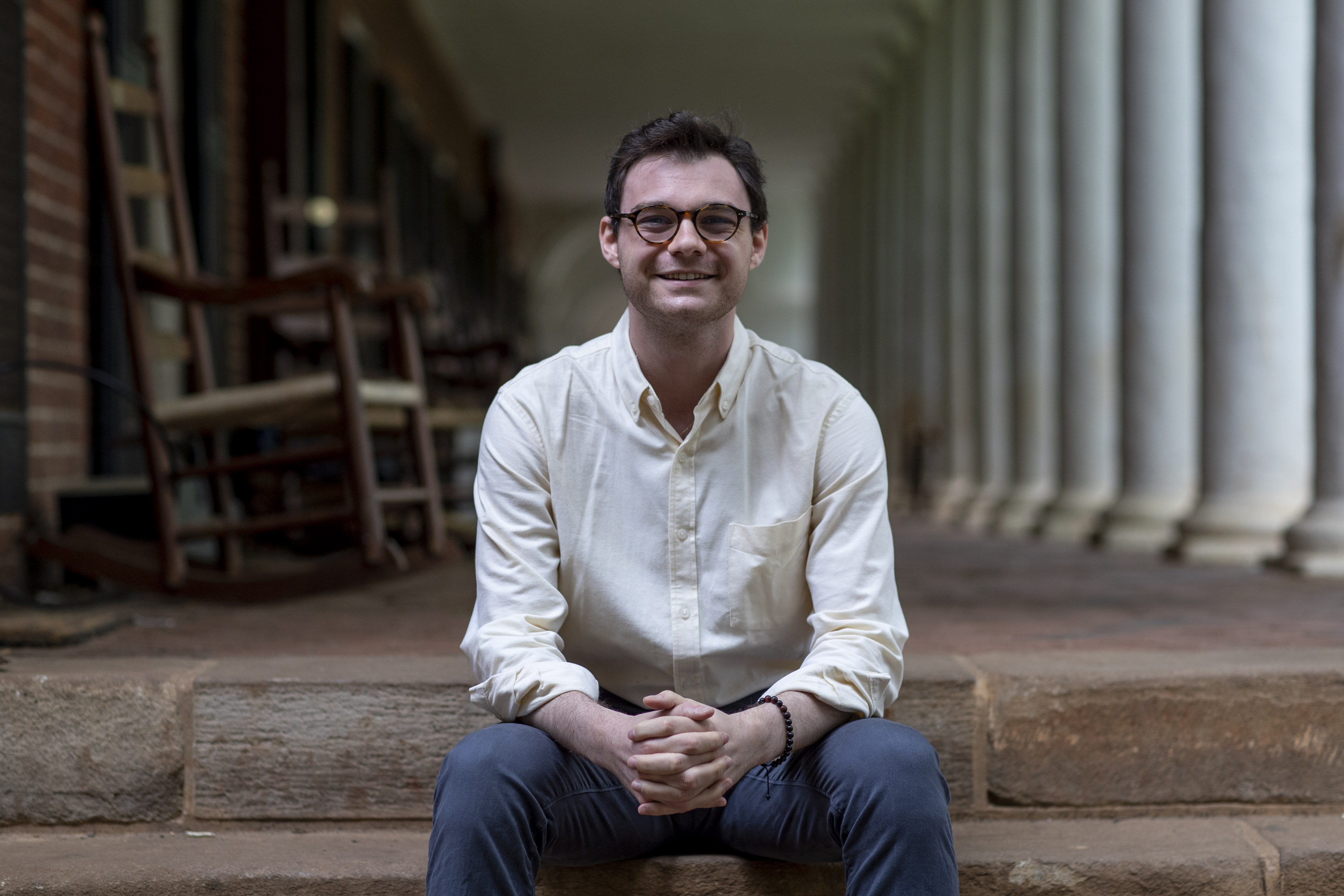 Sam Powers of Oakton, a three-year May graduate in statistics and religious studies focusing on Christianity and Buddhism, will study the implementation of Vision 2020, Rwanda's national plan to meet the United Nation's Sustainable Development Goals, using data and community narratives to tell the story of the Rwandan populations who are most at risk.
"My goal has always been to work in the public health field," Powers said. "But I view health as a multi-dimensional construct – it's at an intersection of the biological, the social and the spiritual. In constructing my path through undergrad, I thought, 'how can I gain both technical competency and cultural literacy to work effectively and compassionately to promote the healing of people from a variety of backgrounds?'"
An Echols Scholar and a Mary & Daniel Loughran Foundation Jefferson Scholar, Powers was a Lawn resident; a member of the Raven Society; chair of the First Year Judiciary Committee and vice chair for first years on the University Judiciary Committee; a member of the Reformed University Fellowship at UVA; a fellow in the Pay for Success Laboratory; conducted volunteer research on affordable housing in Charlottesville for the Legal Aid Justice Center; worked for Outcomes Research Team at INOVA Fairfax Hospital Beatty Center; and was a volunteer data scientist with Data4Democracy Incarceration Reform project. He is a recipient of the 2018 Student Award for Excellence in Public Health Research for his research analysis of trends in malnutrition conducted on this grant and presented at public health research symposium; and a Sister Bridget Haase Center for Global Health Scholarship. A graduate of the Trinity Christian School, Powers plans a career around issues of public health equity, specifically access to health care and proper nutrition.  
"The Fulbright is an incredible opportunity both to learn and to practice in the public health field," Powers said. "The University of Global Health Equity in Rwanda, my host institution, is at the cutting edge of innovating quality health care delivery for the most marginalized populations. Its vice chancellor, Dr. Agnes Binagwaho, is an inspirational figure whose time as Minister of Health of Rwanda was integral to strengthening the country's health system and driving Rwanda's radical improvements in health metrics since the genocide in 1994. Being able to conduct research under her mentorship and alongside those at UGHE will be an unparalleled formative experience both for my skills as a researcher and my perspectives on health care equity and delivery."
Powers is already familiar with Rwanda, having worked at UGHE last summer.
"Following that experience, I knew I still had so much to learn from their approach to addressing some of the most pressing health challenge and wanted to find any way I could to return post-graduation," he said.
Molloy Sheehan
Molloy Sheehan of Manhasset, New York, a 2015 and 2016 Curry School of Education graduate who received a bachelor's degree in kinesiology and a master's degree in exercise physiology, will work with a local NGO in Togo and help to implement an exercise and education intervention in groups with an augmented risk factor profile.  
"I'll be researching cardio-metabolic disease risk factor prevalence in a small urban area of the north of Togo," she said. "I'm working with the Ministry of Health to collect the data, then collaborating with an NGO to develop a five- to six-month, low-cost health education and exercise intervention to lower risk factor prevalence."
Sheehan was a member of the Virginia Alpine Ski and Snowboard Team and Exercise is Medicine, as well as an Aquatic and Fitness Center fitness instructor; an orientation leader and a UVA Club of New York ambassador. A graduate of Sacred Heart Academy, she wants to work in the field of global health systems.
Sheehan will be working with a predominantly Muslim, Tem-speaking ethnic group, similar to one with which she worked in Bénin.
"While I was in Bénin as a Peace Corps volunteer, I noticed a particularly large number of the population was hypertensive and diabetic, with little access to the knowledge of how to prevent and treat these illnesses," she said. "Documenting the prevalence of risk factors that cause these diseases and implementing low cost prevention programming will not only raise awareness about these diseases in West Africa, but also test a possible intervention that the Togolese Ministry of Health could expand."
Matthew Shih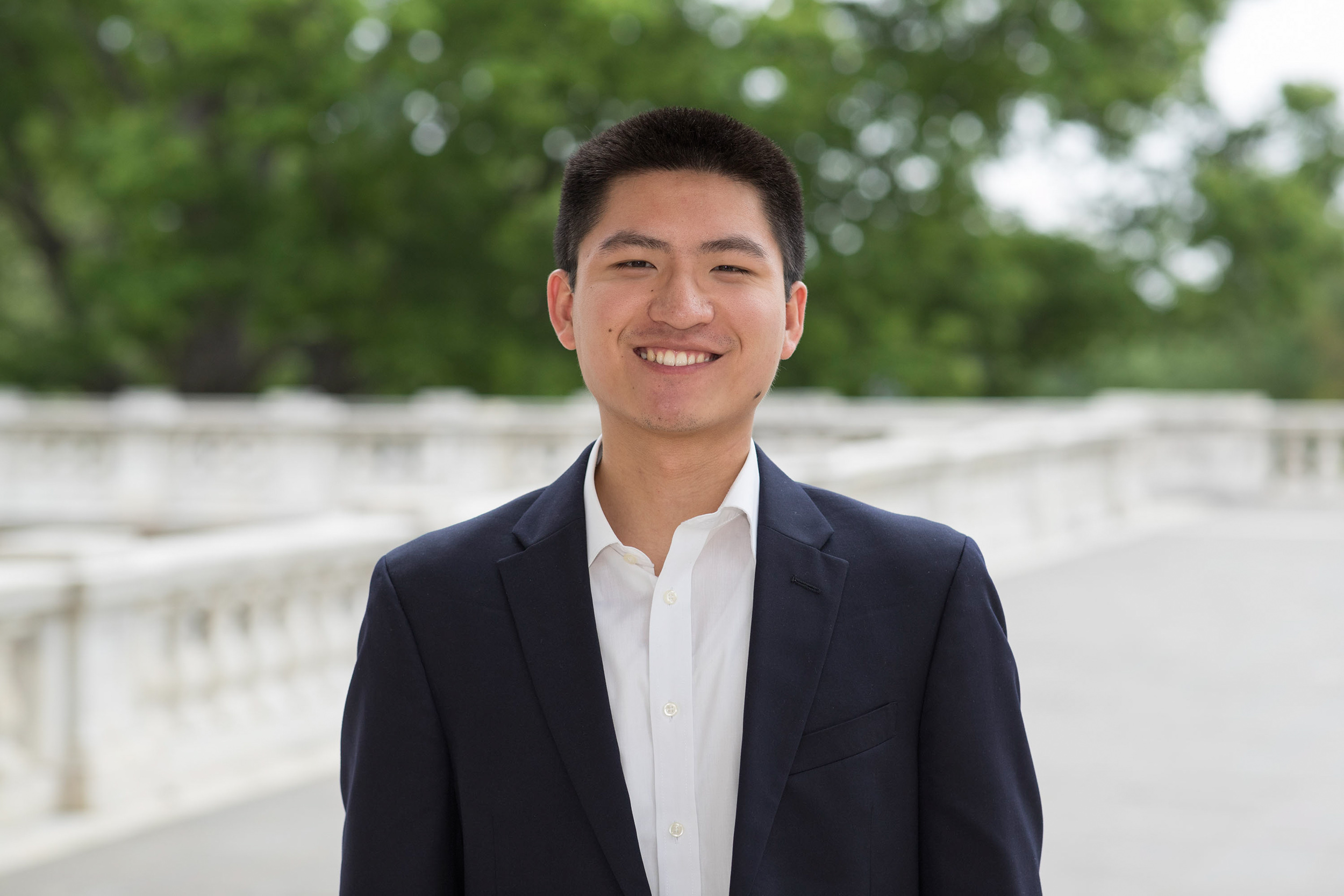 Matthew Shih of Yorktown, a May graduate with degrees in cognitive science and music, with a concentration on performance, will research the life and work of Julian Schloss, who fled Vienna during World War II. Shih wants to clarify cross-cultural wartime interactions and recognize Schloss' place in Austria's musical heritage. As a recipient of the Fulbright Austria Combined Grant, he will also teach English at a secondary school in Vienna.
"My research focuses on rediscovering and reassessing the influence of exiled Austro-German composers who fled to Shanghai during the World War II era," Shih said. "I'm interested in the cross-cultural implications of migration and how these émigrés' interactions shaped music composition, performance, and pedagogy."
An Echols Scholar, Shih was a flute/piccolo player with the Charlottesville Symphony Orchestra; a member of Chi Alpha Christian Fellowship; Kinetic Sound, which works toward the general public's appreciation for instrumental music performances; and Phi Beta Kappa. Shih worked as a house manager for the McIntire Department of Music; and interned with the National Flute Association. A graduate of York High School, he will pursue a Ph.D. in musicology at the University of Toronto.
Shih has studied before in Vienna.
"I worked with a professor who is the head of a research center that focuses on exiled Austrian composers," Shih said. "I applied for a Fulbright with the idea of returning to this research center and engaging at a deeper level with the archival materials available. The dual nature of my award will allow me to gain practical teaching experience at local secondary schools.
"Receiving this Fulbright means that I will be able to fully immerse myself in Austrian culture as a student, scholar and teacher," he said. "I hope to further bolster my German language knowledge and acquire valuable research/teaching skills, all of which will be beneficial to my future in graduate school and beyond."
Dallas Tatman
Dallas Tatman of New York City, a third-year Ph.D. candidate in religious studies, plans to study religious pluralism in Senegalese society and national identity through sports. With his Fulbright, he will use wrestling as a lens to investigate the lived experience of Islam and local identity in Senegal, particularly the way in which individual "wrestlers" embody not only Islamic practice but also the heterogeneous communities that support them.
Tatman is working on a dissertation "King of the Ring: Religion, Sport and Pluralism in Senegal," using laamb, traditional wrestling that is the national sport, as an entry point to better understand how people in the modern democratic state of Senegal mediate religious, ethnic and political identities.
"Laamb is distinctly Senegalese," Tatman said. "This form of 'traditional' wrestling cuts across religious, economic and political divides to define a national identity, incorporating all social actors."
Tatman said his project will focus on the bodily practices of individual wrestlers as entry points to better understand how wrestling specifically and Senegalese identity more broadly, mediate traditional religious views with modernity.
"This is exemplified by the Wolof word 'terranga' which describes both the 'diverse unity' which comprises the Senegalese state as well as the desirable characteristic of incorporating diversity on the individual level.  I will also interrogate existing categories that define what it means to be both a Muslim and male in Senegal, using a 'bottom up' approach that emphasizes ethnographic field work supported by historical archives," he said. "I will show that rather than being at odds, Muslim and wrestling identities work in conjunction to embody a spirit of pluralism that is foundational to Senegalese identity."
Tatman is a Presidential Fellow at the Data Science Institute; and a recipient of the Frank Finger Graduate Fellowship for Teaching; and the Institute of the Humanities and Global Cultures Global South Graduate Fellowship. He received a bachelor's degree in history and education from Eastern Michigan University; a master's degree in curriculum and instruction from Marygrove College; and a master's in religious studies/African studies from the University of Illinois. He plans to work in higher education.
"The Fulbright will support my study by giving me the resources and contacts to continue my work in Senegal, leading to a more fully realized study than would be otherwise possible," he said.
Andrew Taylor
Andrew Taylor of Houston, Texas, a fourth-year graduate student in religious studies and Tibetan studies, will spend his Fulbright year in Chengdu, China, studying 19th-century Tibetan history in order to demonstrate how the disenfranchised use the language of ecumenicism to resist the flattening of their religious traditions by homogenizing forces.
"My dissertation explores how and why religious communities develop an ecumenical orientation by examining late 19th-century Tibetan Buddhists and early 20th-century Quakers," he said.
Taylor is the recipient of an American Council of Learned Societies Ho Family Foundation Dissertation Fellowship. He is a graduate of Guilford College and Harvard Divinity School.
"The Fulbright will allow me to access a trove of historical documents and manuscripts currently unavailable in the States and to build relationships with prominent Chinese and Tibetan scholars whose work is too often ignored because of the language barrier," he said.
Elin Woolf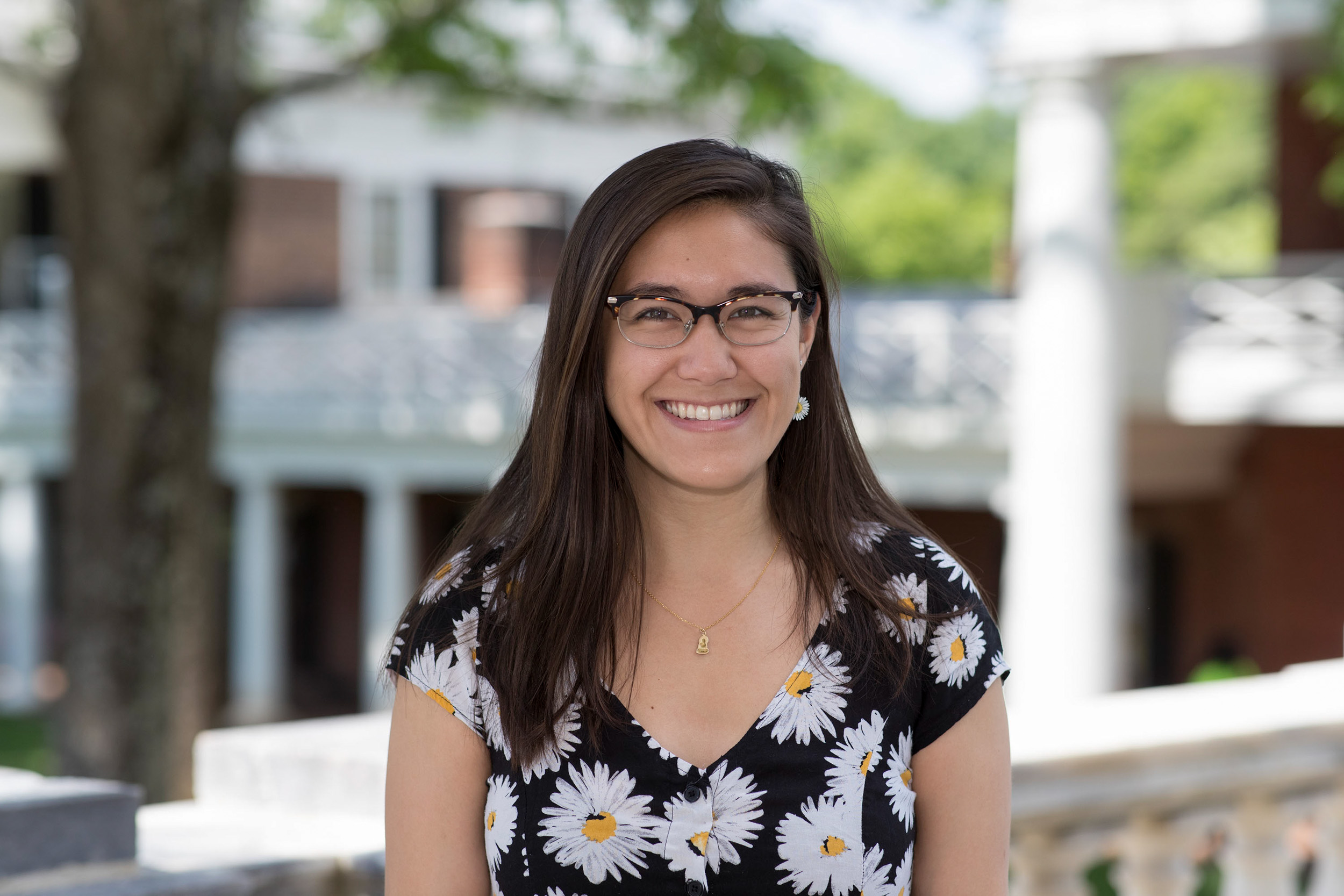 Elin Woolf of Centreville, a May graduate in psychology and economics distinguished major with a minor in environmental sciences, will teach English in Taiwan. While there, she plans to study Mandarin, create an after-school gardening program and teach yoga.
"Taiwanese culture has had a huge impact on my life," Woolf said. "My mom grew up in Taiwan and moved to the U.S. when she was 27. When I learned of Fulbright opportunities in Taiwan, I jumped at the chance to both teach English and explore a part of my heritage that I haven't been able to fully experience here in the U.S."
Woolf was a resident adviser for Housing and Residence Life; a research assistant in Charles Holt's experimental economics lab; a Morven Summer Institute Fellow; a Morven Kitchen Garden summer intern; and a Cavs in the Classroom volunteer through Madison House. She was involved with the Center for American English Language & Culture through volunteering and moderating with the Volunteers with International Students, Staff and Scholars (VISAS) program and working as an instructional assistant in the English for Academic Purposes program.  She is a member of Phi Sigma Pi National Honor Fraternity; Phi Beta Kappa national honor society; Psi Chi, the international psychology honor society; the Accessible Theatre Project, a CIO that partners with local theaters to present sensory-friendly productions that are open to the public; and the UVA Clay Club, a pottery group. She is a recipient of the Herbert Epes Fitzgerald, Jr. and Harvie W. Fitzgerald Scholarship.  A graduate of Centreville High School, she wants to pursue a graduate degree in psychology or environmental economics and teach in higher education.
 "It became clear that my passion for education has always been influencing me, and this realization made me feel more confident in my decision to apply for a Fulbright grant and my plan to later pursue a professorship," Woolf said.
Ryan Wolfe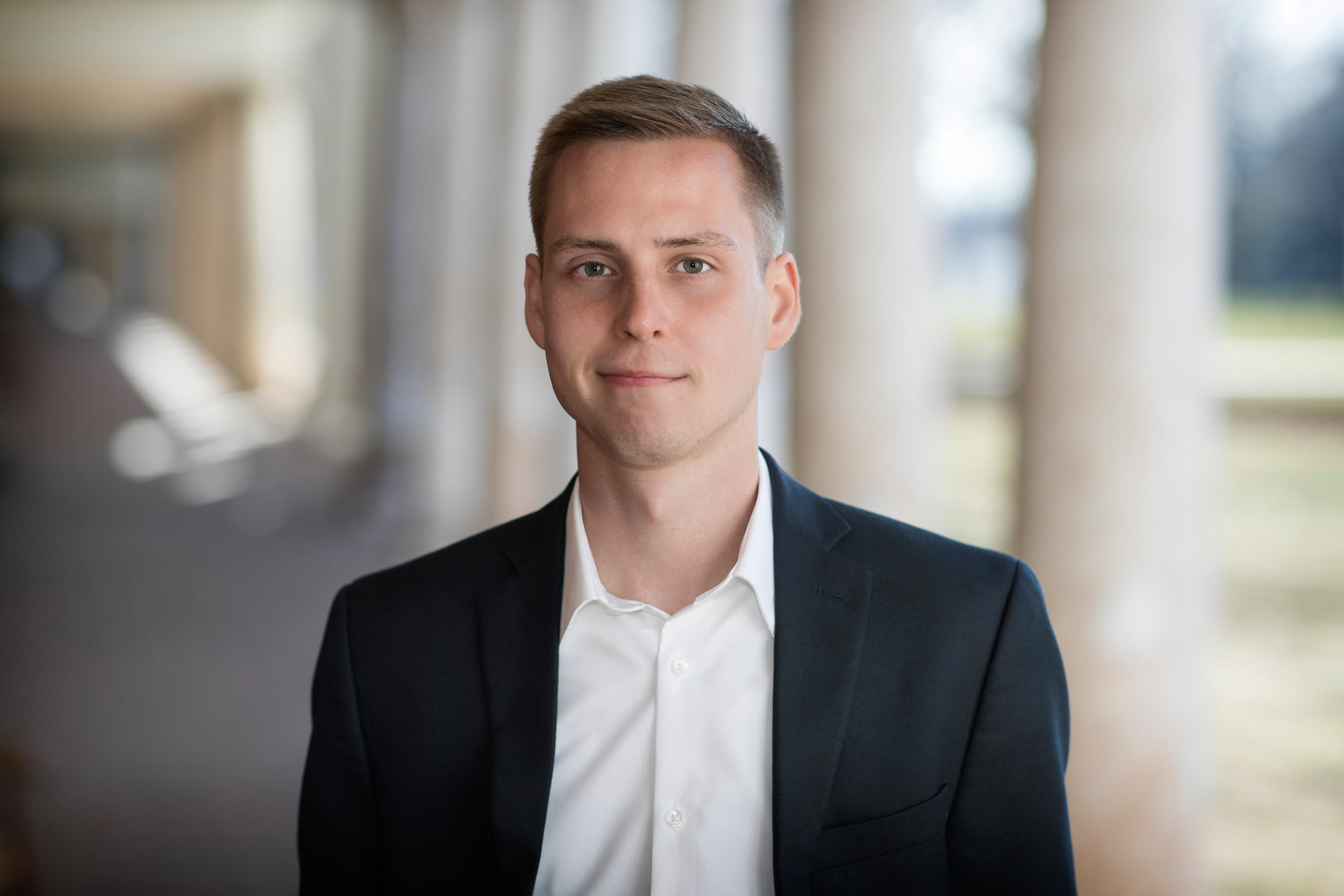 Ryan Wolfe of Chesterfield, a May graduate with degrees in history and foreign affairs and a minor in Russian and East European studies, will use local archives, public memorials and surveys to investigate the connection between historical memory and national identity in Lviv, Ukraine.
"Having researched there before, I found Lviv to be the perfect city for this project given its diverse ethnic history and current political environment," he said.
Wolfe has received a Harrison Undergraduate Research Award and a Thomas Hammond Award for Excellence in Russian Studies. He is a member of the International Relations Organization; the Washington Literary Society and Debating Union; a Madison House high school tutor; and a Club Ultimate Frisbee player. A graduate of Manchester High School, he plans to work for a think tank, government agency or consulting firm before pursuing a graduate degree.
Wolfe sees his Fulbright experience as a way to expand his horizons.
"As I sharpen my research skills for future employment, I will have the opportunity to meet new people, visit new places and enjoy new experiences that I never would have had otherwise," Wolfe said. "While the Fulbright program certainly makes it easier to network and connect, I'm mainly looking forward to the new skills and experiences that I will gain during my stay in Lviv."
Katharine Summers
Katharine Summers of Annandale, a 2018 global development studies and Latin American studies graduate (with a minor in Spanish), will be an English teaching assistant in Argentina as a Fulbright Scholar, beginning in March.
"I will spend half of my time working at an English teacher training college or university, and the remainder of my time will be spent working on a side project that I'll determine based on my host community and its needs," Summers said. "I am interested in teaching English because I want to learn more about how bilingual education is adopted or shaped in different cultures and contexts, as well as how the role of teachers and education in general differs in Argentina as compared to the U.S. or other countries I've lived and worked in."
After graduating from UVA, Summers worked at a nonprofit in northern Honduras for a year, serving as a resource teacher in a bilingual school. She also wrote a report that examined the impact of the nonprofit's school building projects on the schools themselves as well as the communities at large.
After returning to the U.S., she worked as an education research assistant for an Arlington research firm supporting their government contracts.
"I also continued to serve as a research and program assistant for a nonprofit focused on providing teacher professional development in Honduras, which I have been supporting since July 2017," she said. "This work includes communications, fundraising and grant efforts, as well as original research drawn from the program which I presented, with my boss, at two national conferences during spring 2019. I also co-wrote a research manuscript currently in review for publication."
While at UVA, Summers was a member of Phi Eta Sigma, Kappa Kappa Psi and Alpha Phi Omega. She was a co-president of UVA's Chapter of Students Helping Honduras, played in the Cavalier Marching Band, was an intern with the Education Abroad Office, worked as a manager at Newcomb Hall and studied in Argentina and Sweden. She was also an English tutor for UVA's Volunteers with International Students, Staff and Scholars program and Madison House's LAMA Migrant Camps program, as well as for Charlottesville's Habitat for Humanity.
She is a recipient of a UVA Global Internship Scholarship to Pune, India, for an internship with the Akanksha Foundation. A graduate of the W. T. Woodson High School, Summers plans to attend graduate school to study Latin America or development with a focus on education and migration issues.
"I plan to work in the nonprofit sector focused on supporting U.S. bilingual education or educational development and migration programs in Latin America," Summers said. "The Fulbright award will open up many opportunities to build a global community and learn about how education is conceptualized and implemented in other countries or cultures."
Article Information
June 19, 2019
/content/record-number-uva-scholars-receive-fulbrights-0