When University of Virginia President Jim Ryan shocked the Cavalier football team by showing up to work out with them at a summer practice, a light bulb went off in women's golf coach Ria Scott's head.
What if she reinstated a tradition of former UVA golf coach Jan Mann and had her players invite some of their professors out to a practice?
"They would get to see that the professor is more than just what they teach," said Scott, explaining her thought process, "and the professor would get to see that the student-athlete is more than the sport they play, more than just a student in their class."
Last week, Scott put the idea into action.
On a rainy afternoon at the new, state-of-the-art Dean Family Golf Performance Center on UVA's Birdwood Golf Course, the golfers and professors took part in "Bring a Professor to Practice Day."
From a tee box on the driving range, McIntire assistant professor Sherri Moore connected on a great-looking shot with her driver.
"Whoa! Nice! Good one!" shouted several UVA team members in unison.
Moore, an avid golfer, said her eyes lit up in class one day when members of the team approached her with paperwork about having to miss class because of a golf commitment.
Moore had no idea she had golfers in her class.
"I said, 'Golf team? How about some tips!'" she said, smiling.
Moore, who has a 24 handicap, plays two or three times a week in the summer, but that drops to once a week – if she's lucky – when the academic year starts.
So getting invited to a practice by second-year student Britney Mangan was a true treat.
"Something like this is so cool," Moore said, "because this is their love and they work really hard.
"I picked up golf as an adult, and I'm just so jealous of these women that have the opportunity because when I was born in the '60s, we weren't really encouraged to go out on the golf course."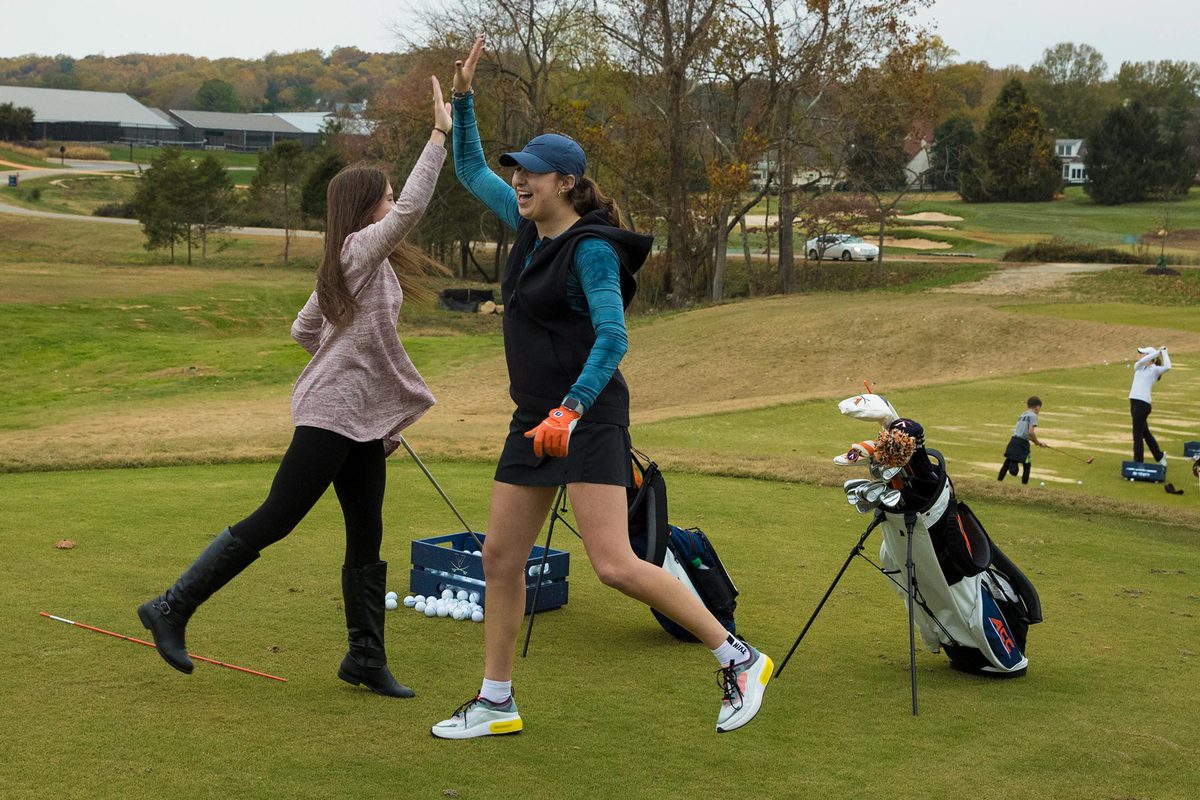 UVA golfer Sky Sload celebrates a good shot with teaching assistant Molly Harry.
Moore teaches Mangan in a commercial law class. The subject matter includes such concepts as contracts and torts. "It's just trying to open their eyes to things they encounter every day but don't really know," Moore explained.
Before they went down to the range, the pair chatted about their mutual love for golf and the law, with Mangan telling her professor about her experience at the Florida Supreme Court over the summer.
"I teach 800 students and sometimes I don't get to really know them unless they reach out," Moore said. "If not for this, they would be just another face. This is really great to be able to get to know them."
Third-year student Claire Hodges, a cognitive science major who is minoring in sociology and religious studies, echoed the sentiment.
"This is just a really nice way to connect with your professors, especially if you're in a large lecture and it's not as personal," she said.
Second-year student Sky Sload, who is thinking about a career in athletic administration, invited Molly Harry, a teaching assistant in her "Athletics in the University" course, to practice. Harry had never played golf before.
"When she invited me, I just thought it would be a great opportunity to learn more about the athlete experience and get to know the athletes on a more personal basis," said Harry, who is currently pursuing her doctorate. "I just thought it would be cool to get to know and appreciate everything that goes into them crafting their sport.
"I previously worked in academic support for athletes, so I've just grown to really appreciate the athlete experience and what they can give to a university and what the University can give back to them. This was just sort of a nice meet-in-the-middle opportunity."
Some of the longest drives of the day came from Paul Seaborn, a new McIntire assistant professor.
Seaborn, who came to UVA from the University of Denver, said he hadn't played much in the last nine years, but you wouldn't have known it after seeing the fade on a few of his shots.
Fittingly, Seaborn was invited to the event by fourth-year student Julia Ford, a fellow lefty.
"It's easier for me to teach someone lefthanded," Ford said. "He's athletic and has a good swing."
Seaborn teaches Ford in his consulting class.
"It's nice to see what your students are doing when they're not in your class," Seaborn said. "All of my students are very busy, but this clearly a very big commitment and the focus of their life. It gives you a new appreciation for it."
Ford, an ACC Honor Roll member who last year was selected an All-America Scholar by the Women's Golf Association, said she has enjoyed her time in Seaborn's classroom.
"I've learned a lot about problem-solving, how to structure a problem – diagnosing and breaking it down, having a more scientific look at a problem," she said.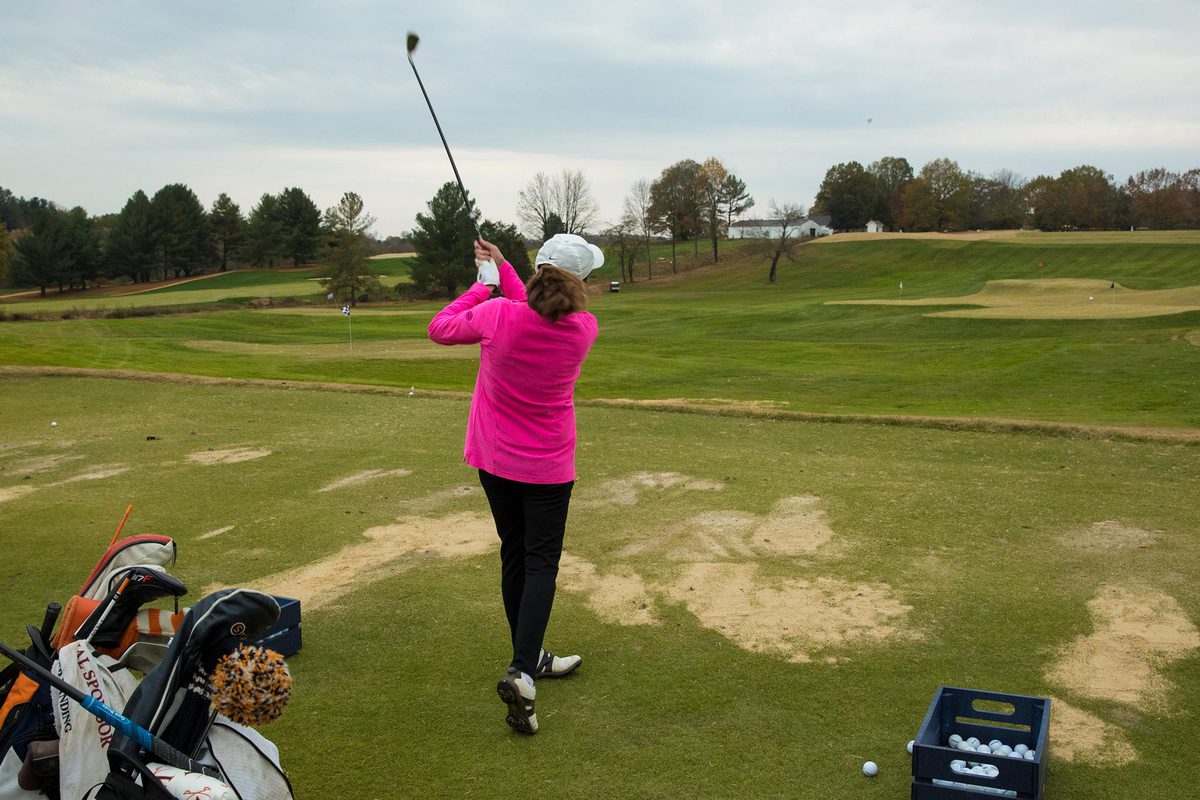 Sherri Moore, an assistant professor in UVA's McIntire School of Commerce, hits on the driving range.
Prior to hitting balls together, the UVA players gave their teachers a tour of the facility, which includes six indoor hitting bays, two video analysis bays and a putting studio.
"This is great to be able to show our professors some appreciation," Ford said. "They're always so accommodating with all our schedules and everything. I know it's not easy."
Scott, in her second year as head coach, said she wishes she had the opportunity to get to know faculty better when she was a golfer at the University of California, Berkeley.
"I think the enrollment here at UVA makes personal interaction with professors so much more feasible," she said. "Whenever you can get to know the additional human element – I think that's a wonderful thing."
Moore sounded like she was ready to become a team manager, if asked.
"This is one of those memories that I'll always have," she said. "It also encourages me to go out and watch their matches because now I understand more about what they do and know more of the team.
"I told my husband, 'If they recruit me for the team and I don't make it home for dinner, don't wait up.'"
Article Information
November 11, 2019
/content/fore-cavalier-golf-team-hits-driving-range-their-professors