When University of Virginia rowing coach Kevin Sauer learned that Meghan O'Leary was leaving the school's volleyball team, it seemed to him a perfect time to propose another athletic endeavor to her.
O'Leary, who had enrolled at UVA in 2003, stood 6 feet tall and in high school had starred in volleyball, softball and basketball.
"So I said, 'Meghan, why don't you row? You'd be great at rowing,'" Sauer recalled recently at the Cavaliers' boathouse at the Rivanna Reservoir.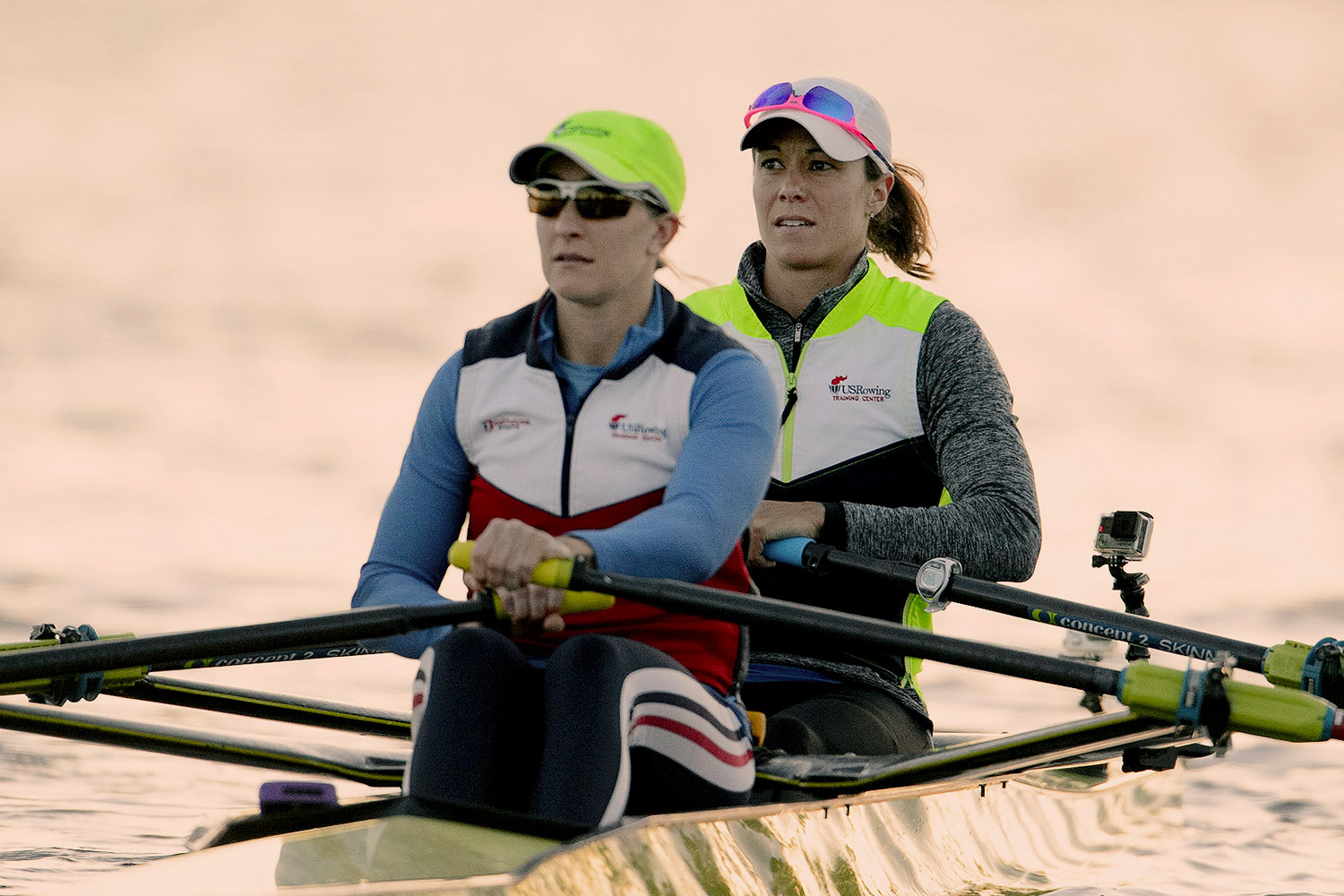 O'Leary, right, and her teammate, Ellen Tomek, qualified for Rio by winning the women's double sculls event at the U.S. Olympic Trials.
O'Leary demurred. She'd never picked up an oar.
"And I said, 'Well, I can teach you rowing,'" Sauer said. "Then she said, 'I think I'll play softball, because I played softball in high school,' and I go, 'Come on, Meghan. You can be an Olympian in rowing.'"
Alas, Sauer's enthusiasm was not reciprocated. O'Leary joined Virginia's softball team in 2005 and ended up earning four letters in that sport, the fourth as a graduate student.
O'Leary, a Jefferson Scholar, graduated from UVA in 2007 with a bachelor's degree in sociology and religious studies. In 2008, she received a Master of Education degree in social foundations and policy from the University.
Two years later, after taking a rowing lesson in Hartford, Connecticut, and falling in love with the sport, O'Leary telephoned Sauer.
"I said, 'You'll never guess what I'm doing,'" O'Leary recalled, laughing. 'And he was like, 'Come on. Now? No.'"
Yes.
"She started rowing in 2010," Sauer said, shaking his head, "and this is what's happened."
"This" can only be described as a highly unusual sequence of events. In August, some six years after picking up an oar for the first time, O'Leary will row for the United States at the Olympic Games in Rio de Janeiro, Brazil.
Coaching her in Rio will be Sauer, whose support over the years has accelerated O'Leary's development as a rower.
"The great thing was that he helped me in terms of just getting an introduction a little bit more into the sport and how to pursue it at a high level," O'Leary said. "I came down here and trained a bit and got some coaching. Even though I was never really under his direction as an athlete while at UVA, he's definitely been a part of my rowing journey to where I am now."
O'Leary, 31, and teammate Ellen Tomek qualified for Rio by finishing first in the women's double sculls event in late April at the U.S. Olympic Trials in Sarasota, Florida.
"I just get little chills talking about that," O'Leary said, "because every time someone says that, it wakes you up and you're like, 'Oh, yeah, that happened.'"
O'Leary and Tomek were in Charlottesville training recently with Sauer, along with their full-time coach, Sarah Trowbridge.
"I love coming back," O'Leary said. "Charlottesville to me is a little bit like home."
Trowbridge is pregnant, and with the baby due this summer, O'Leary and Tomek had to look for a temporary replacement. Sauer was a natural candidate.
"When it became apparent that Sarah wasn't going to be able to join us in Rio, it was a perfect transition [to Sauer]," O'Leary said. "We'd already been talking to Kevin, and Sarah and Kevin worked together with the [national] U23 program and know each other. So it just seemed like an easy partnership also in terms of bringing him into the fold and him taking the reins when we go to Rio."
O'Leary, a graduate of Episcopal High School in Baton Rouge, Louisiana, knew nothing about rowing when she arrived at UVA. As chance would have it, though, her first-year roommate was a rower, Anna Samaha, who would later be a team captain for Sauer.
"I had this roommate that's getting up at odd hours of the morning and sleeping in between classes so much more than I am as a volleyball athlete at the time," O'Leary said, laughing. "And so that was my introduction to rowing."
After earning her master's in 2008, O'Leary worked for ESPN in Connecticut for nearly five years before leaving to pursue her Olympic dream. Her job as an ESPNU programming coordinator brought her back to Charlottesville periodically to cover UVA soccer and lacrosse games.
"It was really nice to have these little trips to Charlottesville," O'Leary said. "And then once I started training, I spent a couple weeks down here – I believe that was the fall of 2011, and again the fall of 2012 during our break – and then I've been back for short weekends. But it's great being back here for a week and getting some training in and eating good food and seeing all the great people that are here."
She's based this summer in Princeton, N.J., home of U.S. Rowing's training center. During the winter months, she trains in the San Diego area. Wherever O'Leary may be, she still roots for the 'Hoos.
UVA's coaching staffs have turned over several times in softball and volleyball since O'Leary's college days, "but I love following the programs, and if you were a part of the program, you feel invested in wanting to see them succeed," she said.
O'Leary said she gives annually to the Virginia Athletics Foundation for "volleyball, softball – and rowing now, because it's a part of that family."
She smiled. "The NCAA rowing championships were just a few weeks ago, and I'm cheering and kind of trash talking with the other girls on the [national] team from other colleges."
During her five years at UVA, O'Leary stayed exceptionally busy. Among other activities, she was a two-time intramural champion in basketball, wrote for the Cavalier Daily, organized a fund-raising event for Hurricane Katrina relief, served as a Student Athlete Mentor and on the SAM Council, hosted the UVA-produced Cavalier Sports Weekly television show four times, and served as the volleyball team's public-address announcer in 2006. She also was a Fourth-Year Trustee.
"I think graduating from a place like UVA is very special," O'Leary said. "I didn't fully understand that until I graduated and got into the real world. You meet other people that either went to the University of Virginia or people that didn't but know what a special place UVA is. It's something unique so that when you say that, people are like, 'Oh, wow.'"
Being surrounded by "such an amazing population – both the student population and the community around it – it shapes you," O'Leary said, "and I felt like it pushed me to not only learn a lot about myself, but become a better version of myself and always be seeking that. And in a way, I think that's what's helped me and pushed me down this path of chasing something crazy, picking up a sport that I knew nothing about but said, 'Hey, this is something pretty cool.'
"Obviously I feel passionate about it. I'm going to do everything I can to achieve something special, and I think that that's definitely something that UVA instilled in me for the five years I was here."
O'Leary remembers writing down her goals as a second-grader. One was to become an Olympian. Later, when she was working for ESPN, that goal seemed unattainable, "and that was OK," O'Leary said.
"But then to be given this opportunity and for it to be realized, it's such an incredible [thing] ... 'Dream come true' is so cliché, but that's what it is. I went after it, and it's actually happening. I think it won't fully hit me until we get to Rio, but it's pretty incredible."
Media Contact
Article Information
July 8, 2016
/content/former-cavalier-oleary-takes-unusual-path-olympics