Close to a decade ago, basketball star Malcolm Brogdon sat in a reception area outside of his high school principal's office in suburban Atlanta.
Brogdon wasn't in trouble. Far from it.
The principal at Greater Atlanta Christian School just wanted to give Brogdon a comfortable area in which to talk to a newspaper reporter.
The wisdom of that decision quickly became obvious as Brogdon covered a wide array of subjects in an hourlong talk that was closer to a conversation you might have on "Meet the Press" than "SportsCenter."
Speaking in a mature tone that belied his age, Brogdon talked about his upbringing, the importance of education and all the role models in his life – his mother, his older brothers, his grandparents.
This was no ordinary high school student.
"You can look at his talent and see that the kid can really play," Eddie Martin, Brogdon's coach, would say a few minutes later in a hallway next to the school's basketball court. "But the bottom line is he's a better kid than he is a player.
"And I think that's saying a lot because, in my opinion, he has a chance to be not just the AA player of the year, but I think he has a chance to be the Georgia player of the year."
Brogdon would go on to accomplish that – and then much more.
At the University of Virginia, he was Atlantic Coast Conference Player of the Year (the first Cavalier to accomplish the feat since Ralph Sampson), ACC Defensive Player of the Year and a first-team All-American, as he helped continue UVA basketball's resurgence.
Brogdon then won the NBA Rookie of the Year honors as a member of the Milwaukee Bucks before signing a four-year, $85 million contract with the Indiana Pacers in 2019.
But anybody who's ever talked to Brogdon knows those aren't the types of things he is most proud of. A "double-'Hoo" who earned degrees from the College of Arts & Sciences and the Frank Batten School of Leadership and Public Policy, Brogdon has always been concerned with the bigger picture.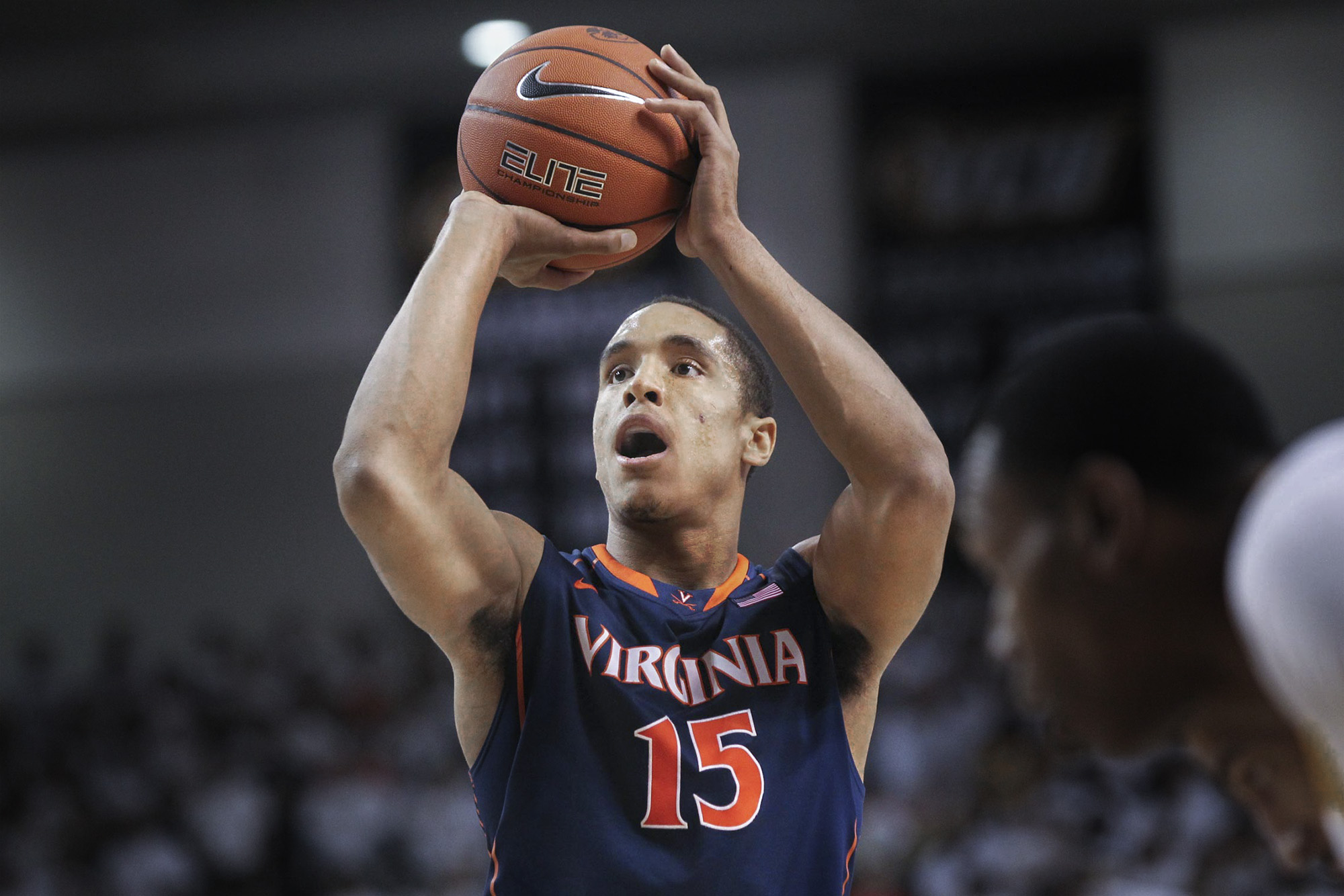 Brogdon was the first Cavalier to be named Atlantic Coast Conference Player of the Year since Ralph Sampson. (Photo by Matt Riley, University Athletics)
This fact was recognized on Thursday when Brogdon was named the winner of the annual J. Walter Kennedy Citizenship Award. Named after the NBA's second commissioner, the honor is presented by the Professional Basketball Writers Association to a player, coach or athletic trainer who shows outstanding service and dedication to the community.
"The depth and breadth of Malcolm Brogdon's commitment to making a positive difference is inspiring," Professional Basketball Writers Association President Josh Robbins said.
Brogdon was specifically honored for his commitment to education, gender and health equity and his support for criminal justice and voting reform.
"My dream has never been to drive the nicest car or to be the flashiest or for everybody to know I make a lot of money," Brogdon told the Indianapolis Star in June. "My goal is to live comfortably enough, be able to travel, be able to help people, to be able to see different cultures and meet people, raise a beautiful family. That's all I want."
The idea of "servanthood" – one of UVA head basketball coach Tony Bennett's celebrated "Five Pillars" that guide the program – has been a guiding principle in Brogdon's post-college life.
"It was meant not only to be unselfish on the court and serve your teammates, but to serve other people," Brogdon told UVA Today in a 2018 interview. "Those pillars come from the Bible. They were meant to say, 'Serve others before you serve yourself.'"
In July, Brogdon launched the Brogdon Family Foundation with a focus on two main initiatives: Hoops4Humanity and the JHA Education Project.
Hoops4Humanity, an offshoot of former UVA football star Chris Long's "Waterboys" initiative that seeks to create access to clean water and education for children and families in Africa, raised nearly $700,000 in 18 months to build wells in Tanzania.
Brogdon recruited Bennett and Bennett's wife, Laurel, to the cause in 2019.
"Teaming up with Malcolm again was a no-brainer," Bennett said. "He is one of the most generous, thoughtful leaders I know, and to join with him in serving those in need is very meaningful."
The JHA Education Project, which celebrates the legacy of Brogdon's maternal grandfather, John Hurst Adams, a former civil rights leader and president of Paul Quinn College, focuses on literacy, mentoring and infrastructure programs for students in underserved communities.
Under Brogdon's leadership, the JHA Education Project has partnered with Indianapolis Public Schools to provide students with high-impact educational experiences.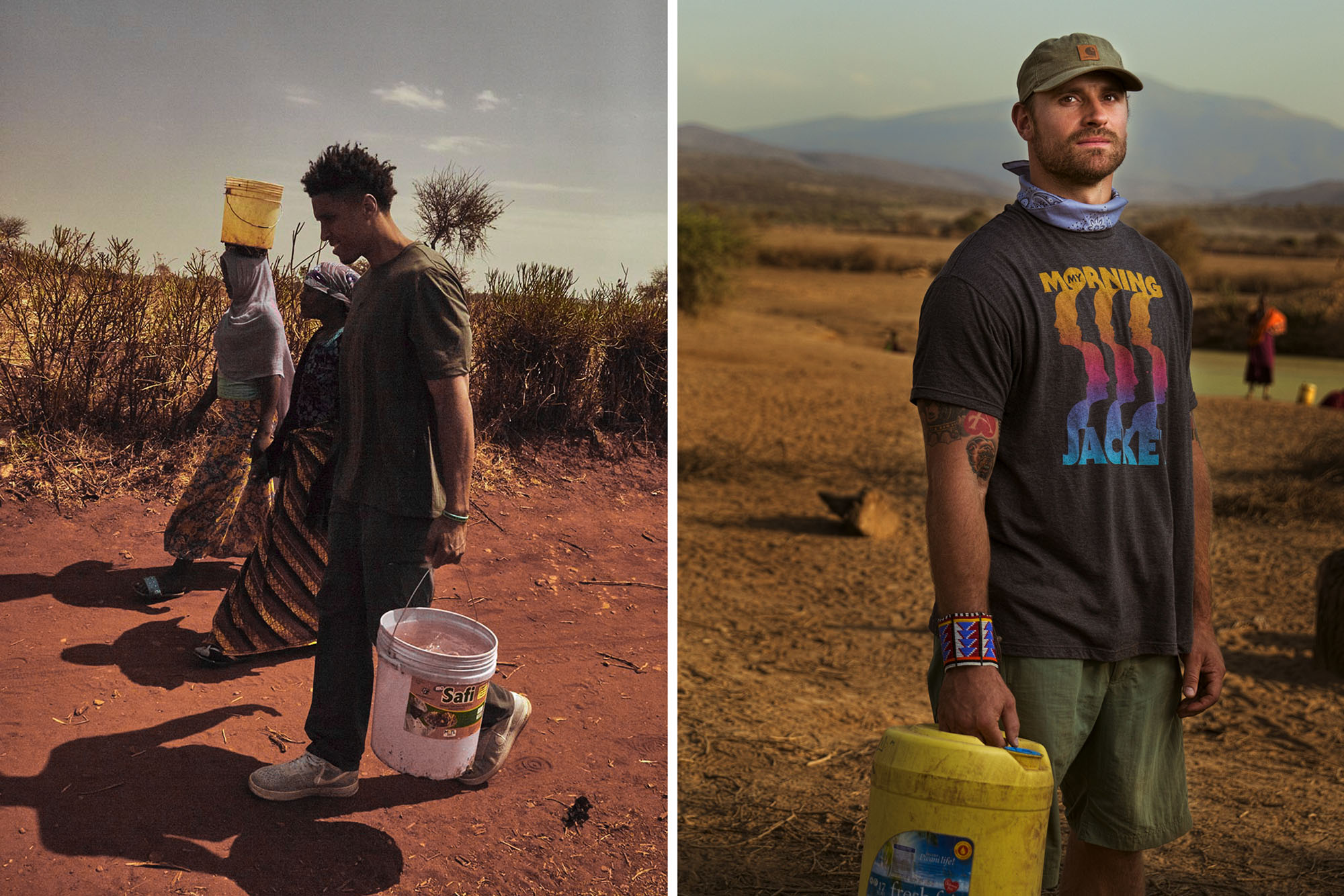 Brogdon's Hoops4Humanity, an offshoot of former UVA football star Chris Long's Waterboys initiative, raised nearly $700,000 in 18 months to build wells in Tanzania. (Photos by Clay Cook Photography)
Brogdon's emphasis on education also includes his "Tuesday Talks" series, where he leads discussions with at-risk Black youths about overcoming challenges and reaching goals.
"He's just somebody that I even kind of look up to, to try to follow his footsteps," former NBA guard Tim Frazier told NBC Sports in 2019. "He's a great person. He does everything by the book, tries to do everything the right [way]. Cares for others. It's huge."
The Brogdon Family Foundation launched in June, soon after Brogdon participated in a peaceful protest in his native Atlanta in the wake of the death of George Floyd during an arrest by Minneapolis police.
"I can't lie. I was nervous. I had never done anything like this before, I had no idea what to expect and I knew that a peaceful protest could easily turn violent," wrote Brogdon in a USA Today op-ed published in June. "But when my family and I arrived and joined the group at the Martin Luther King History Center in downtown Atlanta, that energy I had been feeling the past few days felt right at home.
"I felt comforted that I was surrounded by people who were there for the same reason: systemic racism that leads to police brutality and the unnecessary killing of Black women – like Breonna Taylor, Sandra Bland and Iyanna Dior plus so many others – and Black men, many of whose names we will never know. This has to end. I was reminded that a single decision to act can have a significant impact."
Brogdon's grandfather had organized protest marches, sit-ins and boycotts in the fight for racial equality. As a child, Brogdon would hear stories from his grandfather about marching alongside the Rev. Martin Luther King Jr.
"When I told my mom about my experience at the protest, she asked, 'Now what?'" Brogdon wrote. "I hadn't gotten that far yet, but she had a great point. She reminded me that my grandfather didn't just protest; he used his influence to connect and collaborate with other civil rights leaders and helped create plans of how they would instill real progress and change."
At this point, Bennett isn't surprised by anything his former player does.
"I've never coached a player with the drive and dedication to be the best he could be quite like Malcolm," said Bennett, prior to Brogdon's No. 15 being retired in 2016. "He also represented everything that is right about being a true student-athlete. What a model for making an impact on the court, in the classroom and the community."
Article Information
December 4, 2020
/content/former-cavalier-star-malcolm-brogdon-continues-win-and-court