Politics has been a part of James Roebuck's life for as long as he can remember. Now a state representative in Pennsylvania, the Philadelphia native grew up in a politically active church, volunteered with the NAACP and served as student council president at his undergraduate institution, Virginia Union University in Richmond.
He saw no reason for that to change when he began pursuing his doctorate at the University of Virginia, concentrating on American history.
In fact, Roebuck's political legacy only grew on Grounds. He served as president of the UVA Student Council during the 1969-70 academic year, becoming the first African American student elected to that role. He led students through a year of tumult and change, including the "May Days" Vietnam War protests that erupted after the Kent State shootings in May 1970, preparations for the University's first fully coeducational entering class the following fall, and student demands including a living wage for University employees.
Despite these achievements, Roebuck was surprised to find that his presidency remained prominent in UVA lore 50 years later.
"I am surprised at the degree to which my election has become a marker point in UVA history, and that current students know about me or have studied me," he said on a recent trip back to Grounds for a symposium focused on educational equity and community engagement, both at the University and beyond.
"That shocked me a bit, but I am pleased to know that I had an impact, that my time here produced a good result. That is very important to me."
Roebuck was the keynote speaker at the symposium, called "Engagement From Experience: A Fifty Year Look." It is part of a series of events around the University focused on educational equity and inclusion. 
"We need opportunities and spaces to address equity at UVA and in the country," said associate professor of urban and environmental planning Suzanne Morse Moomaw, director of the Community Design Research Center, who organized the symposium.
"Dr. Roebuck's visit and reflections provide a context and history for re-imaging our university, our role with the community and the work that must be done," she said. 'His experience on these issues is invaluable."
We sat down with Roebuck when he returned to Grounds to hear more about his memories of UVA and his career since then.
A Historic Election
When Roebuck moved from Richmond to Charlottesville to pursue his Ph.D., he quickly got involved in UVA's Student Council, eventually becoming vice president and then, in 1970, president.
He was aware of the historic nature of his election, but said he was more focused on how he could shape UVA's future.
"I certainly thought about it, but I always say that I didn't just want to be the first African American student in that role; I wanted to be the first of many," he said. "There was not another African American president for 20 years after me, and that has always struck me as a big gap. I would have hoped there would have been someone much sooner."
That thought struck a chord with Alex Cintron, the outgoing Student Council president and the first Latino student elected to his position.
"Dr. Roebuck was a reminder that I was not the first 'first,' and that was helpful," said the fourth-year student, who met Roebuck on Grounds and studied him in a course.
Citing student efforts like the Latinx Leadership Institute and the Our University to Shape proposal produced by the Latinx Student Alliance, Cintron said he was "hopeful that there will be another Latinx Student Council president and that more Latinx students will feel empowered after this year to pursue any leadership position."
"Dr. Roebuck was a reminder that things get better for marginalized communities," he said.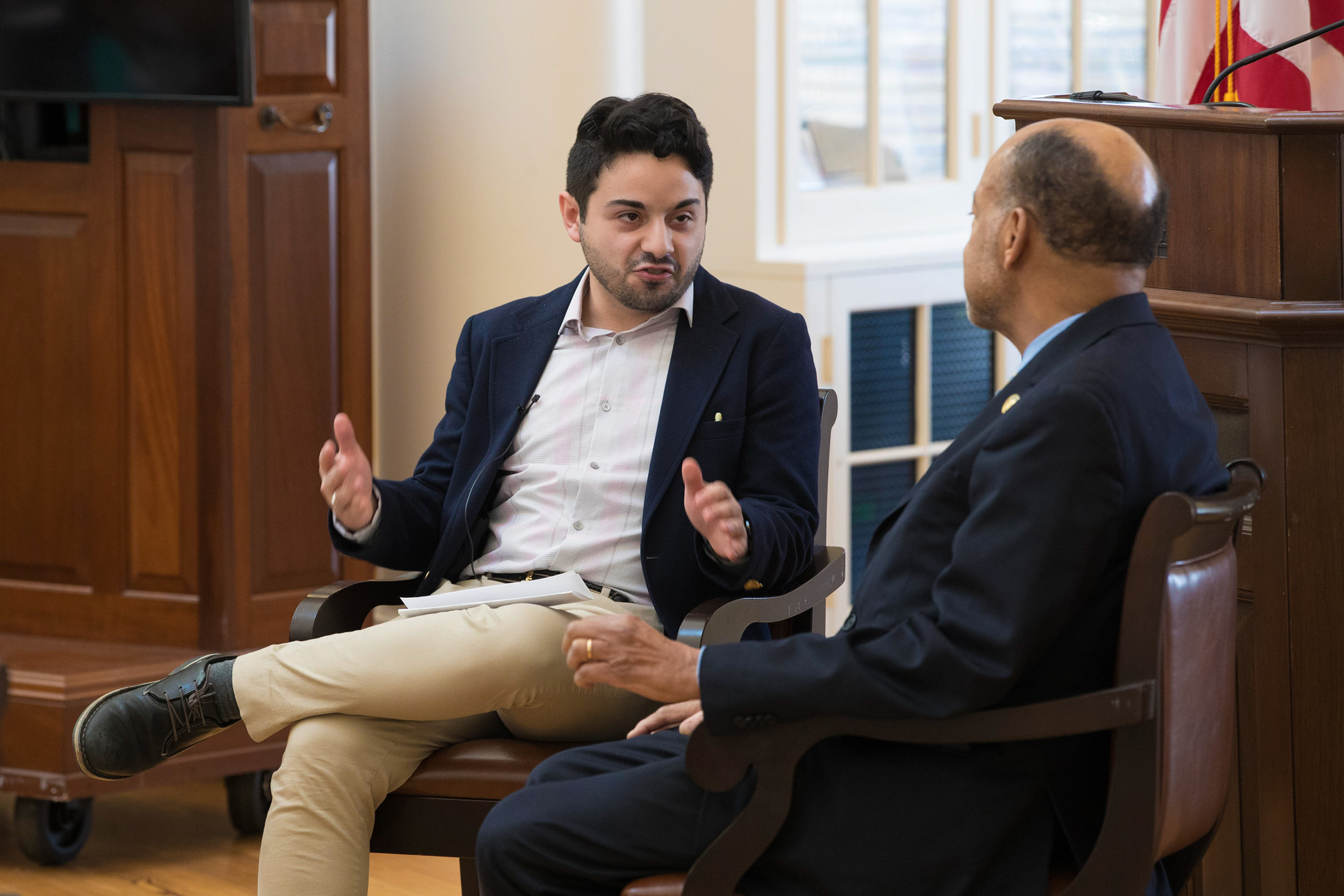 Outgoing Student Council president Alex Cintron with Roebuck in the Rotunda. (Photo by Dan Addison, University Communications)
At the time, Roebuck said he experienced little backlash to his election on Grounds. He did, however, remember the lingering effects of Jim Crow laws throughout the South, especially when he traveled.
Speaking at the symposium in March, he recalled a trip to an NAACP state convention in Petersburg, when a group of five friends – four black men and one white man – went to get dinner. When they sat down, the waitress brought four glasses of water, four menus and four sets of silverware.
"We told her there were five of us, and she just looked at us and said, 'President Johnson makes us serve you, but we won't serve him,'" referring to the white man in the group, who she did not think should be sitting with black men.
"We got up and walked out, and eventually found an alternative restaurant," Roebuck said. That restaurant seated all five men in the "colored" area in the back of the restaurant.
"All of those vestiges of segregation were still very much in evidence," Roebuck said.
May Days
As president, Roebuck presided over the usual concerns of Student Council and handled the variety of events and issues that come up at a large university
One series of events, however, stood above the rest. During the first week of May 1970 –after members of the Ohio National Guard shot and killed four student protestors at Kent State University – hundreds of students protested at UVA, marching on the Lawn and Carr's Hill and at points blocking traffic on U.S. 250 and U.S. 29. Nationally, many more universities faced strikes and protests from students and faculty members. Some were forced to temporarily close in the face of protests and violence.
"The Kent State shooting was the spark that lit the fire, just the shock of having that happen on a college campus," Roebuck said.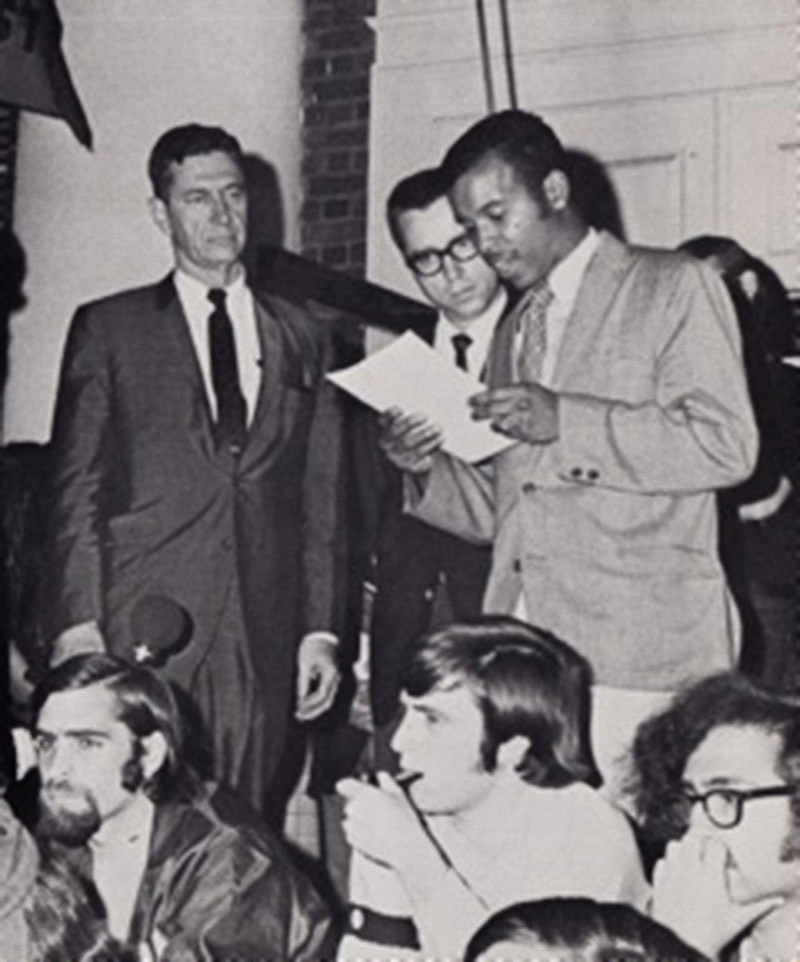 James Roebuck, center, reads a list of student demands to University President Edgar Shannon, left, on the steps of Alderman Library. (Photo courtesy of The Daily Progress)
At UVA, that issue became entwined with a host of other student concerns, ranging from the ongoing Vietnam War to student demands for improved recruitment of African American students and full coeducation on Grounds.
"All of these issues became patched together in this protest that had a momentum of its own," he said.
Throughout the tumultuous week, Roebuck served as a go-between for students and the office of President Edgar F. Shannon Jr. and the UVA administration. He worked to keep things peaceful and productive – and to keep the University open – while also fighting for what students were demanding.
"We tried very hard to avoid any violence and maintain a degree of decorum," he said.
The protestors were largely peaceful, although eventually State Police were called in to address blocked traffic. Officers swept from University Avenue across Grounds and made several arrests. After that, Roebuck said, Shannon realized more had to be done to calm the situation.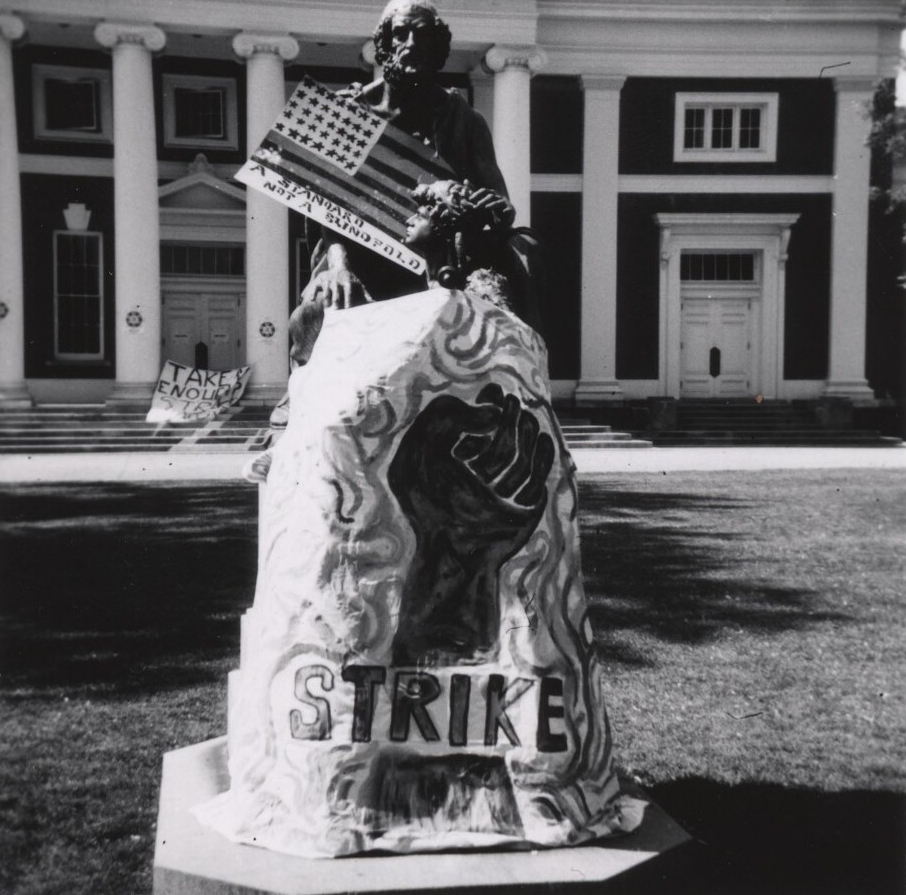 Students added strike signage to the Homer statue on the Lawn during the May Days protests. (Photo: Albert and Shirley Small Special Collections Library)
The UVA president delivered an address to thousands on the Lawn the next day, acknowledging student demands, suggesting areas of action and putting together an anti-war delegation to Washington, which included Roebuck.
"The president did a good job of defusing anger after police were called in and responding to student complaints," Roebuck said. "We were able to take some of those petitions and concerns to Washington as well."
The whole episode, Roebuck said, was very much a departure from the norm and an inflection point for student activism at the University.
"It was very different from what UVA had been; the University had never quite responded to social action in that way," he said.
Co-Education
Roebuck's presidency marked another important transition in the history of the University: in the fall of 1970, right after his term concluded, UVA became fully co-educational, thanks to a lawsuit brought by prospective students Jo Anne Kirstein, Virginia Scott, Nancy Anderson and Nancy Jaffe and local attorney and UVA alumnus John Lowe. 
It was, Roebuck said, a long-awaited and needed move that nonetheless did not go over well with some.
"I honestly believe there were men at UVA in 1970 who would have been happy to admit black men to UVA, but did not want to admit women," he said. "They wanted to keep it a men's university."
For Roebuck, it was an easy decision.
"I cannot conceive of a state university being single-sex," he said.
Along with other students, both male and female, Roebuck worked to bring women into the daily life of the University. Visiting Grounds this spring, he said he loved seeing how those and other efforts paid off for the students he met.
"I think we have successfully integrated women into UVA," he said. "In general, I was struck by how very bright today's students are, very well-engaged, concerned about civic events and the ways they can make society better. There is a stronger African American presence here, a stronger Latino presence and just a much more diverse population of students. That's great."
More Work to Be Done
There is also, he said, much work yet to be done at UVA.
Addressing students, faculty, staff and community members at the March symposium on education, equity and community engagement, Roebuck highlighted ongoing concerns, including race relations locally and nationally and workers' rights at UVA. (The University announced a $15 living wage for full-time, benefits-eligible employees in March, and is still working on a plan to extend a similar raise to those employed by contractors.)
"I am surprised to find that the demands, many of which we made 50 years ago, for the rights of workers at a state university are still on the table, still being resolved," he said. "There is still work to be done."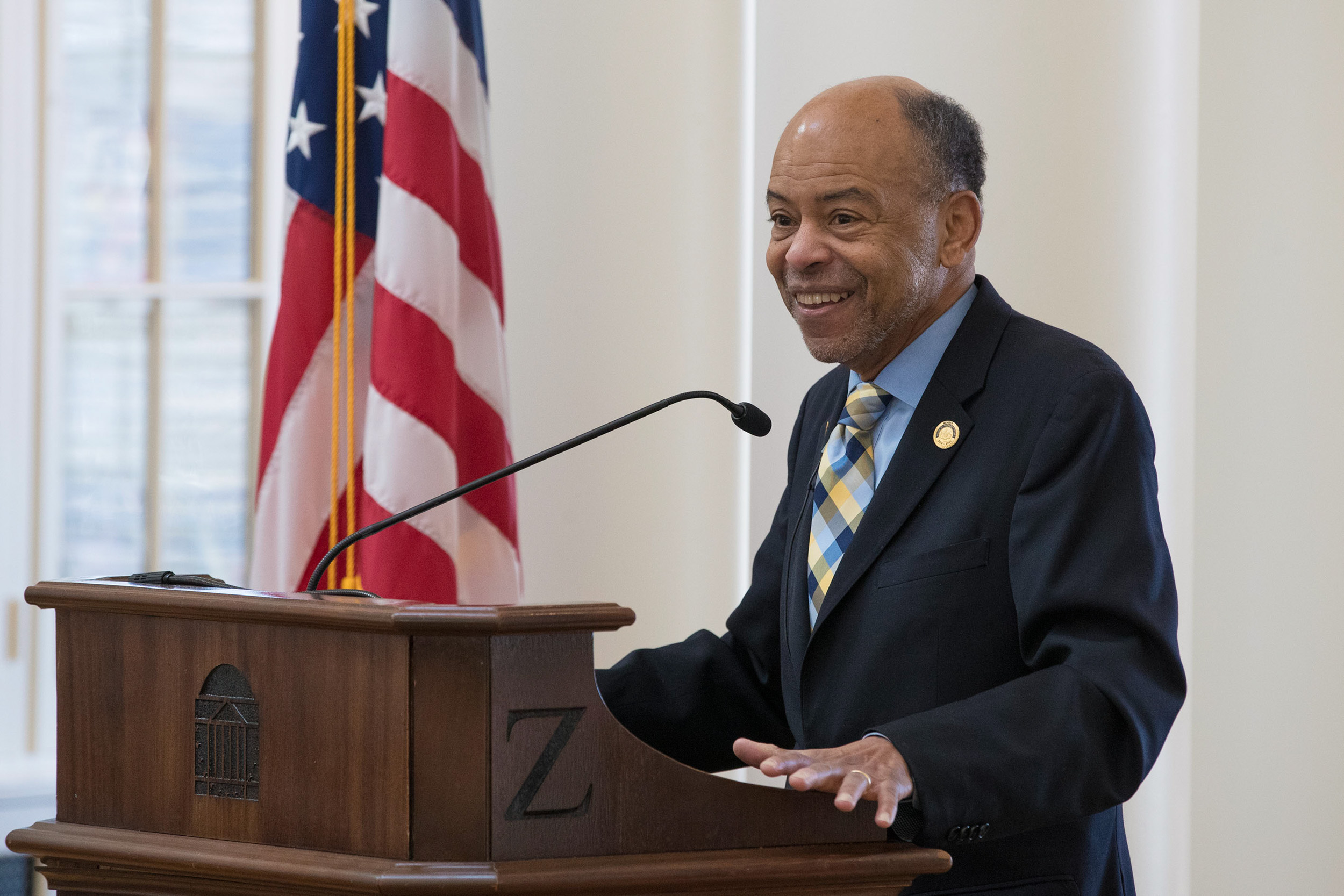 Roebuck currently serves as a state representative in Pennsylvania, a role he has held since 1985. (Photo by Dan Addison, University Communications)
Roebuck works on similar issues as a Democratic state legislator in Pennsylvania. He is the minority chair of the House's education committee, and also serves on committees and caucuses for hunger, LGBT equality, women's health, arts and culture, biotechnology and diabetes, among other issues.
"I like to help people," he said simply. "I am passionate about education, I am a strong environmentalist, and right now I am also focused on unjust incarceration, working on a bill to get crimes expunged from the records of those who have been proven innocent."
He had some words of wisdom for students hoping to follow in his footsteps, at UVA and beyond.
"If you believe in something, you fight for it," he said. "Your job is to fight in a way that you broaden your base of support and build a majority. I focus on things I believe in and that are important to bring about change, and that is what I think every student ought to do."
The "Engagement From Experience: A Fifty Year Look" symposium was sponsored by the Office of the President, the UVA Bicentennial Commission, UVA Student Council, the Carter G. Woodson Institute for African-American and African Studies, the Office of the Executive Vice President and Provost, Office of the Vice President and Chief Officer for Diversity and Equity, the School of Architecture, the Community Design Research Center and the Cavalier Daily.
Media Contact
Article Information
May 7, 2019
/content/former-student-council-president-reflects-may-days-his-historic-election